After a scintillating back-and-forth series, the Miami Heat outlasted the San Antonio Spurs in Game 7 on Thursday night and were once again crowned NBA champions.
The thrilling, evenly fought series finale was an appropriate way to end the season as both teams exchanged blows down the stretch of the fourth quarter, but in the end the Heat escaped with the 95-88 victory.
It was a classic performance for the back-to-back champs, who relied on their All-Star duo.
Two-time NBA Finals MVP LeBron James carried the Heat for much of the game, hit a massively clutch jumper in the final minute and joined elite company with another 30-point performance, per ESPN Stats & Info:
Via @eliassports wiith his 37 pts tonight, LeBron James tied the record for most pts in an NBA Finals Game 7 win (Tom Heinsohn, 1957).

— ESPN Stats & Info (@ESPNStatsInfo) June 21, 2013
He finished with 37 points and 12 rebounds in what was a brilliant performance, and after being awarded finals MVP, he joined yet another, even more prestigious group, according to ESPN Stats & Info:
James: 5th player to win consecutive Finals MVP awards (Michael Jordan, Shaquille O'Neal, Kobe Bryant, Hakeem Olajuwon).

— ESPN Stats & Info (@ESPNStatsInfo) June 21, 2013
His assault on the record book wasn't done there, once again according to ESPN Stats & Info:
LeBron James: joins Bill Russell & Michael Jordan as only players in NBA history to win back-to-back regular season MVPs and NBA titles.

— ESPN Stats & Info (@ESPNStatsInfo) June 21, 2013
As Numbers Never Lie shows us, he is beginning to creep up on some of the best ever from a trophys perspective, but he still has a ways to go:
LeBron's got #2Rings in the trophy case now #MVP -> pic.twitter.com/fo3Tbl015P

— Numbers Never Lie (@ESPN_Numbers) June 21, 2013
After the legendary performance, he celebrated in style: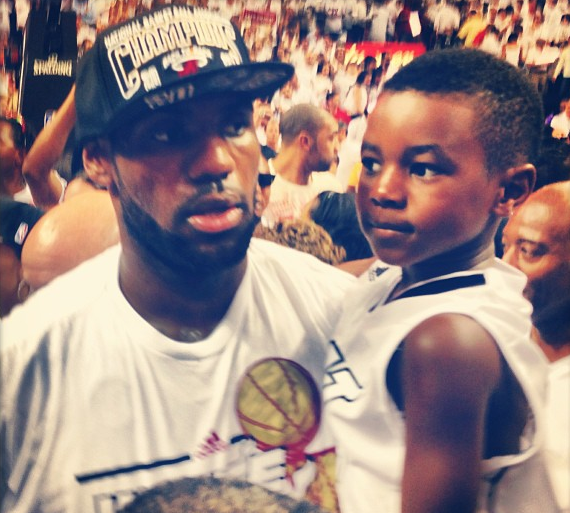 The Robin to his Batman wasn't too shabby, either. Following a forgettable Game 6, Dwyane Wade came through with a big performance, per HOOPSWORLD's Alex Kennedy:
Dwyane Wade has had more 20-point games in the Finals (3) than he had the first three rounds combined (2).

— Alex Kennedy (@AlexKennedyNBA) June 21, 2013
It was critical that LeBron and D-Wade stepped up in the clutch (and Shane Battier, who came through with 18 points), because much of the Heat's supporting cast was invisible.
Chris Bosh, most notably, was the center of a running joke throughout the game. SportsNation caught this confused look:
Chris Bosh right now: pic.twitter.com/Cyi7ZCWZpB

— SportsNation (@SportsNation) June 21, 2013
He ended with zero points for the first time since 2004, according to ESPN Stats & Info:
Chris Bosh is scoreless tonight. The only other time he was held scoreless was Feb. 12, 2004 (played 14 mins.), in his rookie season.

— ESPN Stats & Info (@ESPNStatsInfo) June 21, 2013
Sharpshooters Mike Miller and Ray Allen didn't help much, either, per Miami Heat columnist Ethan J. Skolnick:
Bosh, Miller, Allen: 0-for-14

— Ethan J. Skolnick (@EthanJSkolnick) June 21, 2013
Nevertheless, none of that matters. For the second year in a row, the Miami Heat are champions—and after a grueling series, they are ready to celebrate: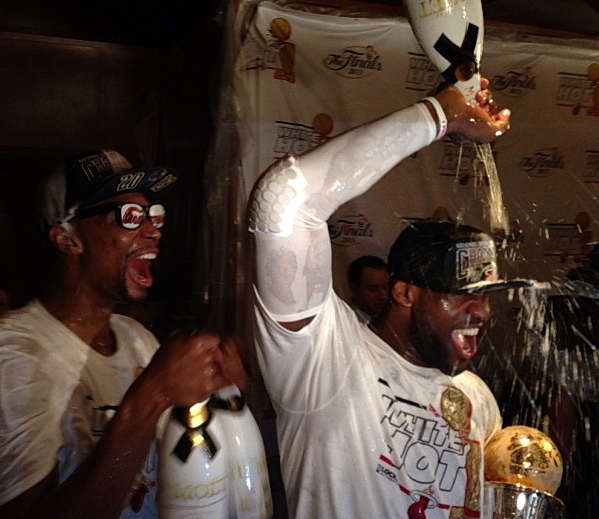 The quicker someone gets the GIFs of this after-party, the better.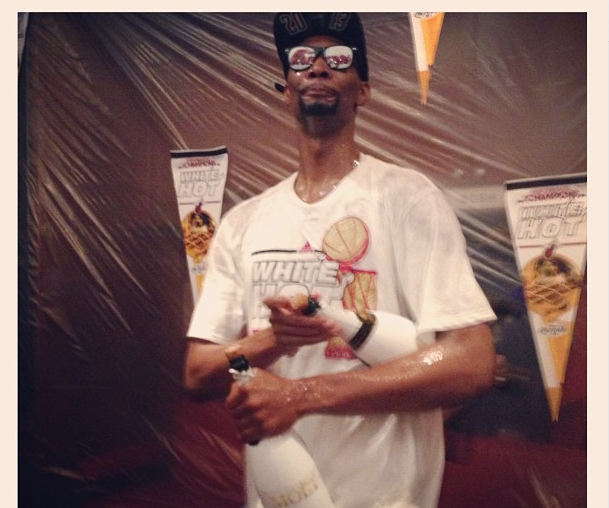 Yep. Give me all of those GIFs.
Spurs head coach Gregg Popovich, on the other hand, is just glad it's all over, via SportsCenter:
"There is no 8th game, is there? This is the last game. That's the best news I've heard all day." - Gregg Popovich

— SportsCenter (@SportsCenter) June 20, 2013
As SportsCenter also pointed out, the series loss was the first of Tim Duncan's career:
Tim Duncan loses first NBA Finals appearance of his brilliant career (4-1). He led Spurs in Game 7 with 24 points, 12 rebounds.

— SportsCenter (@SportsCenter) June 21, 2013
And the second of those wins, of course, came quite a long time ago along with Tony Parker and Manu Ginobili, according to Yahoo! Sports' Kelly Dwyer:
Tim Duncan, Manu Ginobili, and Tony Parker won their first title together a month after LeBron James finished high school..

— Kelly Dwyer (@KDonhoops) June 21, 2013
But Parker, who looked extremely tired at the end of Game 7 and finished with just 10 points and four assists, doesn't seem ready to put a cap on that dynasty, according to The NBA on ESPN:
Tony Parker on if this was the last run for Spurs: "It's been 5, 6 years you've been saying we're too old, so I'm not gonna answer that."

— The NBA on ESPN (@ESPNNBA) June 21, 2013
CBS Sports' Jeff Borzello has an (extremely) early look at next year's title odds, with two of the top contenders still without a head coach:
2013-14 NBA Title odds: Heat (3:1), Thunder (7:1), Spurs (10:1), Bulls (11:1), Pacers (16:1), Clippers (20:1), Rockets (22:1), Grizz (25:1).

— Jeff Borzello (@jeffborzello) June 21, 2013