Pros and Cons of Houston Rockets Making a Big Splash in 2013 Free Agency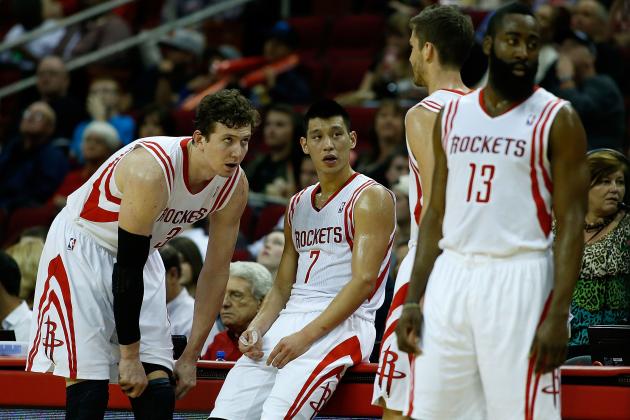 Scott Halleran/Getty Images
If Daryl Morey could add Dwight Howard and Chris Paul to the Rockets, would it be worth the risks?
If you're a movie buff, there are few better scenes than the ending of the classic The Bridge On The River Kwai. I won't spoil the movie—it's incredible—but there is one line that is unforgettable: Colonel Nicholson (Sir Alec Guinness), realizing a dreadful mistake he has made, says, "What have I done?"
It is entirely conceivable that Houston Rockets general manager Daryl Morey might be uttering those selfsame words if he, as rumor has it, lands either Dwight Howard or both Howard and Chris Paul.
One would be tempted to think a lineup featuring Paul, James Harden, Chandler Parsons and Howard would be chock full of pros and light on cons.
Maybe, maybe not. Like anything else in life, it depends on how you look at things. Sure, there are pros, big-time ones. But believe it or not, there are quite a few cons as well.
But should the opportunity to sign one or both superstars present itself, are the cons enough to give Morey pause?
Let's discuss them in brief.
Begin Slideshow

»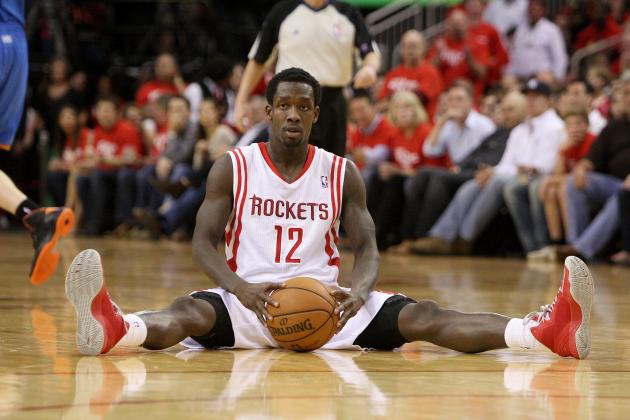 Troy Taormina-USA TODAY Sports
Patrick Beverley might be the leader of a ragtag bench.
Yes, CP3, Harden, Parsons and D12 playing together would be fearsome. But those four names do not a roster make. Heck, they don't even make a full starting lineup.
Getting Paul and Howard means absolutely breaking the bank, as well as ditching some young, and still-developing talent. Thomas Robinson was speculated to be on the trading block, for example.
That means whomever the Rockets would start at power forward would be a player—perhaps Terrence Jones, perhaps Donatas Motiejunas—who was not consistently good enough at the end of last season to earn a full-time starting spot.
Worse yet, it means their bench will be made up of minimum-salary reaches, failed draft picks, the undrafted, players balling overseas, Gong Show tryouts...who knows what else.
Now granted, Morey found lightning in a bottle with Patrick Beverley. But there are precious few Beverleys. So that means when the stars get spelled, the backups will get shelled.
Not a perfect recipe for a championship club.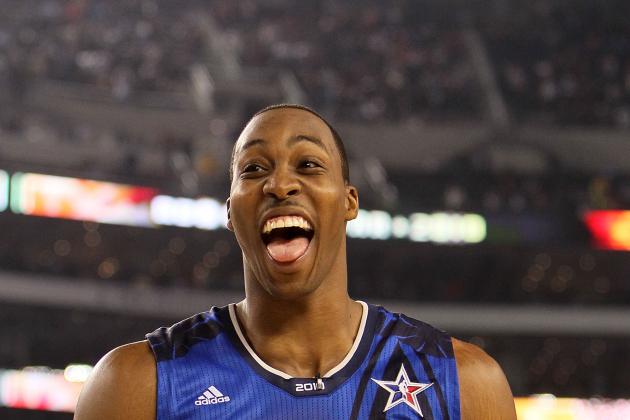 Jed Jacobsohn/Getty Images

A lineup featuring Paul, Harden, Parsons and Howard would be the presumptive favorites to win it all, perhaps multiple times. They'll almost certainly be in the title hunt every year the four play together.
And in opposition to the "no money for anyone else," the Rockets would now be the preferred destination for aging former stars to go for a minimum contract—but the maximum opportunity to win a ring.
That might take care of the bench problems. In fact, from reading Peter Keating's ESPN The Magazine profile of Rockets owner Leslie Alexander, it's clear that's what happened the last time the Rockets were one of the dominant teams in the NBA:
[Alexander] points out that in his early days as owner, sought-after stars recruited themselves: "We just got them."

Houston's success [50+ wins per season, back-to-back championships] made the Rockets a go-to destination for All-Star veterans trying to win in the shadow of Michael Jordan. Alexander swung trades for Drexler in '95 and Barkley in '96, and acquired Pippen as part of a sign and trade in '99. "They were trying to come to us," he says. "They wanted to play together. There was no courtship, really."
So perhaps the superstars will take care of the bench.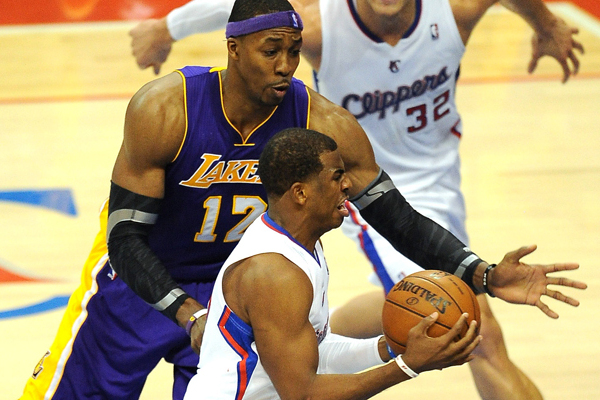 Harry How/Getty Images
Courtesy of USATSI
Giving Paul and Howard their max deals seems like a no-brainer.
But if either or both stars go down to injury, the Rockets might end up beating their own brains out.
And it could happen. After all, Howard recovered from one surgery during last season, and had another in mid-season. What if one or both of those flare up, and sideline him, or worse yet, incapacitate him?
What if a freak accident like what happened to Kobe Bryant happens to CP3?
It's the unthinkable, but Morey needs to think about it, long and hard; because essentially he's pushing all of his chips in on these two. A max contract looks terrific now, but with one false move, it can become an Andrew Bynum contract awfully quickly.
Imagine the pain of a Sixers fan when his star center fails to even lace up once. It's enough to send a chill up any Rockets fan's back; but, then again, Bynum's contract was a one-year deal. These will be four years—long enough to destroy a franchise for years to come should something cataclysmic happen.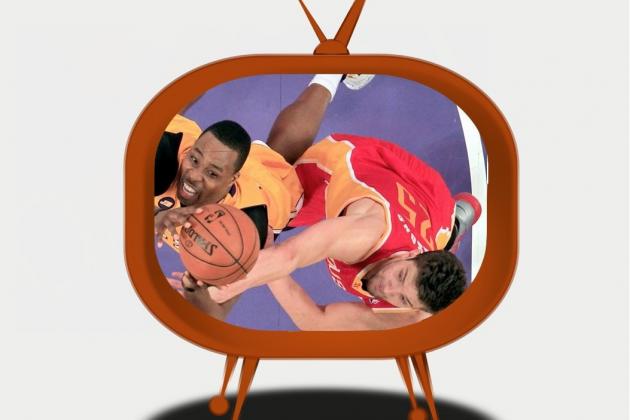 Howard and Parsons: Lucy Nicholson/Reuters. TV: clipartist.info
In addition to probably jewelry for the players, and trophy (or trophies) for owner Alexander, the coffers would get a B12 injection, too.
The Toyota Center would rank much higher than 18th in attendance per game, and its average capacity would go from 93.2 percent to "anyone got a shoehorn?"
Houston would likely become America's new favorite team. Local broadcasting rights would go through the roof, and ticket prices would go even higher. Companies would be knocking each other over for sponsorship deals.
From the standpoint of potential revenue, a Paul-Harden-Howard Big 3 would spell big bucks for the Rockets franchise.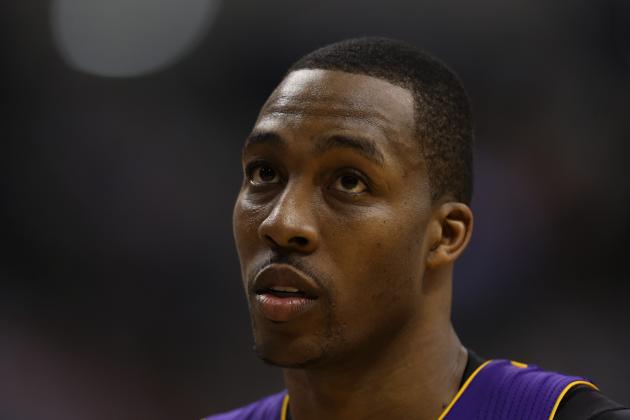 Brian Spurlock-USA TODAY Sports

Paul was second in the league in assists per game. Harden was second in assists among shooting guards. It seems like both are unselfish, and in general, they are.
But there's a rub: Both players like to facilitate the action. And though Paul could conceivably become a spot-up shooter, that's not likely to happen.
If Harden recognizes Paul's superior playmaking ability, and the Rockets design plays to get Harden the ball with room to create, there's no problem. But what if Harden balks at giving up ball-handling duties?
It's difficult to fathom, but it's possible. And though Harden and Paul appear to be friends, and shared the ball well when they shared the court at the Olympics, they've never been on the same NBA stage together.
For that matter, neither have Howard and Paul, who also seem to be tight buddies.
Speaking of Howard, he gets touchy when he doesn't get his touches. With Paul at the helm, and Harden likely to look for the big target down low when his drives to the rim stall, Howard seems a safe bet to score plenty...but it's not a guarantee.
Will Howard be the genial, effervescent cutup he was in his halcyon days on the Orlando Magic? Or the petulant whiner during his last days in Orlando and his one season in Los Angeles?
Time will tell.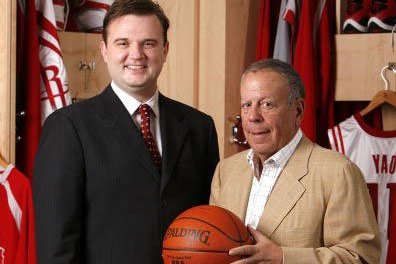 Rockets general manager Daryl Morey (left) and owner Les Alexander. Bill Baptist/NBAE via Getty Images
Though I've listed more cons than pros, it's because the pros are elemental. This lineup gives the Rockets a terrific chance to be terrific.
There are risks, sure; we've just enumerated them. But there are risks in walking across the street, starting a new business, or beginning a new relationship. Most of us take these risks without much hesitation, because the rewards are desirable and even necessary.
The same goes for the Rockets should Howard and Paul become available. It's simply not something you say "no" to. It's like Maroon 5 asking to play at your bar mitzvah. There's a chance they could bomb, but do you turn them down when there's a much higher chance you'll suddenly be the coolest 13-year-old at your school?
No. You don't. You say yes, as quickly and as passionately as possible, and you do whatever you need to do to make it happen.
That's just what Morey's going to do if the deal comes together.