All 30 MLB Teams' Most Overrated Player in the 1st Half of 2013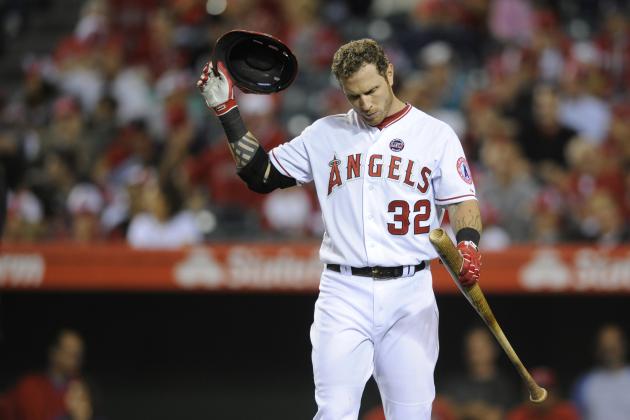 Kelvin Kuo-USA TODAY Sports

Who has been the most overrated player on every Major League Baseball team through the opening months of the regular season?
We're about to find out.
But first: What does it mean to be overrated?
Well, here's how I see things: A player who's overrated entered the season with high expectations—signing a large offseason deal, having a great 2012 or a former star coming off an injury—and has yet to live up to the hype. If you look it up in the dictionary, you'll find the same thing, more or less.
So, back to the original question: Which players fit the mold that I just laid out?
Here's a look at each team's most overrated player of the first half of the season, with an explanation why there was hype around the player and analysis of why he's failed to meet the expectations given to him.
*All statistics in this article were obtained via FanGraphs unless otherwise noted. All contract information was obtained via Cot's Contracts. All injury information was obtained via Baseball Prospectus.
Begin Slideshow

»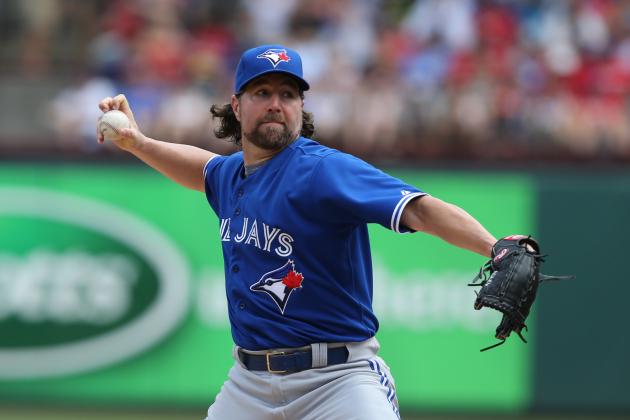 Tim Heitman-USA TODAY Sports

Baltimore Orioles: Jim Johnson, RP
Jim Johnson was one of the best relievers in baseball last season. He emerged as the closer for the surging Orioles and ended up saving 51 games for Baltimore while posting a 2.49 ERA in 68.2 innings of work. He only blew three of the 54 save opportunities he had.
Johnson has already blown four saves this season, and we're not even at the All-Star break yet. He could very well hit the 50-save mark again, but he could easily blow 10 games while doing so. His ERA is nearly 1.50 runs higher than it was in 2012, and part of that could be due to an 8.5 percent decrease in ground balls.
Boston Red Sox: Joel Hanrahan, RP
The Red Sox traded for another closer last season, acquiring Joel Hanrahan, among other players, in exchange for a package of assets. While Boston didn't give up a ton to get the reliever, it was something. Thus far, it has received nothing but headaches from the guy who saved 76 total games the last two seasons.
Hanrahan blew two of six save opportunities across nine appearances to start his career in Boston. He allowed eight earned runs on 10 hits in 7.1 innings of work. He also walked six batters, struck out five and had a wild pitch. Then, Hanrahan went on the disabled list with elbow pain and later underwent Tommy John surgery.
New York Yankees: Mark Teixeira, 1B
Mark Teixeira has been a mainstay in the Bronx Bombers lineup for the last several years. Until last season, Teixeira had at least 30 home runs in each of the last eight seasons he played. Last season wasn't horrible, but he only connected for 24 long balls. This year, not much has gone right for the switch-hitter.
Teixeira missed the beginning of the year with a wrist injury, but recently made his return to the Yankees. In 15 games, Teixeira couldn't have been worse from the plate. He hit .151/.270/.340 with three home runs, 12 RBI and 19 strikeouts. Now, he's sidelined again with wrist inflammation.
That's not good for the Yankees.
Tampa Bay Rays: Fernando Rodney, RP
Yes, another closer. Fernando Rodney was unstoppable a year ago. He was arguably the top reliever in baseball after he saved 48 games for the Rays and only allowed five earned runs in 74.2 innings of work. That works out to be a 0.60 ERA, which is truly incredible for anyone logging that many innings.
This year, Rodney has been anything but unstoppable. He's already allowed three times as many runs in just 29.2 innings. No one expected him to match last year's total, but a 5.16 ERA certainly isn't pretty. Rodney has experienced some major command issues, as he's walked 23 batters already—eight more than in 2012.
Toronto Blue Jays: R.A. Dickey, SP
R.A. Dickey was a great pitcher for the Mets last season, winning 20 games and posting a 2.73 ERA en route to a Cy Young. For that reason, the Blue Jays felt comfortable trading a bunch of talent to Queens in order to acquire the knuckleballer. It's still early, but that looks to be a terrible deal on Toronto's part.
Dickey hasn't acclimated well to the AL East one bit. In 15 starts, Dickey has already surpassed his loss total from 2012 with eight. His ERA has skyrocketed to 4.90 in 93.2 innings and he's missing the strike zone quite often, walking 3.65 batters per nine innings. If he doesn't turn things around, Toronto better hope Travis d'Arnaud is a bust.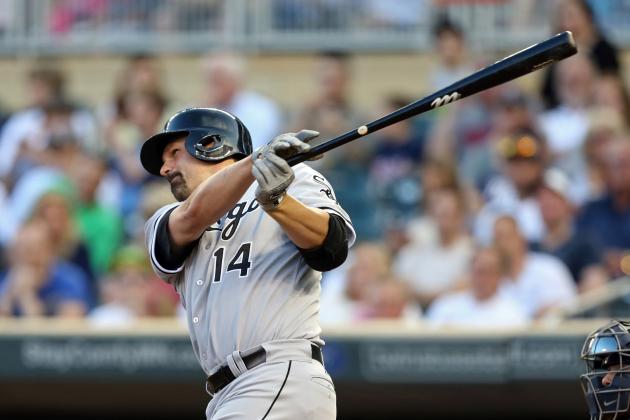 Jesse Johnson-USA TODAY Sports

Chicago White Sox: Paul Konerko, 1B
Paul Konerko has been one of the best players ever to put on a Chicago uniform. He's done a lot of good things for the White Sox over the course of his career, including hitting more than 400 career home runs with the team. Last year was another great year for him, as he hit .298/.371/.486 with 26 long balls and 75 RBI.
Konerko, who has been about as consistent as anyone in the game the last 10 years, has been a nightmare to watch this season. It's like night and day from 2013 to 2012. In 63 games, Konerko is hitting .252/.316/.378 with seven home runs and 29 RBI. He's one of the worst players on the roster in terms of WAR.
Cleveland Indians: Chris Perez, RP
This season has shown that Chris Perez is human and that maybe he's not as good as we were all thinking entering 2013.
Perez has been about as good as any other closer in the game the last two years. He's made back-to-back All-Star teams and has saved at least 36 games in each of the last two seasons.
But this year? Ugly.
Perez has appeared in 17 games and has blown two of eight save opportunities. He's had horrible command issues, walking 5.40 batters per nine innings. His ERA hasn't been pretty either, as it stands at 4.32, which would be a career high. It could be injury related, though, as Perez is currently on the 15-day disabled list with shoulder problems.
Detroit Tigers: Victor Martinez, DH
While Victor Martinez missed all of 2012 due to injury, there were still high expectations for him for when he returned to the Detroit lineup this year. In 2011, Martinez hit .330/.380/.470 with 12 home runs and 103 RBI. That's the type of production that he's capable of. But you wouldn't know by watching him in 2013.
Through 70 games, Martinez is hitting .226/.279/.326 with five home runs and 33 RBI. It could be that he isn't completely healed yet or he needs more time to get acclimated, but for now, Martinez is getting schooled out there. He's never hit below .278 in year where he played in at least 70 games. This could be the year.
Kansas City Royals: Jeff Francoeur, OF
Jeff Francoeur has been a major letdown for the Royals this season. He used to be a mainstay in the heart of their lineup. Now, he's having a tough time just getting onto the field. Two years ago, Francoeur hit 20 home runs for Kansas City while driving in 87. Last year, he hit 16 homers and 49 runners scored from his hits.
This year, Francoeur is hitting .214/.257/.335 with a trio of home runs and 13 RBI. Francoeur has gone from a no-brainer starting outfielder to a guy who is now a platoon player. That transition has only taken a couple of months and wasn't foreseen entering the season.
Where's Wil Myers when you need him, Royals?
Minnesota Twins: Vance Worley, SP
A lot of people probably knew at the time of the deal that the Twins weren't going to come out the victors of the trade that sent Ben Revere to the Philadelphia Phillies. Minnesota got some decent talent with average potential, but Vance Worley hasn't been good this year at all. He's supposed to be the ace of the Twins' starting rotation too.
Worley went 11-3 in his first full season with the Phillies in 2011. He didn't pitch as well last season, but the Twins thought that he'd be able to bounce back. He's actually been worse for them. This season, the right-hander is 1-5 with a 7.21 ERA across 10 starts and 48.2 innings. The Twins traded a star outfielder for that.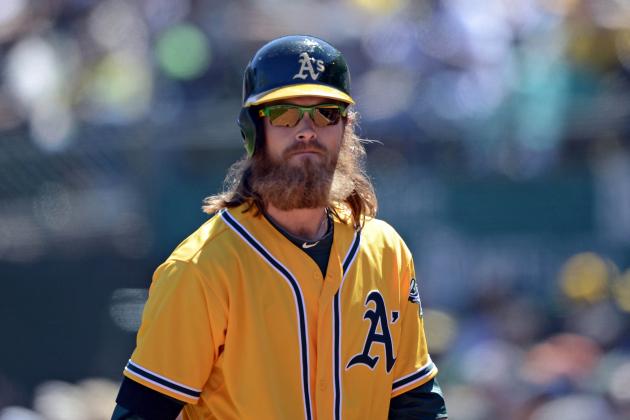 Bob Stanton-USA TODAY Sports

Houston Astros: Chris Carter, DH
It's tough to say who actually has high expectations for any player on the Astros. No one should expect any player on the roster to do much of anything this year. But one player that should catch everyone's eye is Chris Carter, who Houston dealt Jed Lowrie for over the winter. He at least has power.
Carter played in 67 games for Oakland last season, hitting 16 balls out of the park while hitting .239/.350/.514. His power is still there, but he can't even hit .240 again. This year, he already has 14 home runs, but the guy is hitting .216/.306/.432 and is striking out 38.4 percent of the time. C'mon man.
Los Angeles Angels: Josh Hamilton, OF
Well, this one is almost too easy. Josh Hamilton was one of the best players in baseball entering the 2013 season and most were excited to see how he was going to do with his new team.
Hamilton signed a five-year deal worth $125 million. If that doesn't mean big expectations, what does?
He has yet to make a big impact with the Angels this season. He's easily been one of the team's worst players. In 71 games, he's hitting .207/.262/.378 with 10 home runs and 25 RBI. There's no way he hits .285/.354/.577 with 43 home runs and 128 RBI like he did a year ago. How's that for Year 1 of a five-year deal? What's next?
Oakland Athletics: Josh Reddick, OF
Josh Reddick played an enormous role with the A's last season, as he was a major reason why they were able to do what they did. Reddick hit .242/.305/.463 and showed off his power like he had never done before, hitting 32 home runs. He was a monster at the plate and not many pitchers knew how to solve him.
Reddick's power has vanished this season. He's hitting just .206/.295/.325 with three home runs and 20 RBI through 47 games.
Will Reddick even hit 10 home runs this season after hitting more than 30 a year ago? That doesn't seem likely at this point in the year. It's shocking how good he was last year and how bad he is this year.
Seattle Mariners: Dustin Ackley, 2B
Dustin Ackley was supposed to be an All-Star second baseman for the Mariners once coming up to the big leagues a few years ago. Ackley, however, has been a major disappointment within the Seattle organization, and the team is finally fed up with it. In his first full season last year, he hit .226/.294/.328.
That's a poor slash line for nearly every player in the game, and this year, Ackley could even match it through 45 games. He hit .205/.266/.250 to start the year. That's absolutely horrible for a starting second baseman. So, Seattle decided enough was enough and sent him to the minors in favor of Nick Franklin.
Texas Rangers: Elvis Andrus, SS
Elvis Andrus might end up losing his job if he doesn't get his act together soon. He's supposed to be one of the top shortstops in the game and has been an All-Star twice in four full seasons. Last year, Andrus hit .286/.349/.378 with 43 extra-base hits, 21 steals and 85 runs. That's roughly what he's capable of doing each season.
Why could Andrus lose his job? Well, this season, Andrus is hitting .238/.293/.284. Through 69 games, the shortstop only has 10 extra-base hits. He's stealing more bases, but in general, isn't worth a starting job with the Rangers. In the coming weeks, look for Jurickson Profar to make a run at Andrus' shortstop role.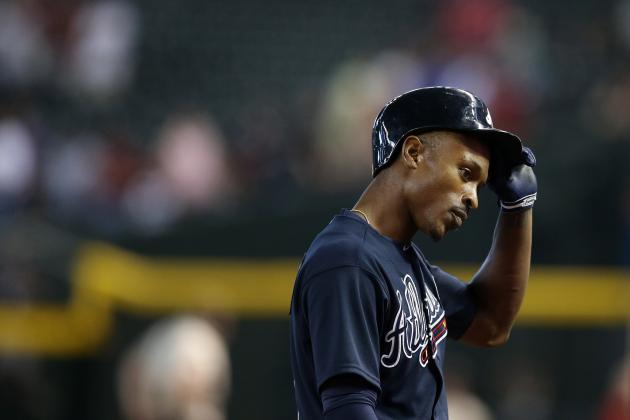 Mark J. Rebilas-USA TODAY Sports

Atlanta Braves: B.J. Upton, OF
It's never good when one of a team's biggest offseason acquisitions is playing so poorly that the team is thinking about sending him to the minor leagues.
Over the winter, B.J. Upton signed a five-year, $75.25 million deal. While that's a lot of money, Upton earned it by hitting 28 home runs with the Rays in 2012.
Upton has been an embarrassment for the Braves this season, though. In 65 games, he's hitting .169/.262/.311 with eight homers and 17 RBI. If Upton continues to play this poorly, the Braves should just bench him or send him to Triple-A. He's proven that he's more of a liability than an asset up to this point in the season.
Miami Marlins: Rob Brantly, C
The Marlins didn't enter the year expecting to do much of anything, but it was going to be exciting to watch Rob Brantly. Brantly was one of the top offensive prospects with the organization and could at least give Marlins fans a reason to watch every week.
Brantly has only played in 43 games this year, but either he's going to be a bust or the Marlins rushed him. He has not looked ready one bit. He's hitting just .245/.295/.298 and has yet to hit a ball out of the park. He's only scored seven runs and driven in 15. Miami should reset expectations by sending him back to Triple-A.
New York Mets: Ike Davis, 1B
The Mets don't have a lot of major league talent on their roster, and when players who do have some talent don't perform, it's disappointing. A year ago, Ike Davis hit 32 home runs and drove in an additional 90 for the Mets in 156 games. This year has been a completely different story.
Davis has played in 55 games, but is hitting .161/.242/.258 while striking out in nearly 32 percent of his at-bats. That wasn't cutting it—even for the Mets. So now, Davis is playing in Triple-A, trying to figure out how to make it back to the majors. If his consistency doesn't improve, he might never make it back.
Philadelphia Phillies: Cole Hamels, SP
The Phillies are paying Cole Hamels $22.5 million to pitch for them this season. If Hamels doesn't win another game this year, Philadelphia would have paid him $11.25 million per victory. Yes, Hamels only has two wins and there's under a month until the All-Star break. With 10 losses, Hamels is having a poor season.
While it's not all his fault—since he doesn't really control run support—Hamels had a tough time keeping batters off the basepaths and preventing them from scoring. He's only stranding 69.7 percent of runners, which is much lower than his career percentage of 69.7. His 4.40 ERA would be a new career high as well.
Washington Nationals: Danny Espinosa, 2B
Danny Espinosa picked a poor season to start cold and then get injured. Despite striking out a ton, Espinosa has been solid for the Nationals the last two seasons. He's hit at least 17 home runs in each of the last two while playing well defensively. Now, however, he doesn't even have a job.
Espinosa started 2013 hitting .158/.193/.272 with three home runs and 12 RBI. Then, he fractured his wrist. Washington looked at those two problems and decided to give top prospect Anthony Rendon a chance to play every day. Now, Espinosa is healthy, Rendon is still at second base and the former second baseman is now in the minors.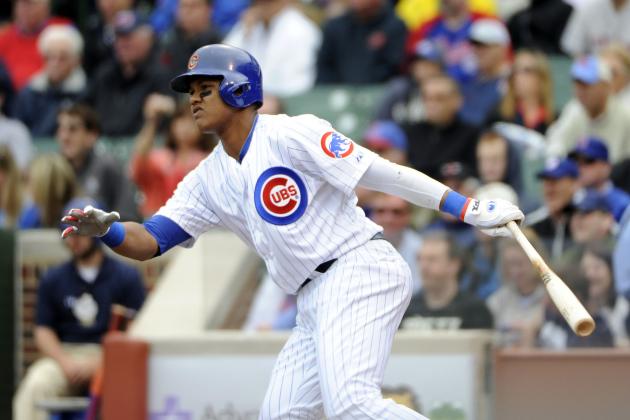 David Banks-USA TODAY Sports

Chicago Cubs: Starlin Castro, SS
Starlin Castro is arguably the face of the franchise for the Cubs. While Castro was thought to have a ton of potential—and was looked at as someone who would eventually win an MVP—it doesn't seem like that's ever going to happen. His name may jump out at you when you're reading the newspaper, but in general, he's been hard to watch this year.
Castro is a .287 career hitter who has hit .300 twice in his previous three big league seasons. This year, however, it isn't going to happen. Through 71 games, the shortstop is only hitting .232/.266/.322 with three home runs and 24 RBI. Yes, a team's face of the franchise isn't even hitting .240 in 2013.
Cincinnati Reds: Devin Mesoraco, C
It's difficult to find an overrated player on the Reds because, in fact, a lot of the players on Cincinnati live up to the hype and hit expectations. But Devin Mesoraco is one player who hasn't lived up to the hype yet, and he's now in his third year with not much to show for it. He was supposed to be a star. He's overrated.
Mesoraco is eventually going to be the star catcher of the future if he ever stars to hit. He's gotten a little better each year with experience, but in general, his numbers still aren't very pretty. In 112 career games, he's hitting just .218/.292/.360. Through 40 games this season, he's hitting .242/.322/.371 with three homers and 16 RBI.
Milwaukee Brewers: Rickie Weeks, 2B
When you hear the name Rickie Weeks, what do you think of? You should think of a guy who used to be a good second baseman in the NL, but hasn't don't much of anything in a long time. And yet he's still starting for Milwaukee. The Brewers must be intrigued that he he's hit at least 20 home runs the last three years.
Weeks is a liability. He strikes out nearly 30 percent of the time and is currently sporting a .217/.314/.353 slash line through 63 games. Weeks has hit six homers and driven in 15 runs. He doesn't hit in the heart of the lineup anymore, and for good reason. What the Brewers still see in this guy is up for a lengthy debate.
Pittsburgh Pirates: Garrett Jones, 1B
The Pirates love having Garrett Jones on their roster, but it doesn't appear that they realize he's a very overrated player. Jones has played in more than 600 games for the Pirates over the last few years and yet, he isn't a great player at all. Maybe it's a lack of a better first baseman, but he's very average—if that.
Last season, Jones hit .274/.317/.516 with 27 home runs and 86 RBI. That's as good as he's possibly going to get.
Pittsburgh didn't go out and get a first baseman during the winter and is now kicking itself for it. Jones is back to being average. In 69 games, he's hitting .264/.316/.423 with six homers and 31 RBI.
St. Louis Cardinals: Jon Jay, OF
Jon Jay was one of St. Louis' top hitters a year ago and was a major reason why the Cardinals had so much success. He missed some time with an elbow injury, but in 117 games, he couldn't have been asked to do more. Jay hit .305/.373/.400 with four home runs, 40 RBI, 70 runs and 19 steals.
Jay is bound to top several of those numbers this year. In just 71 games, Jay already has four home runs, 32 RBI and 40 runs.
So, why is he overrated? Well, his consistency has been a train wreck this season. Jay is capable of being a .300 hitter each year. So far in 2013, he's hitting just .247/.325/.337, and that's not good at all.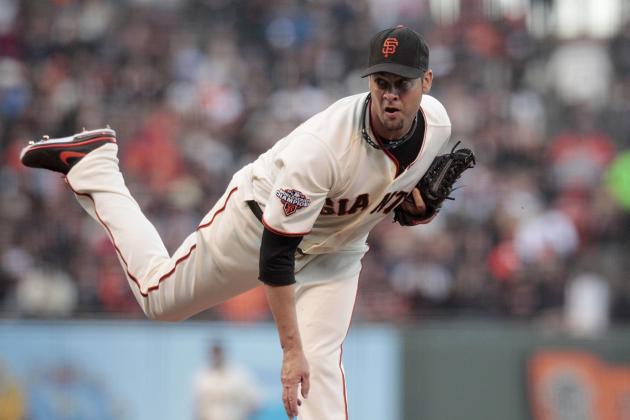 Cary Edmondson-USA TODAY Sports

Arizona Diamondbacks: Martin Prado, UTL
Martin Prado was one of the primary pieces in the trade that sent Justin Upton from Arizona to Atlanta. To this point, it looks like a good deal on behalf of the Braves, but you can't blame the Diamondbacks. Prado had just put together a career year, hitting .301/.359/.438 with 10 home runs, 70 RBI and 81 runs.
Prado, unfortunately, hasn't been very productive for the Diamondbacks this season. He's played in 71 games and is hitting just .242/.294/.342. The utility player has shown more power, hitting five home runs already, but his lack of consistency isn't looking good. For a guy who has a .290 career average, hitting .242 won't cut it.
Colorado Rockies: Todd Helton, 1B
It's understandable that Todd Helton is old and probably doesn't have much left in the tank, but if he's in the starting lineup, there's a standard that he needs to be held to. Just two years ago, Helton was hitting over .300 with 14 home runs and 69 RBI. Last season, he was plagued by injuries and only played in 69 games.
Helton is 20 games away from tying that mark this year, and while he's hitting better than he did a year ago, .245/.307/.395 isn't doing much for Colorado. The first baseman needs to find whatever juice he has left and put it toward a strong second half. He's ruining his legacy by trying to overextend his career.
Los Angeles Dodgers: Matt Kemp, OF
Matt Kemp has gone from one of the best players in baseball to one of the worst in the snap of a finger. Kemp has been a regular MVP candidate for the last few seasons. Last season, the outfielder hit .303/.367/.538 with 23 home runs and 69 RBI while battling injuries. He only played in 106 games during the year.
While injuries have continued to be a problem this year, Kemp didn't put up good numbers beforehand. In 51 games, he was hitting .251/.305/.335 with two home runs and 17 RBI. With Yasiel Puig emerging an elite player in the league, it's possible that Kemp is out of a job once he's healthy again.
San Diego Padres: Huston Street, RP
Someone needs to call Huston Street and let him know that the season has started. It doesn't appear that he's aware of that. Street has yet to pitch like the good closer he used to be. Last season, his first with the Padres, he saved 23 games and posted a 1.85 ERA in 39 innings of work. He struck out a ton of batters and didn't walk many.
It's been the opposite for Street this year. While he already has 14 saves, he's really struggled with command and preventing runners from crossing the plate. He has struck out just 5.01 batters per nine innings. His career average is four more than that. His ERA is already up to 4.44, which would be a new career high. He just doesn't have it anymore.
San Francisco Giants: Ryan Vogelsong, SP
Let me preface by saying that I'm not blaming Ryan Vogelsong for getting hit by a pitch and needing surgery to repair a fracture in his finger. He's on this list because he was not pitching well before the injury, which isn't very characteristic of him. He's won at least 13 games the last two years, but that could be a stretch in 2013.
Vogelsong only made nine starts before hitting the disabled list, and not many of them were very pretty. He only earned himself a pair of wins, and to this point, has four losses. Part of the problem is that he's been giving up a ton of home runs. He's allowed 11 long balls in just 46.1 innings. He's also allowed 37 earned runs.