10 College Football Teams with the Best Leadership Entering 2013 Season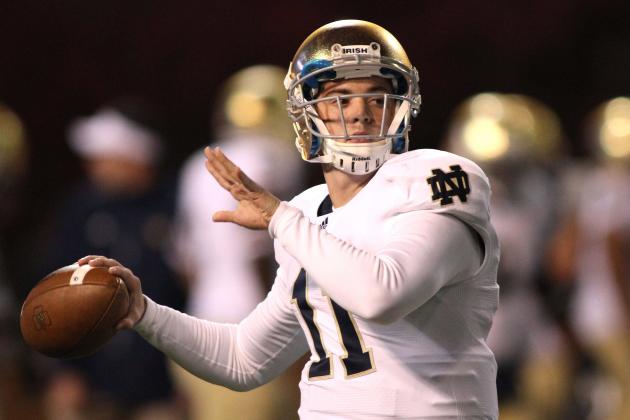 Jeremy Brevard-USA TODAY Sports

Great coaching, talent and a favorable schedule are some of the key ingredients to a successful college football season. One of the keys that is often forgotten, though, is leadership. College teams won't go far without it. Every team that makes a run toward a national title or conference championship has players who helped get it there.
So, what is leadership?
It's players who set an example on and off the field. Most of the time, these are the guys who have been with the program for three or four years. They have learned the ropes, know what the coaching staff expects and they pass it on to the younger players. They help keep players in line and are also who players turn to when times get rough.
Whether it is on or off the field, every team needs leadership in order to accomplish the season's goals.
Begin Slideshow

»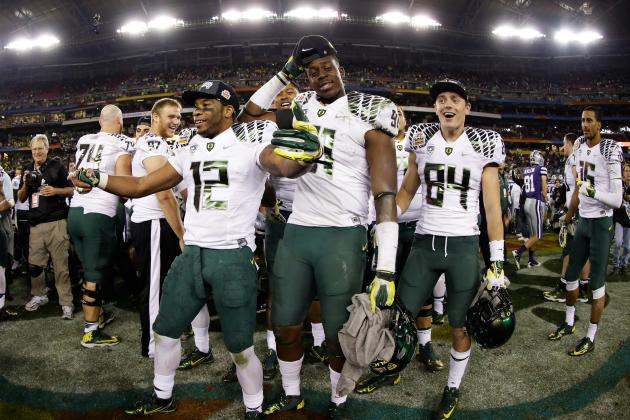 Ezra Shaw/Getty Images

Returning Starters: 15

Offense: 8

Defense: 7
The Ducks defense is absolutely loaded with experienced players. The defensive line is made up of nothing but seniors, led by defensive end Taylor Hart. The secondary returns every starter from last season, including one of the nation's top cornerbacks in Ifo Ekpre-Olomu.
The offense is much younger, but wide receiver Josh Huff is entering his fourth season. The offensive line also has leaders in senior Mana Greig and junior Hroniss Grasu. And although quarterback Marcus Mariota is only a sophomore, he has also taken on a role as a leader and is proving he is beyond his years.
Mark Helfrich has an experienced bunch to work with in his first year as head coach.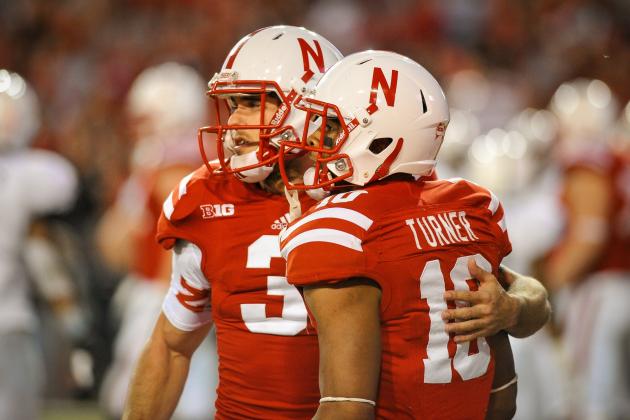 Eric Francis/Getty Images

Returning Starters: 13
Offense: 9
Defense: 4
Looking for seniors on offense? Nebraska has a few you can borrow.
Whether it's quarterback Taylor Martinez, wide receiver Quincy Enunwa or center Cole Pensick, the Cornhuskers will have six seniors starting this season. Wide receiver Kenny Bell also emerged as a leader last season and has been a mentor to some of the younger players.
The defense lost a lot of starting experience, but seven of the projected starters are upperclassmen. Those guys have been on campus for a while and should have no problem showing younger players like Thomas Brown and Aaron Curry the ropes.
Nebraska is a Big Ten team you shouldn't sleep on due to its high-powered offense and leadership.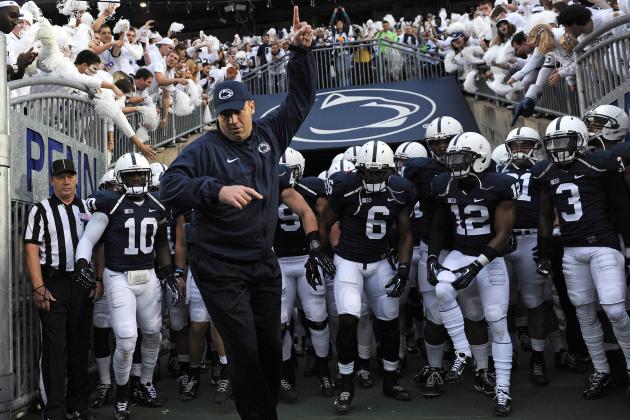 Patrick Smith/Getty Images

Returning Starters: 13

Offense: 8

Defense: 5
Penn State is by no means the most experienced team. It also isn't the deepest or most talented. But don't question this team's leadership.
All of the older players had an opportunity to leave the program when the sanctions were handed down before last season. All of the younger players decided to join the Happy Valley community knowing what they were getting into. These players are in it for the long haul and will spend most of their collegiate careers without participating in a bowl game or Big Ten championship.
It takes a certain kind of person to stick around in difficult times. That's a quality only a leader has.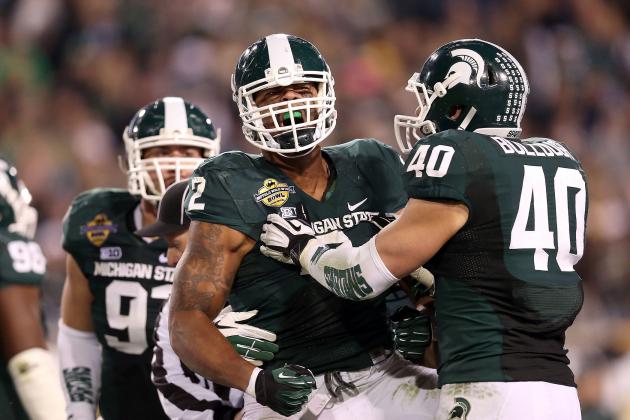 Christian Petersen/Getty Images

Returning Starters: 15
Offense: 8
Defense: 7

Having experience and leadership anywhere you can get it is a plus. But quarterback, offensive line and linebacker are the three positions where you want it the most. Those three positions are arguably the most important, and experience there will go a long way.
Although Andrew Maxwell isn't the best quarterback, he does provide leadership, with this being his senior year. He is also protected by a veteran offensive line that includes seniors Fou Fonoti, Blake Treadwell and Dan France.
The defense is of course led by senior linebackers Max Bullough and Denicos Allen. Both not only produce on the field at a high level, but they also set an example off the field.
Michigan State will remain a tough team to beat with all of the leadership on both sides of the ball.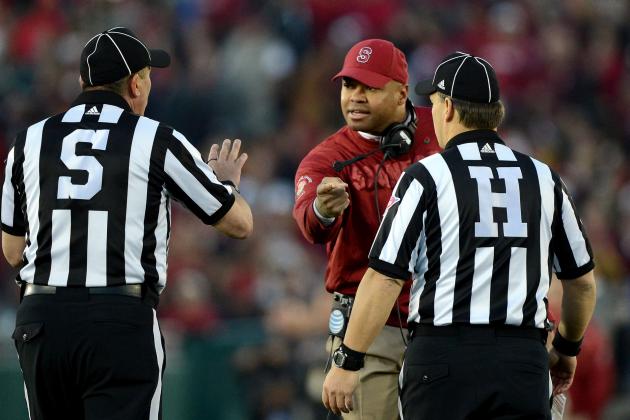 Harry How/Getty Images

Returning Starters: 15
Offense: 8
Defense: 7
Stanford's starting offense features only two underclassmen. Quarterback Kevin Hogan is a first-year starter, but he showed great poise and leadership in a limited playing role last year. The offensive line features two fifth-year seniors, and the top two running backs in Anthony Wilkerson and Tyler Gaffney provide senior leadership.
The top-25 defense is also led by some experienced players, such as defensive end David Parry, safety Ed Reynolds and fifth-year nickelback Usua Amanam. Even linebacker Shayne Skov is a leader on the field. He hasn't been the best example off the field, but he does a great job of making sure everybody is in the right spot.
Stanford is deep and is led by a ton of senior leadership.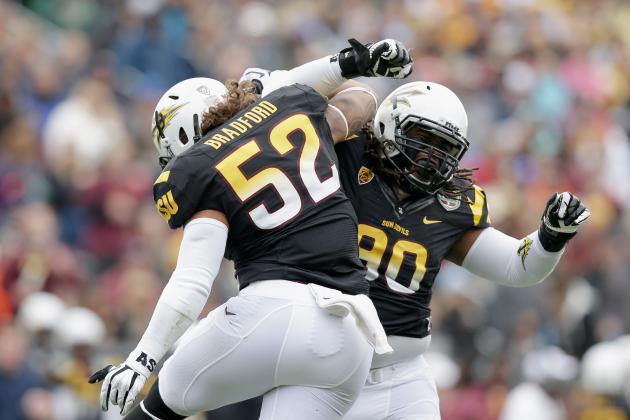 Ezra Shaw/Getty Images

Returning Starters: 14
Offense: 6
Defense: 8
The reason Arizona State is a popular dark-horse pick to win the Pac-12 this season is because of the experience and leadership. The Sun Devils aren't wet behind the ears by any means.
While the offense is talented, this year's squad will rely heavily on defense. Seniors like Will Sutton, Gannon Conway, Steffon Martin and Chris Young are just some of the players you can count on.
Offensively, quarterback Taylor Kelly has shown to be one of the best Pac-12 leaders. He has help from running back Marion Grice and offensive linemen Kody Koebensky and Evan Finkenberg.
Arizona State has an impressive group of seniors who stay out of trouble and set an example.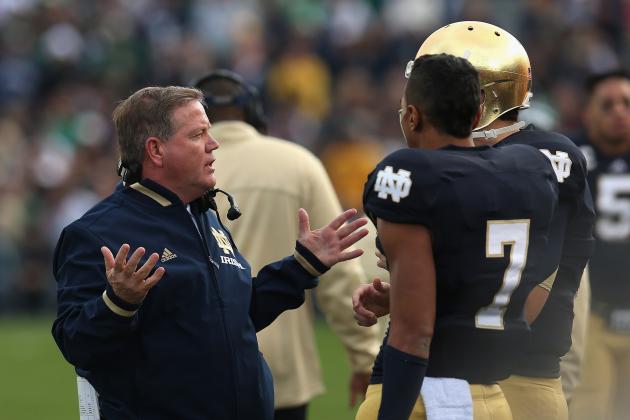 Jonathan Daniel/Getty Images

Returning Starters: 14
Offense: 6
Defense: 8
The leadership for Notre Dame starts with quarterback Tommy Rees. Even when he isn't playing the position, he helps calm down heated situations, mentors other quarterbacks and makes sure guys understand what they are supposed to do. It also helps that backup quarterback Andrew Hendrix is a senior and can help out when needed.
Defensively, lineman Louis Nix didn't enter the NFL draft because he wanted to get his degree. If that's not the sign of leadership, what is?
Even without Manti Te'o, the Irish can also turn to seniors Lo Wood, Dan Fox and Danny Spond for needed guidance.
Notre Dame is as talented and experienced as last season.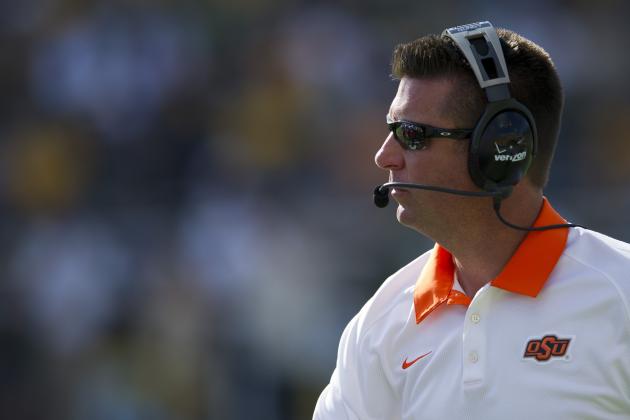 Cooper Neill/Getty Images

Returning Starters: 14

Offense: 7

Defense: 7
Oklahoma State is more than a high-scoring and athletic team. It is also one of the more experienced in the country.
According to college football expert Phil Steele, the Cowboys have 14 starting seniors and five starting juniors. Only three sophomores will be starting and zero freshmen. Simply put, you won't have to tell this team much. Just let the players go out there and get the job done. This makes things a whole lot easier for the coaching staff.
Among other things, leadership is why Oklahoma State is one of the favorites to win the Big 12 this season.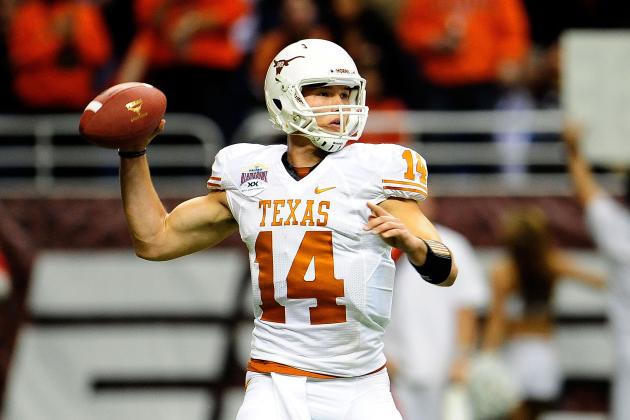 Stacy Revere/Getty Images

Returning Starters: 19
Offense: 10
Defense: 9
Yeah, it would be way too easy to bring up the lengthy arrest record and lack of discipline that has seemed to haunt Texas over the years. But when you are returning 19 starters, the most of any team in the country, you better believe there will be leadership sprinkled in there somewhere.
Like Notre Dame, Texas has the benefit of two experienced quarterbacks in Case McCoy and David Ash. These are two players who have never complained about their roles and want what is best for the team.
The defense will also get its leader back in defensive end Jackson Jeffcoat, who will join seniors Adrian Phillips and Carrington Byndom as the veteran players.
Texas was one of the younger teams in the country a year ago. That is no longer the case. Now, Texas fans are hoping the leadership and experience will lead to a few victories.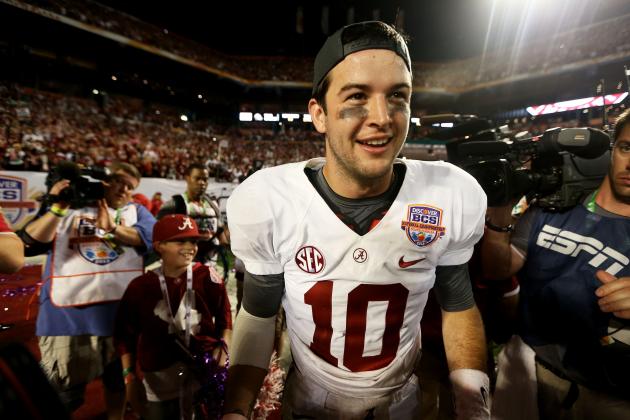 Streeter Lecka/Getty Images

Returning Starters: 13

Offense: 6

Defense: 7
Was there any doubt that Alabama would make this list?
Nick Saban makes sure his players are well disciplined and develop into leaders by their junior year. We saw just a few months ago what happens when players step out of line and aren't on board with what he is trying to accomplish.
Alabama has arguably the best leader in the country in quarterback A.J. McCarron. He is a three-time champion who has seen it all and knows what it takes to be successful on and off the field. Defensively, the team can turn to linebacker C.J. Mosley, who could have easily taken his talents to the NFL after winning another national title.
With the coaching staff preaching the right things, leadership is hardly ever an issue for the Crimson Tide.