5 Ways You Know You Are a Cincinnati Bengals Fan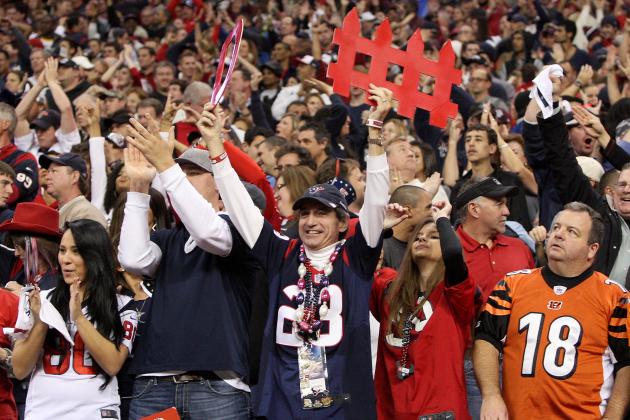 USA TODAY Sports

Cincinnati Bengals fans are a dedicated but skeptical bunch thanks to experiencing the highest of highs and the lowest of lows for an inordinate amount of time.
The Bengals have been to a Super Bowl, which is more than some fans can say for their team of choice. Cincinnati fans have also had to endure decades of futility thanks to an owner who, until recently, simply didn't seem to care about anything except the bottom line.
Things in Cincinnati are changing—and fast. That said, there are a few defining things when you sit back and think about it that truly define you and your dedication to the team.
In the following slideshow we'll look at a few points that truly make you a Cincinnati Bengals fan—through the good times, and especially the bad.
Begin Slideshow

»
If you have only been a fan of the Bengals since say, 1990, there are two defining moments in your fandom that you likely peruse in your mind each day.
Both events involve the golden boy and Heisman winner from USC.
The first is the day Carson Palmer went down with a shredded knee in the playoffs courtesy of Pittsburgh Steelers defensive lineman Kimo von Oelhoffen.
If you're a Bengals fan there isn't a day that goes by where you don't wonder what could have been.
A few years later, Palmer was shipped out of Cincinnati to the Oakland Raiders after declaring he would never play football again for the organization. The Bengals committed the equivalent of an armed robbery and came away with exciting young players in various drafts as a result.
Bengals fans think about these things more often than they probably should. That's a good thing.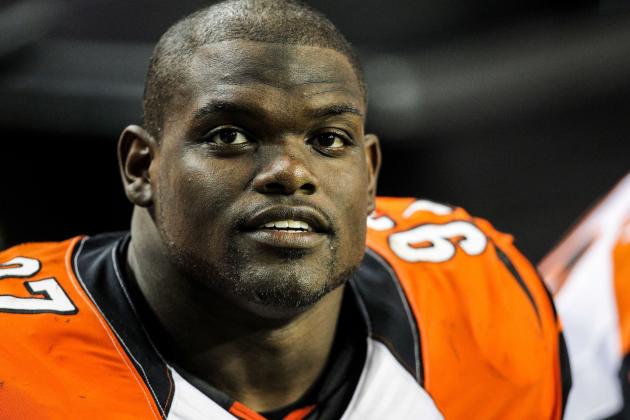 Daniel Shirey-USA TODAY Sports

Free agency is a funny thing in Cincinnati. If you're familiar with the Bengals franchise as an outside observer, you know the team is notorious for letting talent walk and not making a big splash with signings.
Now magnify this times about one million and you'll understand what Bengals fans feel each year when free agency rolls around.
The Bengals don't make big moves in free agency. In fact, when the team has tried it has usually went horribly. See guys like Laveranues Coles and Antonio Bryant.
Cincinnati has a history of letting top talent get away as well. For proof, look at guys like Justin Smith and Jonathan Joseph as more recent examples.
The front office is getting better at retaining top talent in recent years, but you'd be a lying Bengals fan if you were comfortable with the fact defensive tackle Geno Atkins and wide receiver A.J. Green will need new deals soon.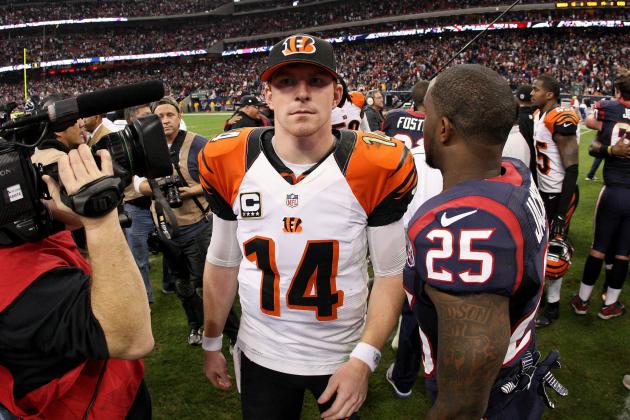 USA TODAY Sports

In 22 seasons the Bengals have reached the playoffs just five times.
In other words, getting there is a small victory. Sure, fans want the team to make some noise and actually win a postseason game, but getting to simply say your team made the playoffs is a badge of honor at this point.
It's a recurring theme for this slideshow, but things are getting better. Cincinnati has made the playoffs in each of the past two seasons—something that has never happened in franchise history unless we're counting the strike-shortened season back in 1982.
We're at a point where the title of this slide won't hold up for much longer, but as with most everything else involving the Bengals, you have to be skeptical of even that with so many critical pieces needing new deals soon.
Most casual and hardcore fans of the Bengals can agree on one thing—a hatred for all things AFC North and the San Francisco 49ers.
Of course, the animosity for the 49ers will likely only exist if you're an older fan now.
It's time for a history crash course. The Bengals have made the Super Bowl twice in franchise history—in 1981 and 1988. In 1981 the team lost by a measly five points. 1988 saw the Bengals lose by just four.
Both times Cincinnati's quest for a Lombardi trophy were thwarted by the 49ers.
Watch the above video for a bit of perspective—Cincinnati supporter or not.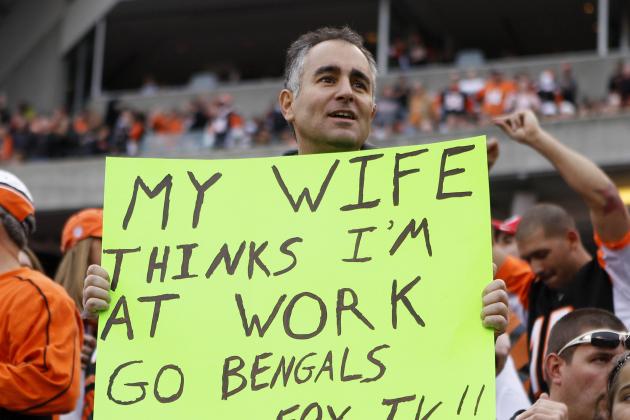 Frank Victores-USA TODAY Sports

The 90's in Cincinnati were perhaps the biggest test any fan base has ever had to endure.
Cincinnati had just one winning season, which occurred in 1990 when the team went 9-7. Overall in this time frame the team accumulated a 52-108 record while winning five or fewer games a season five times.
If you followed the team during this time you were treated to seeing a variety of draft busts, gruesome injuries and perhaps some of the most mediocre football to grace a field in Ohio. There's also the fact it appeared as if the various members of the coaching staff and the man running the show simply didn't care.
It's true—if you made it through the 90's and are still a dedicated fan you are the definition of a Bengals fan. Dedication to one team despite the absolute lack of modernization or effort for over the course of a decade is an admirable trait.
Hats off to you, the Bengals fan. It's been an exercise in patience and loyalty that may or may not pay off.
But you already knew that.
Follow me on Twitter for more NFL news and analysis @Chris_Roling