Thursday marks the second round of Group B play at the 2013 FIFA Confederations Cup. Spain, Nigeria, Uruguay and Tahiti make up the group on display during Day 6 of the epic tournament in Brazil.
The host nation and Italy have already clinched berths into the final four of the tournament in Group A action, and both Spain and Nigeria could do the same with wins over Tahiti and Uruguay, respectively, during Thursday's two matches.
Which team will win the Confederations Cup?
The heavily favored Spaniards took on Tahiti in the first match of the day, while Uruguay looked to rebound from an opening-match loss against La Roja by showing down with Nigeria.
Now that Thursday's action is officially in the books, let's look at a recap for both matches and a brief preview for the rest of the group stage of the Confederations Cup.
Current Group Standings
GROUP A
GROUP B
Team
MP
W
L
D
GD
Points
Team
MP
W
L
D
GD
Points
Brazil
2
2
0
0
+5
6
Spain
2
2
0
0
+11
6
Italy
2
2
0
0
+2
6
Nigeria
2
1
1
0
+4
3
Mexico
2
0
2
0
-3
0
Uruguay
2
1
1
0
0
3
Japan
2
0
2
0
-4
0
Tahiti
2
0
1
0
-15
0
*Via FIFA.com.
Spain 10, Tahiti 0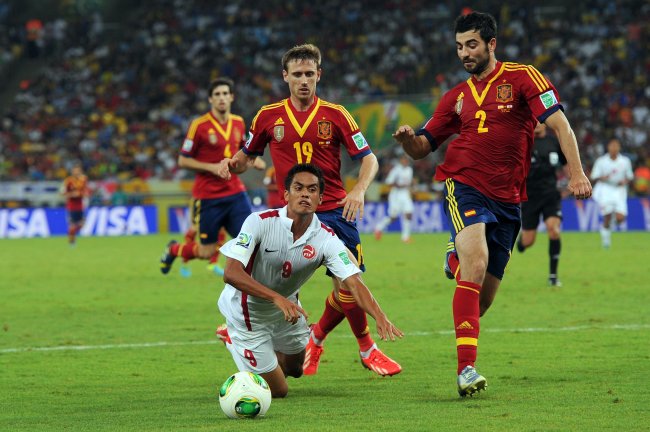 Michael Regan/Getty Images
If an idea of an upset was alive in the Tahiti locker room before the match, it died in the fifth minute of the Minnows' second career appearance at the Confederations Cup.
Fernando Torres found the back of the net early on, and it was the start of a brilliant afternoon for two of Spain's biggest stars. Torres and David Villa both finished with hat-tricks. Then David Silva had a brace and Juan Mata added another, as Spain beat Tahiti by double digits on Thursday afternoon.
Fox Soccer had the tweet as the Torres got the scoring underway.
And boom goes the dynamite. Torres puts Spain up 1-0 inside five minutes. It's going to be a long afternoon for Tahiti, folks. #Confeds

— FOX Soccer (@FOXSoccer) June 20, 2013
Here's a look at the first of four Torres goals against Tahiti (via 101 Great Goals):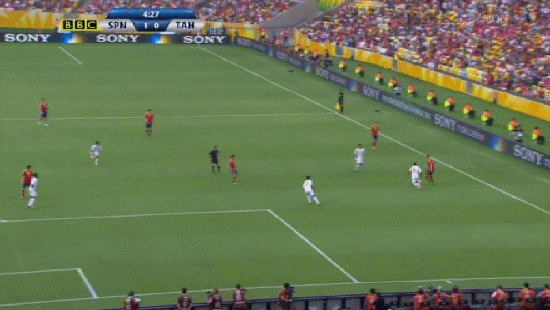 Things didn't get any better for the Minnows from there. Yet through 30 minutes, it looked like Tahiti was going to put up a better fight against one of the best teams in the world than it did against Nigeria.
A late onslaught at the end of the first half squashed that.
Silva got the first of his two goals, Torres found the net for the second time and Villa got the first goal of his hat-trick before 40 minutes had ticked away in Brazil. A 1-0 Spain lead ballooned to a 4-0 onslaught before Tahiti could get back into the locker room for the half.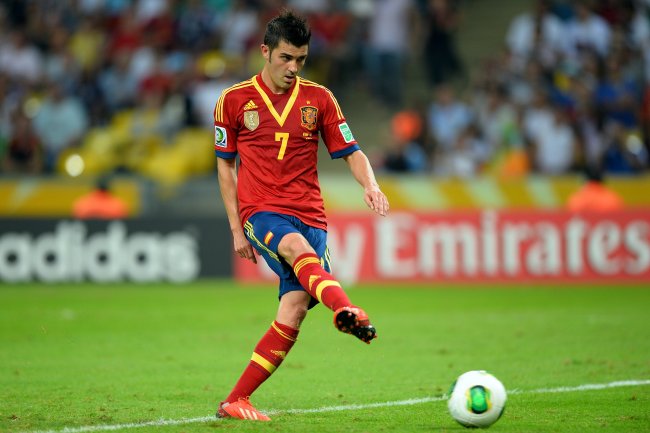 Laurence Griffiths/Getty Images
Spain got back on the pitch and was clearly concerned about making sure no one was disappointed in the final tally on Thursday, unlike what Nigeria was able to put together in its earlier win against the Minnows.
Villa got more than halfway to his hat-trick just four minutes into the second half, and a 5-0 mark against Tahiti would have been more than enough to cement the fact that the Minnows were more than overmatched in their second career Confederations Cup appearance.
Torres drove the point home again in the 57th minute, getting his hat-trick and giving Spain a six-goal lead. Here's a look at his third goal (via 101 Great Goals):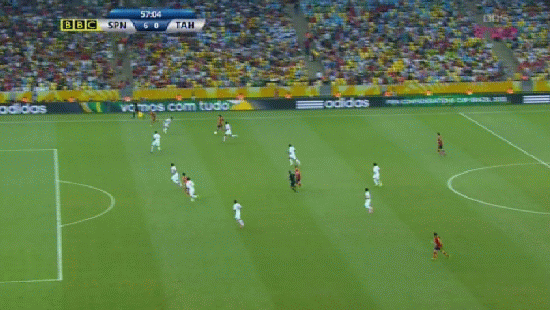 His third career hat-trick was among the highlights of the afternoon for Spain, but Villa wasn't done scoring, either. He found the net again just seven minutes after his teammate, and joined the three-career-hat-trick club in the same match as his countryman.
101 Great Goals had the GIF:
ESPN's Paul Carr also spoke about the feat on Twitter:
David Villa is the second Spanish player with three career hat tricks. Torres got there 7 minutes earlier.

— Paul Carr (@PCarrESPN) June 20, 2013
Juan Mata increased the lead to eight with his low-footed shot just two minutes later, and with an 8-0 lead, Spain was on the verge of breaking a FIFA record for goal differential in a match. ESPN's Stats & Info had the tweet:
Spain leads Tahiti 8-0. Largest margin of victory in senior FIFA tourn. is 9 (last done in 1982 World Cup when Hungary def. El Salvador)

— ESPN Stats & Info (@ESPNStatsInfo) June 20, 2013
As the match wound down, the only thing left to decide was if there were going to be any more records or feats that Spain would break in the afternoon. As noted by AS on Twitter, it looked as if Marama Vahirua was looking for the Spaniards to ease up down the stretch:
Didn't see it but commentators are saying Vahirua spoke to Torres, looked as if he was saying "that's enough now".

— AS English (@English_AS) June 20, 2013
They didn't, as two more goals were to be had. Torres' fourth put Spain up by nine, tying the record listed above, but only after he had already shanked a penalty kick just a minute earlier (via 101 Great Goals):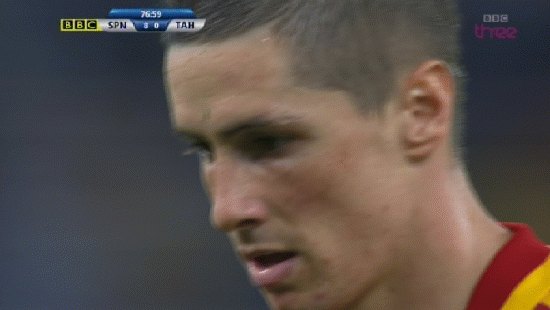 It was almost as if the world was cheering privately for Tahiti to get out of the rest of the match without giving up any more goals. 101 Great Goals was among those in that school of thought:
Torres missed it. Lets celebrate Tahiti!!!!

— 101 Great Goals (@101greatgoals) June 20, 2013
Silva's brace just before added time capped the 10-0 Spain victory.
Which hat trick was more impressive?
Spain clinches a spot in the semifinals with the big victory and a statement against Tahiti. Though, all told, the statement wasn't impressive from a competition standpoint, given that good teams are supposed to blow bad teams out of the water.
Still, that's exactly what happened, and Spain can sleep easy now with a match against Nigeria the only thing standing between it and the knockout phase of the Confederations Cup.
Uruguay 2, Nigeria 1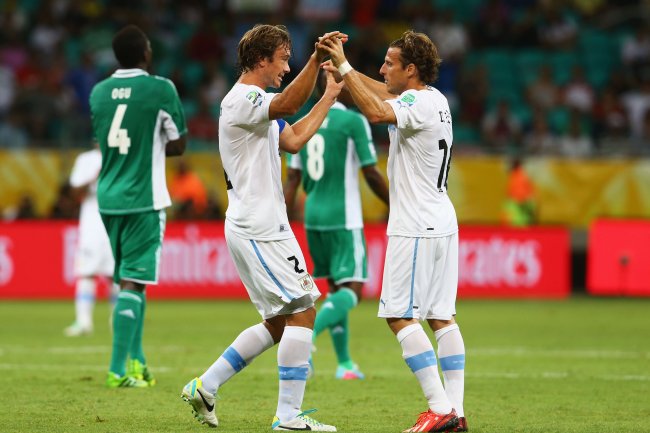 Robert Cianflone/Getty Images
Nigeria had been unbeaten in 18 previous matches before Thursday night, while Uruguay desperately needed a win or a draw to avoid being eliminated from the Cup semifinals by the end of group play.
Something had to give, and it was the insertion of Diego Forlan into the starting XI by Uruguayan manager Oscar Tabarez that proved to be the difference in the 2-1 La Celeste victory over the Super Eagles.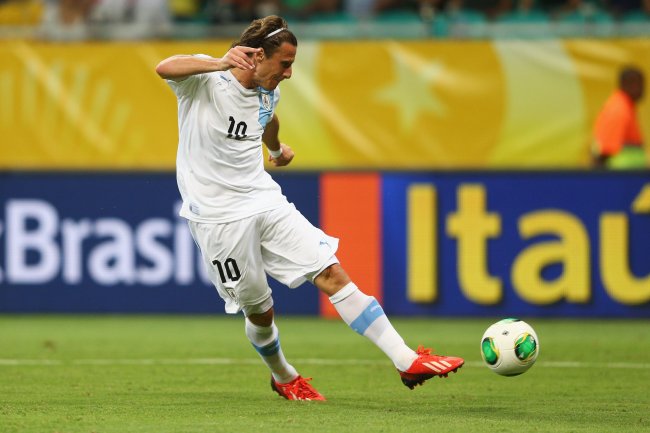 Clive Mason/Getty Images
Nigeria held an edge in possession, passing success and shots in this one, but it was the scoring punch of Uruguay that managed to make up for the stats that usually sway a match the other way on Thursday evening in Brazil.
Forlan's goal in the 51st minute gave Uruguay a 2-1 lead that they would never relinquish, and La Celeste rebounded from the tough loss to Spain to pick up a must-have three points in the group standings on Thursday evening.
ESPN's SportsCenter had the tweet:
Diego Forlan nets winning goal as Uruguay beats Nigeria, 2-1. Forlan becomes Uruguay's all-time leading scorer w/ 34 international goals.

— SportsCenter (@SportsCenter) June 20, 2013
It was Diego Lugano who got the scoring started for Uruguay in this match, finding the back of the net in the 19th minute to give his squad a 1-0 lead.
Things didn't look good for the Super Eagles early, either, as recently promoted AC Milan striker Nnamdi Oduamadi had to be carted off in the 30th minute. He would not return, and Goal.com Nigeria had the tweet as he left the pitch.
Oduamadi stretchered off after a hard tackle by Arveano...remains to be seen whether he'll return. CC

— Goal.com Nigeria (@GoalcomNigeria) June 20, 2013
Without the goal scoring of Oduamadi, someone else was forced to step up if Nigeria wanted to stay in the game. That player was Chelsea's John Obu Mikel, who equalized the score at 37 minutes on one of the best goals you'll see all summer.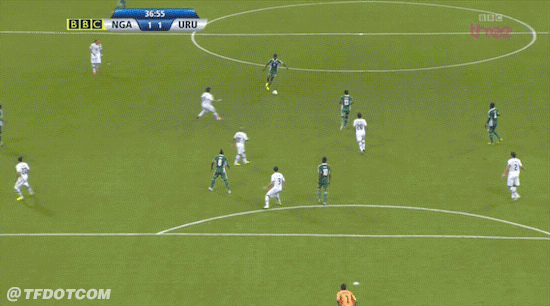 Tom Williams of the Agence France-Presse had a comparison that today, is one that is superlative to all others:
John Obi Mikel momentarily transforms into Lionel Messi, and Nigeria are level. Spain through to semi-finals as things stand.

— Tom Williams (@tomwfootball) June 20, 2013
With the score knotted at 1-1, both teams entered half time with an equal chance to pick up the points and make things difficult on the other when the second half began. It was Uruguay who would take hold of that chance, and they did it on the back of the country's brightest all-time star.
Forlan, who did not start in Tabarez's group against Spain, entered the starting lineup and earned his 100th cap in the process. Luis Suarez had tied his all-time Uruguay scoring record against La Roja, but that tie was quickly broken in this one.
Running down the left flank, Forlan took a pass and rocketed one over the outstretch arms of Super Eagles goaltender Vincent Enyeama, a score that proved to be every bit as sweet as one would imagine during an 100th cap and with the scoring record a part of the feat.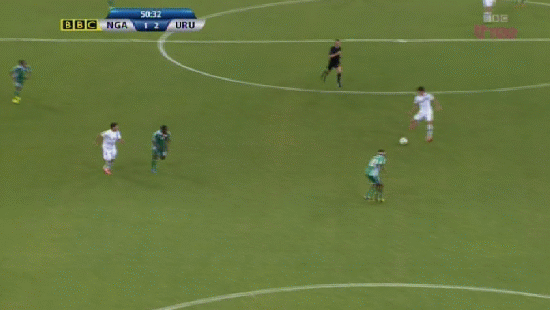 Fox Soccer had this tweet as the ball found the twine:
GOAL Uruguay! Happy Anniversary, Diego Forlan. The living Uruguayan legend puts his side ahead on his 100th cap. #Confeds

— FOX Soccer (@FOXSoccer) June 20, 2013
Neither team would find the net in the final 40-plus minutes of the match, but as noted by Herb Scribner, this isn't a Nigerian team you can sleep on in the final minutes of a match:
Nigeria's always hyped as Africa's best. Very competitive team. Down 2-1 to Uruguay in #ConfedCup2013 with about 6 minutes to go.

— Herb Scribner (@hscribner) June 20, 2013
Godfrey Oboabona and Michel Babatunde both had shots as the match wore down, but Uruguay's defense stiffened and La Celeste escaped with a win in a match that was crucial to clawing back into contention and for getting another shot at a Group A team—or a rematch with Spain—in the semifinal and final rounds.
What's Next
Remaining Group Schedule
Date
Matchup
Saturday, June 22, at 3 p.m. EDT
Italy vs. Brazil
Saturday, June 22, at 3 p.m. EDT
Japan vs. Mexico
Sunday, June 23, at 3 p.m. EDT
Nigeria vs. Spain
Sunday, June 23, at 3 p.m. EDT
Uruguay vs. Tahiti
*Via FIFA.com.
Follow Bleacher Report FC Ethan Grant (@DowntownEG) on Twitter.