Spain vs. Tahiti: 6 Things We Learned in 2013 Confederations Cup Blowout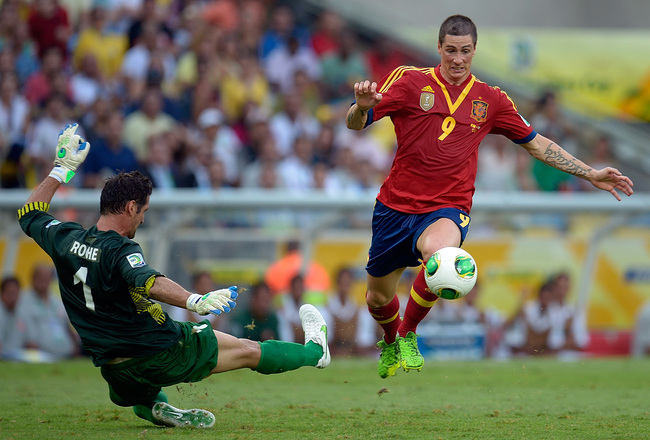 Alexandre Loureiro/Getty Images
For a match whose result was never in doubt, the Confederations Cup group match between Spain and Tahiti had some substance to it.
For Spain, the result virtually assures them a place in the semifinals.
On the other side, Tahiti's final match at this tournament will almost certainly be against Uruguay on Sunday.
Even beyond these issues, though, the match spoke to the state of both teams and football in general.
Here are six lessons from Spain's 10-0 drubbing of Tahiti.
Spain's Second String Must Play Better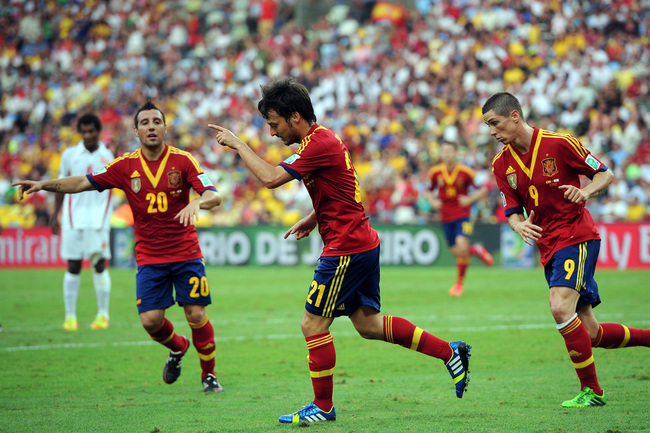 Michael Regan/Getty Images
Heading into this match with Tahiti, Spain started just one player (Sergio Ramos) who had started in Sunday's victory over Uruguay.
That fact was quite clear in the first half.
Spain may have led 4-0 heading into the half, but the performances of these second-choice players were not on the level that one would expect to see from Spain.
With the likes of Xavi and Andres Iniesta holding the top spots, the second-tier Spanish midfield of Santi Cazorla, Juan Mata and David Silva had trouble holding the ball and moving it around against this inferior side.
To their credit, the side came out better in the second half.
However, it is slightly worrying to see any below-par performance from these players.
After all, one would hope that these talented Premier League players would put pressure on the starters and keep them at their sharpest.
Torres Likely to Win Another Golden Boot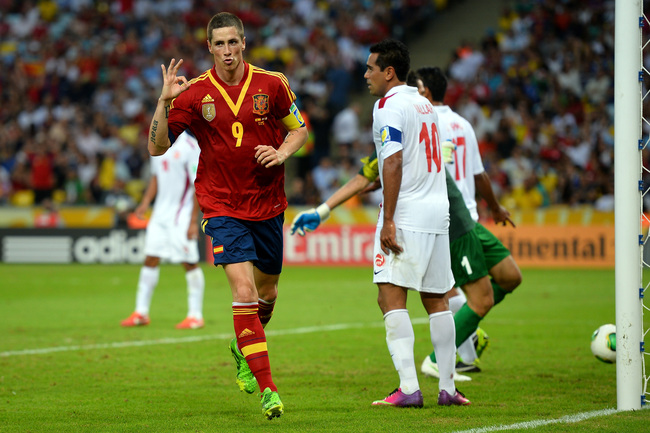 Laurence Griffiths/Getty Images
Fernando Torres' four goals against Tahiti put the striker in the pole position for the Golden Boot, the award given to the player who scores the most goals in the tournament.
Even if Torres fails to score another goal for the rest of the tournament, El Nino will still have a very good chance at the award, as any player who catches up to his tally will be likely to have played more minutes than he did.
Torres pulled off a similar feat at Euro 2012 when he scored three largely meaningless goals to win the Golden Boot.
It's a hardly surprising development, though, as one writer predicted just this scenario before the tournament.
International Football Is Incredibly Unbalanced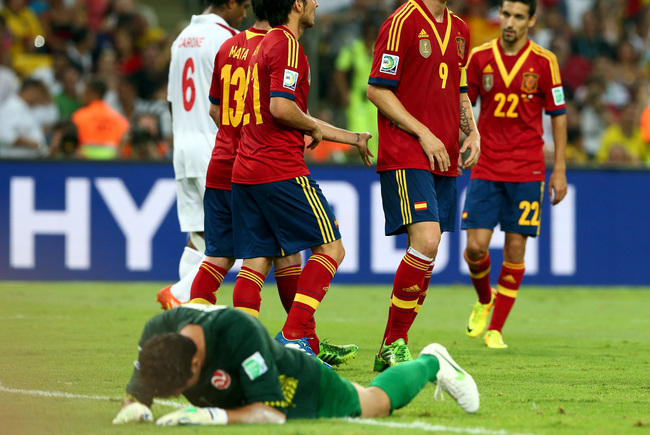 Ronald Martinez/Getty Images
Spain's complete annihilation of Tahiti showed just how big the disparity is between the top and bottom nations in international football.
The fact that any team is able to beat another qualifier 10-0 on such a huge stage is absolutely incredible.
Factoring in the fact that Tahiti defeated the likes of Samoa 10-1 to get here and that Samoa defeated American Samoa and the Cook Islands to get there, the difference in quality between the best teams in the world and the worst is astounding.
David Villa Getting Confidence Back?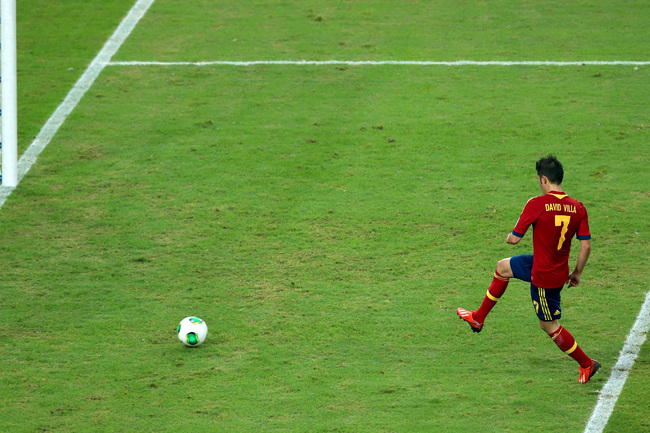 Jasper Juinen/Getty Images
Ever since his injury a few seasons ago, David Villa has gone through a rough stretch of form at Spain and Barcelona.
Coming into the match with Tahiti, Villa hadn't scored a goal for Spain in a meaningful game since a Euro 2012 qualifier in October 2011.
For the nation's top all-time scorer, that is quite the drought.
However, Villa's hat trick against Tahiti could be enough to get his confidence flowing again.
Could David Villa be ready to return to form just in time for the 2014 World Cup?
What Is Sportsmanship?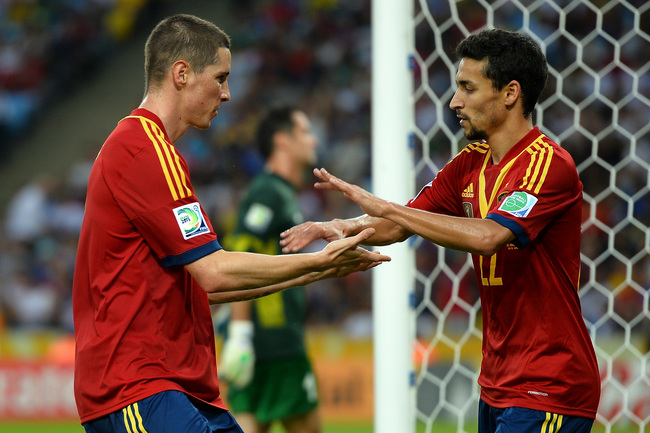 Laurence Griffiths/Getty Images
It is difficult to determine the correct way to handle a blowout victory.
Should a team lay down and hope not to run up the score? Or should they keep playing and not pander to their opponents?
By the end of the match, it was clear that Spain handled the situation perfectly, playing hard to the final whistle.
Yes, they could have relaxed when they were up five or six goals, but the world champions played every minute against their outclassed opponents as if the match were in the balance, allowing the Tahitians to learn from the experience.
Other sports may want to deal with such situations differently, but this is definitely the right way in football.
Tahiti Can Hold Their Heads High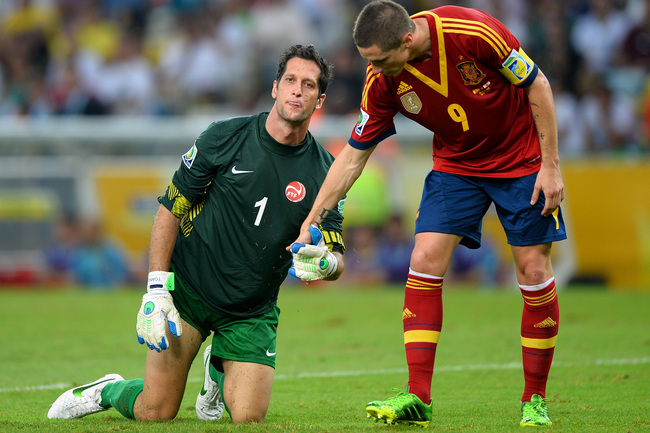 Laurence Griffiths/Getty Images
Yes, Tahiti were absolutely destroyed against Spain, conceding 10 goals.
Yes, they fell 6-1 to Nigeria.
Yes, they will probably lose quite heavily to Uruguay Sunday.
However, the Tahitians can exit this Confederations Cup holding their heads high.
They came into this tournament with a positive attitude, did not deviate from their style of play, created a few nice chances and showed what they are capable of.
In this age of pragmatism as teams look to "park the bus" against teams that are more talented, Tahiti were a breath of fresh air.
And hey, they will always have that goal against Nigeria.
Keep Reading

Spain (National Football): Like this team?