The Arizona Diamondbacks are an interesting case.
There aren't any gaping holes that need to be filled when you examine their 25-man roster. But there also plenty of spots that could use an upgrade.
The problem is that most of these spots are filled by proven veterans with hefty guaranteed salaries who aren't necessarily playing so bad where they should just be released outright. They're just not exactly living up to the expectations of what would be an average season.
So should the first place Diamondbacks, who are 39-33, be taken serious as a legitimate contender in the National League? Let's take a closer look.
Lineup
Aside from emerging star Paul Goldschmidt (.301 BA, 17 HR, 62 RBI, 17 2B) and a couple of other players who are exceeding expectations on offense—Didi Gregorius (.791 OPS) and Gerardo Parra (.831 OPS) would qualify— you could argue that no other D-Backs regular has been very good.
Backup corner infielder Eric Chavez, who was getting a bulk of the starts at third base with Martin Prado at second base in the wake of Aaron Hill's injury, was having a big season (.956 OPS, 7 HR) before an oblique injury sidelined him in late May. Hill, who was one of the most productive second basemen in baseball last season, was off to another great start before fracturing his hand after 10 games. Both could be back later this month, though.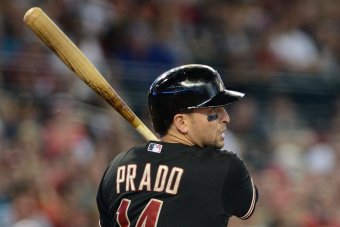 Jennifer Stewart/Getty Images
The biggest disappointments, however, have come from the middle of the lineup where Jason Kubel (.718 OPS), Miguel Montero (.612 OPS) and Cody Ross (.671 OPS) aren't giving Goldschmidt much help. Martin Prado (.636 OPS) was moved down in the order after a slow start but he's continued to struggle. This has to keep general manager Kevin Towers up at night, considering Prado was the key player acquired in the Justin Upton deal and that he was later signed to a four-year contract extension.
Overall, they're in the middle of the pack in most statistical categories with a few alarming exceptions. They're 26th in homers, 28th in stolen bases and last in stolen base percentage. They are sixth in doubles, which helps, but it still makes it tough to score runs when you don't hit a lot of homers and lack the team speed to make things happen on the base paths.
Defensively, the team employs four of the 17 players who have accounted for at least nine defensive runs saved on the season. Parra has 15, A.J. Pollock has 10 and Goldschmidt and Ross have nine each. Pollock hasn't hit enough, though, to remain in the lineup on a consistent basis.
Starting Rotation
Much like the offense, the starting rotation also has an unlikely leader in lefty Patrick Corbin.
While Trevor Cahill has been decent (3.92 ERA in 15 starts), Ian Kennedy (5.21 ERA), Brandon McCarthy (5.00 ERA) and Wade Miley (4.64 ERA) haven't been as good as advertised. Instead, the 23-year-old Corbin, who many thought would be in Triple-A to start the season, has been the star with a 9-0 record and 2.28 ERA in 14 starts.
I've named this organization in a few different articles as having enough rotation depth to make a trade. But with a shoulder injury to McCarthy and the top-of-the-rotation duo of Cahill and Kennedy combining on just 13 quality starts in 29 outings, it would be tough to see that happening now.
Bullpen
Assembling a strong bullpen has always been Towers' strengths and 2013 is no exception. Theyr'e tied for 7th in baseball with a 3.04 ERA and there isn't a pitcher in the group having a really bad season.
But that statement is only true if you ignore the statistic called "BS" or "blown saves."
They're fourth in the majors with 13 blown saves, behind only the Los Angeles Dodgers, Chicago Cubs and Baltimore Orioles. Losing a lead in the seventh inning or later after the starting pitcher and offense have done their jobs can devastate a team's confidence. And that's what has happened too many times in 2013.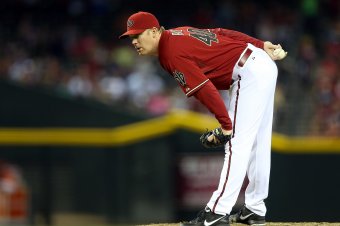 Christian Petersen/Getty Images
J.J. Putz, who has been out since early May with an elbow injury, began a rehab assignment on Wednesday and could return before the All-Star break. But he wasn't exactly pitching well before the injury (five-for-nine in save opportunities). Bell, who would likely move back into a setup role when Putz is ready, has allowed a homer in four consecutive appearances. Hernandez has allowed three earned runs in two of his last five appearances. Those are the three guys they'll rely on most to hold a late-inning lead.
If they're not able to close out games on a consistent basis, they'll have a hard time keeping up in a division that isn't even that good.
Conclusion
As is the case with every team in the National League West, the Diamondbacks don't exactly worry an opposing team coming into town for a three-game series. But they're at the top of a what I'd describe as a very winnable division.
Help could be on the way, too.
If rookie center fielder Adam Eaton makes it back from an elbow injury —he's on target to return around the All-Star break—he could ignite a lineup that could use a guy with his speed and on-base ability.
In addition, their top two pitching prospects —Archie Bradley and Tyler Skaggs— are making a push for the majors and could also help in the second half. If Towers can somehow solidify the back-end of the bullpen, they should have enough to remain at the top of the NL West.
And as we've seen on several occasions, anything can happen in the postseason. Getting there is the first priority.
As I've pointed out, ball club has weaknesses and too many key players underperforming. And yet they're still six games over .500 and 1.5 games ahead of the second place San Francisco Giants. There is something to be said about a team's ability to win ballgames when things aren't firing on all cylinders.
So the answer to the above question is "yes."
We do have to accept the Diamondbacks as a true contender.