Repeating a trip to the national championship game would be difficult for any team, but duplicating 2012's success will be especially tough for Notre Dame.
The issues start with the shift at quarterback, but the defense will also be in for a different experience without the unit's catalyst for the past four years.
Beyond the natural and unnatural attrition on the field, the Irish will also face even higher standards and challenges than before.
Here's a breakdown of the biggest challenges before them in 2013.
Golson's Running Ability Will Be Missed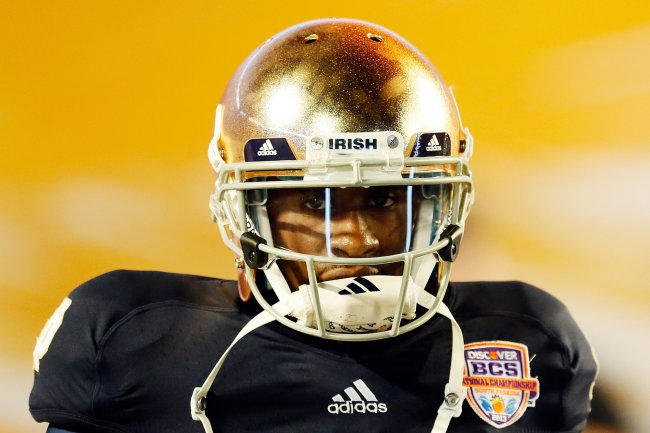 Kevin C. Cox/Getty Images
Although Tommy Rees has experience as a starting quarterback, and many believe he's a superior passer to Everett Golson, the Irish will still miss the latter's dual-threat capabilities.
Golson was banned for poor academic judgement, per a statement from the 20-year-old published by the Chicago Tribune.
On the field, Golson had far more upside as a complete player than Rees and his ability to make plays with his feet adds a needed dimension. In 2012, Golson ran for 305 yards and five touchdowns. Rees has minus-73 yards rushing and one touchdown in his entire career at Notre Dame.
Obviously the negative number stems from taking sacks and not conventional rush attempts, but Rees' lack of elusiveness and low propensity to run will remove one of the worries from the minds' of opposing defensive coordinators.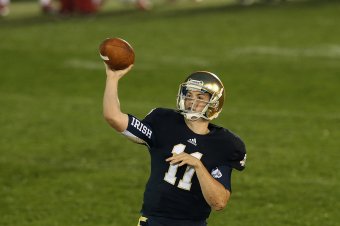 Jonathan Daniel/Getty Images
The perception is that Rees is a better passer than Golson, but the numbers don't show a huge difference. In 2011, when Rees gained the bulk of his experience as a starter, he threw for 2,871 yards, completed 65 percent of his throws, tossed 20 touchdown passes and was picked off 14 times.
In 2012, Golson threw for 2,405 yards, 12 touchdown passes, was picked off six times and completed 58 percent of his passes. Rees certainly has the edge, but is it significant enough to make up for what Golson brought as a runner?
Probably not.
The Irish Will Miss Manti Te'o's Leadership
Jonathan Daniel/Getty Images
Say what you want about Manti Te'o's disappearance in the national championship game, but he was just one of 11 overmatched players against the Alabama Crimson Tide juggernaut.
Who will Notre Dame miss most?
The truth is, the Irish wouldn't have even been in that position were it not for Te'o. The senior was a locker-room presence, on-field organizer and stand-out performer. The former Irish star led the team in tackles and interceptions as a senior.
While the Irish have seniors like Louis Nix, Prince Shembo, Danny Spond, Dan Fox and Lo Wood, none of them has the presence Te'o had.
The Irish defense will still be very good, but it will need to be great to meet the standards of the 2012 team.
The Irish Will Be the Targets This Year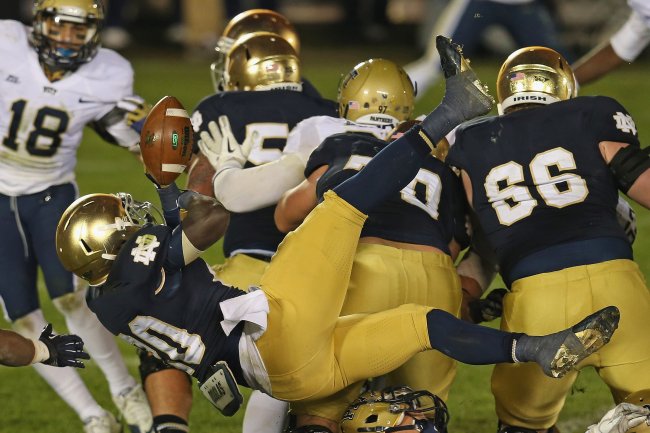 Jonathan Daniel/Getty Images
To a certain extent, Notre Dame has a target on its back every season simply because many people love to hate the storied program. Following last season's success, however, there are valid reasons for every team on the Irish's schedule to circle the date they meet them.
Last season the Irish weren't even ranked in the preseason AP Top 25. This season they will be among the most highly-regarded teams in the land.
The Irish will find it harder to win when everyone expects them to. Pressure plus roster turnover and dismissals won't ruin Notre Dame's season, but the dynamic will make another trip to the national championship far less likely.
Follow me for Sports news, rumors and Spirited Opinions.