How Philadelphia Flyers Should Fix Every Hole on the Roster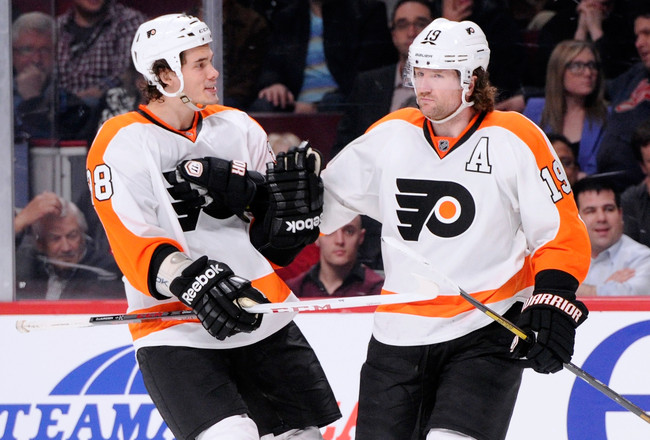 Richard Wolowicz/Getty Images
The NHL Draft is just 10 days away.
Free agency will begin shortly after that.
And the trade winds are already swirling.
The time for change is here. And while the Philadelphia Flyers aren't as badly off as some of the other 14 NHL squads that missed the playoffs, Philly definitely still has some work to do.
Here's how the Flyers should fix every hole on their roster.
Additional Scoring Punch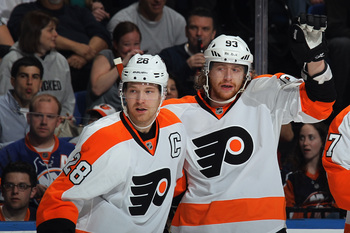 Bruce Bennett/Getty Images
The Flyers certainly weren't a bad offensive team last season. They just weren't the kind of team whose offense scared anyone.
Philadelphia finished right in the middle of the Eastern Conference last year in goals scored, and was actually ninth overall in the entire NHL. With 133 total goals, the Flyers were the second-highest scoring non-playoff team behind the Tampa Bay Lightning.
Captain Claude Giroux paced the Orange and Black in scoring for the third straight season. Jake Voracek was a revelation, notching a career-best 22 goals despite the shortened 48-game schedule. Meanwhile, Wayne Simmonds is establishing himself as an emerging power forward while Matt Read has produced back-to-back double-digit goal seasons in his first two NHL campaigns.
But even with that, Philly's offense lacked consistency and couldn't patrol a wave of potent threats, which allowed opposing teams to focus on one or two key contributors.
A healthy Scott Hartnell would certainly provide more offense (just eight goals in 32 games last season) and the Flyers are hoping both Brayden Schenn and Sean Couturier take a significant step forward in their third season with the club.
Still, the Flyers need to seriously consider adding at least one or two proven, veteran goal scorers to help bolster their attack.
Rumors are already swirling about the team's interest in Anaheim's Bobby Ryan. A native of Cherry Hill, New Jersey, Ryan and the Flyers would seem like a perfect fit.
The second overall pick in the 2005 draft has already produced four seasons of thirty-plus goals with the Ducks, and has amassed 147 goals in his first 378 NHL outings. The asking price for Ryan would likely include Philadelphia's 11th overall selection in the upcoming draft, but it's something the Flyers should certainly consider to improve the team's attack.
Free agency could be another direction the club takes to bolster its offense. With this route, Philadelphia could look to add supplementary bodies without parting with any of its current assets.
A number of veteran goal scorers could be available in the coming weeks, including names like Jarome Iginla, Jaromir Jagr, Brendan Morrow and Derek Roy.
None of those particular names are likely to come cheap, but the Flyers will receive some cap relief in the coming weeks when the team exercises one of its amnesty buyouts on Danny Briere. The move will relieve the team of the final two years ($6.5 million cap hit per season) of his contract.
That move alone won't necessarily provide enough relief to land one of the big free agent forwards, but it certainly is a step in the right direction to both broadening and enhancing Philadelphia's attack.
Enhanced Talent and Depth on Defense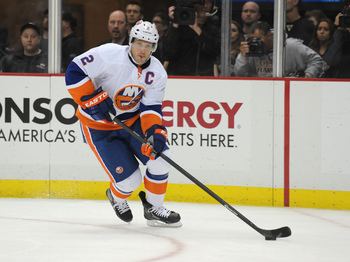 Vincent Pugliese/Getty Images
It became evident last season that the biggest weakness for the Flyers is the team's defense corps. It was a question mark going into the lockout-shortened campaign and remains a question mark today.
Injuries certainly didn't help the Orange and Black.
Veteran blueliners Braydon Coburn, Nicklas Grossmann and Andrej Meszaros missed a combined 70 games last year due to injury. The only other trusted defenders on Philly's roster (Kimmo Timonen and Luke Schenn) were forced to log considerably more minutes than expected. It also forced the Flyers to insert depth defensemen like Bruno Gervais, Kurtis Foster and Kent Huskins on a regular basis. Youngsters Oliver Lauridsen and Brandon Manning were pushed into action sooner than anticipated.
The bottom line is Philadelphia must improve on defense in advance of next year if the team hopes to contend within the Atlantic Division and Eastern Conference.
The first step was taken last week when the Flyers acquired Mark Streit from the New York Islanders. The former Islanders captain had been projected to hit the free agent market, but the acquisition gave Philly exclusive negotiating rights. Streit is reportedly about to sign for an expected four-year, $21.5 million deal.
That's both a lot of years and a lot of money for a 35-year-old blueliner who has logged a ton of minutes during his four-year stint on Long Island. However, it illustrates the Flyers' desperate need to improve on defense.
And Streit will certainly help the Orange and Black.
He's an incredibly durable defenseman (missed just 15 games over the last six seasons) who can provide leadership both on and off the ice. He's exceptional at connecting that first outlet pass from the defensive zone (something Philadelphia labored with last season), can quarterback a power play and is no slouch offensively having collected 179 points in 286 games with the Islanders.
But adding Streit alone won't be enough to propel the Flyers' defensive unit to where it needs to be.
Last season, Philadelphia not only lacked difference makers on the back end, it also lacked depth.
The Flyers will need to be creative in free agency to bring in solid depth options at defense that won't break the bank. As usual, Philadelphia won't have much cap space to play with, so the Flyers should look to sell the idea of a Stanley Cup run to veteran blueliners in the hopes of receiving a slight discount. Veterans like Rob Scuderi, Douglas Murray, Joe Corvo and Scott Hannan should all be available at reasonable figures. They would help bolster a Philadelphia defensive group that was riddled with injuries and inconsistency last season.
Stability and Consistency in Goal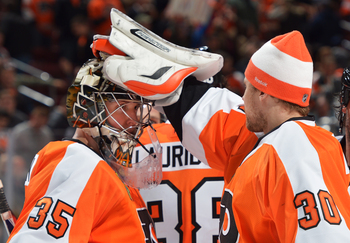 Drew Hallowell/Getty Images
Questions continue to swirl around the Flyers' goaltending.
Can Ilya Bryzgalov truly be a number one goaltender in Philadelphia? If not, do the Flyers exercise their other amnesty buyout on the final seven years of his contract?
And if the Orange and Black go down that road, what's Plan B? Steve Mason? Trade for a goaltender? Take another shot at a free agent netminder?
Clearly, it's another summer of intrigue in the Flyers' net.
Through two seasons in the City of Brotherly Love, Bryzgalov has been a complete enigma.
He's won 52 of 97 starts (.536 win percentage) and recorded six shutouts but has seen both his goals-against average and save percentage fall outside the top 20 each year. In fact, those figures weren't even among the top 30 NHL netminders this past season.
In March 2012, Bryzgalov compiled four shutouts in a span of just five starts and closed that month having allowed only 19 goals over 12 appearances. That was immediately followed, however, by a playoff run that saw the Russian netminder surrender at least three goals-against in all but one of his 11 postseason outings.
With the mercurial goaltender fully under the microscope this past season, Bryzgalov responded early, allowing two goals-against or fewer in four of his first six starts. Unfortunately, things went downhill from there as he was never able to record a monthly save percentage above .900 in the final three months of the season. He only allowed two goals-against or fewer in 13 of his final 34 appearances.
Bryzgalov's inconsistent play led the Flyers to acquire former Calder trophy winner Steve Mason from the Columbus Blue Jackets at the trade deadline.
Mason shined in seven appearances with the Orange and Black, going 4-2 while recording a 1.90 goals-against average coupled with a stingy .944 save percentage.
But the former third round pick back in 2006 has had consistency issues of his own.
After being named the league's top rookie in 2009, Mason ended each of the next three campaigns with a goals-against average over 3.00 and didn't post a year-ending save percentage above .901 for each of the next four years.
The bottom line is the Flyers once again have questions and concerns in goal.
Philadelphia doesn't have to pull the trigger on an amnesty buyout of Bryzgalov just yet (teams can exercise their buyouts next summer as well) so it's possible the club gives the enigmatic Russian one more year to prove himself. That's one year too many though.
The Flyers have an opportunity to right the wrong that was signing Bryz to a ridiculous nine-year pact. They need to seize it.
Mason is already inked for next season (one year, $1.5 million cap hit) and Philadelphia can find a veteran backup through free agency far cheaper than Bryzgalov's annual $5.67 million cap hit. Mike Smith, Evgeni Nabokov, Chris Mason and Dan Ellis are all pending free agents and could serve as capable backups to Mason.
The other alternative could be acquire a more proven netminder through a trade.
Roberto Luongo should certainly be available from Vancouver. The asking price shouldn't be all that high since the Canucks already have Corey Schneider and Luongo still has nine years remaining on his current contract at an annual cap hit of $5.33 million. Luongo was once considered the best goaltender on the planet and maybe a change of scenery is all he needs to rediscover those abilities.
Then again, that could be another contractual mess all over again.
Keep Reading

Philadelphia Flyers: Like this team?