5 Biggest Ways Brazil Must Improve to Win World Cup 2014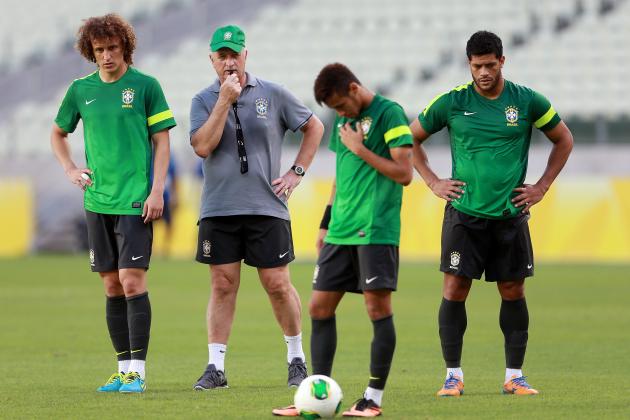 Scott Heavey/Getty Images

While Brazil have been gloriously impressive in their Confederations Cup campaign thus far, coach Felipe Scolari will be acutely aware of the need to improve ahead of their assault on the World Cup next summer.
Results against Mexico and Japan have demonstrated just how threatening Brazil are, but it is still too early to suggest they are the finished article.
Doubtless, the Selecao will be one of the favourites for that tournament, and while there is perennial expectation that surrounds the national side, the expectation will be even sharper when performing in front of their home fans.
This article outlines the key improvements Brazil must make in order to secure that triumphant World Cup victory on home soil.
Begin Slideshow

»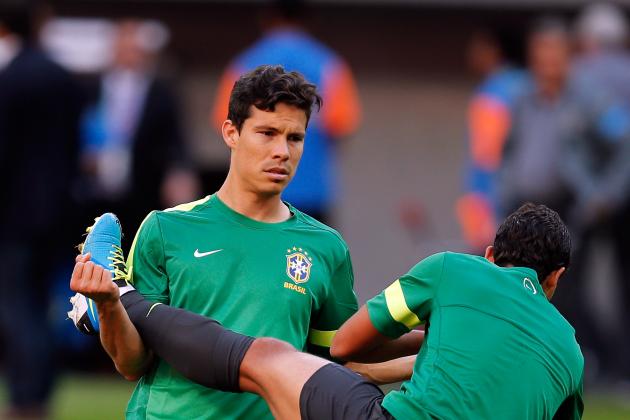 Dean Mouhtaropoulos/Getty Images

In Felipe Scolari's 4-2-3-1 formation, the headlines have more often than not been stolen by the attacking four. However, during the long and arduous run to a World Cup final, as legs start to tire and as inspiration evaporates, those in support of the forwards are just as important.
Spain's deep-lying midfielders, Sergio Busquets and Xavi Hernandez, played a crucial role in their triumph in 2010, while in 2006 Italy romped to glory with Gennaro Gattuso and Andrea Pirlo sitting in front of the centre-backs.
While Paulinho is a dynamic character in the centre of the park and Luiz Gustavo an admirable workhorse in front of the defence, this midfield two are effective, but perhaps lack the creativity and inspiration of the Busquets/Xavi and Gattuso/Pirlo partnerships.
Spurs midfielder Sandro was a regular in the side before his unfortunate injury, and while he ought to find his way back into the fold in time for the World Cup, he offers more of the same as the other two.
It may be that the first XI requires a deep-lying playmaker to operate in front of the defence and inspire Brazil from a deeper position. Oscar has been touted for this role, and indeed, would surely be able to do a job there.
Hernanes hasn't looked totally able to negotiate a top-end international contest since being incorporated into the national side, but his continued inclusion suggests that Scolari is keen to find a role for the technician.
Perhaps, as I suspect, Big Phil is grooming the Lazio man for a midfield berth alongside Sandro or Paulinho, from where he will be able to dictate the side's tempo and give a fluidity and an added dimension to Brazil's midfield.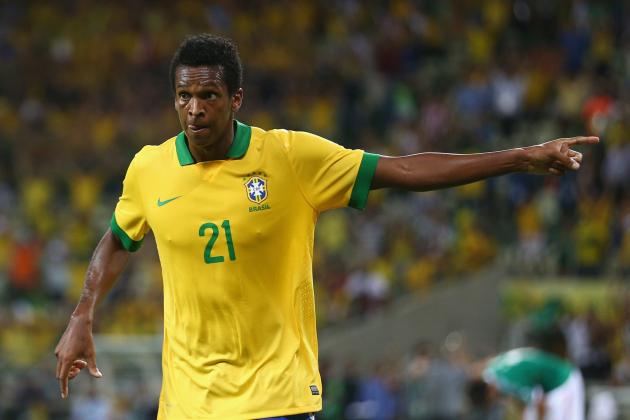 Clive Mason/Getty Images

Ronaldo, Romario, Pele, Bebeto, Ademir…even Arthur Friedenreich, Brazil have a legendary tradition for producing strikers seemingly born to score goals. The nation has, throughout its history, generated sublime forwards as though it has been its duty to do so.
In four World Cups the top scorer has been a Brazilian, but, despite home advantage, one struggles to see either Fred or Jo taking home both the Golden Boot and a World Cup winner's medal.
While Jo has scored in the side's last two contests, both goals came against tired legs and with the match almost already won. The striker wasn't even part of Scolari's plans before injury deprived Brazil of Leandro Damiao.
The forward has certainly made the most of his opportunities, but I struggle to see the former Manchester City man leading the line with great aplomb next summer.
Fred has failed to find the net so far in the Confederations Cup, and while he doesn't look out of place as part of the Selecao's outfit, he is hardly Tostao reborn.
It may be that Leandro Damiao is the man to lead the line next summer, the striker certainly appears to have all of the tools, and despite boasting a fairly uninspiring international strike rate, certainly has time on his side.
Other contenders will doubtless enter the reckoning between now and the World Cup, as Scolari aims to correct this potential weakness.
I can't help but imagine Alex Pato leading the line next summer. The former Milan man will be 24 by the time the World Cup rolls around, and he will have been earmarked for years as the natural fit for the No. 9 shirt.
Severe injuries may have curtailed his European adventure for now, but Scolari, like Mano Menezes before him, is aware of the forward's natural abilities and has appeared keen to include him in the national setup.
Now back in Brazil, finding his feet with Corinthians, don't bet against Pato making the cut if he can stay injury free and rediscover the form which once identified him as the heir to the glory of a nation.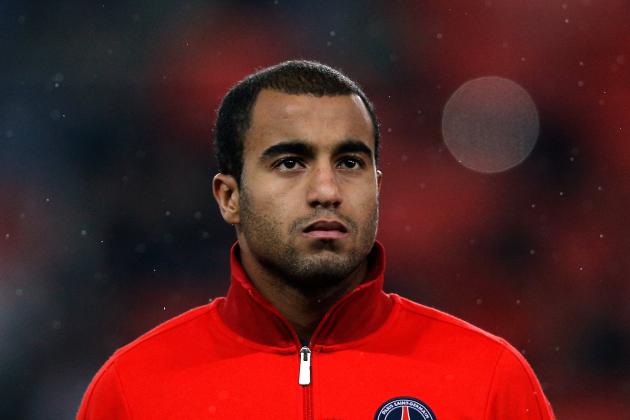 Dean Mouhtaropoulos/Getty Images

Lucas Moura and Bernard are coming along nicely. The 20-year-olds are the latest wonderkids to make their mark with the national side, and both have been included in the Confederations Cup squad.
While, for Atletico Mineiro midfielder Bernard, the trip this summer may be viewed primarily as a learning exercise, Lucas is champing at the bit to claim a starting berth.
Many expect him to do so in time for next summer's showpiece. Hulk is an effective forward, but occasionally lacks the nous and technical composure to match his teammates. The Zenit Saint Petersburg man has also proved himself to be an excellent injection of pace and direct offensive from the bench, and so it may be that his destiny is once more as a substitute.
This would open a door for the prodigally talented Moura to claim a starting spot in the side, from which he could demonstrate his immense capabilities and also take some of the creative strain off Neymar.
A rawer talent, next summer may be Bernard's opportunity to himself make a key contribution to Brazil's campaign.
Unlike some of the other slides in this article, this is a positive problem facing Scolari, and the opportunities for including Lucas Moura and Bernard will surely encourage the veteran coach.
He will surely be acutely aware of the World Cup's tradition of talented youngsters being hurled to the forefront of international stardom, and there is every chance that these two could follow in the footsteps of Pele, Leo Messi and Michael Owen, becoming heroes in the global arena.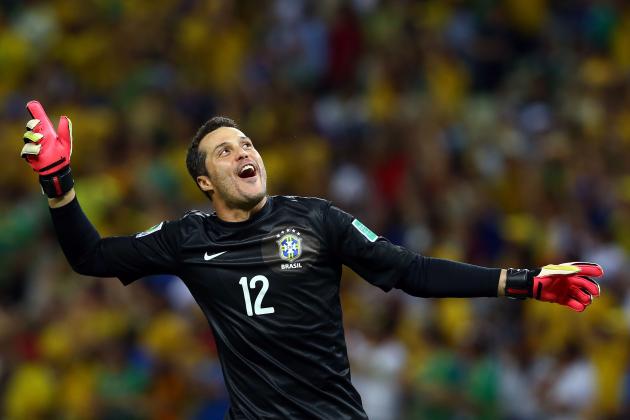 Robert Cianflone/Getty Images

While the Confederations Cup ball, which allegedly favours attackers has excused him to an extent, it's safe to say that Julio Cesar hasn't had the most convincing tournament so far. This is even considering the fact that he has kept two clean sheets.
The keeper has occasionally spilled some fairly routine shots and has too often looked a little suspect behind a defence that it should be a joy to play behind.
Doubts have persisted in the past about his ability to cope with the rarefied heights of performing with Brazil and Internazionale, and the pressure will surely be greater than ever come the World Cup next summer.
While he has often been a bright light in QPR's dismal season, where they seemed championship-bound from the off, there were days when Cesar simply wasn't at the races and hindered, rather than helped, the incompetent defenders ahead of him.
While he looks a dead cert to be recruited by Arsenal this summer, a move to the Emirates doesn't look like a totally sensible move. The Gunners have become a graveyard of sorts for goalkeepers in recent times, with the likes of Manuel Almunia, Lukasz Fabianski and Wojciech Szczesny all losing their composure and/or confidence in spells.
Would a season as a potential replacement to Szczesny also induce a bout of ring rust in the stopper ahead of next summer's showpiece?
There is little to inspire complete confidence that Cesar will be at his best and in a fine state of mind to represent Brazil in the most high-profile World Cup in years.
Scolari may want to consider his options (and no, I don't mean Heurelho Gomes)…just in case the tougher tests to come prove Cesar not up to the task.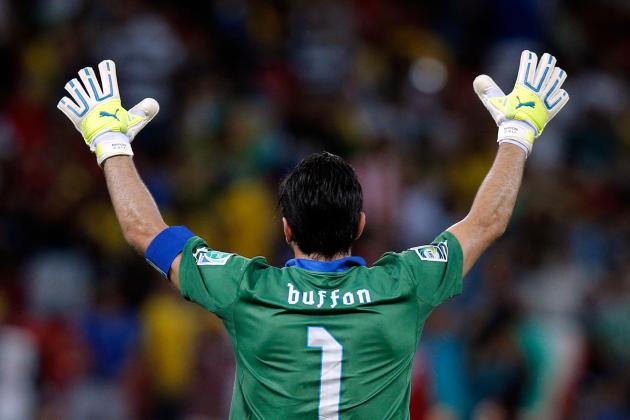 Dean Mouhtaropoulos/Getty Images

One major caveat that accompanies Brazil's two Confederations Cup victories to date, is that they are yet to encounter a genuine giant of the world game. Mexico have a talented squad, and Japan demonstrated their ability (and their naivety) against Italy on Wednesday, but neither are regulars in the latter stages of the World Cup.
Not since Brazil's victory in 1994 has a team made it to the final of the World Cup without having had to beat a former winner en route to the last two. The chances are that to make it to the final, you will have to beat a big dog or two on the way.
While Brazil did manage a convincing victory against a shambolic France side in a pre-Confederations Cup friendly, Scolari's men have struggled to beat the top teams since Felipao returned to the helm.
They failed to beat England in two friendlies and were also unable to best the Italians in Geneva. Their upcoming clash with the Azzuri will be a rare opportunity to demonstrate their superiority over an elite side in a competitive fixture—it is one that the Selecao must take, and a victory that may become a crucial component of their confidence heading into next summer's tournament.