Who's the Best Prospect in NHL Draft 2013: Seth Jones or Nathan MacKinnon?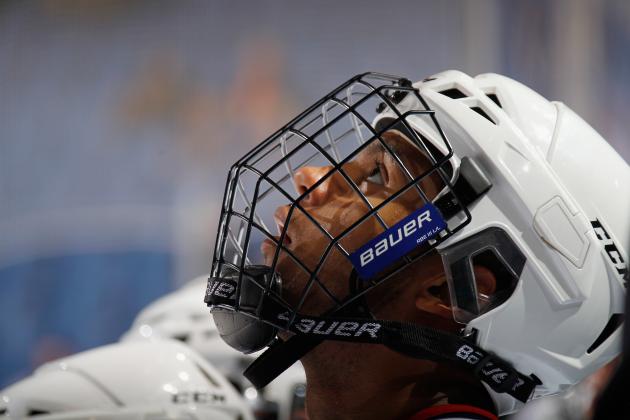 Bruce Bennett/Getty Images

The newest wave of professional hockey stars is set to join the fray on June 30, when the 2013 NHL Entry Draft takes place at the Prudential Center in Newark, N.J. The Colorado Avalanche currently hold the top selection, with the Florida Panthers and Tampa Bay Lightning lined up in the second and third slots, respectively.
An ongoing debate continues to swirl around who deserves the title of top prospect in this draft. There appears to be a consensus that the decision is down to Seth Jones and Nathan MacKinnon.
Jones, an 18-year-old American defenseman, is seeking to become the first African-American player to be chosen No. 1. MacKinnon, a Canadian forward, continues to draw accolades at just 17 years old.
So what separates these two at the top of the draft board? I break down their differences and similarities while determining which coveted prospect belongs at the top of the pack.
Begin Slideshow

»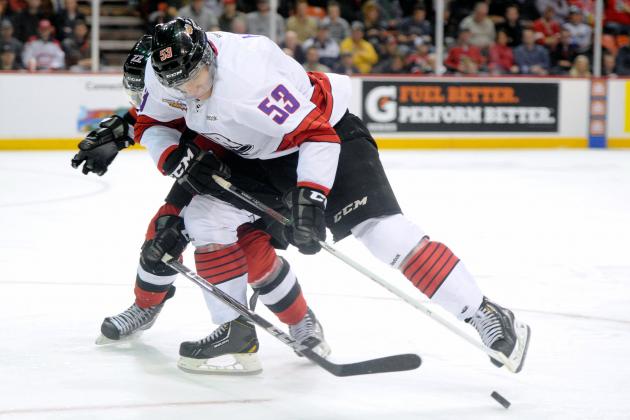 Richard Wolowicz/Getty Images

The fast-rising forward is every bit the offensive talent teams salivate over at the top of the draft. The 6-foot Halifax native comes in hot after a sensational season.
The Quebec Major Junior Hockey League has churned out superstar performers in the past, including Sidney Crosby, and MacKinnon has made a strong case that he's next in line.
He owns 153 total points in 102 QMJHL games. MacKinnon accounted for 63 goals and 90 assists while competing for the Halifax Mooseheads, starring as an explosive offensive playmaker.
Though he won't be 18 years old until September, MacKinnon has already displayed the makeup of a prime-time performer. He carried Halifax to the team's first league title, dominating the postseason with 33 points in 17 contests.
MacKinnon is an elite distributor and possesses exceptional vision on the ice. His penchant for setting up teammates near the net and keeping his head on a swivel promises to translate well to the NHL.
Aside from natural abilities, he also has recent draft history on his side. A forward has been selected with the first overall draft pick in 11 of the past 13 years.
MacKinnon has the makings of a franchise center, and Islanders star Jonathan Tavares is a solid comparison. Expectations could be set at 40 goals and 50 assists per season.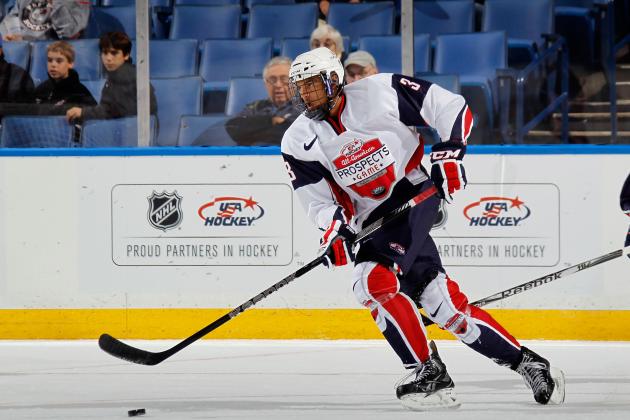 Bruce Bennett/Getty Images

Jones, an 18-year-old American prodigy, is the son of former NBA player Popeye Jones. He is a barreling 6'4" defenseman who may be a generational talent at the position.
The Texas native netted 14 goals and dished out 42 assists in 61 games as a member of the Portland Winterhawks. Jones gained notoriety for his standout play in the 2013 IIHF World Junior Championship, where he led the United States to a gold medal.
The debate over who is this draft's best defenseman was over before it could even start. Jones is a rangy, tenacious athlete with superior speed, ridiculously fast hips and gradually improving puck-handling.
He's the kind of athlete who could alter the back end of any team's top line for two decades. There's also a quiet confidence about him that lends itself well to a leadership role.
Jones is ready for the limelight more than any player in this draft, and he has garnered accolades for his aggressive play and cool demeanor. He is a ready-made force at his position and forces general managers to consider him atop the draft board in a league owned by scorers.
Expect to see a 'C' adorning Jones' NHL uniform for years to come.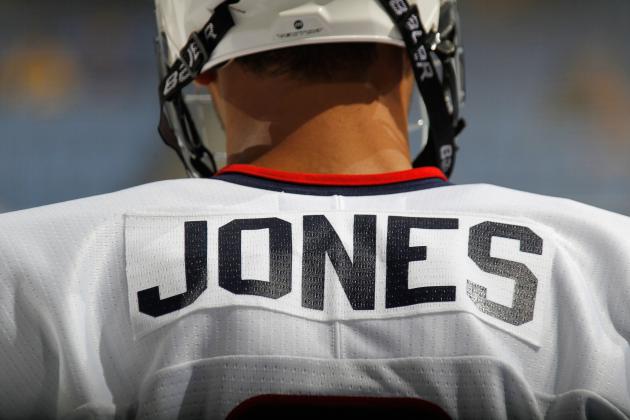 Bruce Bennett/Getty Images

Although Colorado seems to be shying away from Jones, we're going with the versatile defenseman. His talent level at the position is too special to ignore and it's too risky to pass on a presence like Jones.
He is arguably the best defenseman prospect since Chis Pronger arrived on the scene. Jones will anchor the top line, directing traffic and contributing as an offensive force.
He will only improve as a scorer, and the raw product is already rather impressive. Additionally, he is the type of person you want standing at the podium after a game, win or lose.
The Avalanche appear set on an offensive threat at the No. 1 position, according to a report by the Denver Post.
"If we do pick first, we're leaning more toward one of those three forwards," executive vice president Joe Sakic told the publication. "We feel those three forwards are just too good to pass up."
That puts Nathan MacKinnon atop the board in all likelihood. He may follow in a long line of sensational forwards, but Jones is a unique entity ready to make his mark as a once-in-a-generation talent.