Dispelling Myths Surrounding Key 2013 NBA Draft Prospects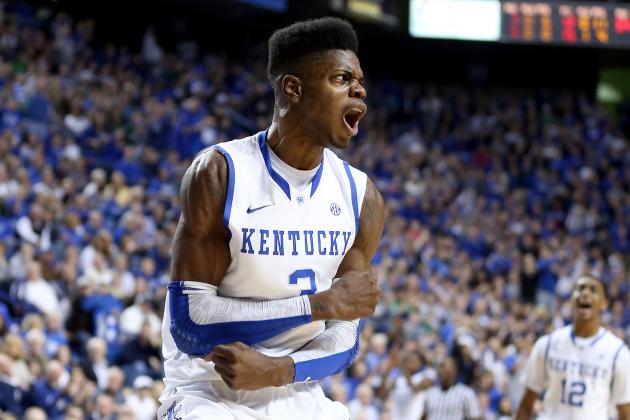 Andy Lyons/Getty Images

Ladies and gentlemen, start your exaggeration! Now is the time where a 30 minute workout against a chair takes precedence over a 30 game season, so you can imagine how distorted reality can get. Gray gets tossed to the side for black and white before the draft, and myths surrounding draft prospects start to feel like common knowledge.
There are a few popular beliefs about many of this year's prospects that need to be put to bed. Here are the most egregious of the bunch.
Begin Slideshow

»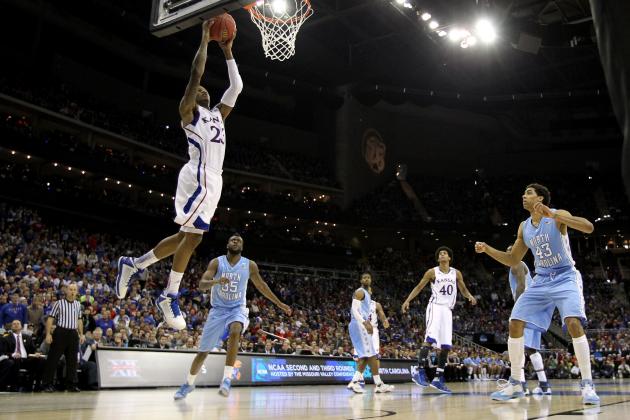 Jamie Squire/Getty Images

The word on Ben McLemore is that he's decidedly not clutch, even though the perception of a clutch player rarely matches up with his actual statistics. Chauncey Billups carried the nickname "Mr. Big Shot" for many years, all while being one of the league's least effective scorers under five minutes of close games.
Point being, the criticism of McLemore "hiding from the moment" or being far too passive isn't necessarily rooted in reality. Per 40 minutes, McLemore averaged more field goal attempts than fellow wing players Victor Oladipo and Otto Porter as well as Nerlens Noel and Alex Len. Despite shooting more frequently than other top-five prospects, it's McLemore with the passive label.
The complaints about McLemore not seeking the ball out more and calling up a play for ol' numero uno doesn't factor in his strengths. If a player is highly effective as a spot-up shooter and straight-line slasher, but not so great as a ball-handler and creator, why should he disrupt the flow of an offense as a freshman on a great team? Isn't that what everyone disliked about Shabazz Muhammad this year?
McLemore isn't a chucker, he doesn't force the action, and he's a player who torches defenses that are dumb enough to help off him. And on the pro level, those tendencies and levels of efficiency are championed. Do those things on the college level, though? You're not clutch. Let's end the disconnect.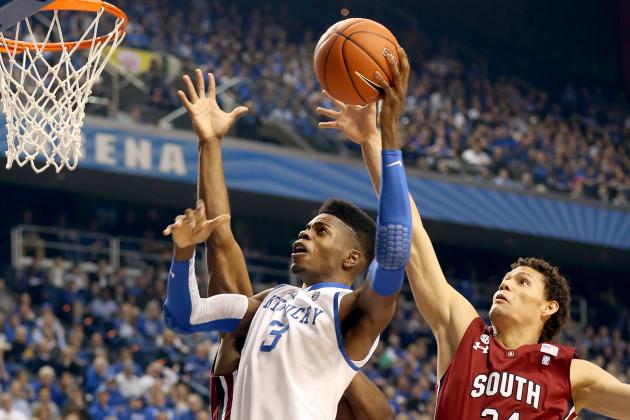 Andy Lyons/Getty Images

There are a lot of real issues with Nerlens Noel. The ACL injury is troublesome. The broken shooting form is scary. Basically, you don't need to go out in search of issues for a player who won't be ready to start the season. But lo and behold, the draft machine has found a way.
Nerlens Noel is apparently far too skinny. He's listed at 206 pounds, and he weighs 218 pounds now. This is a big deal because...
Wait. Why is this a big deal? Are we really concerned about someone coming off major knee surgery gaining weight? When I tore my ACL, I gained weight just by looking at food.
And besides, how much does the weight really matter? What centers in the Eastern Conference are going to push Noel around down on the block and score through him? Joakim Noah? Tyson Chandler? Chris Bosh? No, no and no. And all three of those slender centers handle their business defensively just fine.
That's really the point. Noel averaged 12 rebounds and 5.5 blocks per 40 minutes at Kentucky. He's a monster defensively and on the glass, which is why you're drafting him.
If the weight is a concern because he'll give up ground to the three or four back-to-the-basket dinosaurs roaming the plains, that's an acceptable but still relatively unimportant point. You can have a player who weighs ten more pounds, and I'll take the guy who provides production regardless.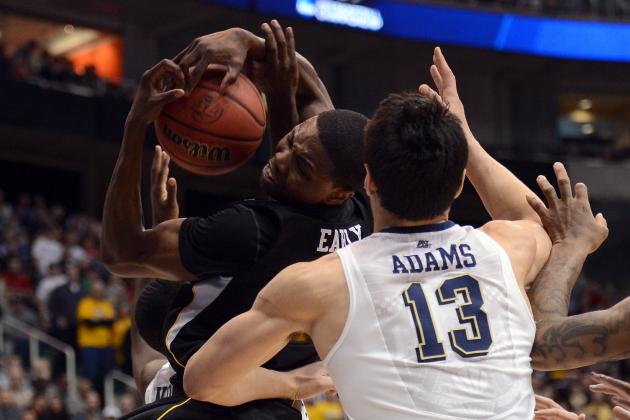 Harry How/Getty Images

Steven Adams was the draft combine darling. His measurements were great and his athleticism really knocked some socks off.
Then Steven Adams did something he very rarely did at Pittsburgh: he hit jumpers. Lots of them in a row, actually.
And that's all it took. Before you could ask him to shoot more than ten minutes worth of jump shots, Adams gained a reputation as being a monster center who could step out to 15-feet and knock down a jumper.
Call me crazy, but I'd like to look at a slightly bigger sample size. Maybe like the sample size from his lone year at Pittsburgh, where he shot 44 percent from the free throw line.
Tell you what. Go find me a player who shoots under 50 percent from the free throw line but has a good jumper in the NBA. Karl Malone is the shining example of a poor free throw shooter who improved and became a deadly shooter, but he is the exception and not the rule.
How about a player with those mechanics, with that type of strange hitch and elbow locking, that is a consistent mid-range shooter? Or maybe you could show me the tape of Adams flashing to the middle of Syracuse's 2-3 zone and knocking down jumpers consistently?
I'm not saying Adams can't eventually become a good shooter, but he certainly isn't one right now. Don't believe the hype.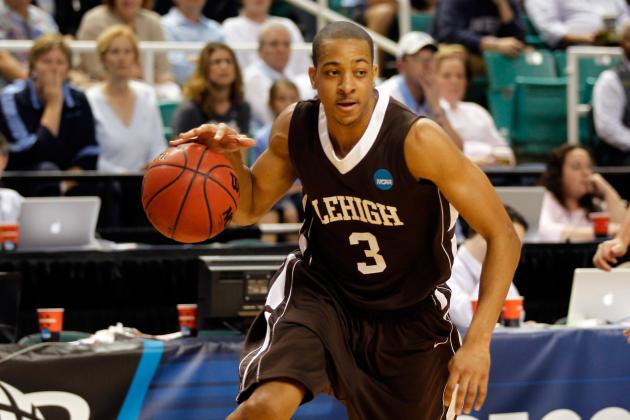 Mike Ehrmann/Getty Images

The level of competition that C.J. McCollum faced during his four years in the Patriot League at Lehigh wasn't the best the NCAA had to offer. Regardless of how you feel about McCollum as a prospect, that's not a point that's up for debate.
But let's pump the brakes on the assumption that McCollum can't do his thing against higher quality opponents.
In the last two years, here are McCollum's numbers against quality opponents:
Iowa State: 16 points, 6 assists and 3 steals in 30 minutes.
Michigan State: 19 points, 8 rebounds, 5 assists in 32 minutes.
Duke: 30 points, 6 rebounds and 6 assists in 39 minutes.
Baylor: 36 points, 8 rebounds and 3 steals in 38 minutes.
Pittsburgh: 17 points on 7-for-11 shooting in 31 minutes.
Lehigh didn't go up against the big boys all that often, but when they did, McCollum almost always found a way to contribute, even if it wasn't necessarily through scoring.
The success of Stephen Curry and Damian Lillard helps McCollum's case, but a closer look at his body of work shows you he was capable of getting his no matter who was standing in front of him. You just have to look past Lehigh to appreciate it.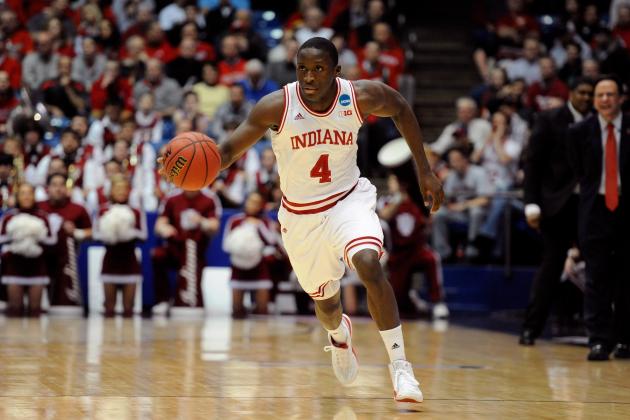 Jason Miller/Getty Images

A look at Victor Oladipo's raw stats might make you wonder why he's a projected top-5 pick. 13.6 points a game is nothing special, right? That's not enough scoring for a player in their Junior year, is it?
Well, look a little closer and you'll see that Oladipo was an amazing scorer last year for Indiana.
First off, the minutes matter. Oladipo only played 28 minutes a game, as Tom Crean preferred to keep him fresh so he could harass his opponents with full gusto defensively.
Pull out Oladipo's numbers per 40 minutes, and he scored 19.2 points a game with a ridiculous true shooting percentage of 67 percent. For reference sake, Kevin Durant had a true shooting percentage of 64.6 this year for Oklahoma City. So, there's that.
Yes, Oladipo is still raw offensively, but saying he can't score based on his points per game numbers in college doesn't tell the full story. He was the most efficient scorer in college basketball last year, and with all that athleticism, there's no reason to think he can't at least be a decent scorer at the pro level.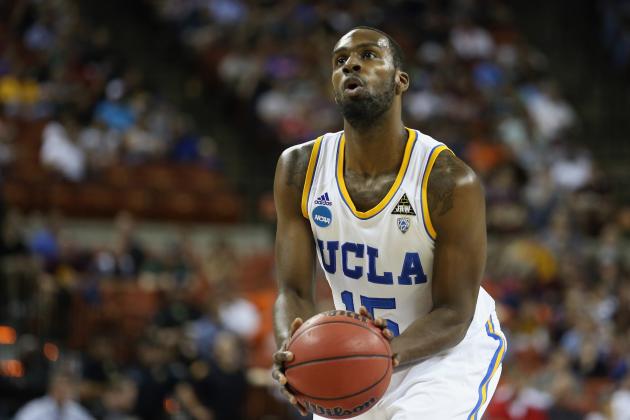 Ronald Martinez/Getty Images

What do Shabazz Muhammad and James Harden have in common? They're both unorthodox lefties with thick frames, and, well, that's about it.
Comparing Muhammad to Harden is either lazy or wishful thinking, or maybe both. The two couldn't be more dissimilar in their styles of play.
Harden is a pick-and-roll genius, and a great isolation player. That's where his bread is buttered.
Muhammad had only six percent of his offense at UCLA generate from pick-and-rolls and isolation.
Harden has always been a terrific distributor, averaging 4.7 assists per 40 minutes in his last year at Arizona State.
Muhammad may or may not be allergic to passing, as he averaged 1.1 assists per 40 minutes.
Harden was always efficient in college, posting a career true shooting percentage of about 62 percent.
Muhammad's true shooting percentage last year was 53 percent.
That's not even factoring in that Harden is a perimeter player who creates for himself while Muhammad is a post-oriented, cutting and curling forward who rarely dribbles. These two guys might as well be playing different sports.
Muhammad has the potential to be a good player, but no matter how he turns it out, it won't look anything like Harden.