Realistic Draft Targets for the Philadelphia 76ers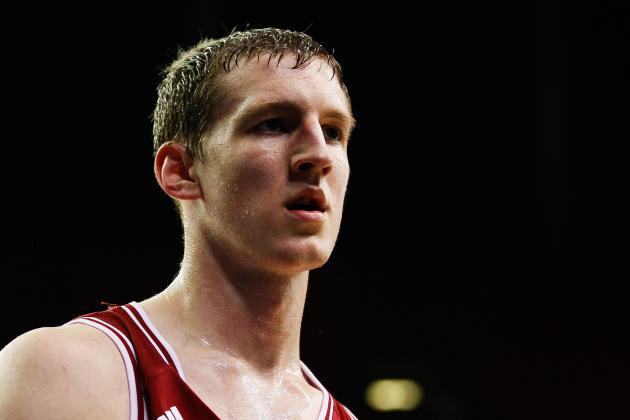 Kevin C. Cox/Getty Images
Is Cody Zeller a lock to go to Philly at No. 11?
The 2013 NBA draft takes place on June 27, so it's time to look at realistic draft targets for the Philadelphia 76ers.
The No. 11 pick might not sound like an exceptional spot to be in, but if there is a year to get some kind of draft steal, then this is the one. There isn't a crazy amount of talent in this year's class. In fact, next year's will be significantly stronger.
Coming away with a strong player could actually end up coming easier this year, though. Uncertainty surrounds every selection outside of the first five or six picks. From there it's anybody's game.
We're in for a number of surprising picks come draft time, so let's take a look at some draft targets the Sixers have a legitimate shot at getting.
Begin Slideshow

»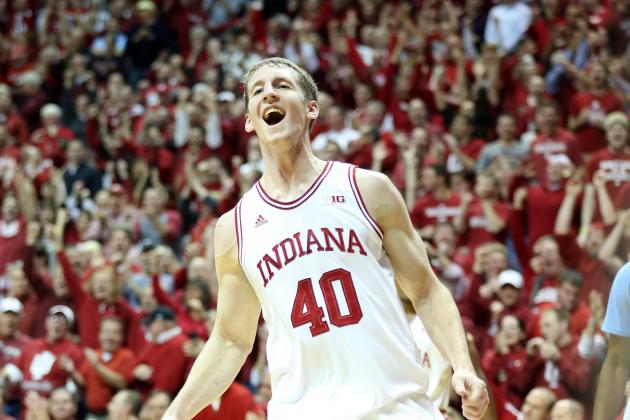 Andy Lyons/Getty Images
Can Cody Zeller's athleticism make up for questions about his toughness?
The majority of mock drafts have Philadelphia selecting Cody Zeller with its lottery pick. Zeller is a 7'0", 230-pound center out of Indiana University who some believed would go in the top three of this year's draft before the 2012-13 season took place.
He eventually played well, but forgot about competing with any toughness. That aspect forced his stock to fall further than people thought it could. Luckily for Zeller, he showed up to the NBA Draft Combine and put up disgusting numbers that got him back into the mix for a high lottery spot.
The Sixers are in need of frontcourt help. Andrew Bynum's future with the organization is up in the air, so bringing in another 7-footer with exceptional athleticism could be the team's next step.
If they are looking for a high-energy guy who will come off the bench and do what is asked of him, then Zeller might be the pick.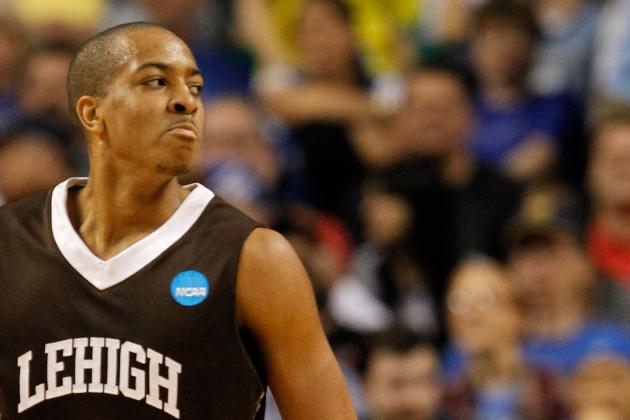 Streeter Lecka/Getty Images
C.J. McCollum is a competitor with a scorer's mentality.
Drafting C.J. McCollum with the No. 11 pick would probably seem like a dream for the Lehigh University point guard. He already plays in Bethlehem, Pa., so traveling over to Philly wouldn't be difficult for the 21-year-old.
McCollum has an exceptionally crafty game and is eerily similar to Damian Lillard, the No. 6 pick in the 2012 draft. The difference in their playing styles comes from how well McCollum shoots the rock. Due to injury, he was forced into playing only 12 games this past year, but his 51.9 percent three-point percentage speaks volumes for how well he can shoot.
One of the Sixers' biggest areas of concern comes from their lack of scoring off the bench. McCollum would be able to provide instant production. The word "instant" to describe how quickly he'll get to work might even be too slow of a word.
Philadelphia can only hope that he'll drop to them at No. 11, though. That is currently the Sixers' biggest area of concern regarding McCollum.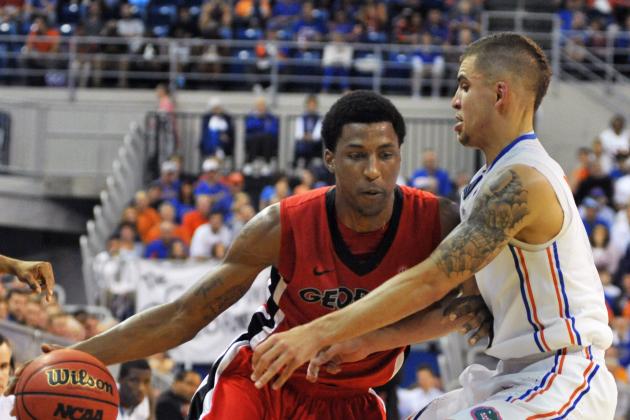 Al Messerschmidt/Getty Images
Kentavious Caldwell-Pope is always looking to score.
Kentavious Caldwell-Pope is one of those players flying under the radar in a similar way to how Paul George did in the 2010 NBA draft. That's not to say that he'll get to George's production and skill level, but the comparisons can be drawn.
Caldwell-Pope had to do it all at the University of Georgia. If you were unlucky enough to watch one of his games this past season, then you were subjected to a team that didn't know what they were doing. Their only plan of attack was to get it to their go-to guy, and he happened to be Caldwell-Pope.
It would have been brutal to see how their year would have gone without him.
Picking him would be more on the risky side of things. He is far from a lock, and to be honest, he has to be seen as a bit of a project. This is one of those picks where if he fails to succeed, then people will forget about him in three years.
It's also one where the Sixers look like geniuses for selecting him if he ends up thriving in the future.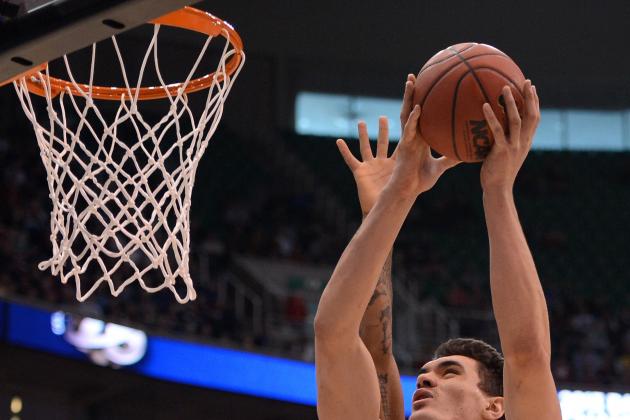 Harry How/Getty Images
Steven Adams could be the draft's biggest project.
The word of the day on this one is: project.
Steven Adams forgot how to play offense at the University of Pittsburgh. He took a number of plays off and often looked lost on the floor.
Fortunately for him, he's 7' 0", 255 pounds and plays smart defense. He's a shot-blocker who uses his body to put him in the best position to make a play.
His inability to move his feet is greatly overridden by the fact that he has an NBA-ready body. Weight-wise, the next closest high-prospect center is Kelly Olynyk at 234 pounds.
Adams would be an extremely risky pick, but his size and the fact that he's only 19 years old will help scouts to overlook some of his weaknesses.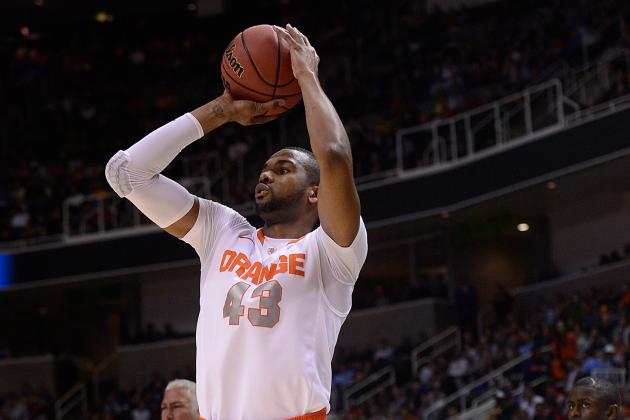 Thearon W. Henderson/Getty Images
James Southerland's perimeter shooting could land him a roster spot.
Philadelphia could always use another person to stretch the floor, and James Southerland could be worth a second-round pick to make that happen.
The NBA is a place where you don't need to be able to be good at everything. In fact, very few players who are good at everything last too long in the league.
In the NBA, you need to be great at one thing. Being a specialist can add years onto a career.
If Southerland is able to consistently knock down the three-point shot, then he'll be able to carve out a spot on the Sixers roster for this coming year.
He'd be a great low-risk pick.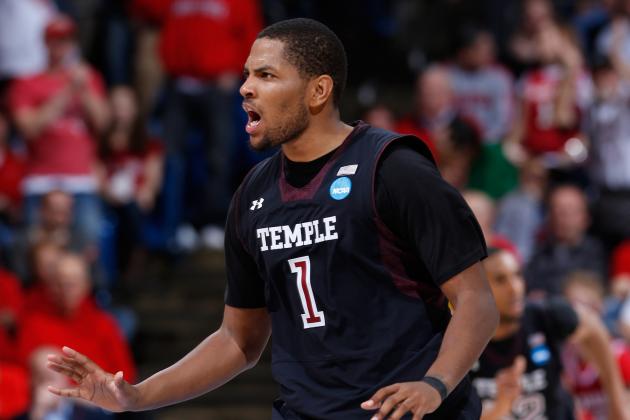 Joe Robbins/Getty Images
Khalif Wyatt is getting severely overlooked.
Although the Sixers have two second-round picks, there is a very small chance of them using one of them to draft Khalif Wyatt. The good news for Philadelphia?
There's a good chance that no other team will select him either.
Wyatt will most likely go undrafted, giving Philly the opportunity to sign him and get a steal.
The title of this article is realistic draft targets, and this section doesn't have Wyatt getting drafted.
Still though, he needs to be a target for the Sixers. He is very limited with his explosiveness, but he has such an unorthodox game that he's able to get away with it.
It just might work in the league.