Baltimore Orioles Top Prospects: Who's Hot and Who's Not?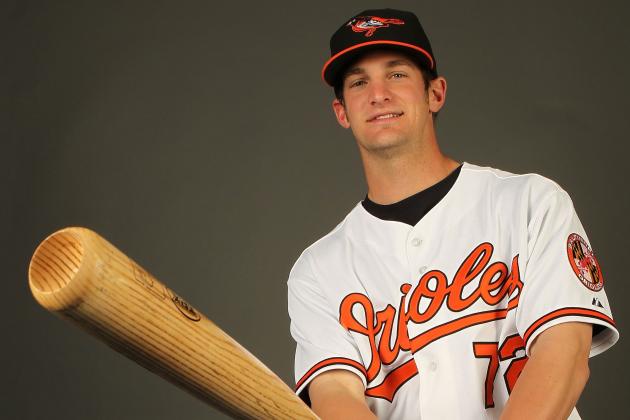 Nick Laham/Getty Images

It's been a huge week for Orioles farm hands.
Left-handers Josh Hader (Delmarva) and Eduardo Rodriguez (Frederick) were named to their respective leagues' All-Star squads, along with catcher Zane Chavez (Frederick). Likely All-Star Caleb Joseph was named Eastern League Player of the Week after a stretch that saw him hit .522 with three doubles, one home run and seven RBI.
On top of that, the organization got huge performances from outfielder Henry Urrutia, who currently leads the Eastern League in batting average; right-hander Parker Bridwell, who set a career high with 10 strikeouts; and first baseman Hector Veloz, who hit a towering, no-doubt-about-it three-run homer in Aberdeen's second game of the season.
And don't forget about all the players selected in this June's First-Year Player Draft who have joined the ranks over the past few days, including Trey Mancini (ninth round), Austin Wynns (10th), Jeff Kemp (33rd) and Jimmy Yacabonis (13th).
Recently signed selections Hunter Harvey (first round) and Josh Hart (competitive balance round) should be following shortly as well.
Without further ado, let's take a look at some of the top-performing "Baby Birds" from the past few weeks.
Begin Slideshow

»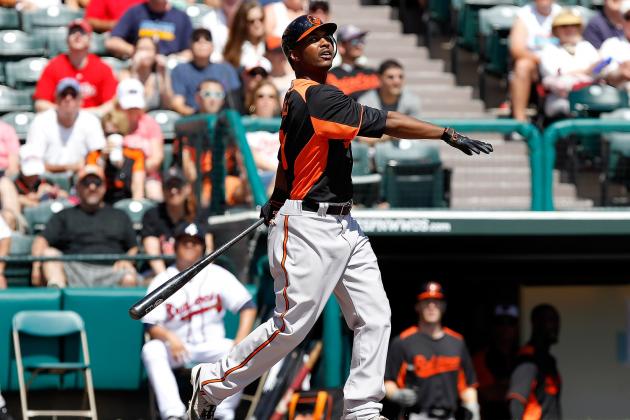 J. Meric/Getty Images

Hot
Baltimore's Nolan Reimold is working his way back into shape and should be ready to return to big league action sometime in the next two weeks.
If the O's were thinking logically, however, they'd cede his spot on the active roster to 23-year-old OF L.J. Hoes, who has been one of the hottest hitters in the minors during the month of June.
Hoes hit a respectable .282 and .280 during April and May, respectively, but since the dawn of summer, he's really turned up the heat.
In 16 contests so far this month, he's 18-for-56 (.321) with five doubles, two homers and eight RBI. He's also scored 11 runs and walked more times (12) than he's struck out (11). Hoes has seen his on-base percentage rise in each month of the season, and now he's sitting with a strong .290/.392/.402 line in 66 games for Norfolk.
It's hard to classify 32-year-old LHP Tsuyoshi Wada as a prospect, but he has yet to make an appearance in the big league since signing a two-year deal with Baltimore in 2011, making him exactly that.
Wada had a true Jekyll and Hyde kind of week, getting roughed up for seven runs on six hits in just 1.1 innings nine days ago, and then bouncing back with a five-hit, one-run, six-inning effort a few nights ago. He struck out eight and walked none in that contest, after walking two and striking out two in his stinker.
For the year, Wada is 1-4 with a 6.68 ERA.
Not
Orioles fans in the surrounding Norfolk area had to be thrilled with RHP Kevin Gausman sticking around Triple-A long enough to make an appearance, especially with the parade of minor league castoffs they've been forced to endure this season. Unfortunately, they can't have been too thrilled with the results.
Gausman got knocked around, this time to the tune of 10 hits and seven earned runs in six innings. The outing nearly boosted his ERA on the season an entire run.
It also likely did little to calm his nerves after getting roughed up in five big league starts.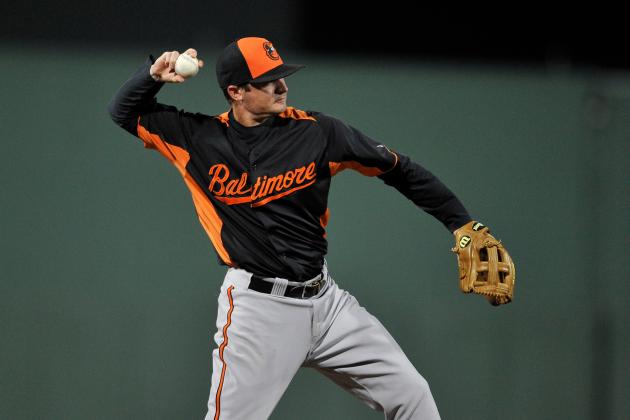 Jerome Miron-USA TODAY Sports
Second baseman Buck Britton could see time on the same club as his older brother.
Hot
Cuban defector OF Henry Urrutia was riding a six-game hitting streak before an 0-for-4 performance last night. Prior to his oh-fer, Urrutia had racked up hits in 10 of his last 21 at-bats.
For the month of June, the 26-year-old is hitting .391 with three home runs, 11 RBI and 10 runs in 11 games. He now sits atop the Eastern League with a .347 average, and he ranks in the top 10 in on-base percentage (eighth) and slugging percentage (fifth) despite appearing in just 44 games.
His performance this month shouldn't come as a total shock. After all, he did put up a .348/.417/.478 line in May. The front office is insistent on leaving Urrutia with Bowie, citing the two-year layoff he had before joining up with the club prior to the 2013 season, although at some point his performance will force a promotion. And don't think a late-season call-up to Baltimore is out of the question.
From a hulking presence in Urrutia to a diminutive baseball rat in 2B Buck Britton.
Britton has been nearly as good as the Cuban so far this month, raking to the tune of a .379/.406/.517 in 58 June at-bats. He's already rapped five doubles and driven in eight runs, which is quite the accomplishment for a guy who checks in at 6'1'' and 160 pounds.
The brother of current Oriole Zach, the younger Britton has raked at every level, hitting .297 with 63 RBI in 2011, .289 with 54 RBI in 2012 and now .304 with 42 RBI this season. He isn't exactly the kind of prospect the O's are looking for to fill Brian Roberts' spot at second base, but don't be surprised if he gets a shot to prove his worth before the year is over.
The O's drafted C Caleb Joseph mostly on the strength of his bat six years ago, and it was that bat that got him to Triple-A last season. He didn't hit too well and was sent back to Double-A this year, and his bat has really responded. He's put together a .365/.382/.558 line during the month of June, and his two home runs have boosted his season total to a career-high 13.
Joseph currently ranks 14th in the Eastern League with a .299 average, and he checks in inside the top 10 in hits (10th), doubles (sixth), home runs (second), RBI (second), total bases (third) and slugging percentage (fourth).
On the mound, RHP Tim Bascom has finally made a reappearance. Pitching out of the bullpen full time now, he's excelled, allowing just four earned runs all season in eight appearances spanning nearly 20 innings.
Bascom made 128 starts for various affiliates the past six years, producing average results.
Not
Remember when LHP Zach Clark won 15 games last season while holding down a sub-3.00 ERA?
Regardless of whether you do, you have to be disappointed by the 29-year-old's encore. In 11 appearances this season in the minors, he's 2-6 with a 6.52 ERA. He wasn't helped by his two most recent starts. He surrendered four runs on nine hits against New Britain and then two runs in two innings in his most recent start, which he was forced to leave due to an undisclosed injury.
Rumor has it that Clark is going to be sent to Sarasota this summer to learn the art of the knuckleball, a project that fellow rotation-mate Eddie Gamboa has already begun.
The bump from Frederick to Bowie has been a rough one for RHP Devin Jones, Baltimore's ninth-round selection in 2011. He's been hit hard in every one of his 12 starts with the Baysox, and it looks like the abuse is finally getting to him.
In three June starts, he's given up 20 hits and 13 runs (10 earned) in just 17 innings. He's been especially weak against right-handed hitters, serving up six of his eight homers on the season to them. For the season, Jones' ERA is up to 4.84.
As bad as Jones has been, LHP Jake Pettit has been worse. Much, much worse.
The lefty went through a solid stretch in which he went 8.0 and then 7.2 innings in back-to-back starts, but since then he has allowed 12 runs on 13 hits in just 7.2 innings. His last start saw him forced out before he could finish the fourth inning. He gave up nine runs and compounded his issues by walking five batters, tying a season high. The two rough outings raised Pettit's ERA for June to 9.98 and for the season to 5.20.
Like Jones, his strong start to the season has been all but forgotten.
The Baysox's bad luck has extended to their relief corps as well, even touching the previously unhittable LHP Jason Gurka. The former 15th-round selection (2008) pitched to a 2.08 ERA in April and posted a 1.96 mark in May. In that period, he racked up 35 strikeouts in 21.1 innings and walked just 11.
He's made only three appearances in June, and he's already walked five batters and pitched to a 6.00 ERA. Don't expect the rough stretch to last much longer, as Gurka has been arguably the top reliever in the system for the past two years.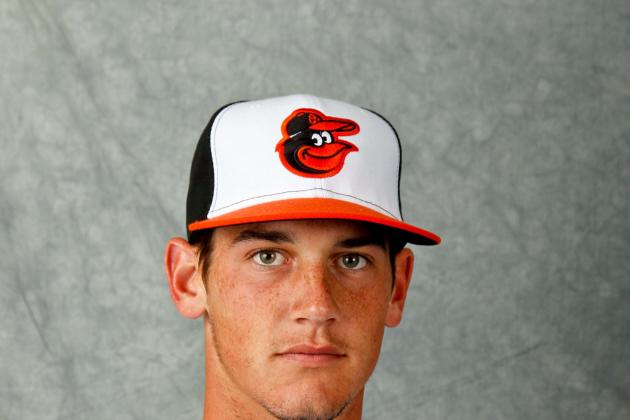 Derick E. Hingle-USA TODAY Sports
After scuffling for three seasons, Michael Ohlman is finally hitting like the O's thought he would.
Hot
After hitting .353 in May, it had to be expected that the production the Keys had been getting from C Michael Ohlman would drop off, and it did.
Ohlman endured a rough stretch in early June that dropped his average for the month to just above the Mendoza line. In the past week, and especially the last two games, he's righted the ship. In the last three games of a four-game set with Potomac, Ohlman went 6-for-12 with two home runs, boosting his line for June to .302/.406/.528 and for the season to .283/.400/.483.
One of the most impressive traits that the 22-year-old has is uncommon plate discipline. Dating back to his days in the South Atlantic League, he's had the patience to lay off bad pitches. This season, he's posted a 24/33 BB/K.
Ohlman toiled for the better part of three seasons at Delmarva, so it's nice to see him finally hitting his stride. A promotion to Double-A shouldn't be out of the question by the end of 2013.
On the mound, Eduardo Rodriguez might get all the love, but undersized RHP Zach Davies has been matching E-Rod start for start. Over the past month, he's actually outpitched the heralded prospect.
In his last four starts, dating back to May 30, Davies has nine earned runs in 30 innings (2.70), racking up 25 strikeouts and just eight walks. His most recent start was a reflection of his season, as Davies tossed six innings of six-hit ball, allowing just one earned run and one walk while striking out a season-high seven.
On the season, the 20-year-old is 4-3 with a 3.63 ERA and 58/19 K/BB in 74.1 innings.
Not
After a hot start following his promotion to High-A, 1B Christian Walker has cooled considerably.
He's only mustered four hits in his last 36 at-bats (.111), dropping his monthly line to .241/.313/.397. Through his rough stretch, he's maintained his composure, and as a result, his 12 strikeouts for the month are the fewest he's had in any one month so far this season.
Taking into account his slump, Walker is still putting together arguably the finest offensive season of any Orioles farm hand. Through 66 games, he's put together a .321/.385/.460 line with 14 doubles, seven homers and 43 RBI.
The slump bug has also hit Walker's infield mate, 3B Nick Delmonico.
The 20-year-old came out of the gates running, hitting .325 in April, before regressing a bit in May. He's continued that drop-off in June, but interestingly enough has increased his home run totals from month to month. He hit two in April, hit four in May and has five in 16 June contests.
During his last 10 games, however, he's hitting a paltry .194 with nine strikeouts.
Hot
The Orioles haven't gotten much return on their investment from RHP Parker Bridwell, to whom they shelled out $625,000 back in 2010.
The lean right-hander has posted ERAs of 5.26 and 5.98 the past two seasons, racked up 17 losses, and walked nearly as many batters as he's struck out. This season has been pretty much the same, with Bridwell sitting pretty with a 5.57 ERA and six losses through 12 starts.
For one night this week, though, it all came together as he showed the organization just how good he can be. Bridwell picked up his fourth victory of the year after tossing eight innings of three-hit, one-run ball against Hickory. He struck out a career-high 10 batters and didn't walk anyone.
Thanks to two previous slightly above-average starts, Bridwell is 2-0 with a 3.86 ERA and 19/5 K/BB in three June appearances.
We're not even halfway through the minor league season, but it seems as though the race for organizational pitcher of the year honors is LHP Josh Hader's to lose.
In 11 starts, the former 19th-round pick (2012) has dominated his South Atlantic League competition. His 1.94 ERA ranks fourth in the circuit and tops all Orioles farm hands. Batters are hitting a ridiculous .186 off of him, and he's racked up 56 strikeouts in 60.1 innings. The only stain on his season are his 30 walks.
Just a year ago, Hader was a virtual unknown, rising from late-round obscurity to dominate the competition in the Gulf Coast League. During his last three appearances, however, he's been anything but obscure and unknown.
He held Lakewood to just four hits over 6.2 scoreless innings, notching six strikeouts, and then, five days later, he allowed just one run on one hit over 6.1 innings against Hickory. Again, he struck out six.
The cherry on top came just a few nights ago, when Hader struck out two in a scoreless inning of work in the SAL All-Star Game.
Not
After posting a .315/.378/.427 line in May, it appeared that SS Adrian Marin was finally finding his footing. Not that he could be blamed if he hadn't. After all, Marin is just 19 years old and playing in full-season ball, a feat in and of itself.
Through 11 games so far in June, though, Marin has hit the skids, notching hits in just seven of his last 36 at-bats (.194). In that same period, he has 11 strikeouts and just one walk. On the plus side, he did notch exactly one hit in each of his last six games before last night's 0-for-4 downer.
For the year, Marin has posted a .256/.310/.333 line. Unfortunately, the number that really stands out is 26 percent. That's the percentage of his at-bats that have ended in strikeouts.