Cincinnati Bengals: Power Ranking Players Under Contract Before Training Camp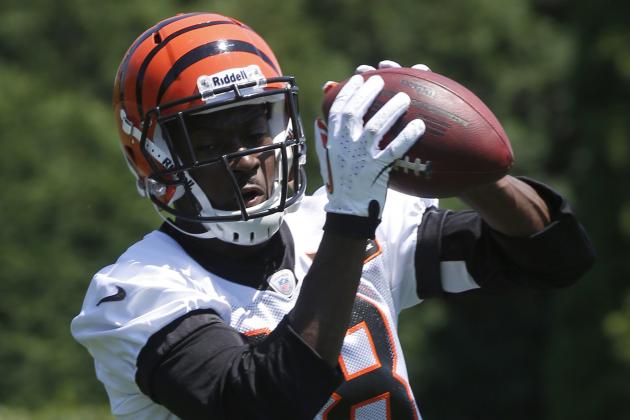 David Kohl-USA TODAY Sports

Training camp is within our headlights and we can all feel the NFL season approaching. In fact, my fantasy league has already scheduled its draft—that's how close it is.
The Cincinnati Bengals still seem to be the conundrum of the league. There are those that truly feel like this team is ready to take the next step into the spotlight, while others feel that they're just the team they've been for the last two years: a one-and-done playoff team.
We can't begin to understand which of those to expect before examining the roster. We can break down schedules and other factors, but what really needs to be looked at first is the roster itself.
With 79 guys under contract, who are the most important players this team has?
Begin Slideshow

»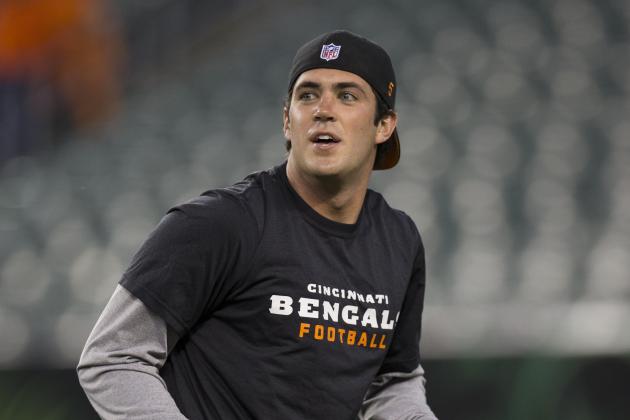 Greg Bartram-USA TODAY Sports

79. Richard Quinn, TE
78. Bryce Davis, LS
77. DeQuin Evans, DE
76. Zac Robinson, QB
75. Justin Hilton, WR
74. Jordan Brooks, FB
73. J.K. Schaffer, LB
72. Traveon Rogers, CB
71. Jayson Dimanche, LB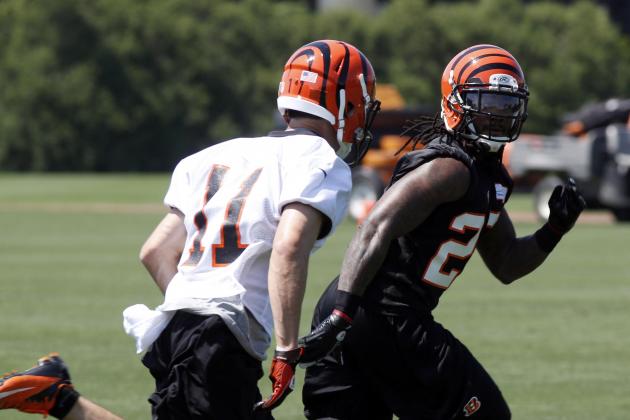 David Kohl-USA TODAY Sports

70. Tony Dye, S
69. Chris Lewis-Harris, CB
68. Dan Herron, RB
67. Reid Fragel, OT
66. T.J. Johnson, C
65. Dan Knapp, OT
64. Alex Smith, TE
63. Dane Sanzenbacher, WR
62. Jeromy Miles, S
61. Brandon Tate, WR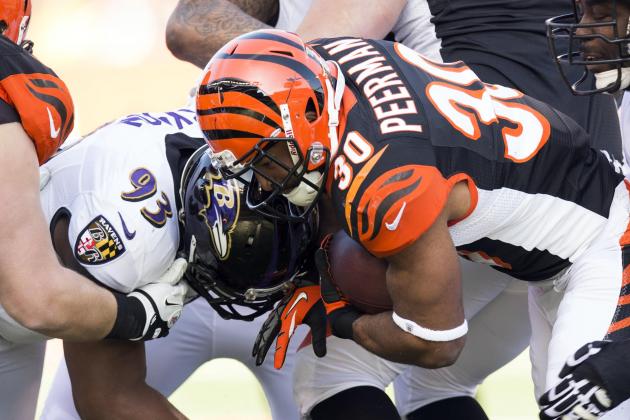 USA TODAY Sports

60. Aaron Maybin, LB
59. Brandon Joiner, LB
58. Brandon Ghee, CB
57. Bernard Scott, RB
56. Cedric Peerman, RB
55. Vincent Rey, LB
54. Shaun Prater, CB
53. Dontay Moch, DE/LB
52. Jamaal Anderson, DE
51. Mike Pollak, OG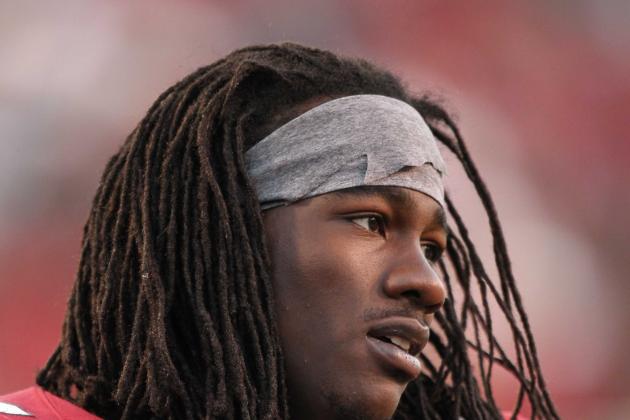 Nelson Chenault-USA TODAY Sports

50. John Conner, FB
49. John Skelton, QB
48. Ryan Whalen, WR
47. Sean Porter, LB
46. Tanner Hawkinson, OT
45. Wallace Gilberry, DE
44. Clark Harris, LS
43. Brandon Thompson, DT
42. Dennis Roland, OT

41. Cobi Hamilton, WR: One side note about Hamilton: I'm of the firm belief that he will move up from this slot by about 30 spots by this time next season. Reports from OTA's were very good about him, but for now, there isn't a reason to believe he's going to beat out Mohamed Sanu or Marvin Jones for the No. 2 receiver job. For that reason, I've put him this low, but make no mistake, Hamilton could be a star.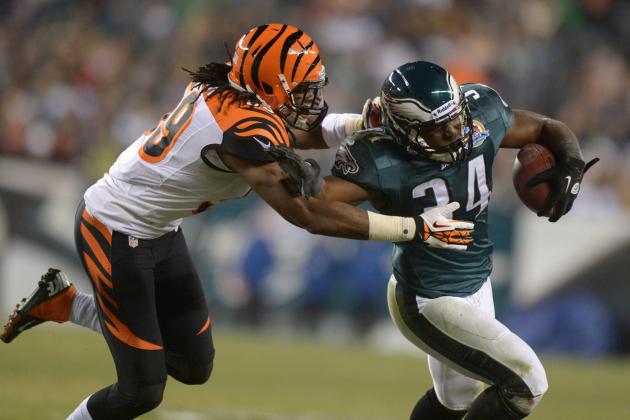 USA TODAY Sports

40. George Iloka, S
39. Taylor Mays, SS
38. Chris Crocker, SS
37. Emmanuel Lamur, LB
36. Josh Johnson, QB
35. Devon Still, DT
34. Robert Geathers, DE
33. Margus Hunt, DE
32. Chris Pressley, FB
31. Terence Newman, CB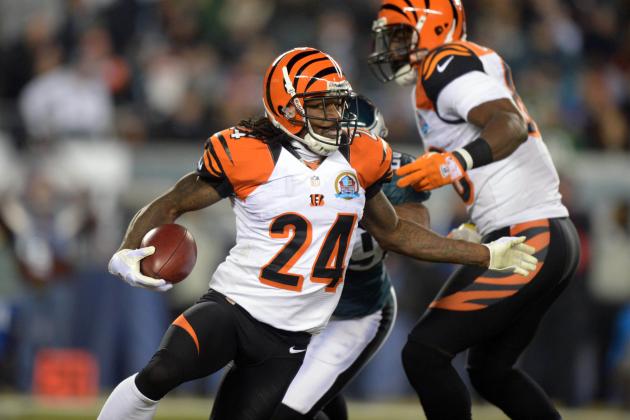 USA TODAY Sports

30. Pacman Jones, CB/ST
29. Clint Boling, LG
28. Orson Charles, TE
27. Kyle Cook, C
26. Anthony Collins, OT
25. Andrew Hawkins, WR
24. Marvin Jones, WR
23. Mike Nugent, K
22. Rey Maualuga, LB
21. Trevor Robinson, C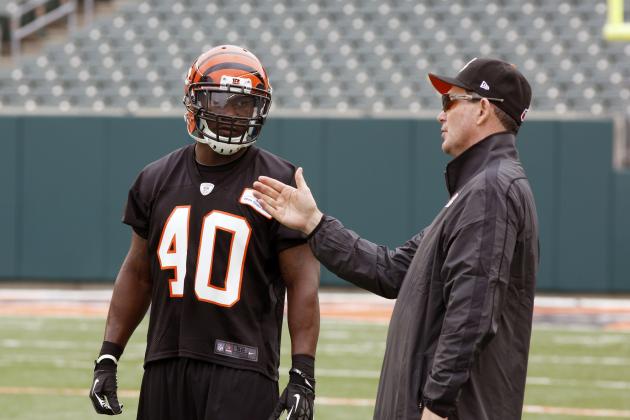 David Kohl-USA TODAY Sports

How is the Bengals' third-round draft pick who isn't even listed on the depth chart as the starter within the top-20 here? Well let's be honest; he'll wind up being the starter come Week 1.
Shawn Williams was never considered to be the best safety in the draft this year, and that's a known fact. However, like Reggie Nelson, he's a hard hitter who won't let many plays get past him. He's not going to intercept a lot of passes, but you can bet he'll bat balls down quite often.
Additionally, Williams becomes more important simply because of the train wreck the strong safety position was in 2012. It was a massive, gaping hole in the Bengals' defense, and the odds are that it will be left to him to correct that issue in 2013.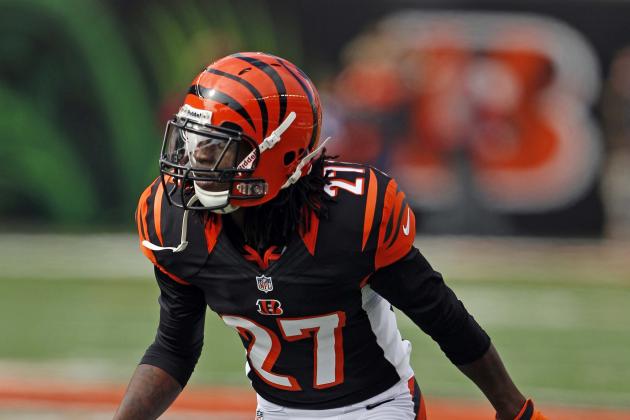 Frank Victores-USA TODAY Sports

Last year around this time, Bengals' fans were horrified to find out that the team's first-round pick was hurt. That turned out to be the story of Dre Kirkpatrick's rookie season, as he saw the field in only five games, collecting a minuscule four tackles.
Now, he's the odds-on favorite to be the starting cornerback opposite Leon Hall in 2013, and the pressure is on. While the bigger concern in 2012 was the safety position, the secondary as a whole essentially lived in shambles since it was forced to rely upon the likes of Taylor Mays and the aging Nate Clements.
Kirkpatrick is going to have to show that he can keep up with the Torrey Smiths of the AFC North. Mike Zimmer knows how to coach a defense, but the second-year corner has a lot to prove after missing almost his entire rookie season. It's important that he answers the call.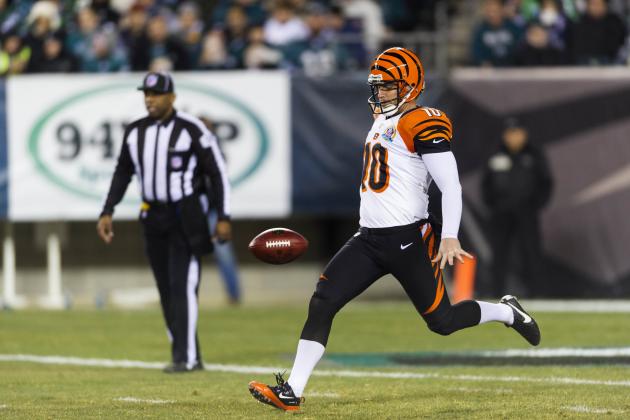 USA TODAY Sports

The special teams game can't go unnoticed, especially when the punter has the talent that Kevin Huber possesses.
The University of Cincinnati product is entering his fifth season in black and orange, and he has been incredible since coming on. He's helped bail out an offense that has been so-so throughout his entire career.
Say what you want about the offense, but being able to pin the opposing offense deep within their own territory is a key part of the game, and Huber is one the best in the league at doing so.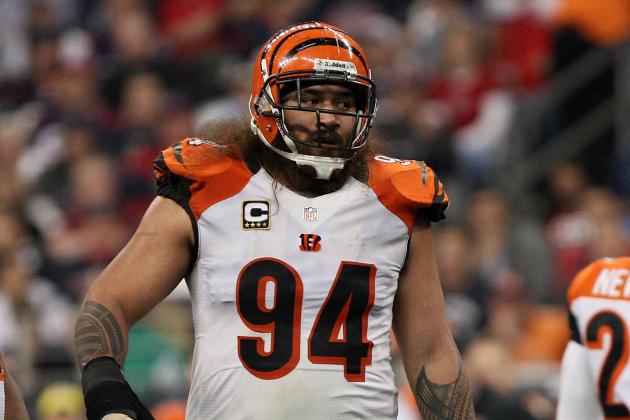 USA TODAY Sports

Domata Peko has been a Bengal throughout his entire career and has been a massive part of the formidable front four the team has formed.
He's never quite been the Pro Bowl talent that everyone hoped for, but he has been solid. He's played in all 16 games in six of his seven seasons, and he has managed to rack up 346 combined tackles.
Someone has to be able to team up with Geno Atkins to get after the quarterback, and Peko is certainly capable of making his way into the backfield. Plus, it's important that this gargantuan is there to support and assist Devon Still and Brandon Thompson as they progress toward becoming starters.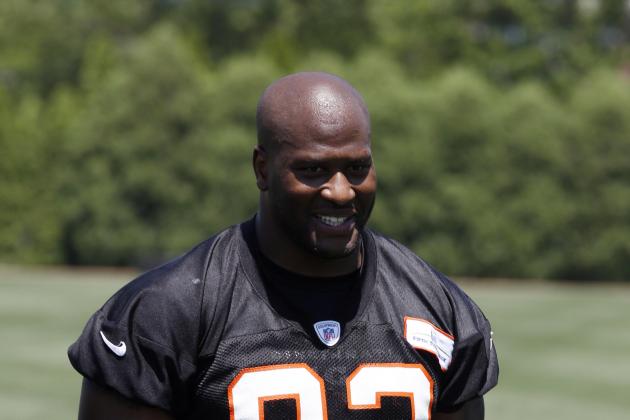 David Kohl-USA TODAY Sports

How much NFL life still remains in James Harrison?
It's hard to say, but it would be hard to believe that he still has another season in him like the ones he experienced in the mid-2000's with Pittsburgh. Still, Harrison is going to be the starting linebacker on the strong side for Cincinnati, and he's going to be asked to blitz.
It's been a long time since the Bengals have had a blitzing linebacker (Takeo Spikes, Odell Thurman, etc), so having Harrison could be a huge addition for this team.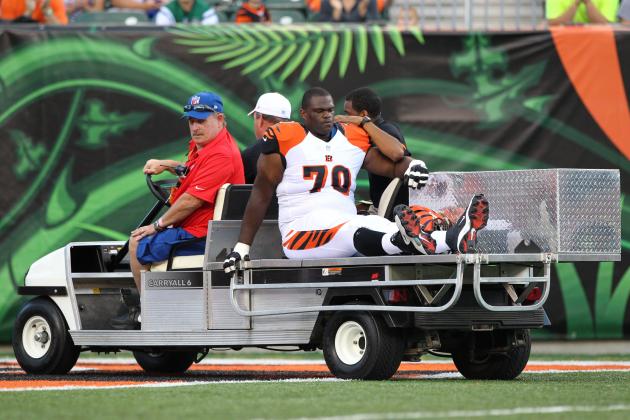 Matthew Emmons-USA TODAY Sports

The above picture says quite a bit about Travelle Wharton's 2012 season—well, I guess it says it all.
Wharton was brought in to replace the untalented Nate Livings at the guard position last year, but that didn't work out. Still, he is listed as the top man on the depth chart in 2013, and all signs point to him being the starter over Clint Boling.
After his injury, it's hard to gauge what Wharton has left in the tank, but he was one of the best guards in the game as he entered the 2012 season.
Can he return to form? Offensive coordinator Jay Gruden certainly hopes so.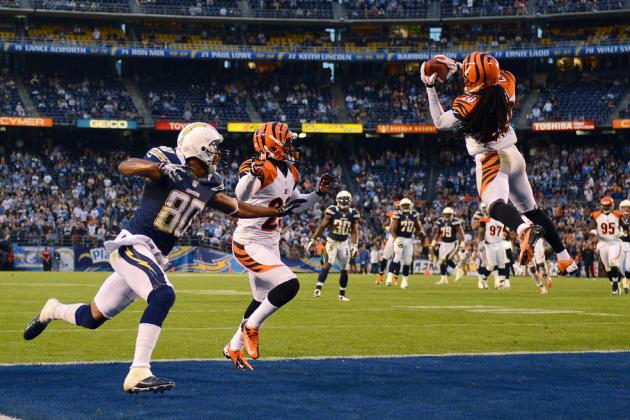 Jake Roth-USA TODAY Sports

Reggie Nelson has managed to be quite the addition for the Bengals over the past three seasons. He's picked off nine passes over that time and has made over 80 tackles in each of the last two seasons.
For a secondary that has seemingly been falling apart since Leon Hall's Achilles injury in 2011, Nelson has been the one constant. He has missed just two games since joining the team in 2010.
We all know what to expect from Nelson at this point in his career: open field tackles and minimal interceptions with lots of passes broken up. He's a pest for opposing teams and should once again be one of the key players in Mike Zimmer's defense this season.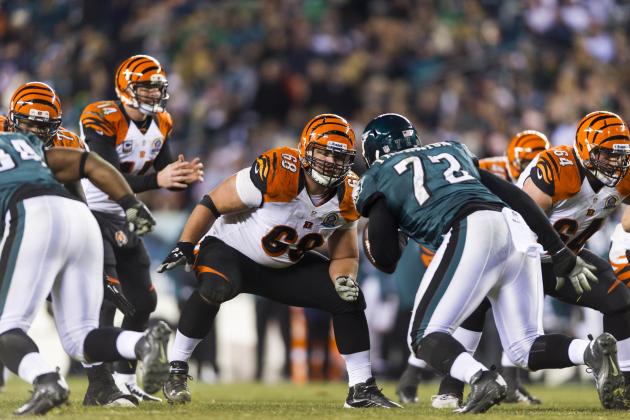 USA TODAY Sports

I guess they just grow 'em right out in Wisconsin.
The first-round pick that Cincinnati used on Zeitler in 2012 originally came under a lot of scrutiny, but throughout training camp— and ultimately, the 2012 season— the rookie proved a lot of people wrong.
Andy Dalton came under a lot of pressure throughout all of last season, but most of that wasn't caused by Kevin Zeitler. He's been one of the better blockers on the team and should be in with the Bengals for the long haul if they hope to protect their investment in Dalton.
Frank Victores-USA TODAY Sports

This might be the guy I have built the most hype around heading into this season.
Mohamed Sanu has shown a huge amount of potential in his short time, as he caught four touchdowns and threw for another as a rookie in 2012.
He's the favorite to be the No. 2 receiver opposite A.J. Green, and that is definitely the right call. Sanu, while not the fastest receiver on the team, is incredibly physical. He's better off catching the short passes, which is good for a quarterback like Dalton, who doesn't often throw the long ball.
Watch for Sanu to make a huge impact this season since Green will have to work through most of the opposing coverage.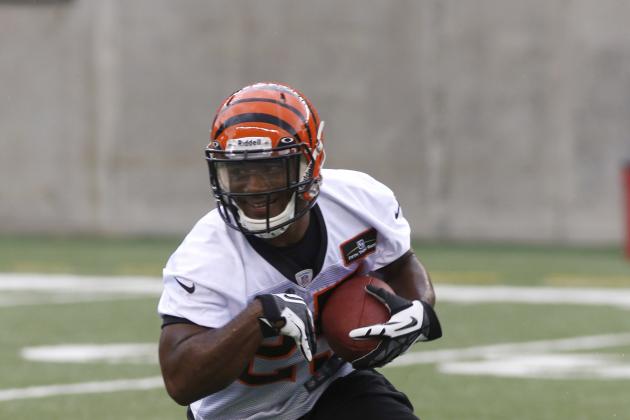 David Kohl-USA TODAY Sports

Giovani Bernard came very close to cracking the top-10 on this list, but just missed the cut. A lot of that has to do with the fact that he's only a rookie.
Say what now?
Well, over the last few years, we've seen guys like Cedric Benson and BenJarvus Green-Ellis carry the load. I have all the respect in the world for both of them, but the fact is they can't be the backs carrying the majority of the pressure. Bruisers are great, but you need a dual-threat backfield that includes some speed in order to be truly successful.
Enter Bernard, who will see a lot of action in 2013 while adding a new dimension to Jay Gruden's offense.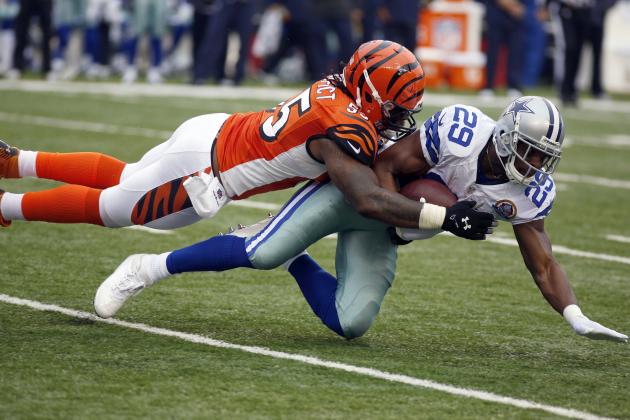 USA TODAY Sports

When the Bengals signed Vontaze Burfict around this time last year, I was hoping and praying that this would be the end result of said signing.
And here we are now. Rejoice!
Burfict recorded a whopping 127 tackles in his rookie campaign, and he seems to have gotten his off-the-field act under control. The sky is the limit for Burfict, and if he continues along this path, he could legitimately become one of the best hard-nosed linebackers in the game.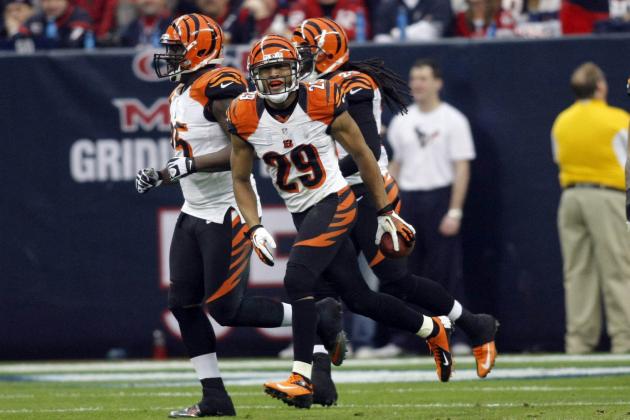 USA TODAY Sports

This could be a severe overrating for a man who seems to be on the decline, but I still have faith in him.
He's only picked off four passes in the past two seasons, but the highlight of this past season was his pick-six off Matt Schaub in the Bengals' playoff game against Houston. Unfortunately, it wound up being the only touchdown for the Benglas in that game.
Hall still has the ability to read the quarterback, but my concern is that he won't be able to keep up with some of the league's best receivers after his Achilles injury. Either way, the secondary falls on his shoulders, and having once been garnered with top-five defensive player honors, he needs to return to his perch.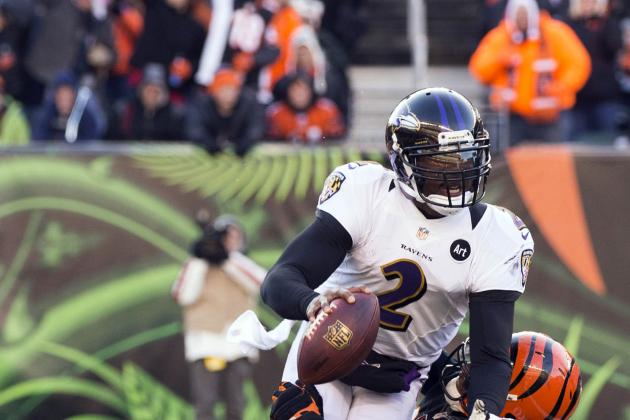 USA TODAY Sports

Carlos Dunlap had a real nice bounce-back season in 2012 after dealing with injuries in 2011. However, he still hasn't been able to match his rookie season (2010) total of 9.5 sacks.
Dunlap is very fast, especially for his size. What he has excelled at is not so much powering past offensive linemen, but rather being able to use his footwork to get around them.
It's important that he stay on the field this year. Overall, he may not be a top-10 talent on the Bengals' squad (a big compliment to the team), but if he goes down to injury again, Mike Zimmer's defense will not be getting after the quarterback as much as they should.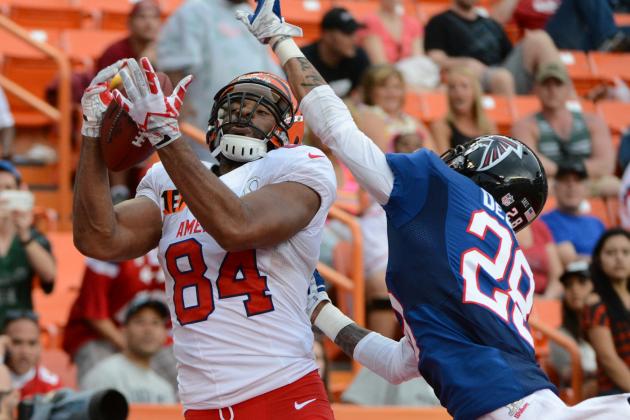 Kyle Terada-USA TODAY Sports

**DISCLAIMER: As of this article's publication, rookie tight end Tyler Eifert IS NOT under contract with the Cincinnati Bengals. Hold your outrage, please.**
Jermaine Gresham has sort of been dealt a raw deal over the past several months since Cincinnati's season ended. He dropped a handful of passes in the game against Houston and seems to be judged by that—as evidenced by the team's drafting of Tyler Eifert in the first round.
There's a lot to say about a guy who has collected over 1,800 yards in the last three seasons and has scored 15 times. He's been a Pro-Bowler and is considered to be one of the better talents at the position throughout the league.
I'm not saying that he's without flaw, but make no mistake, he's a massive part of Andy Dalton's offensive arsenal.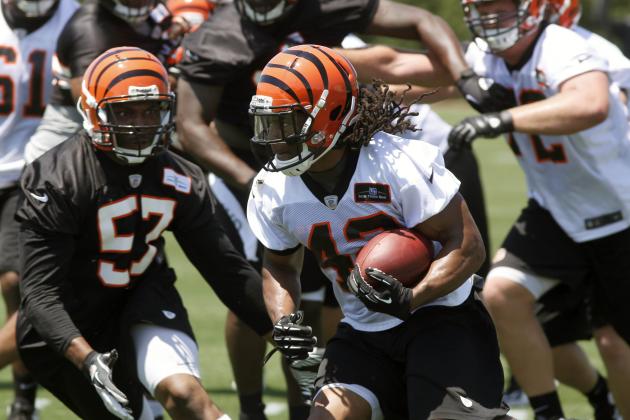 David Kohl-USA TODAY Sports

Statistically, BenJarvus Green-Ellis had one of his better seasons in 2012. He ran for just under 1,100 yards and recorded six touchdowns.
Those are both pretty mediocre numbers, but the good part of that is that a lot of it came down the stretch when the Bengals went 7-1 to get into the postseason.
Green-Ellis is going to see the majority of the 2013 actionat running back, and his bruising style will certainly be used as a big advantage for the offense. His veteran leadership will help guys like Giovani Bernard and Rex Burkhead develop nicely, while he also devotes his efforts to the team's Super Bowl hopes.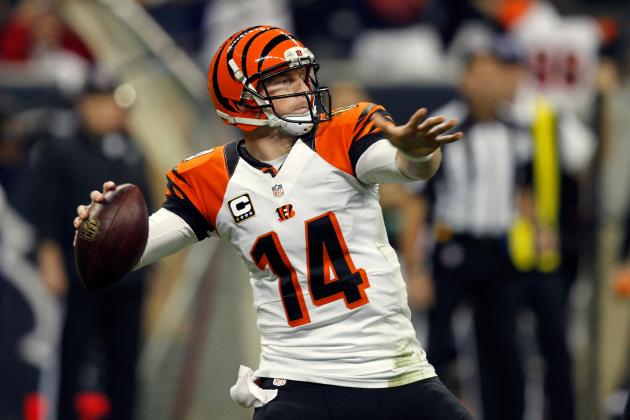 Bob Levey/Getty Images

Whether it's a make-or-break season for Andy Dalton or not, he's definitely one of the biggest factors on the Bengals' roster. People weren't sure what to expect after the Bengals selected him in the second round of the 2011 draft following Carson Palmer's brief retirement.
It seems to have worked out thus far, but there is a lot of speculation that Dalton will never be able to take this team to the Super Bowl because of his inability to throw a decent deep ball and his seeming inability to consistently hit his targets.
Dalton must come out in 2013 and show that he can correct those issues. Cincinnati is entering the prime of their team's talent and that all starts with the quarterback.
USA TODAY Sports

Andrew Whitworth has consistently been one of the most over-looked left tackles in all of the NFL over the last several seasons.
The guy can block. He does a good job of keeping guys out of the backfield, and yet most fans don't utter his name when it comes to the best players on the team.
He may be prone to holding, but without Whitworth, Andy Dalton probably is already out of the starting job.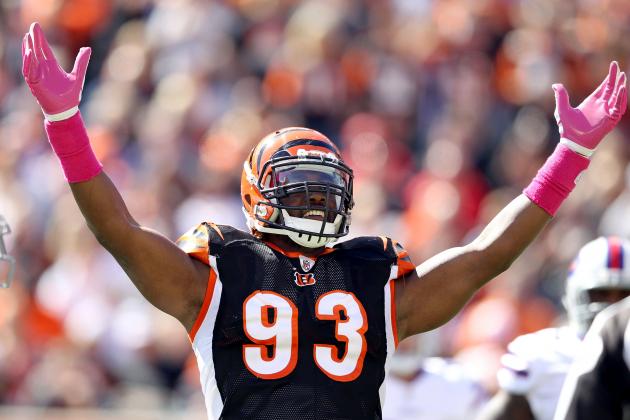 Andy Lyons/Getty Images

Michael Johnson chose the right time to have his best season as a pro. In 2012, he collected a career-high 11.5 sacks, which got him the franchise tag this offseason.
It's incredible what Johnson has done to improve his game over the past few years, but the transformation has worked. He's much quicker and stronger now, and he is able to maneuver into the backfield under any circumstance.
Be prepared for Johnson to make a massive impact as he enters a contract year.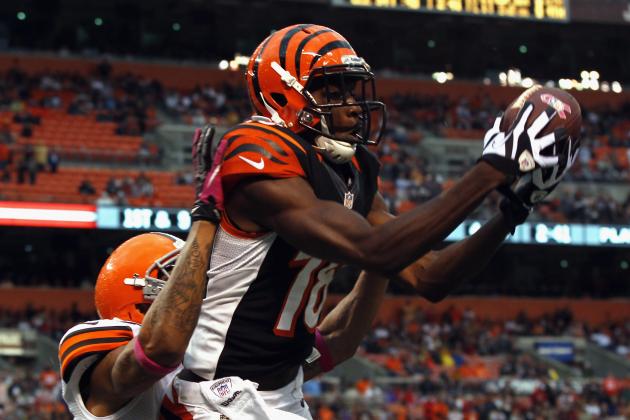 Matt Sullivan/Getty Images

When the rankings come out closer to the start of the season, I would bet a lot of money that A.J. Green will be within the top-two receivers in the league, behind only Calvin Johnson.
Green has done everything right as a Bengal, and that makes him the single most valuable offensive option on the team. He's fast, he's strong, and his hands are like glue—there are times that I watch the guy and have no idea how he does what he does.
Over the last two seasons, he has made Andy Dalton look that much better, and after the season is over, I expect him to take over the top spot amongst the league's receivers.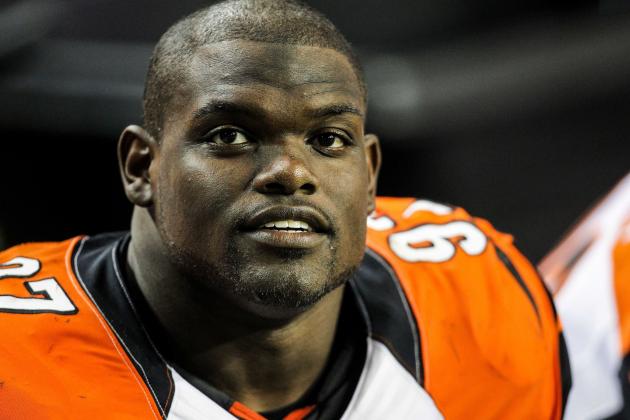 Daniel Shirey-USA TODAY Sports

There is a lot of chatter that Geno Atkins is most crucial defensive piece to any team in the entire league.
I'd be inclined to agree.
Atkins has been the single best defensive player the Bengals have had over the past two seasons, and those two playoff appearances would not exist had it not been for him.
He has an uncanny ability to charge into the backfield and seems to have a knack for putting pressure on the quarterback. With his insane combination of speed and power, I fully expect Atkins to compete for the Defensive Player of the Year award in 2013.