Kobe Bryant seems to think that once he's healthy, he'll be playing exactly like he has been over the course of his career—and I don't disagree one bit.
The Los Angeles Lakers star underwent surgery on a torn Achilles' tendon back in mid-April and was originally expected to miss six to nine months, according to Dave McMenamin of ESPN Los Angeles.
It appears likely that Bryant will be ready to play for the Lakers after around eight months of recovery. Or at least that's what he told ESPN LA 710 in a recent interview, according to the station's Twitter account. Bryant shared some additional details:
Kobe on return: "I'm shooting for November, December latest. That's my goal in my head...Once I'm ready to go, its gonna be on"

— ESPNLA 710 Radio (@ESPNLA710) June 19, 2013
Kobe on recovery: "I'm fully mobile. I can get up and do whatever it is I wanna do--I can't run obviously."

— ESPNLA 710 Radio (@ESPNLA710) June 19, 2013
Kobe on how he's feeling: "I think its gonna be more than fine...Now it actually feels better than it did before I got hurt"

— ESPNLA 710 Radio (@ESPNLA710) June 19, 2013
Mark Trudell of Lakers.com sat down to talk with Los Angeles' athletic trainer, Gary Vitti, last week, and Kobe's rehab was one of the topics they discussed. Here's an excerpt from their conversation:
MT: Where is Bryant is terms of his rehabilitation? Do you think he can play in the season opener, as is his hope?

Vitti: We don't know yet. Kobe looks exactly the way he's supposed to look at this point in time. Kobe makes you look good as a training staff…we always feel good about how he's going to recover from anything, and that's a credit to him. He gets all of it. He's the one that has to do it. He's going to be great no matter whom he works with, and right now he's working with the best, in my opinion, Judy Seto.
While Trudell asked about Bryant's chances of playing the season opener—which seems nearly impossible at this point—I'm surprised he didn't ask about how he thinks Bryant will play once taking the court. That's a question everyone wants to know.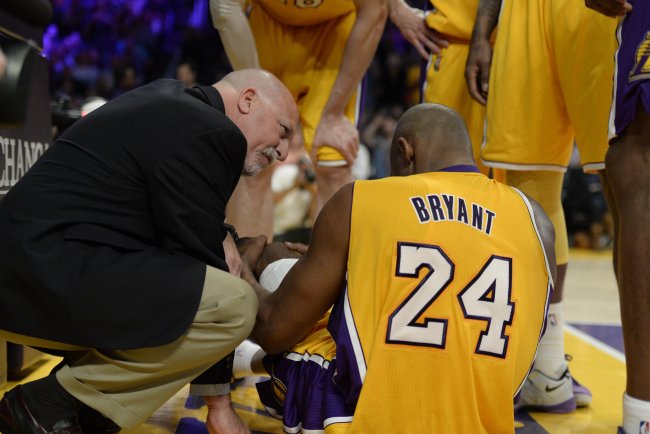 Richard Mackson-USA TODAY Sports
So, let's talk about it.
Before getting injured, there was no question that Bryant was one of the top players in the NBA. He's been remarkable over the course of his entire career and will be enshrined in Springfield very soon. But Bryant has never suffered an injury like he did this past season.
Bryant shouldn't be compared to Derrick Rose, but both have suffered serious injuries lately. Rose was cleared to play in March and still didn't play for the rest of the season. It appears that Bryant can't wait to play again—which was unclear with Rose—but it just shows how an injury can change someone.
I don't expect Bryant to have any hesitancy toward taking the floor once getting cleared to play, though. He won't be the next Derrick Rose.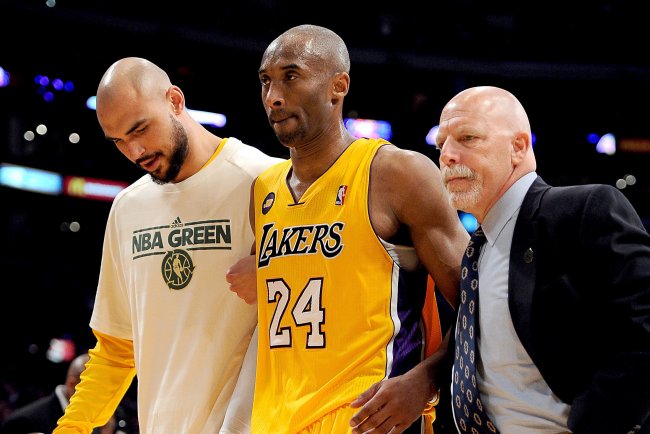 Jayne Kamin-Oncea-USA TODAY Spor
Based on what Bryant said about his progression, let's assume that he plays in his first game of the year when the Lakers take the floor in early December. That would mean that he will have missed roughly 15 or 16 games to start the season. He probably won't play every single game from thereon out, either.
How will Kobe play once he comes back?
A lot of Bryant's projected production depends on what the Lakers are able to do over the offseason as well. If Dwight Howard doesn't re-sign, Bryant might have to take on more of the load. With Howard, Bryant doesn't have to score 30 points per night. In other words, Bryant will play better overall with Howard on the team.
When Bryant returns to the Lakers, he will be playing with just as much intensity as anyone on the court. He isn't going to hold back from sprinting down the floor or jumping up to grab a rebound. His injury will be in the back of his mind, and that'll make him just as dangerous as he's always been.
That being said, expect Bryant to put up numbers closest to what he's done in recent years and over the course of his career. He still has plenty of gas in the tank, and if he's healthy enough to play, he'll prove exactly that.
2013-14 Predicted Stats
60 Games, 25.9 PPG (43.2 FG%, 31.5 3P%, 84.0 FT%), 5.1 RPG, 5.5 APG