NBA Mock Draft 2013: Full Round 1 and 2 Predictions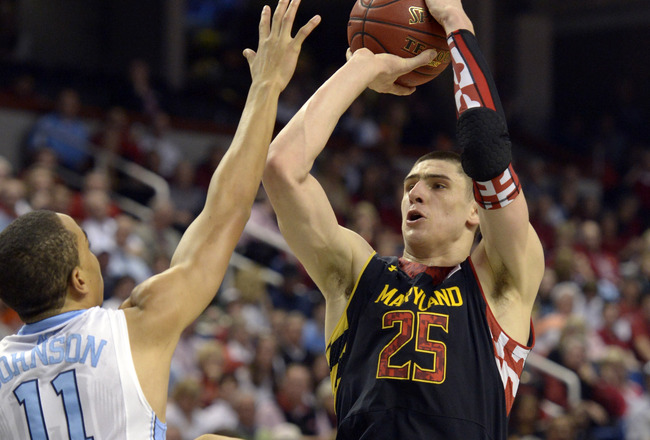 John David Mercer-USA TODAY Spor
The 2013 NBA draft promises to be one of the most unpredictable in league history.
We aren't likely to know who's going No. 1 until moments before the pick is made. And given the frequent trade chatter, we don't even know who will be picking where.
Between injuries, international mystery men and a lack of standout talent, we might be in for a wild night in Brooklyn.
1. Cleveland Cavaliers: Alex Len, Maryland, 7'1'', C
Not only has Alex Len entered the No. 1 overall conversation, but it also appears he might be driving it.
Jimmy Smith of The Times-Picayune was the first to report that Alex Len is now "the likely choice for the Cavs at the No. 1 spot." And I'm buying into it.
There shouldn't be much risk associated with the guy you're taking No. 1. And with Nerlens Noel, there's a cause for legitimate concern. He broke a growth plate in his knee in high school and tore his ACL in college. He's raw and limited offensively, and won't be much of a scoring option unless he's set up for an easy bucket. Noel also weighed in lighter than some NBA guards.
That's just a lot of questions for a No. 1 overall pick. The Cavs also want upside, and settling on Otto Porter would be a reach at first overall. Ben McLemore might be able to justify No. 1 overall value, but after Cleveland drafted Dion Waiters in 2012, the fit might be questionable.
Alex Len has more offensive upside than Noel, yet he can also provide a defensive presence. Len averaged two blocks a game, and at 7'1'', his size alone could have an impact.
Len has the potential to be the top two-way big man in this draft, given his advanced offensive game and physical tools. If the Cavs can't find a way to deal this pick, Len might be Cleveland's most promising option at No. 1.
2. Orlando Magic: Victor Oladipo, Indiana, 6'5'' SG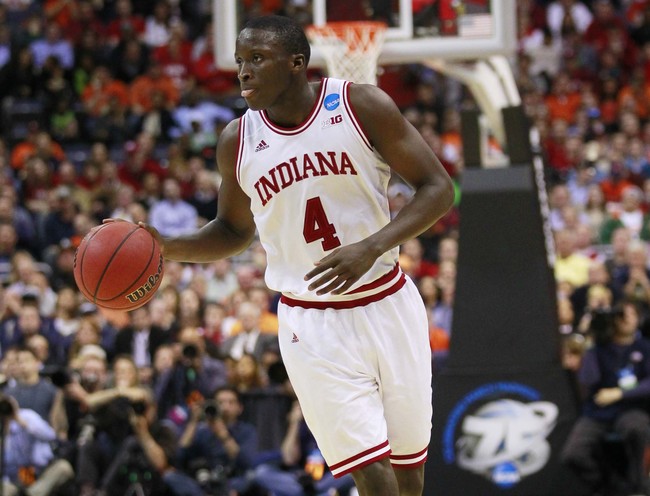 Geoff Burke-USA TODAY Sports
Victor Oladipo just sounds like the safest option for Orlando based on his fit and certainty what he offers as a prospect.
He's one of the few prospects in this field without any real question marks. In fact, the only question to ask yourself is just how good he will eventually get. Oladipo has gradually improved with every year at Indiana, going from off the grid to second-round flier to potential No. 2 overall pick in three seasons.
Oladipo offers strengths that can't be duplicated, including elite athleticism, instincts and a motor that doesn't die. Even if the Magic don't choose Oladipo, it's possible they trade this pick to a team that will.
3. Washington Wizards: Otto Porter, Georgetown, 6'8'', SF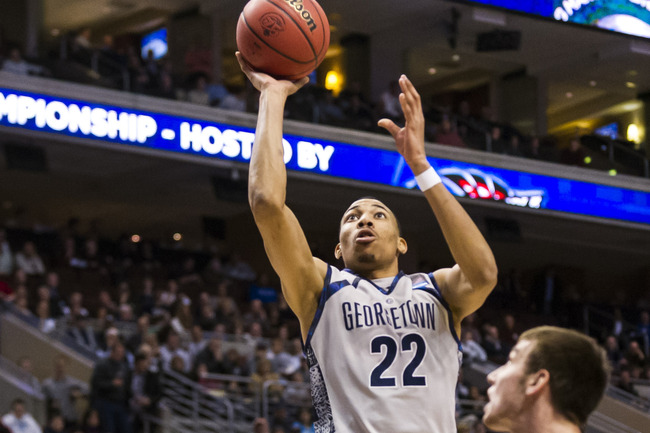 Howard Smith-USA TODAY Sports
With Otto Porter on the board, I'm not sure Washington takes any chances.
He's exactly what the Wizards could use on the wing given his versatility as a scorer and reliability as a disciplined player.
Washington could use a two-way, high-basketball IQ forward in the middle of its lineup. And with his 42 percent three-point stroke and all-around basketball instincts, he'd help give this team a little more credibility.
Porter is a safe option guaranteed to contribute, even if it's not as a future All-Star.
4. Charlotte Bobcats: Nerlens Noel, Kentucky, 6'10'', C
It would be tough to imagine Nerlens Noel slipping past Charlotte, who could use an athletic frontcourt presence and promising long-term prospect.
The Bobcats have to operate under the assumption that no single rookie is going to make them significantly better in 2013-14. Though Noel has his flaws, they're a little more daunting at No. 1 overall.
If Noel turns out to be the next Larry Sanders, the Bobcats should be happy with that at No. 4 in this draft. A team drafting No. 1 overall might want a little more bang for its buck.
Charlotte fans just need to sit tight for one more year until the real prizes are available in the 2014 draft. In the meantime, the Bobcats could use this year to let Noel strengthen his knee and adjust to the game.
5. Phoenix Suns: Ben McLemore, Kansas, 6'5'', SG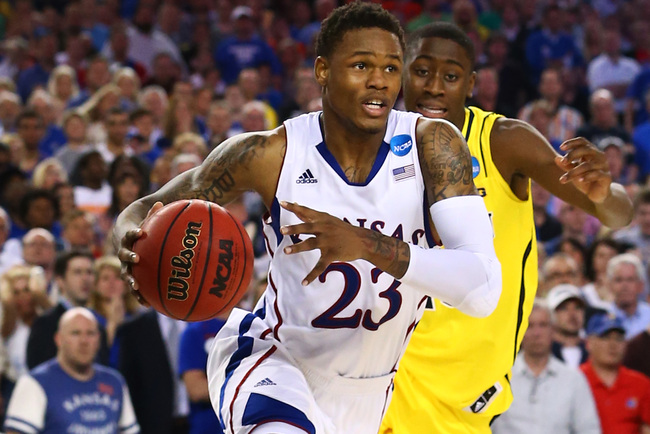 Ronald Martinez/Getty Images
At this point in the draft, the Suns are choosing between Ben McLemore, Anthony Bennett and C.J. McCollum.
Of the three, McLemore has the most favorable risk-to-reward ratio. Actually, McLemore doesn't present any risk given that he's a 6'5'' stud athlete with an unteachable jumper. Both Bennett and McCollum are combos vulnerable to falling between positions.
McLemore would give Phoenix a dynamic scorer in the backcourt who can pick up easy baskets above the rim and behind the arc. He's a top-three talent, but with recent reports from ESPN's Chad Ford (subscription required) saying his workouts haven't been great, McLemore could slip to the Suns at No. 5.
6. New Orleans Pelicans: Trey Burke, Michigan, 6'1'', PG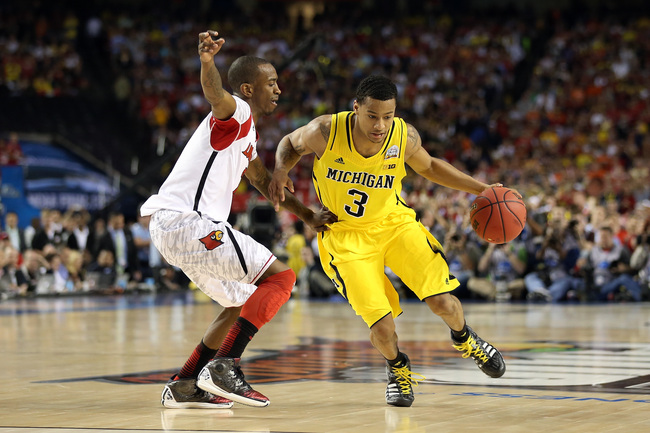 Andy Lyons/Getty Images
With Alex Len and Otto Porter unavailable, Trey Burke stands out on New Orleans' draft board as an enticing option at No. 6.
Burke could run the point as a more traditional floor general than Greivis Vasquez, who might be better off in a combo role at the off-guard slot. Then the Pelicans could trade oft-injured Eric Gordon.
Personally, I don't see much of a concern over Burke's perceived athletic limitations and, so far, we haven't heard the Pelicans do either. If Len, Porter, Nerlens Noel, Ben McLemore and Victor Oladipo go Nos. 1 through 5 (in whatever particular order), Burke makes sense as a pure point guard with a winning track record.
Anthony Bennett could also be an option here as well, but I don't see New Orleans going with C.J. McCollum over Burke.
7. Sacramento Kings: Anthony Bennett, UNLV, 6'7'', SF/PF
Without the ability to work out for teams (shoulder surgery), Bennett hasn't been able to showcase his most appealing strength, which has a lot bigger effect on those who get to see it in person.
Bennett is the most explosive player in this draft. He attacks the rim like he's mad at it. He's also a missile in the open floor, with the ability to dodge defenders at full speed.
The only reason he's not a clear-cut top-three pick is because he lacks a true position. Bennett is undersized as a 4 and lacks the off-the-dribble game of a 3.
We've seen Derrick Williams and now Thomas Robinson struggle under similar circumstances once they got into the league.
If Bennett can avoid falling between positions and learn to maximize his versatility, the Kings would get a steal at No. 7 overall.
8. Detroit Pistons: C.J. McCollum, Lehigh, 6'3'', PG/SG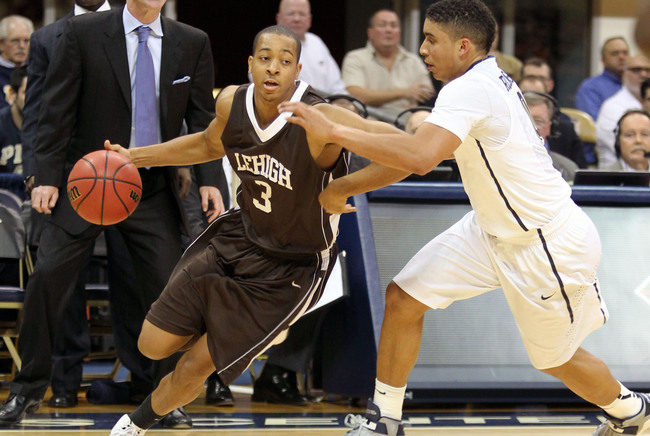 Charles LeClaire-USA TODAY Sports
It sounds like Detroit is targeting a guard or a wing, with McCollum, Kentavious Caldwell-Pope and Shabazz Muhammad all in play.
McCollum is the most skilled offensive player on the board here at No. 8, with the versatility to play alongside Brandon Knight as an off-guard or as a ball-handler at the point.
He's a big-time scorer and someone who can generate offense with the ball in his hands. Other than Knight, the Pistons lack threatening playmakers. They can add a pretty dangerous one in McCollum if they are looking to build their backcourt.
9. Minnesota Timberwolves: Kentavious Caldwell-Pope, Georgia, 6'6'', SG
Kentavious Caldwell-Pope has been a prospect on the rise since the pre-draft process began. He's worked out for the Timberwolves, who should be in the market for a sharpshooting 2-guard.
And given Caldwell-Pope's deep range, size and athleticism, he'd be an immediate upgrade over Luke Ridnour and Alexey Shved. Caldwell-Pope would also become the team's top perimeter defender in the backcourt.
He managed to score 18.5 points per game at Georgia as the focus of opposing defenses, and didn't have a playmaker to create for him. With his ability to defend, Caldwell-Pope might be a better option for Minnesota than Shabazz Muhammad.
10. Portland Trail Blazers: Cody Zeller, Indiana, 7'0'', C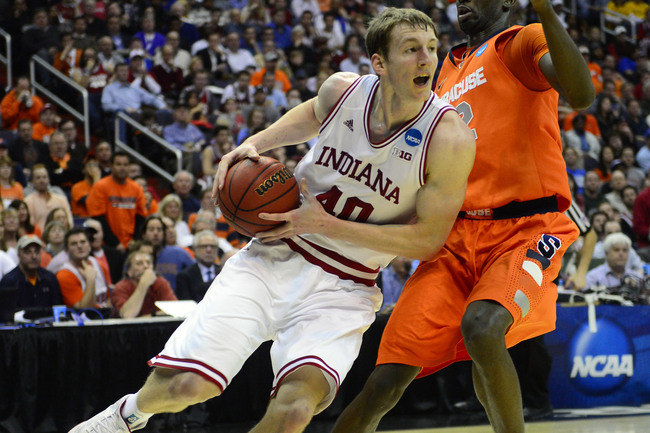 Bob Donnan-USA TODAY Sports
You'd like to think that Portland is looking for a more NBA-ready player than a longer-term project. And compared to a guy like Steven Adams, Cody Zeller is currently far more advanced.
Zeller tested as the top athlete among the big men at the combine after averaging 16.5 points and 8.1 boards in the toughest conference in the country. Zeller actually might be more ready to go than any other big man in the field.
He'll need to add weight and adjust to his new spacing and role in the offense, but Zeller might be one of the most undervalued prospects in the class. He worked out individually in front of Portland owner Paul Allen earlier in June.
11. Philadelphia 76ers: Steven Adams, Pittsburgh, 7'0'', C
Jerry Lai-USA TODAY Sports
The Sixers aren't likely to land a player ready to push them into the playoffs, so all long-term projects should be considered.
Steven Adams is a still a few years away, but with his elite physical tools, size and feathery touch, he has a high ceiling.
Philadelphia should be prepared to grab either Cody Zeller or Adams, assuming one of them falls to No. 11.
12. Oklahoma City Thunder (via Toronto): Michael Carter-Williams, Syracuse, PG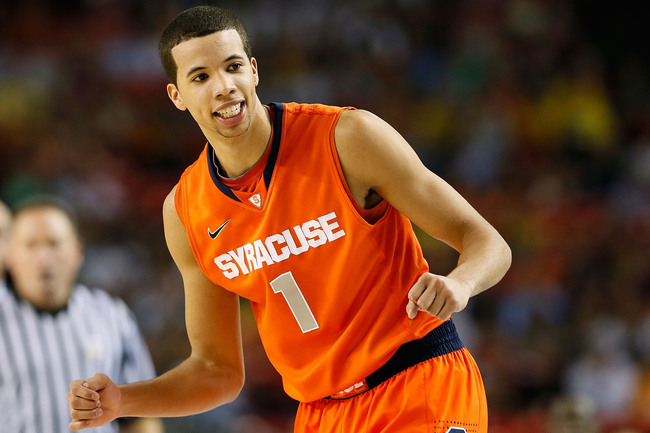 Kevin C. Cox/Getty Images
The Thunder can make an interesting move here if Michael Carter-Williams falls to them. Though Reggie Jackson emerged in the playoffs, he doesn't have the pass-first instincts of Carter-Williams, who at 6'6'', is a pure point guard at heart.
Jackson might be playing himself into a bigger contract once his current one expires. The Thunder can use Carter-Williams as his replacement, as he should be ready to play by his second year in the league.
Kevin Martin is also an impending free agent. If they lose him, the Thunder could slide Reggie Jackson into the sixth-man role and use Carter-Williams as the immediate backup point guard.
Either way, Carter-Williams gives Oklahoma City options, flexibility and another promising prospect to join Jeremy Lamb and Perry Jones.
13. Dallas Mavericks: Sergey Karasev, Russia, 6'7'', SF
If Dallas keeps this pick, chances are it uses it on an international prospect it can stash overseas to preserve cap room for free agents.
If Dallas deals it, there's a good possibility it goes to a team looking to select Sergey Karasev. ProBasketballDraft.com is reporting that a deal might be in place that would send this pick to Cleveland, which is targeting Karasev with its second first-round pick.
Karasev is one of the more NBA-ready players in this draft, which he showed in Russia's top league as its leading scorer.
Though he doesn't have All-Star upside, Karasev has the IQ, shooting accuracy and facilitating instincts to be a valuable contributor to a winning rotation.
Whether he goes to Dallas or Cleveland, No. 13 overall looks like it might belong to the sharpshooting Russian with the impressive all-around floor game.
14. Utah Jazz: Shane Larkin, Miami, 5'11'', PG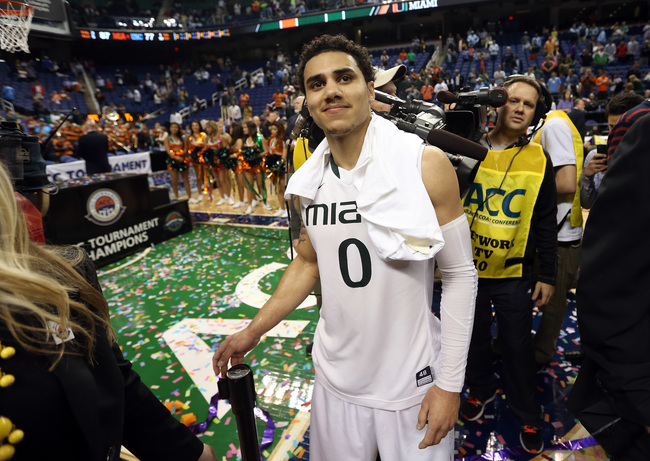 Streeter Lecka/Getty Images
With Shane Larkin's name still hot from the show he put on at the NBA combine, the Jazz aren't likely to take a chance on waiting until No. 21.
Larkin has established himself as the top athlete among the point guards with a natural feel for running the pick-and-roll.
As an offensive weapon, Larkin averaged 14.5 points and 4.6 assists on 40 percent shooting from downtown. He hurts defenses as a scorer on the perimeter and facilitator in the half court. For a team like Utah without much life in its backcourt, Larkin would fill a need and a want.
15. Milwaukee Bucks: Dennis Schroeder, Germany, 6'2'', PG
With Milwaukee prepared to lose one or both members of its starting backcourt, the Bucks should be all over Dennis Schroeder if Shane Larkin is off the board.
Schroeder has that NBA-level quickness that makes your eyes light up. He's a true breakdown point guard with long arms and a strong frame, acing the eye test for his position.
If the Bucks let Brandon Jennings walk, Schroeder would have the opportunity to get early minutes and develop on the job.
16. Boston Celtics: Ricky Ledo, Providence, 6'6'', SG
Don't be surprised to see Danny Ainge swing for the fences here. At No. 16, there won't be anyone on the board who offers reliability and upside at the same time.
Having not logged a single minute at Providence after being ruled ineligible, Ledo is now considered one of the higher-risk, higher-reward options in the draft.
Out of high school, Ledo was regarded as a premier scorer who could handle the ball, shoot it and create off the dribble.
The Celtics brought Ledo in for a workout and have to be intrigued with the potential upside he offers. Boston doesn't have many young prospects with towering ceilings, and Ledo would be the ideal gambler's pick in the mid-first round.
17. Atlanta Hawks: Giannis Antetokounmpo, Greece, 6'9'', PG/SF
With two first-round picks, the Hawks should look to make a splash with one and play it safe with the other.
Consider Giannis Antetokounmpo their splash pick—a prospect who offers loads of upside as a 6'9'' ball-handler. He's also a draft-and-stash candidate, which means Atlanta can save some money for their free-agent efforts.
Antetokounmpo recently drew a crowd in Italy when he suited up for Greece's Under-20 national team just a short drive from Adidas Eurocamp. His ability to create off the dribble for a wing his size has captivated those searching for the next big thing.
He's not ready, but Antetokounmpo has unique upside if he's ever able to reach it.
18. Atlanta Hawks (via Houston): Mason Plumlee, Duke, 7'0'', C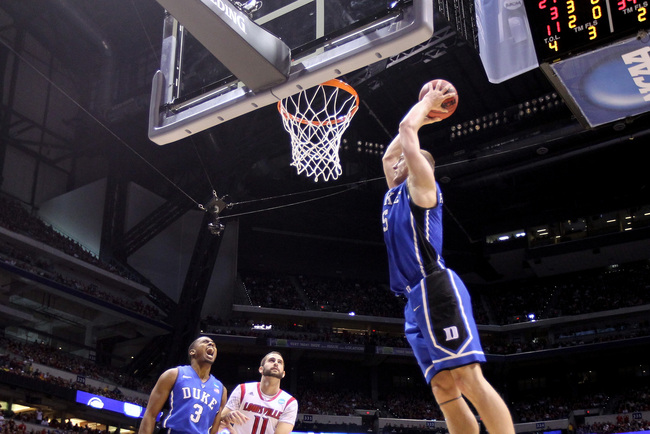 Andy Lyons/Getty Images
If the Hawks can grab an upside pick at No. 17, they should look to grab a guaranteed contributor at 18.
Mason Plumlee is one of the surer bets in the class and fills a need for Atlanta's shallow frontcourt.
At 7'0'', he's a strong rebounder and finishes plays above the rim off lobs, dump-offs and tip-ins.
Plumlee isn't much of a one-on-one threat, but he's a guy who can make plays off the ball without having his number called.
19. Cleveland Cavaliers: Shabazz Muhammad, UCLA, 6'6'', SF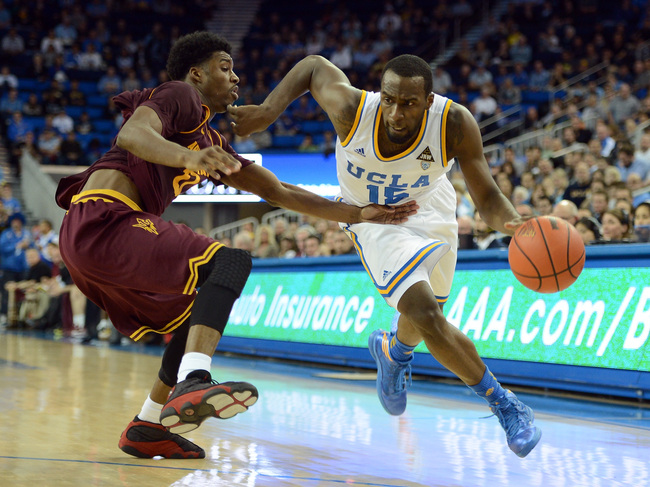 Harry How/Getty Images
It's inevitable—someone is going to slip in this year's draft.
Shabazz Muhammad is a strong candidate to fall after a bizarre year in which a lot of questions were raised about his background and two-way game.
Still, Muhammad averaged 18 points a game as a freshman. He's not the most polished offensive player, but his instincts, active motor and physical tools are good for routine easy buckets.
If Cleveland keeps this pick and Muhammad is available, it would be a great fit for both parties.
20. Chicago Bulls: Tony Snell, New Mexico, 6'7'', SG/SF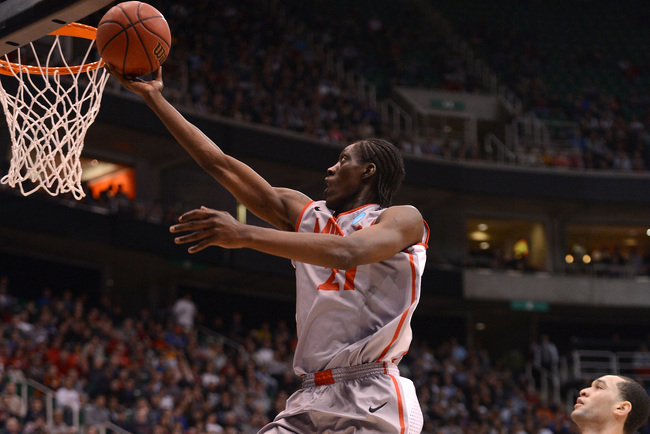 Harry How/Getty Images
With Jimmy Butler expected to start in the backcourt next season, the Bulls could be targeting depth behind a fragile Luol Deng.
At 6'7'' with a 6'11.5'' wingspan and smooth athleticism, Tony Snell fits the physical description of an NBA small forward. He also shot over 38 percent from downtown in back-to-back years and can handle the ball or score on the move.
He'll need to work on his motor for defensive purposes, but something tells me Tom Thibodeau would find a way to maximize it.
He's a prospect on the rise after a strong pre-draft process.
21. Utah Jazz (via Golden State): Lucas Nogueira, Brazil, 7'0'', C
Lucas Nogueira recently worked out in Utah and should be an option for the Jazz assuming they're able to secure a point guard at No. 14.
Nogueira had a big day at this year's Adidas Eurocamp, which helped convince many that he's taken the next step in his development.
At 7'0'' with a mind-blowing 7'6'' wingspan and fluid athleticism, there's no hiding why teams are attracted to Nogueira. He's an above-the-rim presence on both sides of the ball, with the ability to provide a target for easy buckets and protect the paint defensively.
With the Jazz in jeopardy of losing their top two frontcourt players in free agency, Nogueira should be highlighted on Utah's draft board.
22. Brooklyn Nets: Tim Hardaway Jr., Michigan, 6'6'', SG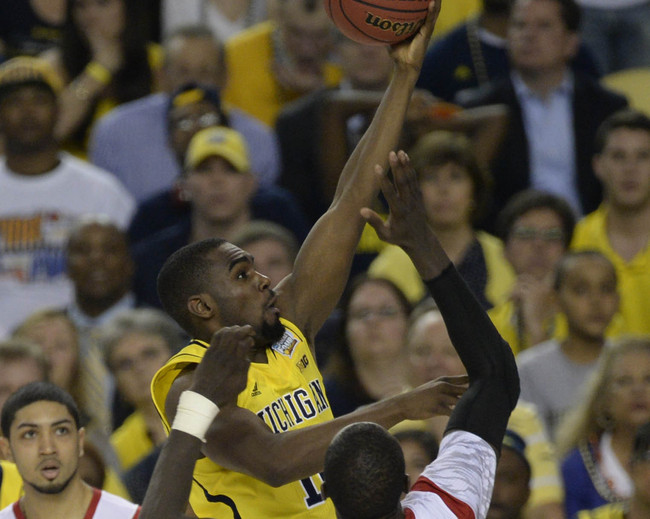 Richard Mackson-USA TODAY Sports
Brooklyn will be working out Tim Hardaway Jr. on Monday before the draft. The Nets could use a shooter and some offensive pop to bring off the bench, with Hardaway an option at No. 22.
Hardaway has been a popular name since the NBA combine, where he shot 19-of-25 from three, measured in at 6'6'' and impressed during interviews.
He has the athleticism to pick up easy buckets and the stroke to heat up from deep. If Brooklyn is looking to add another scoring weapon to the rotation, Hardaway will get heavy consideration.
23. Indiana Pacers: Kelly Olynyk, Gonzaga, 7'0'', C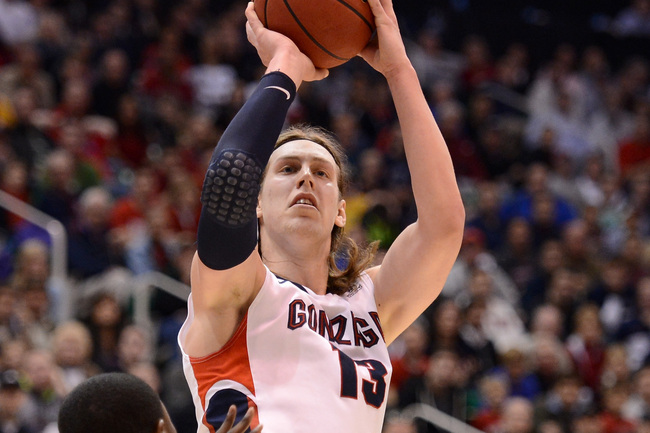 Harry How/Getty Images
The Pacers should be looking for depth at the point guard and center positions. If the top four point guards are off the board, that probably means that one of the big men will slip.
And without that eye-opening athleticism, Kelly Olynyk might be that guy.
That would be good news for Indiana, who would get a reliable half-court scoring option and another 7-footer. He averaged nearly 18 points on almost 63 percent shooting. Olynyk got the shots he wanted and converted them with regularity.
He lacks the upside of some of the centers off the board, but Indiana could use a scorer to join its second unit's frontcourt.
24. New York Knicks: Allen Crabbe, California, 6'6'', SG/SF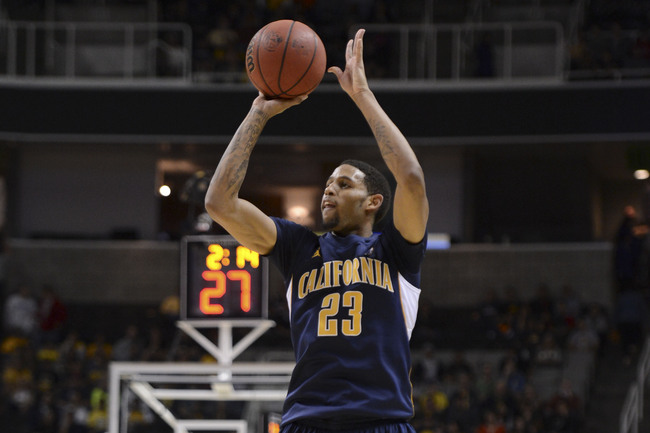 Kyle Terada-USA TODAY Sports
Assuming Trey Burke, Michael Carter-Williams, Shane Larkin and Dennis Schroeder are off the board by No. 24, it would be tough to imagine the Knicks reaching on a point guard here.
In the playoffs, the Knicks were clearly missing offensive weapons to surround their featured scorer. Allen Crabbe should be available at No. 24, an off-ball scorer who can occupy either wing position.
At 6'6'' with a 6'11'' wingspan, he has the size and length for his scoring to translate.
He's one of the better shooters in this draft and does an excellent job moving without the ball to get himself open. Crabbe would give the Knicks an extra scoring option in the half court and a floor spacer at the wing.
25. Los Angeles Clippers: Jamaal Franklin, San Diego State, 6'5'', SF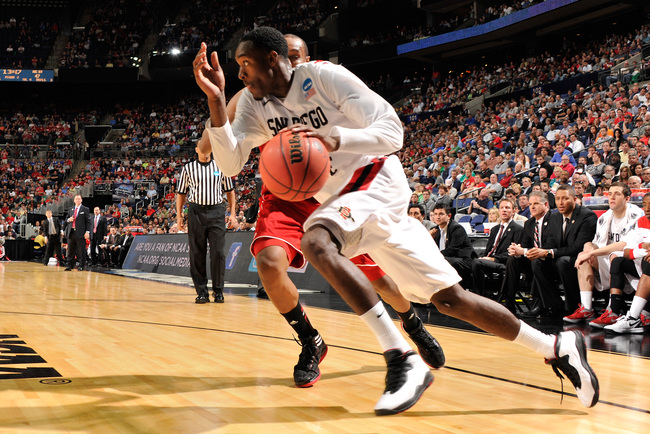 Jamie Sabau/Getty Images
If Jamaal Franklin is on the board when the Clippers are on the clock, alarms should sound in their draft room.
Franklin would be an excellent fit between Chris Paul and Blake Griffin as a versatile wing who scores, rebounds and defends.
He averaged 17 points, 9.5 rebounds, 3.3 assists and 1.6 steals as the only player in the country to lead his team in all four categories.
Franklin is one of the more exciting athletes in the draft. He'd see a ton of opportunities above the rim if he landed in L.A. alongside Paul.
26. Minnesota Timberwolves (via Memphis): Rudy Gobert, France, 7'2'', C
At this point, Rudy Gobert is simply a pair of measurements. Teams are certainly attracted to his 7'2'' size and unprecedented 7'8.5'' wingspan, but his raw offensive game is tough to commit to.
Of course, after No. 20 overall, there probably isn't much risk here. Patient teams might end up with a disruptive defensive rim-protector and target for easy buckets.
Whoever drafts him will likely put a three-year plan in place with regard to his development. He's your standard "project" pick in 2013.
27. Denver Nuggets: Grant Jerrett, Arizona, 6'10'', PF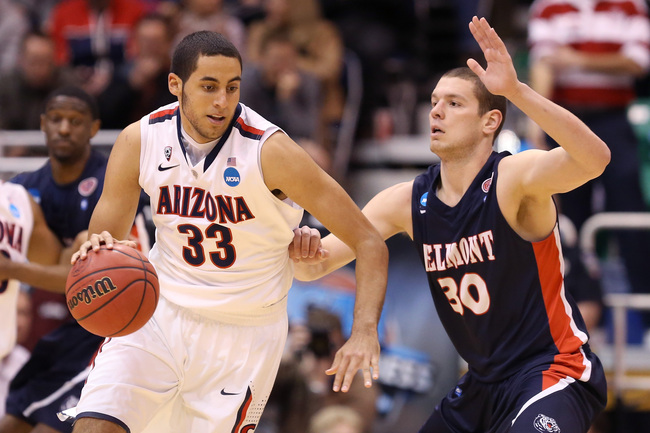 Streeter Lecka/Getty Images
Denver has every position pretty much covered, though it could use another power forward to complement Kenneth Faried.
Cue Grant Jerrett, who at 6'10'' is one of the better shooters in the draft. He knocked down 40 percent of his three-point attempts at Arizona, sticking to his role and knowing his limitations.
But Jerrett is more skilled than his numbers at Arizona suggest. He's a guy who's slowly improving his draft stock with workouts that allow him to showcase his strengths. Jerrett doesn't have much upside, but he has a good feel for the game and might be a surprise pick in this draft.
Jerrett recently worked out for Denver, where he was caught chatting with new general manager Tim Connelly. In terms of need, Jerrett fills one for the Nuggets if his long-ball is as accurate as advertised.
28. San Antonio Spurs: Livio Jean-Charles, France, 6'9'', SF/PF
The Spurs are likely familiar with Livio Jean-Charles, who played for ASVEL Lyon-Villeurbanne, a club owned in part by fellow Frenchman Tony Parker.
Jean-Charles tore up the USA team at the Nike Hoops Summit for 27 points and 13 rebounds, demonstrating his offensive versatility as an inside-outside combo forward with a massive 7'2'' wingspan.
Though not much of an isolation or go-to scorer, Jean-Charles is a reliable finishing target as a slasher and mid-range shooter. He's just a guy who makes plays up front and has the potential to provide a team with an easy bucket-scoring option.
29. Oklahoma City Thunder: Gorgui Dieng, Louisville, 6'11'', C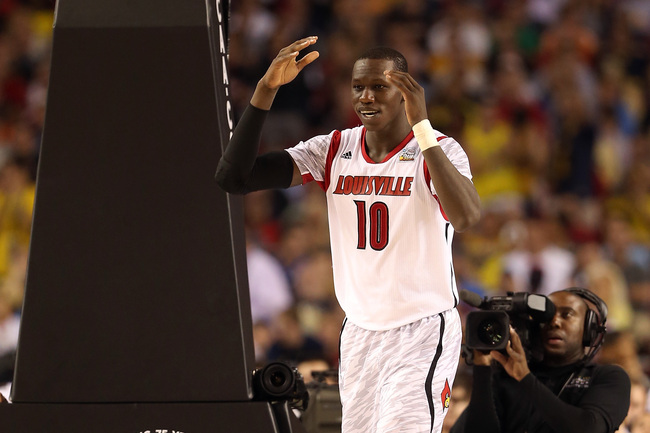 Andy Lyons/Getty Images
With an unusual number of bigs projected to go in this year's first round, one is bound to slip. And though Gorgui Dieng has been regarded as a potential lottery pick, there just isn't one thing he does well enough that allows him to stand out among the field.
Dieng makes sense for a team looking for an interior presence, yet not one that needs scoring production. Dieng's strengths are taking up space, rebounding and protecting the rim.
He's an improved mid-range shooter, which should increase his scoring opportunities as a pick-and-pop option, but his impact is felt more on the defensive side of the ball.
The Thunder could use another big man. Dieng would offer solid value this late.
30. Phoenix Suns: Tony Mitchell, North Texas, 6'9'', PF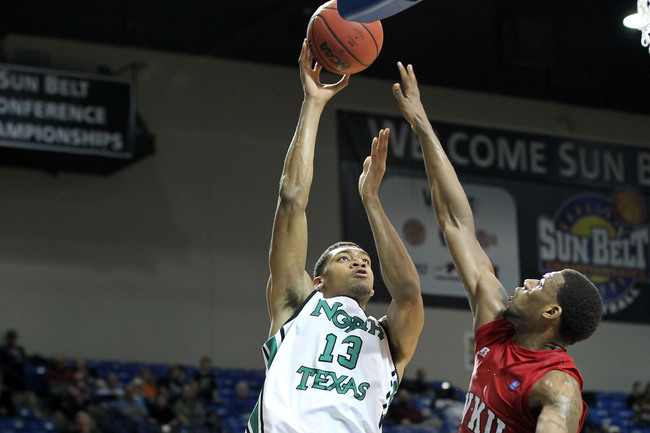 Nelson Chenault-USA TODAY Sports
Phoenix shouldn't be picky here. It should be looking to pick up the top available player on its board at No. 30, regardless of position.
Tony Mitchell would be a nice get who has lottery upside.
He's an excellent rebounder and shot-blocker and arguably the top pound-for-pound athlete in this draft, given his size, 7'3'' wingspan and ability to play above the rim.
Even if his skill set never comes around, Mitchell might be worth it this late based on the athleticism he can inject up front.
31. Cleveland Cavaliers: Reggie Bullock, UNC, 6'7'', SF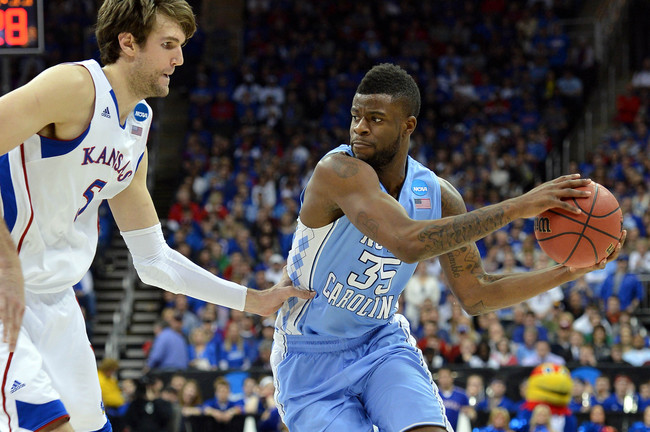 Peter G. Aiken-USA TODAY Sports
Cleveland should be looking to add athleticism and a shot-maker on the wing. Reggie Bullock might actually be an option for the Cavaliers at No. 19 if they're unable to secure Sergey Karasev.
Bullock's 43 percent three-point stroke and defensive tools are becoming an attractive package to teams drafting late in Round 1. He offers great value if you can get him in the second round.
32. Oklahoma City (via Charlotte): Glen Rice Jr., Rio Grande Valley Vipers, SF
Jerry Lai-USA TODAY Sports
Glen Rice Jr. might be considered one of the more NBA-ready prospects in the field considering he was the catalyst for the D-League champion Rio Grande Valley Vipers.
After schooling former first-round picks and NBA players, there's a level of trust you naturally have with the 6'6" small forward that you don't with other prospects.
If he doesn't go in the first round, I wouldn't imagine anyone would let him slip in the second. No team has enough athletic, sharpshooting wings.
33. Cleveland Cavaliers: Isaiah Canaan, Murray State, 6'0'', PG
Joe Robbins/Getty Images
Cleveland may not have this pick by the time it's on the clock, though it could really use a point guard to back up its franchise player.
With Isaiah Canaan, you get elite shooting and one of the toughest guards in this draft. He's quick off the dribble and unafraid of contact, while having the range to pull up from 26 feet.
Given his athleticism, jumper and, most importantly, his confidence, Canaan should be able to come in and contribute offensively as a rookie.
34. Houston Rockets (via Phoenix): Myck Kabongo, Texas, 6'2'', PG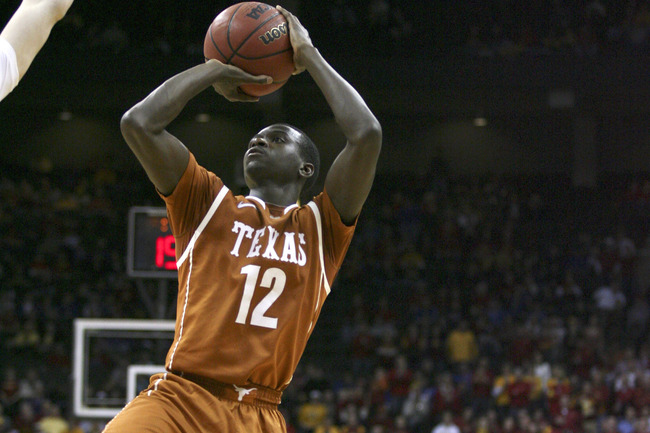 Ed Zurga/Getty Images
The Houston Rockets should be targeting some backcourt depth behind the brittle Jeremy Lin.
Myck Kabongo's name has been trending throughout the pre-draft process, with teams impressed with his maturity and point guard fundamentals.
He's a pass-first distributor and was most effective breaking down the defense and getting into the lane.
Kabongo's turnovers and erratic shooting are likely to keep him out of the first round, but anywhere soon after is reasonable.
35. Philadelphia 76ers: Erick Green, Virginia Tech, 6'3'', PG/SG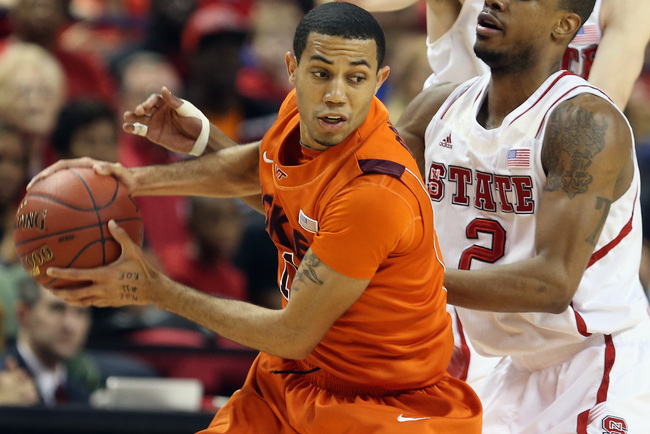 Streeter Lecka/Getty Images
The Sixers could use a backup point guard and some additional offensive firepower. They could get two-in-one with Erick Green if he's still on the board at No. 35.
Green led the country in scoring at 25 points per game, but he is also a capable ball-handler with the ability to create off the dribble.
He has takeover ability once he gets in the zone, and though he might lack a natural position in the NBA, that shouldn't matter in a limited role.
If you want points off the bench, Green is a guy who can give them to you in short stretches.
36. Sacramento Kings: Jeff Withey, Kansas, 7'0'', C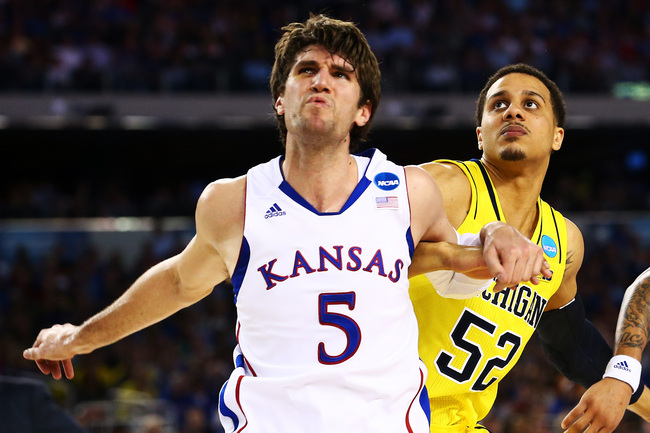 Ronald Martinez/Getty Images
If Jeff Withey falls, which is possible due to the influx of international prospects and more athletic alternative 7-foot options, the Kings should take him.
Withey would give Sacramento some defensive credibility. He's a rim-protector and rebounder first, and everything else second.
With DeMarcus Cousins on the bench, Withey would actually give the Kings a legitimate backup center.
37. Detroit Pistons: Deshaun Thomas, Ohio State, 6'7'', SF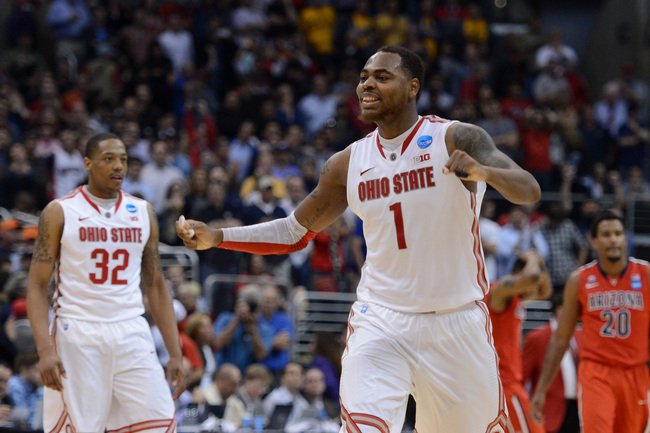 Harry How/Getty Images
The Pistons should be looking for a scoring option on the wing, and though Deshaun Thomas has his defensive issues, nobody questions his ability to put points on the board.
He has a lethal scoring touch from all over the floor, and considering the Pistons had been starting Kyle Singler, Thomas might actually be an immediate offensive upgrade at the small forward position.
If you're looking to add offense without having to pay, Thomas is the ideal second-round pick.
38. Washington Wizards: C.J. Leslie, NC State, 6'9'', SF/PF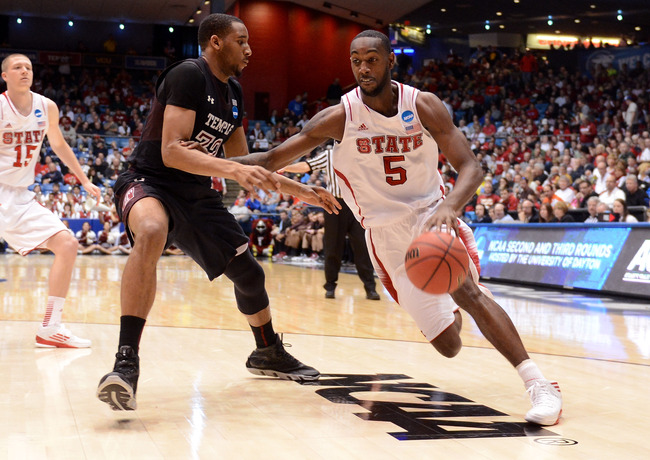 Jason Miller/Getty Images
Washington could use some frontcourt athleticism, and C.J. Leslie happens to be one of the more athletic forwards in the field.
The big hurdle for Leslie will be the transition from the 4 to the 3, as he's likely to struggle playing inside at just 209 pounds.
A guy like John Wall who likes to run might be able to maximize Leslie's talent in the open floor.
There isn't much risk with anyone in the second round. It would be tough to knock Leslie here 38 picks deep.
39. Portland Trail Blazers (via Minnesota): Nate Wolters, South Dakota St., PG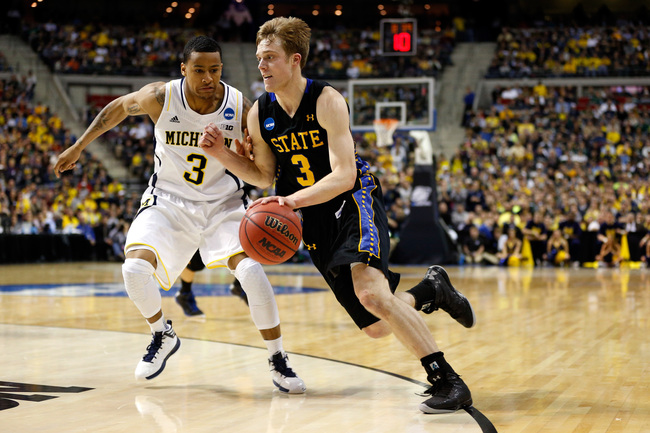 Gregory Shamus/Getty Images
Portland might be in the market for a backup point guard depending on how free agency plays out. Nate Wolters is one of those prospects highlighted on everyone's second-round board, given his crazy college production and size for the position.
The 6'5" guard can score from every angle on the floor, but he also has excellent vision and passing instincts.
His ceiling is limited without that big-time athleticism, which is what's likely to keep him out of Round 1. But Wolters is as safe as you get for a second-round pick.
40. Portland Trail Blazers: Alex Abrines, Spain, 6'6'', SG
Alex Abrines is considered one of the premier young scorers abroad despite his limited role with Barcelona.
He's a confident shooter and shot-maker with the ability to put the ball on the floor and attack the rim.
There are questions defensively, but Abrines looks like a Marco Belinelli-type player who can score in a complementary role.
Portland is always on the top of the European scouting game. Abrines is likely to be on its second-round radar.
41. Memphis Grizzlies (via Toronto): Archie Goodwin, Kentucky, 6'5'', SG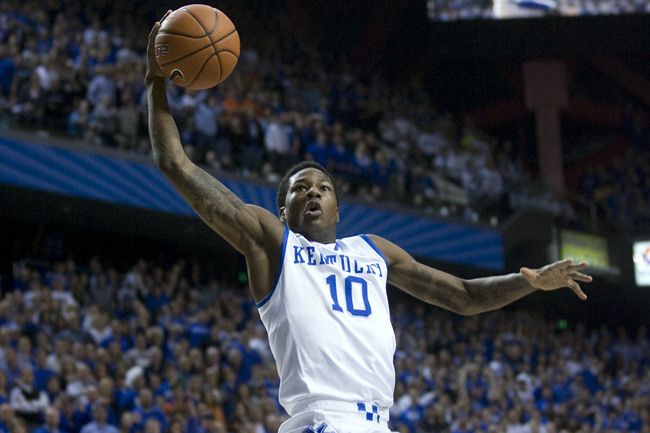 Mark Zerof-USA TODAY Sports
If Memphis loses Tony Allen to free agency, there's going to be a big hole at the shooting guard position.
Archie Goodwin isn't NBA-ready, but he has one of the higher upsides for a potential second-rounder.
A former top recruit and one of the most explosive guards in the country, Goodwin has the tools to make it work. If he's able to refine his offensive game — which includes creating easier shots for himself and controlling his urges and improving his jumper — he could be a steal this late when we look back in a few years.
42. Philadelphia 76ers: Trevor Mbakwe, Minnesota, 6'8'', PF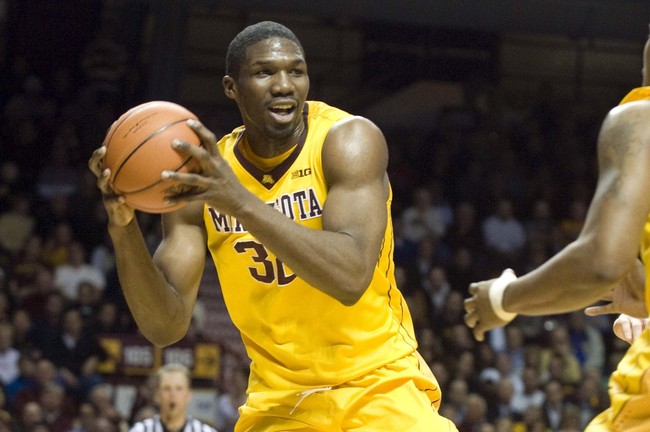 USA TODAY Sports
Philadelphia is really missing that physical interior presence at the power forward position. And you probably won't find a more more physically imposing 4 than Trevor Mbakwe, whose 7'4'' wingspan and gigantic hands helped him lead the Big Ten in rebounding despite playing limited minutes.
A torn ACL as a junior slowed him down, but he made Cody Zeller look silly in an upset win over Indiana earlier this year.
Once he starts to regain some of his explosiveness, he should be a solid option for points in the paint given his fairly refined post game.
43. Milwaukee Bucks: Nemanja Nedovic, Serbia, PG/SG
Nemanja Nedovic got a late workout in with Milwaukee on the Friday before the draft.
He's a 6'3" combo guard who can handle the ball, but his elite athleticism and explosiveness are what drive his appeal. From a physical standpoint, he fits in with NBA guards.
Nedovic is a highlight waiting to happen, particularly in the open floor where he can sky above the rim.
Milwaukee might need some backcourt help once free agency comes to an end, and Nedovic is an intriguing second-round option.
44. Dallas Mavericks: Marko Todorovic, Montenegro, 6'11'', C
Assuming the Mavericks are looking to save every penny for free agency, look for them to draft and stash whenever they're on the board.
Marko Todorovic is a long-term project who hasn't gotten much burn for Barcelona, but anyone who's been scouting overseas is well aware of his upside.
He recently underwent surgery on his finger and is expected to miss six-to-eight weeks, and he hasn't worked out for an NBA team. Look for Dallas to go down its list of draft-and-stash candidates and pick the top one available in Round 2.
45. Portland Trail Blazers (via Boston): James Ennis, Long Beach St., 6'7'', SF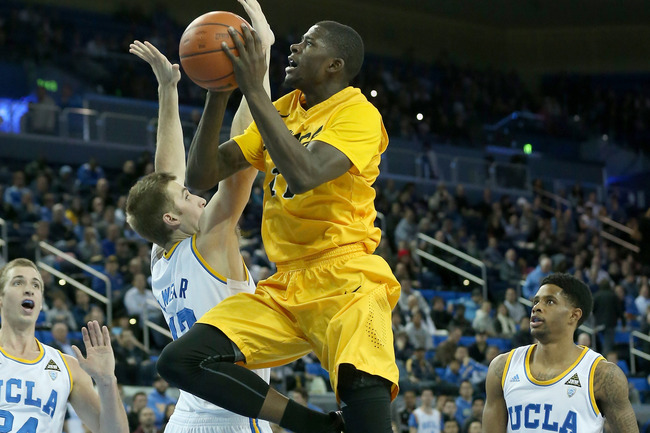 Stephen Dunn/Getty Images
The 2013 Big West Player of the Year, James Ennis has gradually crept up draft boards into a potential sleeper role.
From a physical standpoint, he passes all the tests for a wing. He has bounce and extreme length to go with a reliable and promising long-range stroke.
He has work to do off the dribble, but Ennis is a high-flier in the open floor and someone capable of bringing some energy.
Ennis has been getting a good amount of workout invites and should be in play for every team's second-round pick.
46. Utah Jazz: Lorenzo Brown, NC State, 6'5'', PG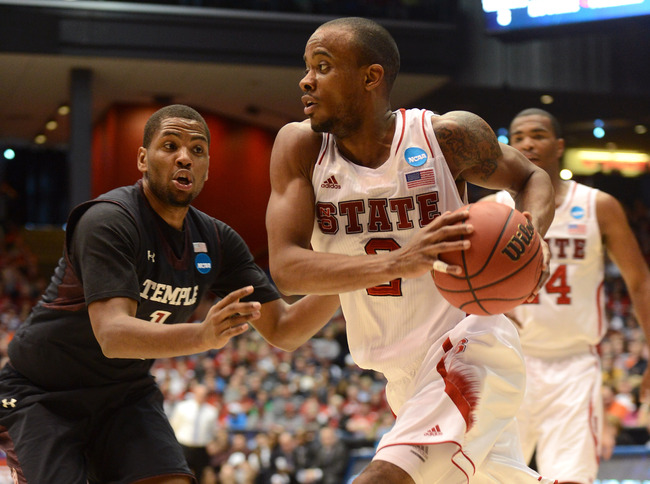 Jason Miller/Getty Images
Even if Utah secures a point guard with a first-round pick, there's nothing wrong with going after some depth.
If Lorenzo Brown is on the board, he'd be an excellent option in the second round given his athleticism, size and upside.
He's a crafty ball-handler who can break down the defense and find the open man. Decision-making and poor shooting have weighed him down over the past year, but these are both areas in which there's room for improvement.
47. Atlanta Hawks: James Southerland, Syracuse, 6'8', SF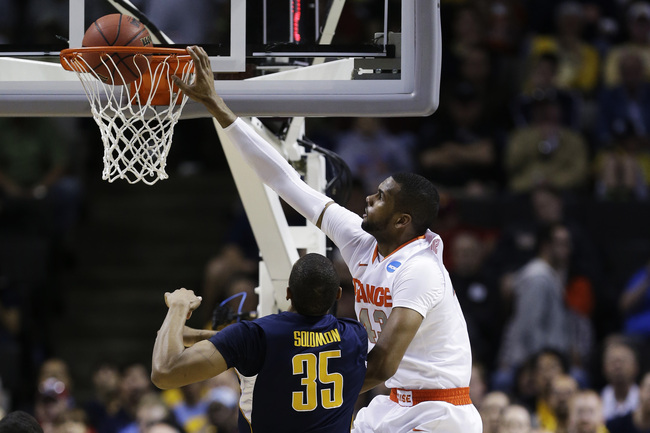 Ezra Shaw/Getty Images
If the Hawks lose Kyle Korver in free agency, James Southerland would give them a much cheaper replacement.
And at 6'8'' with above-the-rim athleticism, he might be able to offer a little bit more offensively.
Southerland has infinite range with a high release that's difficult to contest. He shot nearly 40 percent from downtown during his senior season at Syracuse and projects as a three-point specialist at the NBA level.
He'd provide Atlanta with some much-needed athleticism on the wing, as well as an additional shot-maker in the lineup.
48. Los Angeles Lakers: Kenny Kadji, Miami, 6'11'', PF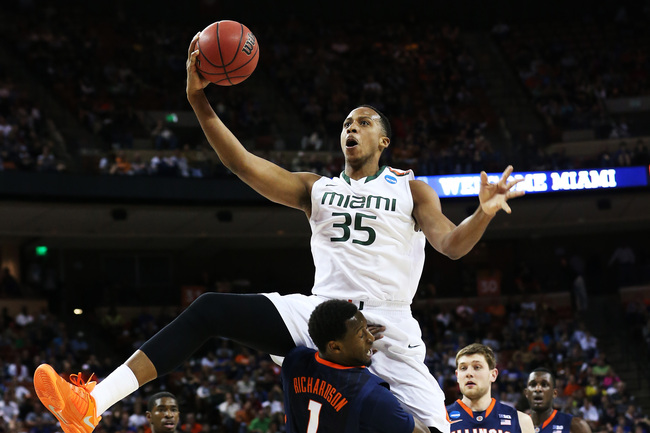 Stephen Dunn/Getty Images
Assuming the Lakers are looking for NBA-ready contributors, 25-year-old Kenny Kadji makes sense as a second-round pick.
At 6'11'', his ability to stretch the floor as a shooter would give the Lakers something they can use tomorrow. He shot better than 35 percent three in both seasons at Miami, where he was used as a pick-and-pop machine.
He has the size, mobility and outside touch to contribute offense in a limited role.
49. Chicago Bulls: Colton Iverson, Colorado State, 7'0'', C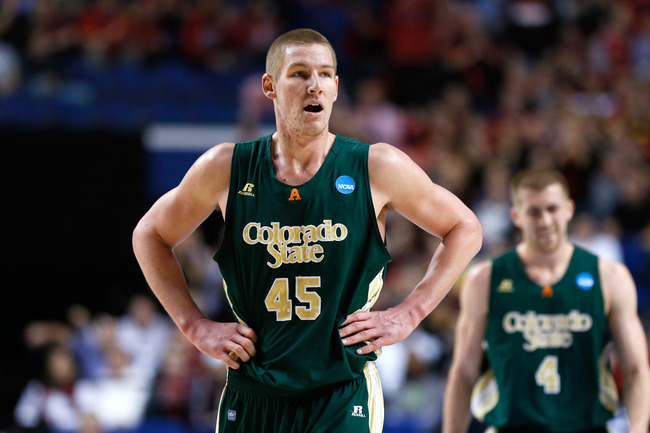 Kevin C. Cox/Getty Images
Colton Iverson couldn't fit Chicago's identity any better. Iverson may not be the most skilled offensive player, but his toughness and grit allow him to play a physical brand of ball that results in offensive rebounds, hard fouls and easy buckets.
If guys like Nick Collison can make a career out of setting screens and cleaning the glass, so can a guy like Iverson, who has NBA-center size and a willingness to bang.
Chicago should be looking to add depth up front, and considering Iverson's strengths, he'd be a fit.
50. Atlanta Hawks (via Houston): Pierre Jackson, Baylor, 5'10'', PG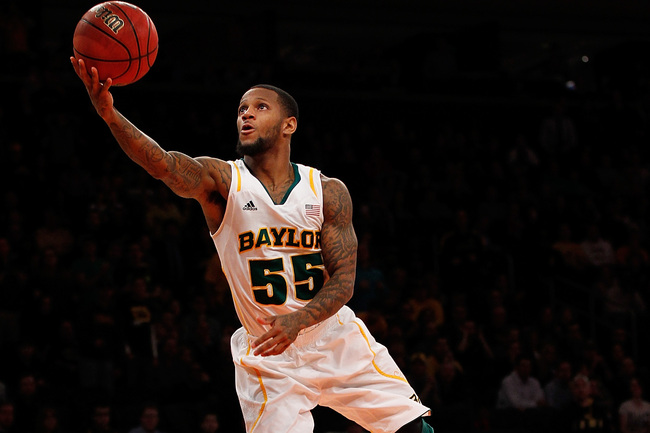 Mike Stobe/Getty Images
Pierre Jackson might not have the size of an NBA starter, but you don't necessarily need size to make things happen.
And that's what Jackson's role will be at the NBA level—enter a game off the bench and provide a playmaking spark.
Jackson can handle the ball as a backup, run some picks-and-rolls and knock down jumpers from inside and outside the arc. He might have problems defensively, but in a limited role off the bench, his offensive output should be worth the risk.
The Hawks have few backcourt playmakers outside of Lou Williams and Jeff Teague and could use Jackson for a cheap source of offense.
51. Orlando Magic: Erik Murphy, Florida, 6'10'', PF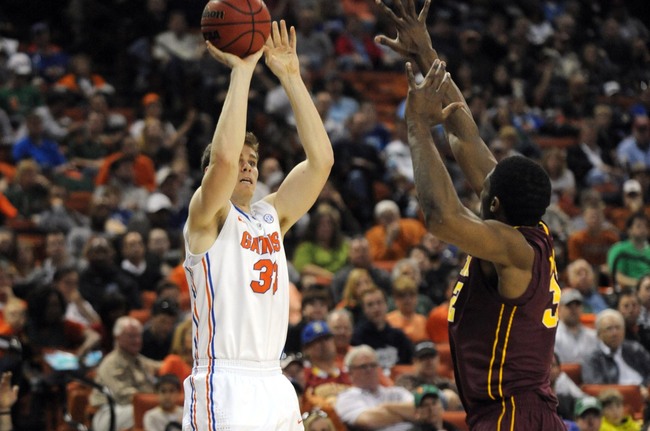 Brendan Maloney-USA TODAY Sports
Orlando has probably gotten a good look at Erik Murphy, who's been playing at Florida for the past couple of years.
The Magic aren't getting any gems this late in the draft and could look to add a specialist whose primary strength is nearly guaranteed to translate. Murphy shot 45 percent from downtown this year and over 40 percent in three straight years.
He's an elite shooter and projects as a stretch big man at the next level, a type of player the Magic don't currently have. Murphy has a real good shot at lasting in this league based on his size and jumper alone.
There's just no upside here, though that's not necessarily what you should be looking for this late in the draft.
52. Minnesota Timberwolves (via Brooklyn): Brandon Paul, Illinois, 6'4'', SG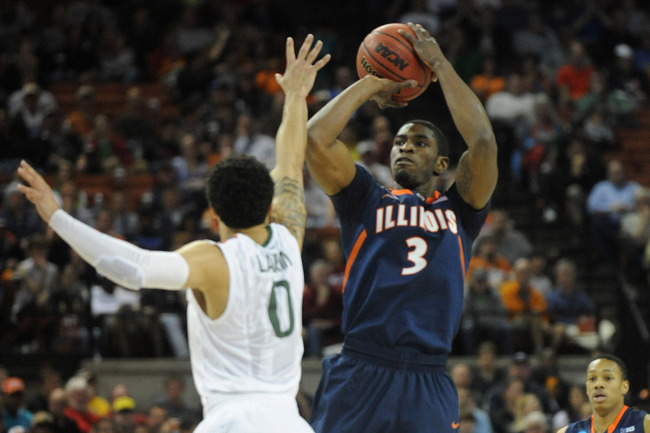 Brendan Maloney-USA TODAY Sports
Brandon Paul is a scoring guard with explosive athleticism and the ability to create his own shot. Most of these shots come on the perimeter, which is why his stock doesn't match his talent.
He averaged 16 points per game, but took 240 threes to just 206 free throws and only shot 40 percent from the floor—sadly, a career high.
But when Paul gets hot, he's capable of going into microwave mode and putting up points in bunches.
If a team can get him to improve his shot selection, Paul could be a nice late-round scoring addition.
53. Indiana Pacers: Peyton Siva, Louisville, 6'1'', PG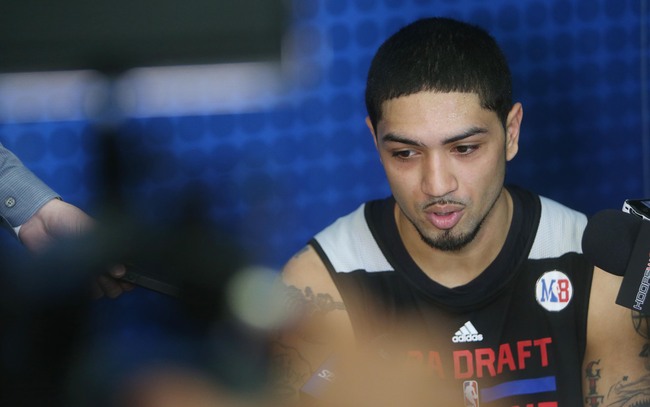 Jerry Lai-USA TODAY Sports
If Indiana doesn't land a point guard in the first round, look for it to target one in the second.
And after measuring in at 6'1'', the "size" argument against Peyton Siva became unusable. Now, it appears he's got the height to go with the NBA-level athleticism and quickness.
Coaches who covet track records and intangibles might think of Siva as a steal this late in the draft. There's an opening in Indiana's backcourt. Siva might be worth a look here.
54. Washington Wizards (via New York): Oleksandr Lypovyy, Ukraine, 6'7'', SF
General manager Ernie Grunfeld has never been afraid to go fishing overseas, as Washington recently brought in Oleksandr Lypovyy for a workout after another solid showing at the Adidas Eurocamp 2013. He was named MVP of the 2012 event and has been on NBA radars ever since.
At 6'7'', Lypovyy can handle the ball as a guard and score on the wing like a forward. His role is somewhat limited abroad, but Lypovyy could be a nice long-term prospect to stash overseas and let season.
55. Memphis Grizzlies: Robert Covington, Tennessee State, 6'7'', SF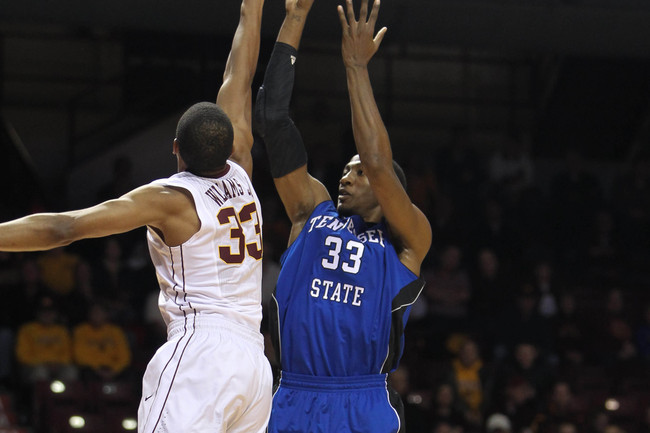 Brace Hemmelgarn-USA TODAY Sports
Robert Covington got his Memphis workout in early in the process. If the Grizzlies are looking to add shooting, Covington might be the top option on the board.
He shot over 44 percent from three in two years, and at least 38 percent in all four at Tennessee State. At 6'7.5'', he has an NBA frame to go with long arms and a decent 36-inch max vertical leap.
After seeing how important shooters can be in the playoffs, the Grizzlies might want to add some. Covington would be a nice long-range option for them here.
56. Detroit Pistons (via Clippers): Augusto Cesar Lima, Brazil, 6'10'', PF/C
By now, most teams are familiar with Augusto Cesar Lima, who at 6'10'' possesses an appealing blend of size and athleticism.
He had a strong showing at Adidas Eurocamp 2013 and has a clear identity already established. Lima is an interior player who makes things happen around the rim. Offensive rebounds, tip-ins, tap-backs and alley-oops—Lima specializes in finishing and cleaning up messes inside.
David Mayo of MLive.com wrote that Detroit will be focusing on international prospects at some point in this draft. Lima makes sense as a second-round grab.
57. Phoenix Suns (via Denver): Carrick Felix, Arizona State, 6'6'', SG/SF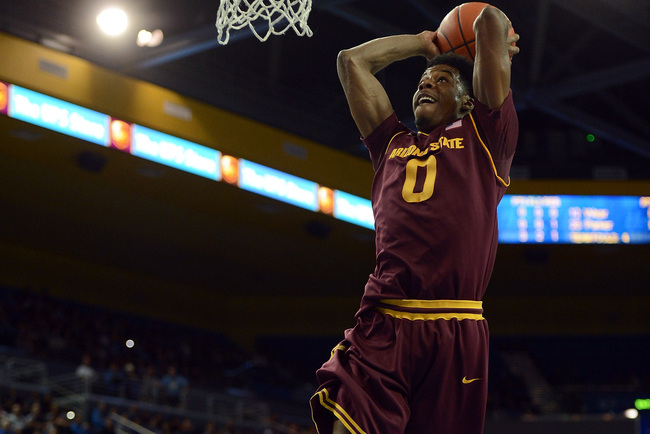 Harry How/Getty Images
Carrick Felix will get a workout in Phoenix less than a week before the draft. Playing at Arizona State, the Suns' staff is likely familiar with what he brings to the table.
Felix is a silky-smooth athlete whose strengths include defense and rebounding, but his offensive game has come a long way.
He averaged over 14 points per game as a senior, raising his three-point percentage up to 37 percent.
Felix's job at the NBA level will be to make offensive plays off the ball, but energy and defense will come first.
58. San Antonio Spurs: Bojan Dubljevic, Montenegro, 6'10'', PF
Bojan Dubljevic put up excellent numbers for a 21-year-old prospect in the Liga ACB in Spain against some of the toughest competition in Europe.
He isn't much of an athlete, but Dubljevic makes up for it with toughness, strength and instincts. While he can play with his back to the rim down low, he's also an excellent spot-up shooter. His ability to play inside and out has landed him on NBA radars, and there's a good shot someone grabs him in this year's second round.
Dubljevic has promising long-term role-player potential.
59. Minnesota Timberwolves (via OKC): Solomon Hill, Arizona, 6'7'', SF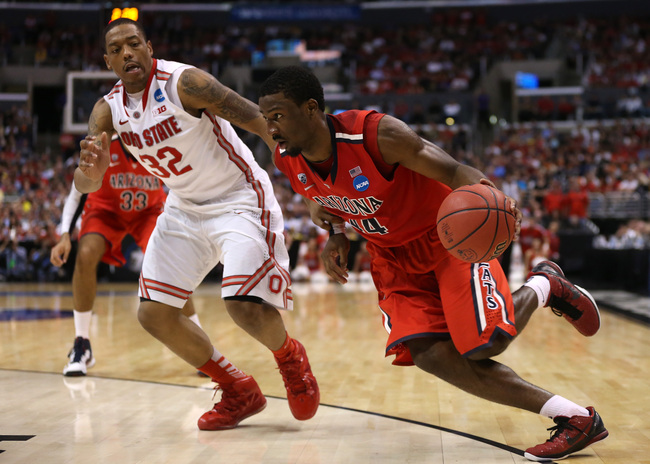 Jeff Gross/Getty Images
Solomon Hill didn't show much statistical progression over his two years at Arizona, but he slowly expanded his offensive game and increased his versatility.
He's shot 39 percent from three in back-to-back years and improved his off-the-dribble game to the point where he can attack the rim and score on the move.
At 6'6'', he has the size and frame to play on the wing. A team in need of an offensive shot-maker might consider Hill late in Round 2.
60. Memphis Grizzlies: Ray McCallum, Detroit, 6'1'', PG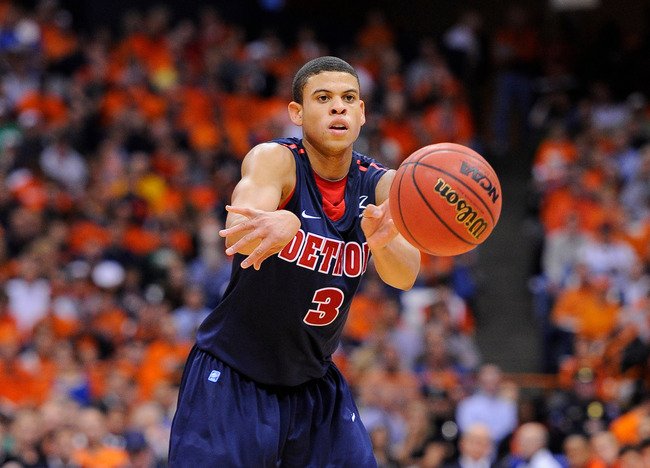 Rich Barnes-USA TODAY Sports
There's going to be one point guard who slips toward the bottom of the second round.
If it's Ray McCallum, the Grizzlies should give him a serious look. Memphis could use a true backup point guard, which McCallum can be when he's not relied upon to score each possession.
He averaged over 18 points per game this past season, though he hasn't been able to prove his worth as a facilitator.
Given his athleticism, ball skills and coachability, he's definitely worth a shot in the second round.
Keep Reading