Baltimore Orioles vs. Detroit Tigers Live Blog: Results and Analysis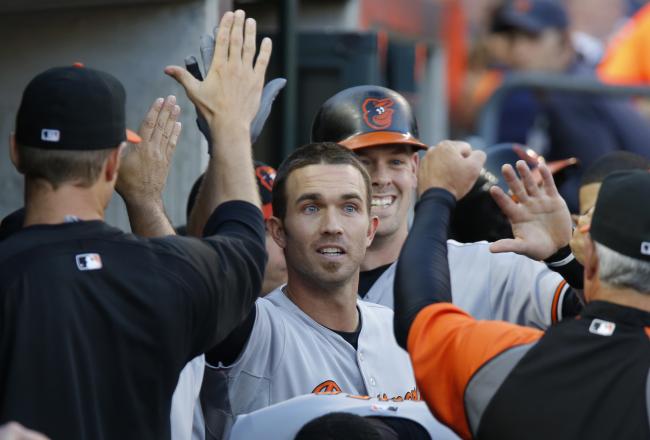 Duane Burleson/Getty Images
The Baltimore Orioles blasted the Detroit Tigers 13-3 in the rubber match of their three-game series Wednesday afternoon.
Chris Davis hit two home runs and knocked in five RBI en route to the series win. Adam Jones added three RBI and scored twice. Backup catcher Taylor Teagarden contributed a 3-run home run in the fourth inning.
Chris Tillman improved his record to 8-2 without his best stuff on the hill. He finished the day with three earned runs on seven hits through five innings. He also walked three and struck out only one on 101 pitches.
Rick Porcello gave up six runs on nine hits through six innings, though didn't pitch poorly. He only had one rough inning in which he gave up six runs on seven hits in the fourth. He went on to retire the last seven hitters he faced.
The teams split the first two games of the series, the Tigers taking the first game 5-1 and Baltimore securing the second 5-2. Today's win gave Baltimore the win in the season series, having taken four of their six meetings.
The Tigers (39-31) are just 10-11 in their last 21 games and hold a four-game lead over the Cleveland Indians in the AL Central. Baltimore (42-31) earned their AL-best 22nd road win of the year.
Baltimore will travel to Toronto for a 3-game weekend series with the Blue Jays starting Friday. The Tigers will host the Boston Red Sox for a four-game series starting Thursday.
Fielder strikes out swinging. Baltimore Orioles defeat the Detroit Tigers 13-3.
Cabrera singles to right on first pitch, Jackson to second. Two on, two out for Prince Fielder.
Dirks flied out to right. One on, two out for Miguel Cabrera.
Jackson singled to center. One on, one out for Andy Dirks.
Holaday strikes out looking. One out for Austin Jackson.
Freddy Garcia takes over the mound in the ninth for Baltimore.
Teagarden flied out to right. Orioles score four more, lead 13-3 headed to the bottom of the ninth.
Flaherty singles to left. That's now five hits off of Jose Valverde this inning.
Ishikawa strikes out looking, his third strikeout of the day. Two outs.
Hardy grounded out to short. One out.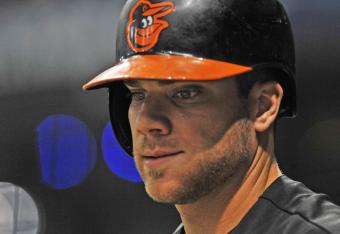 Chris Davis homers to deep right, Jones scores. 13-3 Orioles. Davis second home run of the game.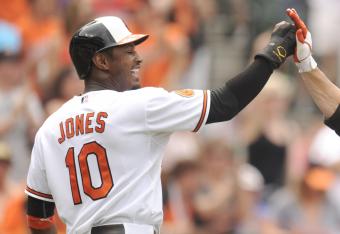 Adam Jones doubles to deep right-center, Machado and Markakis score. 11-3 Orioles.
Markakis singled to left, Machado to second.
Machado singled to left, his second hit of the game.
Jose Valverde saunters to the mound for the ninth inning.
Infante flies out to center. A 1-2-3 inning for Strop, headed to the ninth. 9-3 Orioles.
Matt Tuiasosopo strikes out swinging. Two outs for Omar Infante.
Peralta down on strikes. One away.
Pedro Strop takes over for McFarland on the hill. Peralta to lead off the bottom of the eighth.
McLouth down on strikes. Evan Reed strikes out the side, all called third strikes.
Teagarden caught looking, another strikeout for Evan Reed. "Stood there like a house on the side of the road!" - Ernie Harwell
Evan Reed rings up Flaherty, one away.
Flaherty with a diving stop and strong throw to first to get Martinez. Tigers strand their eighth runner of the day. 9-3 Orioles after 7.
Prince Fielder down on strikes, now 0-for-3 on the day. Now two outs for Victor Martinez.
Cabrera flies out to right-center. One on, one out for Prince Fielder.
This article is
What is the duplicate article?
Why is this article offensive?
Where is this article plagiarized from?
Why is this article poorly edited?

Detroit Tigers: Like this team?