We may have to wait a year for the World Cup in Brazil, but we'll get to see the stars of tomorrow compete this summer in the U-20 World Cup in Turkey.
With the Confederations Cup already in action and the U-20 World Cup starting soon, there will be plenty of chances to get your international soccer fix fulfilled this summer.
Below, you'll find everything you need to know heading into the tournament, including the teams, groups, a full list of fixtures and a preview of all the action. Enjoy.
Groups
Group A: France, Ghana, USA, Spain
Group B:Cuba, Korea Republic, Nigeria, Portugal
Group C: Turkey, El Salvador, Colombia, Australia
Group D: Mexico, Greece, Paraguay, Mali
Group E: Chile, Egypt, England, Iraq
Group F: New Zealand, Uzbekistan, Uruguay, Croatia
Matches and Viewing Schedule
Group A
Group B
Group C
Group D
Group E
Group F
Round of 16 (All Games on ESPNU or WatchESPN)
| | | | |
| --- | --- | --- | --- |
| Match | Date and Time | Location | Teams |
| 37 | July 2 at 11 a.m. ET | Istanbul | 1A vs. 3CDE |
| 38 | July 2 at 11 a.m. ET | Gaziantep | 1D vs. 3BEF |
| 39 | July 2 at 2 p.m. ET | Istanbul | 2B vs. 2F |
| 40 | July 2 at 2 p.m. ET | Gaziantep | 2A vs. 2C |
| 41 | July 3 at 11 a.m. ET | Kayseri | 1B vs. 3ACD |
| 42 | July 3 at 11 a.m. ET | Bursa | 1F vs. 2E |
| 43 | July 3 at 2 p.m. ET | Trabzon | 1C vs. 3ABF |
| 44 | July 3 at 2 p.m. ET | Antalya | 1E vs. 2D |
Quarterfinals
Semifinals
Match
Date and Time
Location
Teams
Watch
49
July 10 at 11 a.m. ET
Bursa
W45 vs. W48

ESPNU

;

WatchESPN

50
July 10 at 2 p.m. ET

Trabzon

W47 vs. W46

ESPNU

;

WatchESPN
Third-Place Game
Match
Date and Time
Location
Teams
Watch
51
July 13 at 11 a.m. ET
Istanbul
L49 vs. L50

ESPNU

;

WatchESPN
Final
Match
Date and Time
Location
Teams
Watch
52
July 13 at 2 p.m. ET
Istanbul
W49 vs. W50

ESPNU

;

WatchESPN



Preview
Welcome to the Group of Death, United States.
The Americans will face a brutal challenge attempting to reach the knockout stage with France and Spain standing in their way, alongside Ghana.
France will be led by Juventus starlet Paul Pogba, who will arguably be the biggest star at this tournament. Of course, with Yaya Sanogo, Jean-Christophe Bahebeck and Samuel Umtiti, this is a loaded French side.
And then there is Spain—in its 14th appearance at this tournament. With crafty midfielder Oliver and a slew of dangerous players in Gerard Deulofeu, Jese and Paco Alcacer, this Spanish side will be one of the favorites to watch for.
In other words, despite having one of the more talented sides in recent memory, led by Santos Laguna's Hector Joya, it would be a pretty big surprise if the United States finished in the top two in Group A. The team will likely have to advance as one of the four third-place teams to move on.
Mexico could win the whole thing, however. With a strong unit led by Jesus Corona, Marco Bueno and Antonio Briseno and a very winnable group—Greece, Paraguay and Mali aren't pushovers, but they aren't on the level of Mexico—El Tri should do some damage in this tournament.
Toulon runners-up Colombia, along with Portugal, Uruguay and England, should also threaten for the title.
Predictions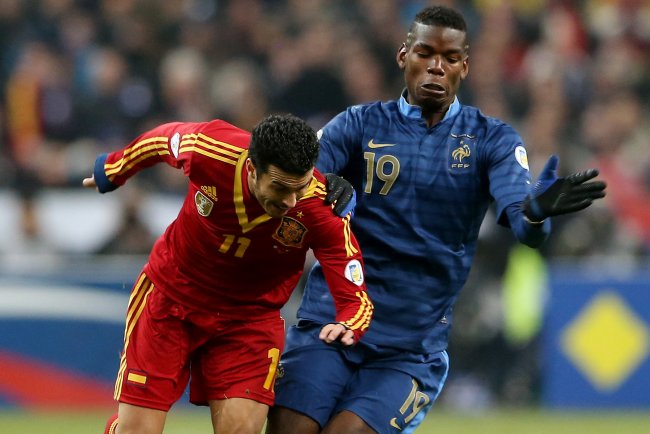 Scott Heavey/Getty Images
Loaded French and Spanish sides will advance out of Group A. Group B should be very interesting, with Portugal, Nigeria and the Korea Republic all capable of moving on, but I like Portugal and Nigeria to advance.
Colombia will dominate Group C, with hosts Turkey tagging along as well, while Mexico and Greece should advance out of Group D with little issue. England and Egypt will survive a tough Group E, while Uruguay and Croatia will move on in Group F.
Remember, in this tournament four third-place teams will advance. That's the meal ticket for the United States, along with the Korea Republic, Paraguay and Chile.
Look for Spain, France, Portugal and Colombia to reach the semifinals, with France knocking out Mexico in an excellent quarterfinal matchup. From there, France will defeat Portugal, while Spain will just sneak past a dangerous Colombia side.
In the final, it will be Pogba leading France to a mild upset over Spain, avenging Spain's finish atop Group A.