Power Ranking Every San Francisco 49er Under Contract Prior to Training Camp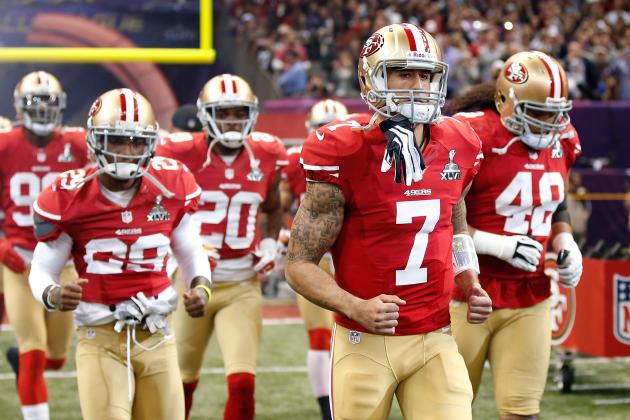 Chris Graythen/Getty Images
Colin Kaepernick is the clear-cut leader of the 49ers. But is he No. 1 on this list?
Power ranking NFL players is often a daunting task—especially when it includes the 90 San Francisco 49ers prior to training camp.
The 49ers concluded their mandatory three-day minicamp last week and must wait until late July for training camp, the final portion of the offseason program.
This month-long period is the only time when the additional 37 players to the 53-man roster can relax before coaches really begin making decision pertaining to roster cuts.
But we cannot have those guys sporting the Red and Gold relaxing now, can we?
So, in keeping with the Jim Harbaugh ultra-competitive mentality and as a means to keep these regular-season hopefuls on their toes, let's endeavor to power rank every 49er currently on the roster.
We'll break down this list first by undrafted free agents and then by sets of 10 until reaching the top-ranked 49ers.
Note: This power ranking includes 88 instead of 90 players. Marcus Lattimore is projected as Frank Gore's eventual successor but will not play in 2013. The 49ers roster also lists tight end Cameron Morrah, who was released last week. Wide receiver Brandon Carswell, Morrah' replacement, was released Tuesday, per CSN Bay Area.
Begin Slideshow

»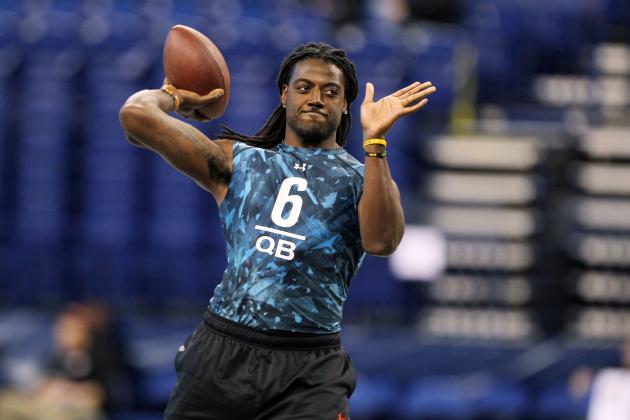 Brian Spurlock-USA TODAY Sports
MarQueis Gray will do more than just throw the ball if he makes the squad.
88. TE/FB Jason Schepler
87. CB Lowell Rose
86. C Sherman Carter
85. OT Luke Marquardt
84. WR Chuck Jacobs
83. OG Patrick Omameh
82. RB D.J. Harper
81. DT Mike Purcell
80. CB Darryl Morris
79. LS Kevin McDermott
78. TE/WR/QB MarQueis Gray
77. DL Lawrence Okoye
Every preseason, undrafted free agents face a monumental task in their pursuit of a regular-season roster spot. The 49ers' 2013 UFA class must contest with that same arduous road ahead.
The young men listed from No. 88 to No. 82 have zero chance of making the active roster. Current depth charts reveal that there are simply too many players in front of them at each position.
Those within the top five of this group, however, may see light at the end of the tunnel.
Mike Purcell is a run-stuffing nose tackle that could find an opening on the practice squad. His lack of versatility will prevent him from leapfrogging Glenn Dorsey or Ian Williams, though.
Darryl Morris has blazing 4.30 speed and could make the team as a special teams gunner. Kevin McDermott, meanwhile, was the NCAA's premier long-snapper and is in fierce competition with 14-year veteran Brian Jennings for that role with the 49ers.
Most intriguing on this list are MarQueis Gray and Lawrence Okoye.
Gray fancies versatility as his middle name. He played quarterback and wide receiver at Minnesota, throwing 14 touchdowns, rushing for 1,731 yards and 12 touchdowns and adding another 766 yards and six scores through the air. Jim Harbaugh and Co. just might find a role for the 6'4'', 250-pounder in 2013—tight end included.
Okoye is a former British Olympian and champion discuss-thrower but has never played organized football. He is an incredible athlete at 6'6'', 304 pounds, with 4.78 speed. The 49ers coaching staff sees him as a future dynamic lineman on the defensive front. Okoye, though, must first learn the game—something that has been quite difficult thus far in the offseason., according to Matt Maiocco of CSN Bay Area.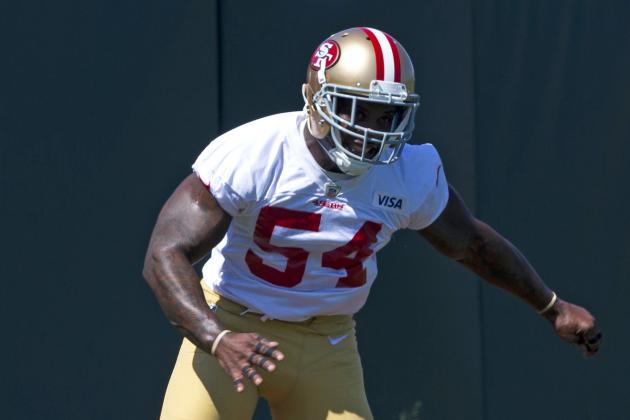 Jason O. Watson/Getty Images
2013 draftee Nick Moody looks to be a star on special teams.
76. OT Carter Bykowski
75. OG Wayne Tribue
74. LS Kyle Nelson
73. CB Marcus Cooper
72. OT Al Netter
71. OT Kenny Wiggins
70. WR Chad Hall
69. LB Nate Stupar
68. QB B.J. Daniels
67. S Raymond Ventrone
66. DT Lamar Divens
65. RB Jewel Hampton
64. S Michael Thomas
63. LB Nick Moody
62. WR Marlon Moore
61. DT Tony Jerod-Eddie
This latest collection of lower depth chart 49ers is mostly comprised of backup offensive and defensive linemen. Notable players outside of those positions include B.J. Daniels, Michael Thomas and Nick Moody.
Daniels is the former quarterback from South Florida. Like MarQueis Gray before him, Daniels is a versatile talent. He has taken snaps at QB, running back, wide receiver and kick returner thus far during the offseason. If he makes the squad, Daniels will be known simply as DOW: Dynamic Offensive Weapon.
Thomas arrived with the 49ers via free agency last season following a productive senior year at Stanford. He spent 2012 on the practice squad. The intrigue with Thomas lies in his potential as a safety/nickel defensive back hybrid. Such players are hot commodities in the modern pass-happy NFL that features a ton of multi-wide receiver sets.
Moody, a sixth-round draft pick in 2013, is charged with elevating a special teams unit that faltered greatly last season. His stellar work in this role while at Florida State bodes well for the 49ers moving forward.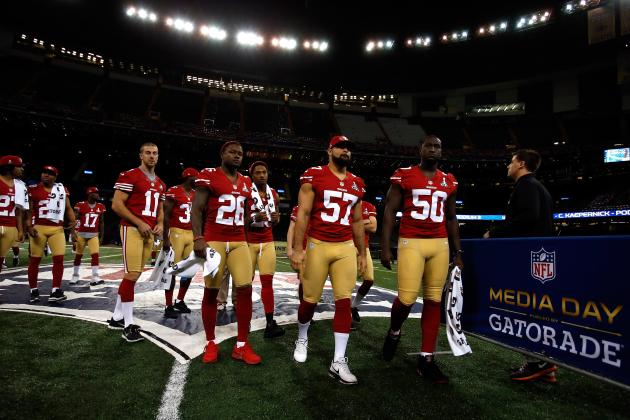 Scott Halleran/Getty Images
Can Cam Johnson (No. 50) and Michael Wilhoite (No. 57) find a niche as backup linebackers?
60. LB Michael Wilhoite
59. QB Scott Tolzien
58. LS Brian Jennings
57. CB Tramaine Brock
56. S Darcel McBath
55. OLB Cam Johnson
54. LB Darius Fleming
53. OG Joe Looney
52. DT Quinton Dial
51. WR Kassim Osgood
This section is all about the linebacker.
Darius Fleming and Cam Johnson are two 2012 draft picks that will have the opportunity to produce extensively in 2013. Fleming tore his ACL in the very first offseason practice last year but will serve as an important backup this time around. Johnson, meanwhile, will infuse another pass-rushing option in a 49ers defense that suddenly has an abundance of players in that area.
Elsewhere, Brian Jennings returns for his 14th campaign with the Red and Gold. The Pro Bowl long-snapper is the longest standing 49er. Ten-year vet Kassim Osgood has not experienced the 49ers tradition in the same way but is a Pro Bowl special-teamer in his own right.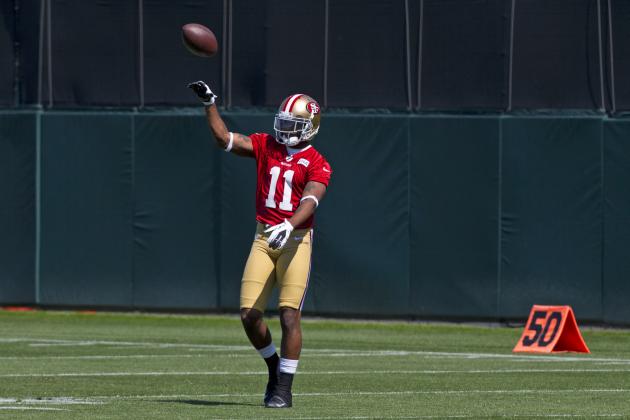 Jason O. Watson/Getty Images
Will Patton ascend through the ranks in Year 1?
50. TE Garrett Celek
49. S Trenton Robinson
48. LB Dan Skuta
47. DT/FB Will Tukuafu
46. OL Daniel Kilgore
45. OL Adam Snyder
44. DT/TE Demarcus Dobbs
43. WR Quinton Patton
42. WR Ricardo Lockette
41. S C.J. Spillman
Now, we must return to the offensive side of the ball.
Wide receivers Quinton Patton and Ricardo Lockette both offer big-play potential with Colin Kaepernick at quarterback.
First-year man Patton is an NFL-ready wideout who destroyed NCAA-level competition. He'll get a chance to elevate himself on the depth chart while Mario Manningham likely sits on the sideline recovering from knee surgery.
Fellow receiver Lockette possesses the physical measurables that coaches salivate over. The 6'2'', 4.34-running vertical threat trained with Kaepernick for eight months over the offseason and has already received high praise from the coaching staff, according to Cam Inman of the San Jose Mercury News.
In other news, offseason addition Dan Skuta should serve as a special teams ace, a la Blake Costanzo in 2011. Demarcus Dobbs will play on all areas of the gridiron—ST coverage man, defensive tackle and tight end.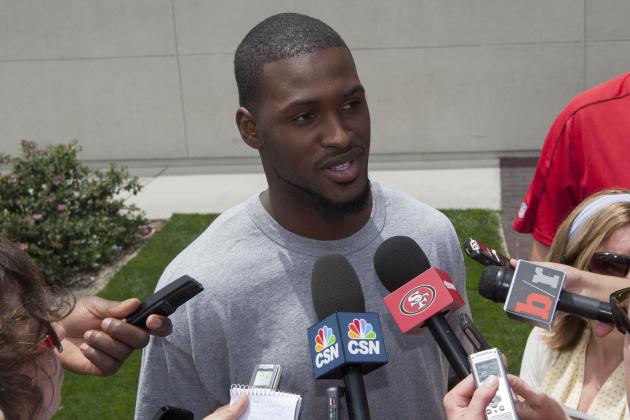 Ed Szczepanski-USA TODAY Sports
Jenkins has been more vocal about his struggles at wideout last year.
40. FB Anthony Dixon
39. CB Perrish Cox
38. DT Ian Williams
37. CB Nnamdi Asomugha
36. S Craig Dahl
35. DE Corey Lemonier
34. DT Glenn Dorsey
33. OLB Parys Haralson
32. WR A.J. Jenkins

31. QB Colt McCoy
Here is where we get into the first instance of starting players on the 90-man roster.
Glenn Dorsey and Ian Williams will hold down the middle of the defensive front, with the versatility to line up inside and out. Dorsey owns the advantage in that latter department. Williams, though, is steadily rising as a starting nose tackle in base 3-4 packages.
Craig Dahl, Corey Lemonier and Parys Haralson are primary backups who possess starting capabilities. The same goes for Nnamdi Asomugha, a former shutdown No. 1 corner in his own right.
The most intriguing player from this list is A.J. Jenkins. San Francisco's first-round pick from last year "[has] made some clutch catches…[and has] done all the right things" this offseason, according to offensive coordinator Greg Roman, via Janie McCauley of The Associated Press (h/t Yahoo! Sports).
Watch for him to breakout in 2013.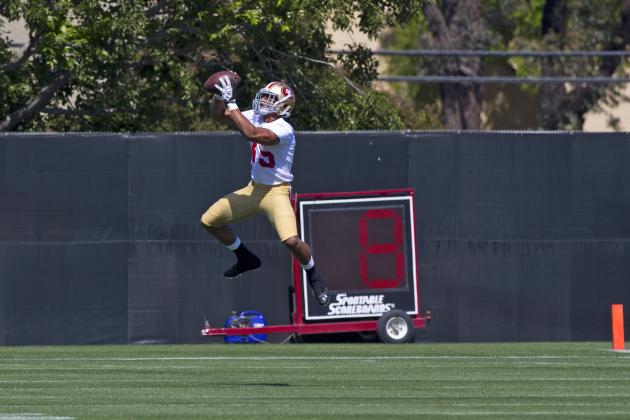 Jason O. Watson/Getty Images
Reid has showcased his ball skills thus far in offseason camps.
30. P Andy Lee
29. K Phil Dawson
28. FB Bruce Miller
27. DT Cornellius Carradine
26. TE Vance McDonald
25. S Eric Reid
24. S Donte Whitner
23. C Jonathan Goodwin
22. DT Ray McDonald
21. RB Kendall Hunter
These players, from top to bottom, are all pivotal contributors for the Red and Gold.
Andy Lee is the NFL's premier punter and consistently helps the 49ers win the battle for field position. Fellow special teamer Phil Dawson has been the most accurate kicker from 50-plus yards the past two seasons and will be called upon to win games.
Cornellius "Tank" Carradine will spell Justin Smith and serve as a pass-rushing force on nickel downs. Vance McDonald holds the all-important role of No. 2 tight end in Jim Harbaugh and Greg Roman's TE-friendly offense. He has performed extraordinarily well during offseason workouts, per CSN Bay Area's Matt Maiocco.
The only missing piece in the 49ers starting lineup was free safety. Eric Reid will fill the considerable void left by Pro-Bowler Dashon Goldson. He represents the most significant draft pick from this year's selection process.
To give credit where credit is due, Jonathan Goodwin is a top-10 center who did not allow a single sack last year, according to Pro Football Focus (membership required). People must remember that Goodwin is the one snapping the ball to Colin Kaepernick every Sunday.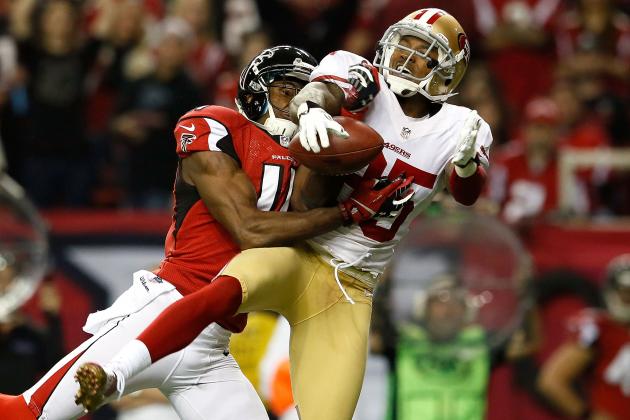 Kevin C. Cox/Getty Images
Top corner Tarell Brown came up huge against the Falcons in the NFCCG.
20. RB LaMichael James
19. CB Carlos Rogers
18. WR Mario Manningham
17. WR Kyle Williams
16. CB Chris Culliver
15. OT Anthony Davis
14. OG Alex Boone
13. CB Tarell Brown
12. OLB Ahmad Brooks
11. WR Anquan Boldin
From pivotal contributors in the previous slide, to fundamental cogs in the next—the progression up the depth chart hierarchy continues.
Running back LaMichael James is one of the more—if not most—versatile 49er weapons. He'll function as the team's No. 1 return man, in addition to being a dynamic pass-catcher out of the backfield and ball-carrier in Colin Kaepernick's pistol read-option.
Tarell Brown remains the 49ers' top-rated cornerback, while receiver Kyle Williams and outside backer Ahmad Brooks are underrated all too often.
Brown surrendered zero touchdowns in coverage during the regular season and gave up just one in the playoffs, per Pro Football Focus. No. 25 is the real deal.
Williams will emerge as Kaepernick' key secondary receiver in the passing game. He had already developed an immediate rapport with his quarterback before tearing his ACL in Kap's second game as a starter. He showcased his speed and downfield ability with a 57-yard catch against the Bears and will continually make those plays in 2013.
Brooks, for his part, has the unfortunate luck of being overshadowed by other league-leading 49er linebackers. Fortunately, PFF honored his accomplishments by awarding him the No. 5 overall ranking among 3-4 OLB.
That was the result of his phenomenal work against both the run and pass. He consistently set the edge and tallied the most pass breakups at his position (five).
The most important member on this list is Anquan Boldin. The Super Bowl-winning receiver from 2012 will mitigate the damages created by Michael Crabtree's torn right Achilles tendon. He is now Kaepernick's most trusted target.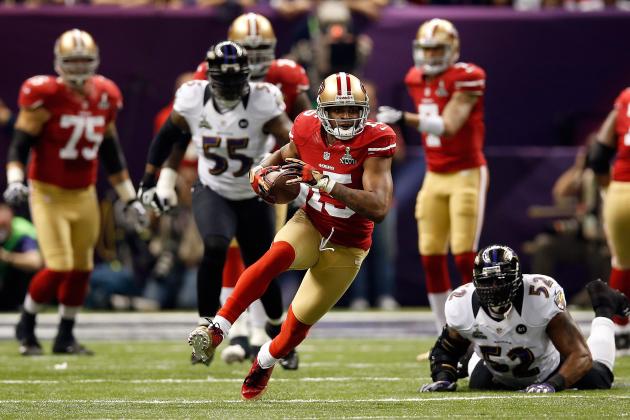 Chris Graythen/Getty Images
The 49ers will serious miss Mr. Crabtree in 2013.
10. TE Vernon Davis
9. OG Mike Iupati
8. OT Joe Staley
7. RB Frank Gore
6. WR Michael Crabtree
The astute minds at Pro Football Focus did a fantastic job conveying the prowess of these latest 49ers.
Despite a subpar receiving output, Vernon Davis caught 73.2 percent of passes thrown his way (better than Rob Gronkowski) and averaged 13.4 yards per reception (more than Jason Witten). He also didn't allow a single interception on balls thrown to him. That was a league-best mark, according to PFF (membership required).
Mike Iupati is an absolute road-grader. He powers the 49ers inside rushing attack and was second only to Evan Mathis in run-blocking proficiency. Joe Staley, meanwhile, is second to none as a run-blocker. He'll keep Colin Kaepernick upright and pave the way for outside runs week in and week out.
The man who is the heart and soul of this 49ers offense is undoubtedly Frank Gore. He is a primary conduit through which Kaepernick and everything else flows. No. 21 remains a 4.7-yard per carry, every-down runner and top-flight overall back. PFF saw to it that a No. 9 was placed next to his name.
Coming in at No. 6 on this power ranking is the holder of No. 7 on PFF's version. 49er quarterbacks totaled the NFL's fourth highest passer rating (119.5) when throwing to Michael Crabtree. He also notched the third highest yards per route run, which is the best indicator of production by wide receivers. Crabtree was one of the best at converting third downs as well.
He will be sorely missed by all those close to the 49ers.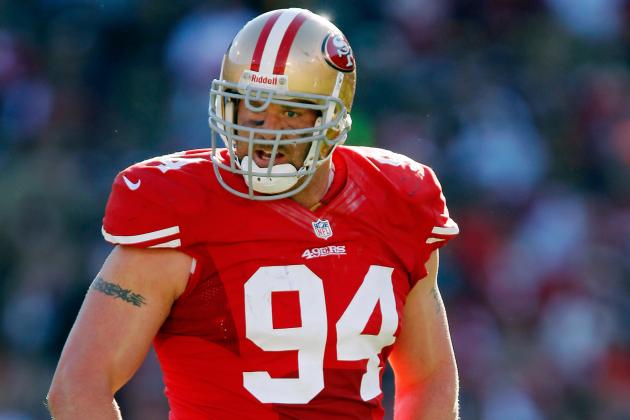 Brian Bahr/Getty Images
Make your acquaintance with one of the best, Justin Smith.
5. DE Aldon Smith
4. ILB NaVorro Bowman
3. ILB Patrick Willis
2. DT Justin Smith
When it comes to power ranking the 49ers, defense steps prominently to the forefront.
Aldon Smith was well on his way to breaking the single-season mark for sacks when injuries both to himself and Justin Smith derailed his 2012 campaign. If Aldon Smith can avoid these setbacks in 2013, watch out for another pursuit of that all-time record.
The man isn't half bad at wrapping up opposing ball-carriers, either (see: 35.4'' arms).
If it has somehow escaped your memory, please note that Patrick Willis and NaVorro Bowman form the most dominant inside linebacker duo in football.
These men among boys forced the two lowest completion percentages and passer ratings from opposing quarterbacks throwing in their direction (60.9, 65.2 and 71.2, 71.7) according to Pro Football Focus. They shut down both the pass and run in sideline-to-sideline fashion, earning the two highest marks in tackling efficiency as well.
The middle of the field, deep coverage zones in the Tampa 2 and everything underneath are off limits to the opposition's offense when Willis and Bowman are patrolling the field.
Now meet the man who fosters the productivity of everyone behind him.
Justin Smith does all the dirty work and completely owns the trenches. He takes on blocks, absorbs double teams, controls the line of scrimmage and frees up Willis and Co. to make plays. He continually collapses the pocket in front of the quarterback, and as a run-stopper, his proficiency and stop percentage is second only to J.J. Watt.
Smith is the No. 1 player on the 49ers defense and No. 2 overall.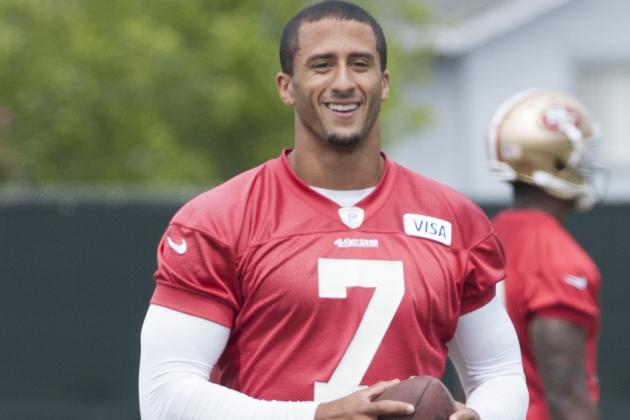 Ed Szczepanski-USA TODAY Sports
Must we explain why Kaepernick is No. 1?
1. Colin Kaepernick
Could we really have placed any other 49er at the top of this list?
Colin Kaepernick is the foremost talent among dual-threat quarterbacks and hasn't come close to scratching the surface in becoming the best quarterback overall in the NFL.
Kap compiled the No. 3 total QBR among the 36 ranked in the regular season this year, behind only future Hall of Famers Peyton Manning and Tom Brady. He then produced the second highest mark during the pressure-packed playoffs in just his second NFL campaign.
The man possesses the biggest arm, highest downfield accuracy, incredible football IQ and is the most explosive running threat at the quarterback position. His leadership qualities are off the charts as well, something that was showcased on a near Super Bowl-winning playoff run and continued maturation thereafter, per Matt Maiocco of CSN Bay Area.
We fully expect him to lead the 49ers back to football's promised land in 2013.
Kaepernick hasn't reached his full potential yet but is plenty deserving of the No. 1 spot on the current San Francisco 49ers 90-man power ranking.
Follow me on Twitter @jlevitt16