Spain vs. Tahiti: Confederations Cup Live Score, Highlights, Recap
FIFA Confederations Cup live coverage
Spain 10 (ten) Tahiti 0 (full time result)
—Fernando Torres, 4' (1-0)
—David Silva, 31' (2-0)
—Fernando Torres, 32' (3-0)
—David Villa, 38' (4-0)
—David Villa, 48' (5-0)
—Fernando Torres, 57' (6-0)
—David Villa, 63' (7-0)
—Juan Mata, 65' (8-0)
Fernando Torres misses penalty, 77'
—Fernando Torres, 78' (9-0)
—David Silva, 88' (10-0)
Lineups:
Spain: Reina, Azpilicueta, Albiol, Ramos, Monreal, Javi Martinez, Mata, Silva, Cazorla, Villa, Torres.
Tahiti: Roche, A.Tehau, Vahirua, Ludivion, Carione, Bourebare, Vallar, Lemaire, Chong Hue, Aitamai, J.Tehau.
Right, that's your lot for this game, there'll be plenty of reaction and analysis to come from this game so stay tuned to the site over the coming hours.
And next up, it's Uruguay vs. Nigeria so join our live text commentary for that game now!
Thanks very much and see you next time!
Full time result:
Spain 10 (Torres 4, Villa 3, Silva 2, Mata)
Tahiti 0
Great scenes at the Maracana.
Spain have won 10-0, but they line up and congratulate each member of the Tahiti squad before departing the pitch, leaving the Tahiti players to accept the adulation, cheers and applause of the crowd inside the stadium.
A wonderful night for goals, top players and record scorelines, but everybody appreciates above all the effort and heart put in by Tahiti.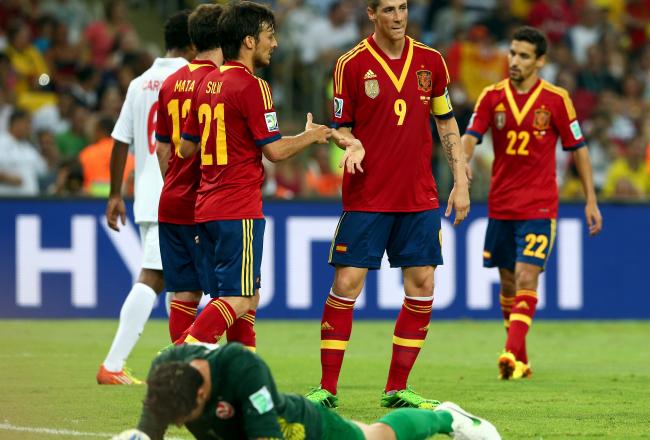 Full time
Spain 10 Tahiti 0
90+1'—Looks like Spain just about have this game wrapped up now.
Silva makes it to double figures for his team. He spins in the box and drills hard and low, finding the far bottom corner, and it's 10-0.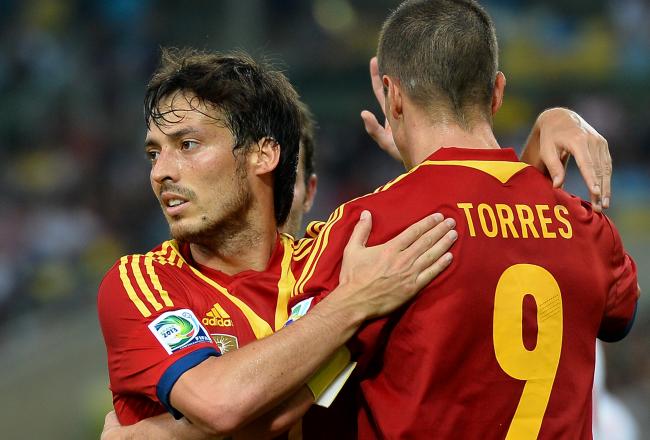 GOAL!
There it is: Spain 10 Tahiti 0
David Silva, 88 mins
86'—Villa and Torres are about 20 yards clear and through on goal, but a late flag denies Villa a fourth of his own.
85'—Torres breaks forward and tries to find Villa, but some good defending cuts it out just in time. Tahiti break forward at pace and want a penalty when Tehau goes down in the box, but nothing doing from the ref.
84'—Spain stroking the ball around again and utilising the width of the pitch, waiting for the moment to spring the Tahiti defence once more. Navas down the right wing has been a consistent out-ball since his introduction.
82'—Right, including injury time, Spain have about 10 minutes to find the goal to take them into double figures. Looks likely they'll do it, so perhaps the question should be who'll get it?
Never mind, Torres has his fourth goal anyway. He races onto another through-pass, rounds the keeper and slots home easily. Four for Torres and 9-0 to Spain.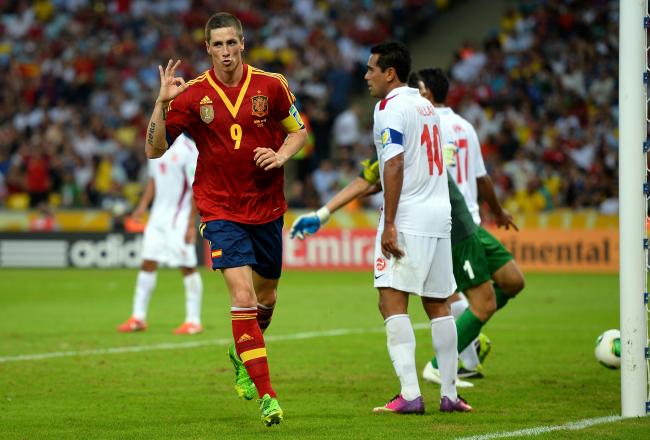 GOAL!
Spain 9 Tahiti 0
Fernando Torres, 78 mins
TORRES MISSES THE PENALTY!
His spot kick flies up and strikes the crossbar, and Roche celebrates as though he's won the World Cup.
PENALTY TO SPAIN!
Navas' cross is handballed on its way into the box.
76'—Torres heads wide from eight yards as he runs onto a Cesc through pass.
Spain sub: Andres Iniesta on, Santi Cazorla off.
As if it wasn't already bad enough for Tahiti.
75'—We are a quarter of an hour from the end of the game, and Spain lead Tahiti by eight goals to nil.
72'—Tahiti sub: Yannick Vero on, Lemaire off
70'—Reina was also called upon to race out and smother the ball a moment ago. He's almost playing the part of party pooper.
Tahiti sub: Lorenzo Tehau (a fourth Tehau, yes) on for Bourebare
69'—Bit busy trying to keep up here. Tahiti also made a sub there, update you in a moment. David Villa has had a free kick well saved by the goalkeeper Roche, to wild acclaim from the fans in the stadium.
Spain sub: Cesc Fabregas for Juan Mata
Juan Mata makes it eight, latching onto the ball inside the box after a deflection and blasting past the goalkeeper with his right foot. Still 25 minutes to go. 8-0.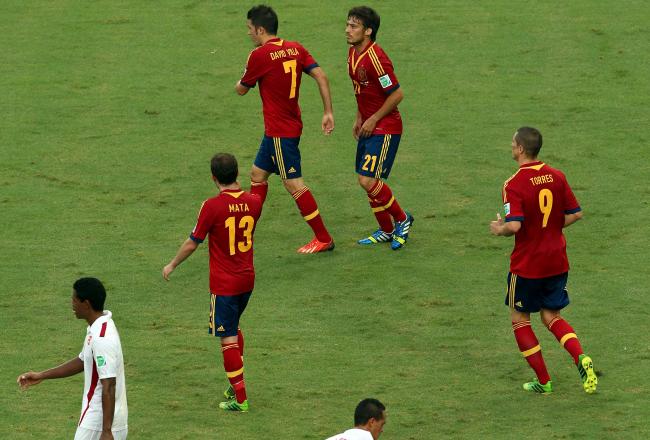 GOAL!
Spain 8 Tahiti 0
Juan Mata, 65 mins
Oh dear. This one's all down to the goalkeeper Roche, who completely misses the ball as he races out and tries to collect the ball on the floor, and Villa simply walks round him and taps it in for his own hat trick.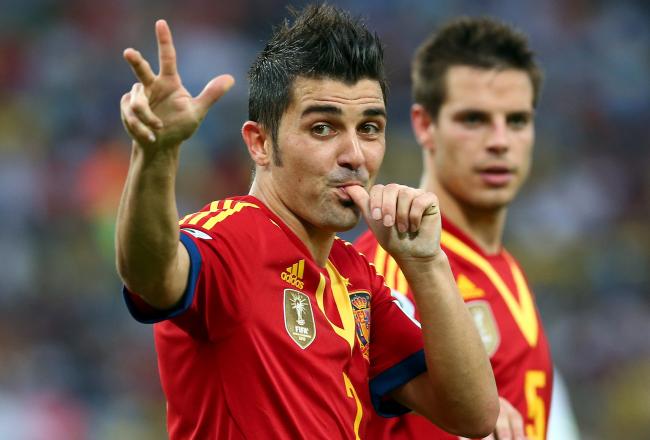 GOAL!
Spain 7 Tahiti 0
David Villa, hat trick, 63 mins
This article is
What is the duplicate article?
Why is this article offensive?
Where is this article plagiarized from?
Why is this article poorly edited?

Spain (National Football): Like this team?