Pavel Datsyuk's Top 5 Goals Since 2010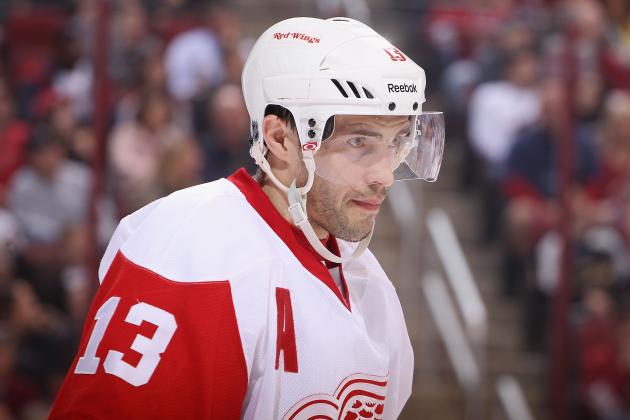 Christian Petersen/Getty Images

Pavel Datsyuk has been a member of the Detroit Red Wings throughout his entire NHL career.
After going undrafted in 1996 and 1997, Datsyuk was finally selected by Detroit in the sixth round, 171st overall, in the 1998 NHL entry draft. The Russian forward has been on the rise ever since. He's won two Stanley Cups, numerous individual awards and constantly finds himself on the highlight reel.
So it was obviously a thrill for residents of Hockeytown to learn that Datsyuk had signed an extension with the Red Wings. According to NHL.com, it's a three-year, $22.5 million contract which will carry a $7.5 million cap hit.
With that in mind, here are five of Datsyuk's best goals since 2010.
Begin Slideshow

»
Datsyuk is a magician with the puck. His ability to stick handle in small spaces is a notch above even the most talented players in the NHL.
With the Red Wings and Blues tied at three late in the third, Tomas Holmstrom slipped the puck to Datsyuk. As you can see, Datsyuk was somehow able to avoid contact, slipping between two Blues defenders. He brings another to his knees with a quick deke before firing the puck past Jaroslav Halak.
The Red Wings held on to win 4-3, with Datsyuk's goal standing as the game winner.
Datsyuk won the Frank J. Selke Trophy three consecutive times (2008, 2009 and 2010) for being the league's top defensive forward.
This play is a perfect example of his defensive abilities, as well as his amazing offensive skill. Datsyuk manages to catch Nashville's Kevin Klein, strip him of the puck and then pull off quite the deke, before scoring on his backhand.
The goal opened the scoring midway through the first in a game the Red Wings would go on to win 5-2.
It's a move that Datsyuk has become known for—and it's one that very few players would try, even in a shootout.
This goal is particularly memorable because Datsyuk flips the puck up over Antti Niemi's blocker. He usually drags the puck for as long as possible before placing it easily into an empty net. With that said, Niemi deserves credit for at least staying with Datsyuk and not ending up sprawled out on the ice like many goalies before and after him.
Don't forget, Datsyuk also scored a similar goal in regulation, back in 2003 against the Dallas Stars.
Datsyuk suited up for CSKA Moscow of the KHL during the latest NHL lockout. In a game versus Traktor in early January, Datsyuk scored this beautiful shootout goal to lead his team to a win.
It's reminiscent of Marek Malik's infamous 2005 shootout goal for the New York Rangers against Olaf Kolzig and the Washington Capitals. The difference is that Malik shot the puck between his legs, whereas Datsyuk shot it from behind both legs.
End-to-end rushes have become a rare sight in today's NHL. However, against the Nashville Predators this past February, Datsyuk treated hockey fans to a rush that will appear on highlight reels for years.
With the Red Wings trailing 3-2 late in the third, Datsyuk picked up the puck in his own end and skated up the middle with ease. His speed and stick handling abilities make the rest look even easier, as he gets through three Predators before beating Pekka Rinne.
The Predators would go on to win 4-3 in overtime, but this game will only be remembered for one thing: Datsyuk going coast-to-coast.