A Very Early Look at Potential Red Sox 2014 Free Agent Targets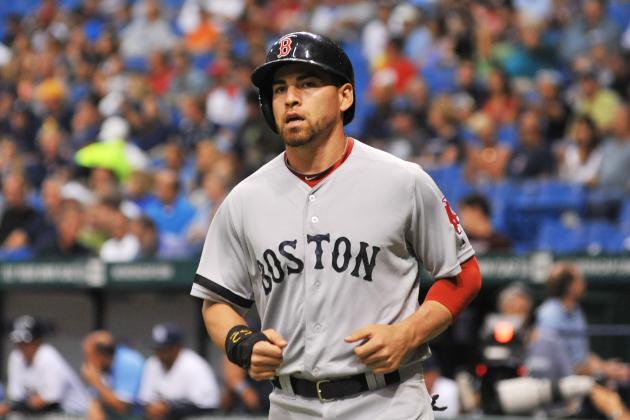 Al Messerschmidt/Getty Images
Jacoby Ellsbury will certainly garner attention this offseason
Right now, 2014 seems a long way away.
As we speak, the Red Sox are leading the way in the AL East, holding a healthy lead over the rest of the division. In short, the 2013 season has treated Boston well so far.
However, it is never too soon to start thinking about the future.
In the winter of 2013, the Red Sox were very busy on the free agent market, replenishing the roster after the mega-deal with the Dodgers. While circumstances are much less pressing this time around, the Red Sox will still be active players on the open market.
Here, we will explore Boston's various needs and some of the best and most affordable targets to fill them. Enjoy!
Begin Slideshow

»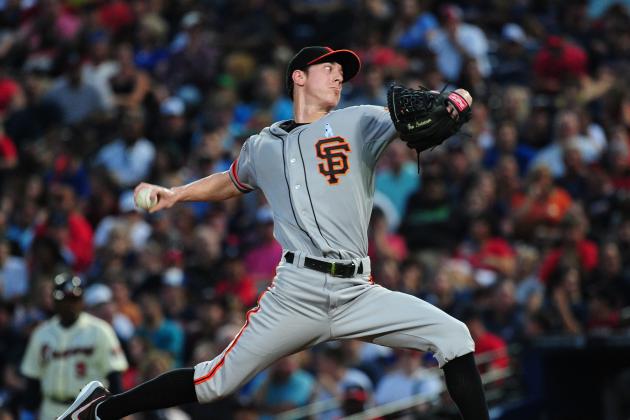 Scott Cunningham/Getty Images

If there is one thing the Red Sox have made clear in recent years, it is that you can never have enough starting pitchers.
While James Shields is the best player available, the Royals will almost definitely exercise their 2014 team option to retain him for another year.
While Tim Lincecum brings a fair amount of baggage along with him in the form of his recent struggles, he still has some of the most electric stuff in the major leagues.
Lincecum is a two-time Cy Young award winner who routinely racks up at least a strikeout per inning. And when he is on his game, Lincecum is totally unhittable.
Assuming Lincecum's price tag remains low, Boston could easily snatch him up with an incentive-laden contract and see what happens. If he rediscovers his former dominance, then he will have been the steal of the offseason. If not, they could just slide him into the bullpen where his recent control problems will be much less of an issue.
And besides, it would be pretty cool to see "The Freak" in a Sox uniform.
Odds of signing him: 15%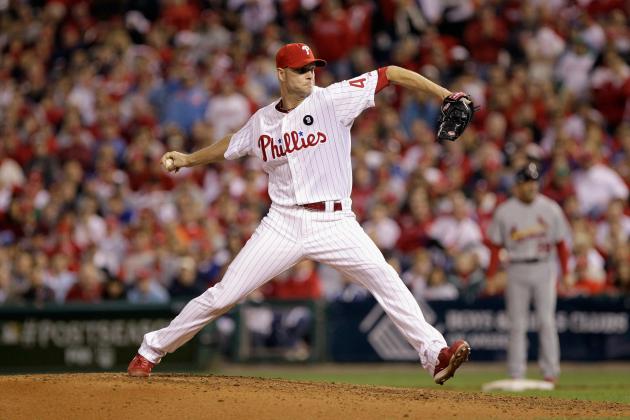 Rob Carr/Getty Images

Many fans will recognize Madson's name from the 2011 offseason when he nearly signed with the Red Sox, before Boston instead opted to trade for Andrew Bailey.
In his best years, Madson was one of the top closers in the game, racking up 32 saves and a 2.37 ERA for the Phillies in 2011. However, the previously dominant reliever hasn't been on the field since thanks to a very prolonged recovery from Tommy John surgery.
While the Red Sox are not exactly desperate for bullpen help, Madson is a very good pitcher at his best. He could really be a useful asset late in games and could even force Bailey out of the closer role.
And best of all, Madson would come dirt-cheap thanks to his recent injuries.
The Red Sox have had success with such reclamation projects in the recent past. Andrew Miller, Matt Albers, and Rich Hill come to mind. So there is a good chance that Boston could nab Madson off the bargain bin and turn him into a gem.
Odds of signing: 20%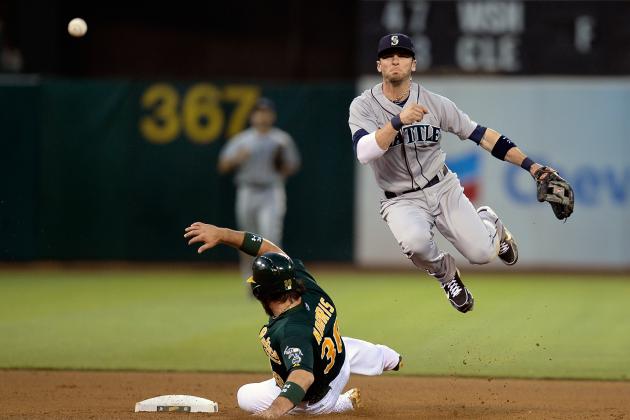 Thearon W. Henderson/Getty Images

When you think of Boston's biggest needs, your first thoughts likely revolve around pitching and first base. The Red Sox have another, more overlooked, need for a reliable backup infielder.
With Pedro Ciriaco gone and Jose Iglesias likely picking up a starting role next year, the Red Sox need to find someone to fill that hole.
They could search inside the organization. Brock Holt is a talented middle-infielder in Triple-A who could provide good defense and quality at-bats when called upon.
However, Brendan Ryan is a much more proven commodity. He is one of the best defensive shortstops in all of baseball. Furthermore, he is more than capable of playing all the infield positions at an extremely high level.
Ryan is admittedly not much fun to watch on offense though, as he often struggles to hit above the Mendoza Line. However, it's likely that playing in the pitcher-friendly Safeco Field has zapped quite a bit of the offensive potential that he once flashed during his brief time with the Cardinals.
If the Red Sox are not confident in Holt's abilities as a big leaguer as spring training approaches next year, they may nab Ryan off the market to sure up the bench and the infield defense.
Odds of signing: 25%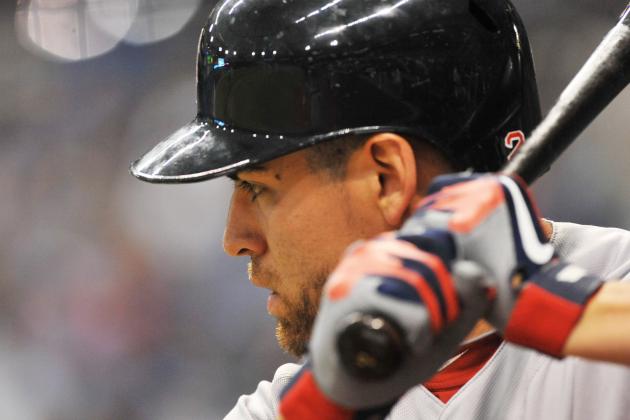 Al Messerschmidt/Getty Images

Here's an obvious first pick for you guys.
Long-time Red Sox center fielder Jacoby Ellsbury will hit free agency for the first time this fall. The question remains: will the Red Sox re-sign him?
With highly-regarded prospect Jackie Bradley Jr. in Triple-A, the prevailing logic in Boston is to let Ellsbury walk. Bradley is a very talented young center fielder who has all the defensive tools to fully replace Ellsbury in that capacity. Bradley should also provide solid on base numbers and some speed. He's certainly capable of taking the reins if Ellsbury signs elsewhere.
However, it's not set in stone. Regardless of who is waiting in the wings, Ellsbury would be a huge loss. The one aspect of the game where Bradley is lacking compared to Ellsbury is speed.
Ellsbury's plus-plus speed alone makes him one of Boston's more valuable players. The outfielder is currently leading all of baseball in triples and stolen bases. If he continues at this pace, this will be the third time in six seasons that Ellsbury has led the league in swiped bags, and the second time he has led in triples.
The Red Sox just don't have another player who can replace Ellsbury's legs. Not even the lightning-footed Shane Victorino can run on the same level as Ellsbury.
While speed is not reason enough to lock him up long term, it does suggest that the Red Sox will kick the tires on a new Ellsbury contract for quite some time.
The price tag is really the only obstacle holding the Red Sox back. While his stock has fallen considerably since his MVP-caliber 2011 season, Ellsbury will still be an expensive signee for any team. However, with a free-agent class chock full of All-Star outfielders like Curtis Granderson, Jason Kubel, Carlos Beltran, Shin-Soo Choo and Hunter Pence, Ellsbury may fly under the radar, thus lowering his asking price.
Right now, the chances of signing him are fairly low. But if he does return to Boston at the right price, Red Sox fans should be pleased. Imagine how unbelievable the outfield would be with Bradley, Ellsbury, and Victorino, three Gold Glove-caliber center fielders, manning the outfield grass. That would give the Red Sox one of the best defensive outfields of all time. Well, at least we can dream about it.
Odds of signing him: 35%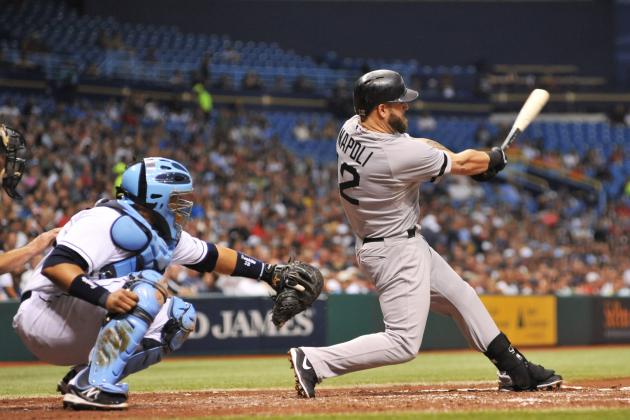 Al Messerschmidt/Getty Images

Here's another current Red Sox player hitting the free-agent pile.
Mike Napoli has done an admirable job filling the rather sizable hole left by Adrian Gonzalez at first base. He's gotten on base at a good rate, hit for power and played surprisingly stellar defense. He's also proven to be a nice addition to the clubhouse culture.
All sounds good right?
Well, as most fans are aware, Napoli suffers from an incurable degenerative hip ailment that slowly destroys the cartilage in the hip joint. While Napoli is not a serious injury concern at this very moment, there's no telling when his condition will suddenly take a turn for the worse and end his career prematurely.
For this reason, the Red Sox will be reluctant to risk a multi-year deal with the first baseman. However, on a one-year contract, with perhaps a second-year vesting option, I could definitely see Napoli returning for an encore season. The Red Sox may pursue this path, as the crop of first basemen will be otherwise fairly thin in the 2014 offseason.
Odds of signing him: 40%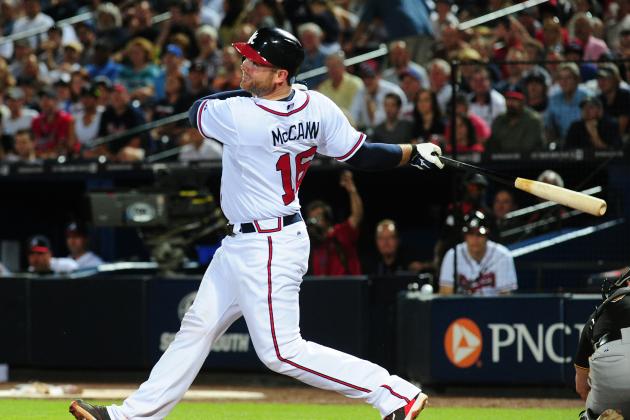 Scott Cunningham/Getty Images

The Red Sox catching situation has been in a state of flux since Victor Martinez signed with the Tigers back in 2010.
Jarrod Saltalamacchia has been a more-than-capable everyday player behind the dish, but his performance pales in comparison to that of other catchers around the league.
However, Saltalamacchia will be a free agent after this season draws to a close, so it's very likely that he will no longer be with the team next year.
The Red Sox could go several directions in finding his replacement.
They could promote Ryan Lavarnway, a young power-hitting backstop in Triple-A, who still has the potential to be an everyday major leaguer. However, Lavarnway is only hitting .261 with just three home runs on the year in Pawtucket. His stock has fallen considerably since his breakout season in 2011, and there are many who doubt that he is the catcher of the future in Boston. It is, however, far too early to give up on the young catcher. He still may have a bright future.
If the Red Sox decide to not take a chance on Lavarnway, they could search outside the organization.
Brian McCann is the best option available.
While he may not be the All-Star he once was, he still provides a solid on-base percentage, above-average defense and plenty of power to any lineup. He would certainly be an upgrade over Saltalamacchia. Not to mention the fact that he is left-handed, making him a perfect platoon partner for his former teammate David Ross.
Odds of signing him: 55%