10 Young MLB Stars Most Deserving of Big Long-Term Contracts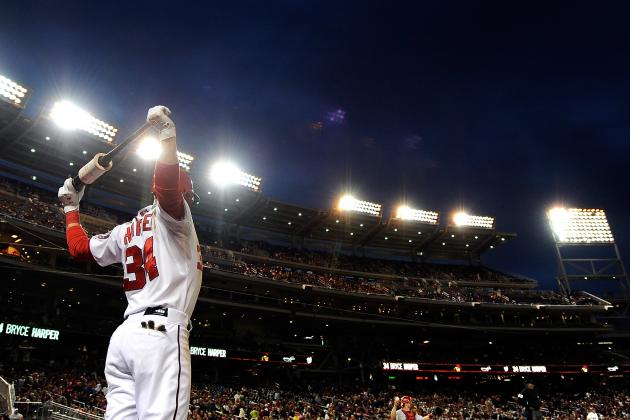 Patrick McDermott/Getty Images
"Am I going to get an extension? That's a clown question, bro."
Each offseason, teams ritually hand out some of the most absurd contracts to free agent players. In fact, teams collectively spent more than $750 million this past offseason on pitching alone. That includes contracts like Edwin Jackson's $52 million, Jeremy Guthrie's $25 million, and Brandon League's $22.5 million to name a few.
Part of the reason free agent contracts have become so inflated is due to the increasing trend for organizations to extend their homegrown, young talent. While signing comparatively unknown products to long-term deals might seem like a risky endeavor, more often than not, it's a less costly move for a team than either waiting out arbitration or especially filling in via free agency.
In 2013, there have been a variety of exciting young players worthy of big long-term contracts. Below are ten young stars, who are the most deserving candidates.
Statistics used are through 6/17/2013, and from Baseball Reference, Fan Graphs, and Cot's Baseball Contracts.
Begin Slideshow

»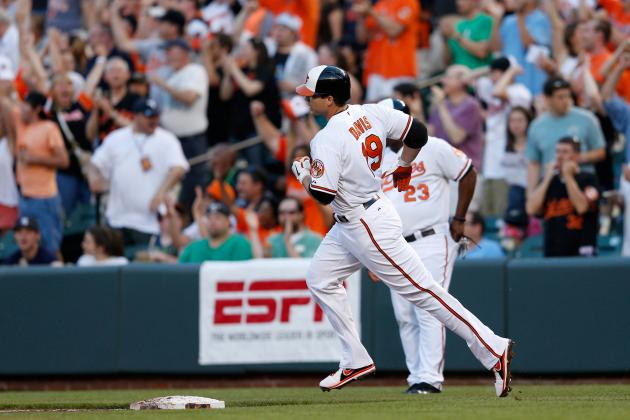 Rob Carr/Getty Images
Davis has done the slow jog around the bases more than anyone else in the major leagues.
Jon Daniels hasn't made too many missteps as the general manager of the Texas Rangers, but one trade that continues to stick out like a sore thumb was swapping Chris Davis and Tommy Hunter for Koji Uehara at the 2011 deadline. Even though Uehara pitched extremely well for the Rangers for the next year and a half (179 ERA+, 16.5 K/BB over 54 innings)—and the team advanced to the World Series—Davis has emerged as one of the game's best sluggers.
Davis started turning heads in 2012, when he swatted a career high 33 home runs, and posted his best park adjusted OPS+ (122) since his rookie season in 2008 (128 OPS+). But so far in 2013, the 27 year old has entered elite status. The Texas native is currently leading the league in home runs (22), SLG (.684), OPS (1.097), and a park adjusted OPS+ (194). Davis' 11.2 percent BB% and 24.8 percent K% are also career best rates.
While Davis is certainly deserving of a big contract, as a client of the infamous Scott Boras, it's unlikely Davis would accept a long-term contract now. In fact, since Davis will first be entering arbitration after the season—and won't be a free agent until 2016—Boras will undoubtedly advise his emerging client to sit tight, and wait for the bigger pay day. Plus, the three years will give Boras plenty of time to create a binder comparing Davis to Babe Ruth.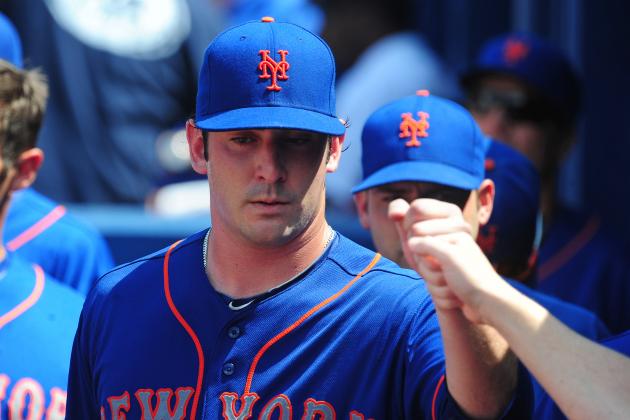 Scott Cunningham/Getty Images
Harvey after striking out everyone and still not being pleased with his performance.
Matt Harvey might only have 24 starts to his name, but given his blazing fastball and charismatic work ethic, the New York Mets might want to consider locking up the former first round pick sooner rather than later.
The 24-year-old Harvey has picked up right where he left off in 2012. The right-hander has posted a dominant ballpark adjusted 179 ERA+ (and 2.04 ERA) with 102 strikeouts (9.5 K/9), and a pristine 1.9 BB/9. Since the lowly Mets can't provide much run support, Harvey has only "personally won" five ballgames—but everyone knows he's deserving of many more.
As a Scott Boras client—and 2016 arbitration eligible candidate—there's a good chance even the gung ho-Mets pitcher will be told to keep pitching, and let it rain money in the future. Needless to say, Harvey will likely be the Mets' ace for the next decade-plus.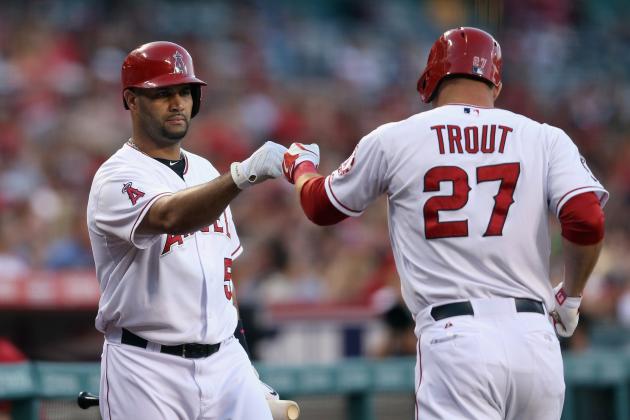 Jeff Gross/Getty Images
Trout certainly deserves Pujols-type money.
Mike Trout was the topic of many conversations during his first full major league season in 2012. After posting a park adjusted 169 OPS+ with 30 home runs, 49 stolen bases, 129 runs, and a Gold Glove caliber 2.1 dWAR, people not only felt he deserved the MVP over Miguel Cabrera, but also, perhaps even a $300 million extension too.
Trout is enjoying a similarly successful season so far in 2013. The 21 year old has posted a park adjusted 159 ERA+ with 12 home runs, and 15 stolen bases, and shows little sign of slowing down. As arguably the best young player in the game, there's little reason to think contract extension rumors won't resume soon—even though the stud outfielder won't be eligible for arbitration until 2015, or a free agent until 2018.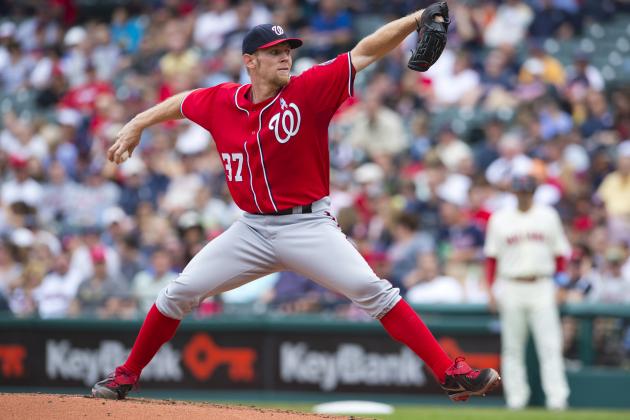 Jason Miller/Getty Images
Strasburg either striking a batter out, or hurting himself.
Even though the Washington Nationals have been uber careful with their injury-prone ace pitcher, Stephen Strasburg and his career 2.83 ERA is more than deserving of a long-term deal.
The 24 year old has been a force so far in 2013, posting a ballpark adjusted 151 ERA+ (and 2.50 ERA) with 77 strikeouts (8.7 K/9), and a 2.8 BB/9. Even though Strasburg, whose average fastball sits at 95.4 MPH, has struck out less batters this year than last (11.13 K/9), the right-hander has apparently turned to ground balls a bit more to find outs (from 44.2 percent GB% in 2012 to 52.9 percent GB%). Perhaps his approach—as in, not having to strike everyone out—could help him stay healthy, long-term.
Per the details of his extravagant four-year, $15.1 million draft contact, since Strasburg had yet to eclipse the necessary three services years to become arbitration eligible before the 2013 season, the pitcher is set to only make $3.9 million this year. That will all change this offseason, when he enters his first year of arbitration.
While the Nationals might want to escape the pricey arbitration years—as well as the prospect of losing him altogether by 2017—the team could try to find common ground with agent Scott Boras.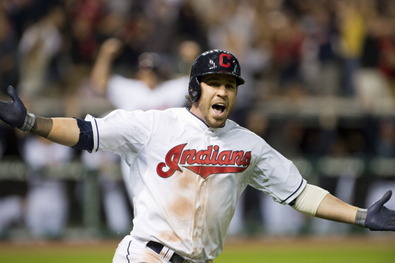 Jason Miller/Getty Images
"I want to make 'this much' money!"
When most people think of a future star second baseman, Jose Altuve of the Houston Astros usually comes to mind. While the 23-year-old Altuve is en route to a consecutive .290 batting average season—and could very well become an elite hitter—the right-handed hitter hasn't quite developed the power (career park adjusted 95 OPS+) or patience (career 5.1 percent BB%) to truly deserve a long-term deal quite yet.
Instead, Cleveland Indians second baseman Jason Kipnis has been the more developed of the two. After posting a 102 OPS+ with 14 home runs, 31 stolen bases, and a 9.9 percent BB% last season, the 26 year old has upped the ante so far in 2013. The left-handed hitter has swatted to the tune of a park adjusted 124 OPS+ with nine home runs, 15 stolen bases, and a 10.1 percent BB%.
Advanced field metrics have also been kind to Kipnis, gloving an above-average 0.4 dWAR and 3.5 UZR/150—and making him the complete package.
Considering Kipnis' pop, speed, on-base skills, and defense, the second baseman could become a cornerstone player for the Indians.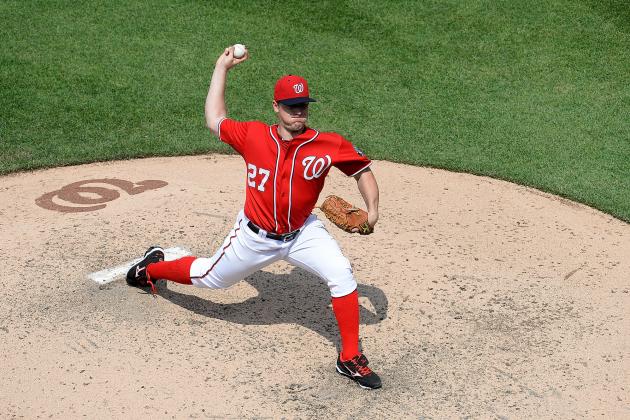 Patrick McDermott/Getty Images
Zimmermann making quite a 1-2-3 punch with Strasburg and Gio Gonzalez.
Unlike his more popular rotation mate Stephen Strasburg, Jordan Zimmermann does not wow fans with high strikeout totals. In fact, the 27-year-old Zimmermann sports just a 6.1 K/9 so far in 2013. Yet, the right-hander simply knows how to pitch.
Zimmermann has hurled a ballpark adjusted 155 ERA+ (and 2.44 ERA) with 67 strikeouts, a league-leading three complete games, and a Greg Maddux-esq 1.3 BB/9.
As a "Super 2," Zimmermann has already earned a combined $7.65 million over the past two seasons—and will enjoy another two years of increasingly expensive arbitration years. At this point, it might not make a whole lot of sense for Zimmermann to sign an extension with the Nats (considering he'll be a free agent in 2016), but hey, anything is possible.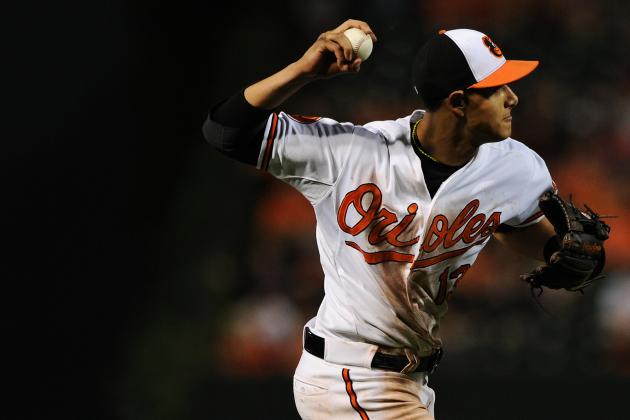 Patrick Smith/Getty Images
Machado probably making an awesome defensive play at third base.
Like another Baltimore Orioles great (Cal Ripken Jr.), natural shortstop Manny Machado switched to third base to fill a big team void. Luckily for the Orioles, Machado has blossomed at the hot corner.
Even though the 20 year old is a bit of a free-swinger (4.2 percent BB%), Machado has posted a park adjusted 128 OPS+ (and a .322 BA) with five home runs, five stolen bases, and a league-leading 32 doubles in 2013. In fact, the right-handed hitter has eleven more doubles than the next best hitter in the category.
In addition to his fruitful offensive production, Machado is also a slick fielder, owning a Gold Glove caliber 1.8 dWAR and 30.7 UZR/150 at third base this season.
Machado won't be arbitration eligible until 2016, but if the Orioles are looking to make him the face of the organization, a long-term extension would be a prudent move.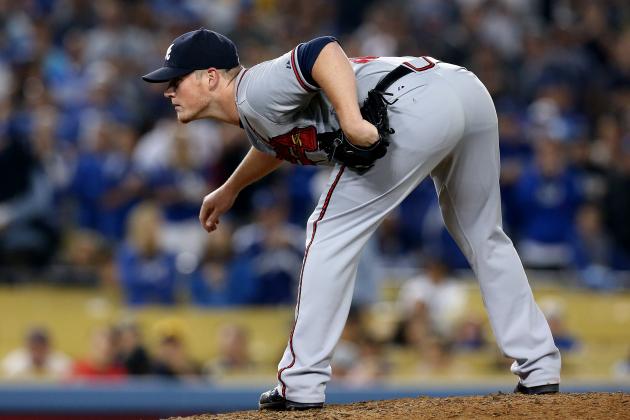 Stephen Dunn/Getty Images
Kimbrel looking for the sign, and scaring everyone in the process.
With so many great starting pitchers out there, sometimes stud Atlanta Braves reliever Craig Kimbrel gets forgotten. The 25 year old has been one of the most dominant relievers over the past four seasons—and arguably the best closer over the past three.
Kimbrel owns a career ballpark adjusted 263 ERA+ (and 1.49 ERA), 108 saves, and a 15.4 K/9. The reliever led the league in saves with 46 and 42 saves in 2011 and 2012, respectively. His average 96+ fastball was also worth 18.5 runs above average in 2012—which was second only to Aroldis Chapman.
The right-hander will first become arbitration eligible next year, but given how fickle relievers are, it might behoove Kimbrel to sign a team-friendly contract that covers at least through his first few free agent years.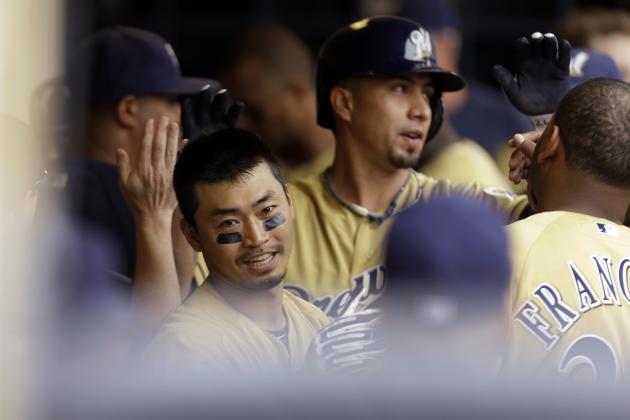 Mike McGinnis/Getty Images
High fives, all around for Segura.
Even though Jean Segura is just 67 games deep into 2013, according to Ken Rosenthal, the Milwaukee Brewers already offered the prized shortstop a long-term offer.
The gesture might seem a little surprising, as Segura only posted a park adjusted 72 OPS+ over 166 plate appearances in 2012—but so far in 2013, the 23 year old has been a completely different player. Segura has posted a dynamic ballpark adjusted 138 OPS+ (and .330 BA) with 10 home runs, 19 stolen bases, and leads the league with 89 hits and eight triples. The shortstop is a bit of a free swinger (4.1 percent BB%), but the hope is that with time would come patience.
Segura has also improved his defense, going from a miserable -21.9 UZR/150 to better, albeit still bad -0.7 UZR/150.
It's not public knowledge what the Brewers offered Segura, but figures aside, the idea is a good one.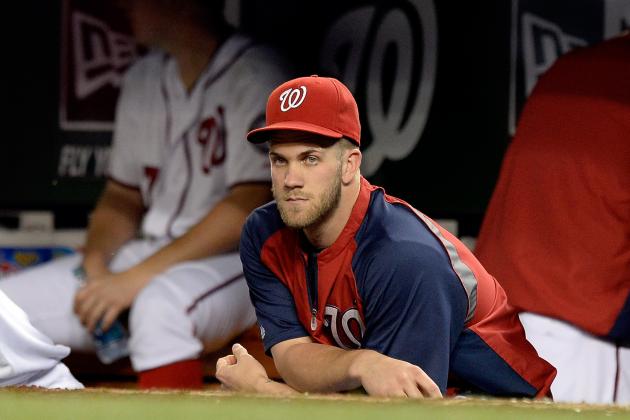 Patrick McDermott/Getty Images
Harper waiting for his big pay day.
The former "once in a generation" draft pick is certainly living up to his lofty expectations. Bryce Harper won the rookie of the year award last season behind a park adjusted 120 OPS+ (and .270 BA) with 22 home runs, 18 stolen bases, a 9.3 percent BB%, and an almost Gold Glove worthy 10.8 UZR/150 (combined between left, right, and center fields).
From a pure offensive perspective, Harper's 2013 season has been even better. The 20 year old has hit to the tune of a 166 OPS+ (and .287 BA) with 12 home runs, two stolen bases, and a 14.0 percent BB%. Even though Harper's defense has been off—at least compared to last season—he could still just be getting used to playing left field (as he played mostly center in 2012).
Harper is still under his original draft contract, which pays him a mere $2.65 million through 2015. But once that team-friendly contract is over, Harper will rake it in during arbitration. Perhaps if the Nationals offer Harper a $300 million extension, agent Scott Boras might actually be forced to accept it.