United States vs. Honduras: Team USA Player Ratings from World Cup Qualifier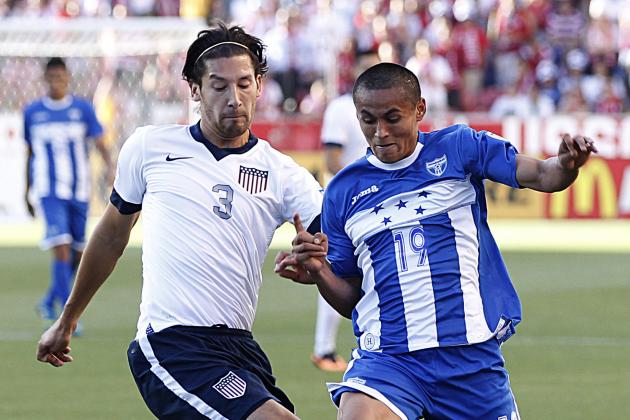 George Frey/Getty Images

The United States men's national team capped off their spectacular June with a 1-0 victory over Honduras in Utah on Tuesday night.
The win put the Americans in perfect position to qualify for the 2014 FIFA World Cup in Brazil.
Once again, Jozy Altidore and Clint Dempsey were the stars of the match at Rio Tinto Stadium, but who else earned a high grade? And who failed to impress?
Find out in these comprehensive United States player ratings from Tuesday's match.
Begin Slideshow

»
George Frey/Getty Images

Player: Tim Howard
Rating: 7.2
When called upon against Honduras, Tim Howard responded with ease in goal.
The largest imprint that Howard left on the match came right before the halftime whistle as he denied a stellar shot from Andy Najar.
Howard was also in the right place at the right time during the second half and recorded his second consecutive clean sheet.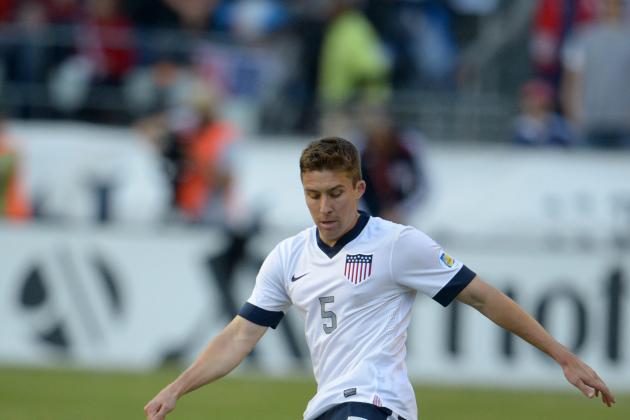 USA TODAY Sports

Players: Brad Evans, Omar Gonzalez, Matt Besler, Fabian Johnson
Ratings: Evans: 6.8; Gonzalez: 6.9; Besler: 7.2; Johnson: 7.4
Johnson had to fill in at left-back for the suspended DaMarcus Beasley—the commitment meant he was not able to go forward in attack as much as he may have wanted.
When Johnson did move forward, he created the only goal of the match as he assisted on Jozy Altidore's 73rd-minute strike.
At right-back, Evans once again did what he was asked, and he did not make any major mistakes. On the offensive end, he did have one headed shot go toward the Honduras goal on a set piece in the first half.
As for Gonzalez and Besler, they have matured a ton since their formation as a center-back partnership at the beginning of 2013.
Besler's performance stood out more against Honduras as he was rarely out of position and was a calming presence for Gonzalez, who is more prone to make a blunder at the back.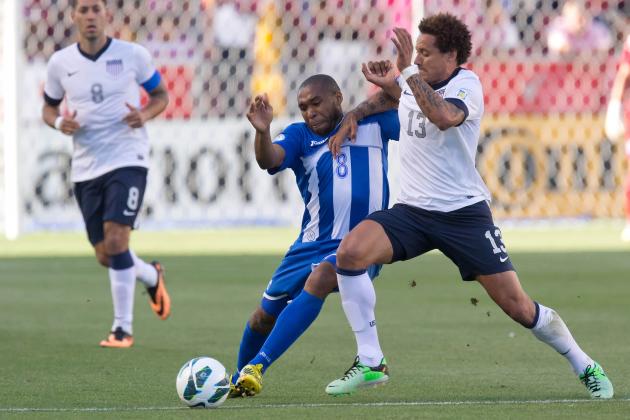 Russ Isabella-USA TODAY Sports

Players: Michael Bradley, Jermaine Jones
Ratings: Bradley: 7; Jones: 7.1
Bradley and Jones were reunited after one match apart, and they played up to their expectations.
Bradley was able to deal with the Honduran pressure in midfield before he attempted to move forward in attack, which he barely did because Jones did that so well.
Jones had a Dr. Jekyll-Mr. Hyde performance, playing poorly in the first half but recovering well in the second.
As is now a custom with Jones, he picked up an early yellow card on a tackle from behind in the 11th minute.
Other than his reckless tackle, Jones' performance on the pitch improved with every minute, especially in the second half when he went forward to provide the American attack with a spark.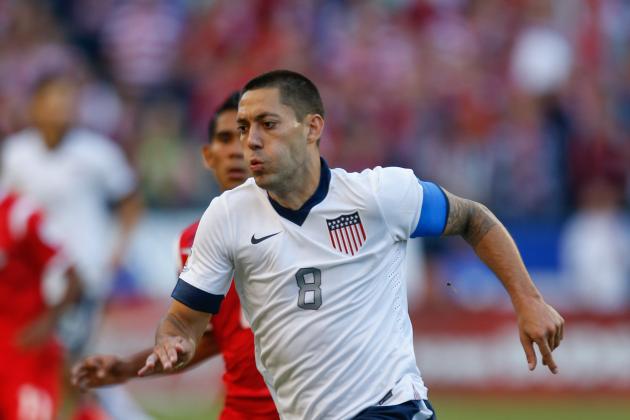 Otto Greule Jr/Getty Images

Players: Eddie Johnson, Clint Dempsey, Graham Zusi
Ratings: Johnson: 6; Dempsey: 7.7; Zusi: 7.9
Two-thirds of the American attacking midfield performed with excellence against Honduras.
And then there was Eddie Johnson, who was an absolute disappointment on the left wing.
Dempsey was active as always on set pieces, and he once again led by example as he kept pouncing on the goal.
The captain's best chance came on a diving header in the second half that somehow did not find the back of the net.
For every strong Dempsey chance on goal, there seemed to be a link-up with the in-form Graham Zusi.
Zusi provided his teammates with numerous chances in front of goal on set pieces, and it was his pass that sought out Fabian Johnson that started the run up to the only goal of the match.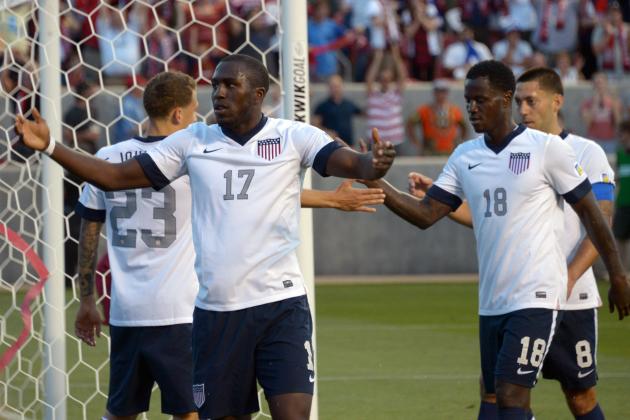 USA TODAY Sports

Player: Jozy Altidore
Rating: 7.5
With his left-footed tap-in in the 73rd minute, Jozy Altidore picked up a goal in his fourth consecutive match.
Now that Altidore has proved that he can replicate his club form on the international level, there is no doubt that he has a permanent spot in the starting 11.
The only thing Altidore has to worry about now is what club he will be playing with in the final season leading up to Brazil.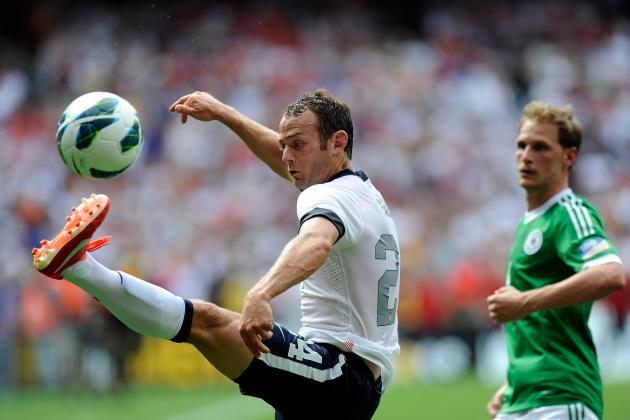 Greg Fiume/Getty Images

Players: Brad Davis, Geoff Cameron, Edgar Castillo
Ratings: Davis: 6.5; Cameron: 6.3; Castillo: N/A
Out of the three second-half substitutes, Brad Davis had the most impactful performance.
Davis, who came in for Graham Zusi, was able to send some crosses into the penalty area, but none of them resulted in a second goal.
Geoff Cameron came on in the 74th minute alongside Davis; he was asked to patrol the midfield with Michael Bradley, and he did just that.
Edgar Castillo came on late in the match and did not have enough time to make any impact on the match.
Follow me on Twitter, @JTansey90