Realistic Draft Targets for the Utah Jazz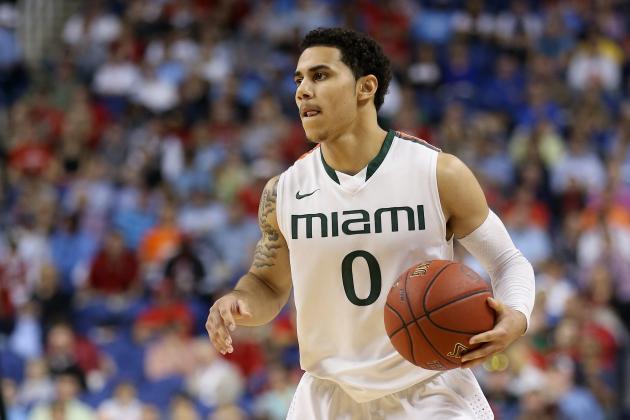 Streeter Lecka/Getty Images

The Utah Jazz have three draft picks in the 2013 NBA draft and prospects like Miami's Shane Larkin or Germany's Dennis Schröder could be in play for them.
They have the rights to two first-round picks (No. 14 and No. 21), and one more in the second round (No. 46). Point guard is probably the biggest need and Larkin and Schröder will be realistic targets with the 14th overall pick.
And since they're not really set at any position for next year, they could go with a wing or a big with their later selections.
Here's a more thorough look at whom the Jazz may be targeting in the 2013 draft.
Begin Slideshow

»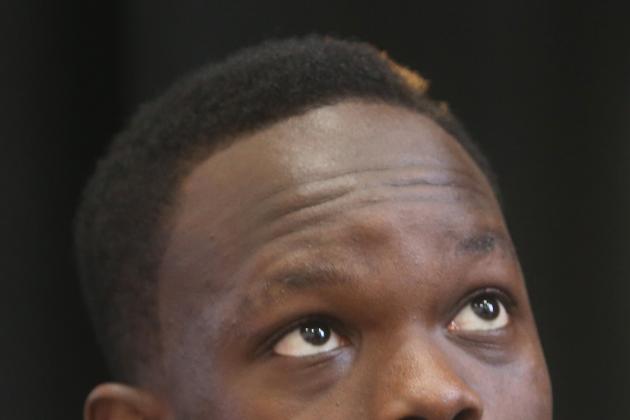 Jerry Lai-USA TODAY Sports

Position: PG
Age: 19
Height: 6'2"
Weight: 168 pounds
Wingspan: 6'7"
19-year-old German point guard Dennis Schröder's draft stock has been on the rise since his strong showing at the Nike Hoop Summit in Portland.
With 18 points and six assists, Schröder helped lead the World Team to a 112-98 victory over a USA squad that featured Jabari Parker.
With a 6'8" wingspan, Schröder's frame is reminiscent of Mavericks guard Rodrigue Beaubois. His speed and quickness are comparable as well. One difference could be a tighter handle for Schröder who showed deft ball-handling skills in Portland.
When Utah first goes on the clock at No. 14, they'll almost certainly be looking for a point guard. Schröder could really help increase the tempo at which the Jazz play the game, and he would make up one half of a potentially dynamic pick-and-roll combo with Derrick Favors.
He's also demonstrated solid jump-shooting ability by hitting outside shots in Portland and 40 percent of his threes for Germany's New Yorker Phantoms last year.
He is just 19 though and accustomed to a European game. There may be a bit more of a learning curve for him than some other options.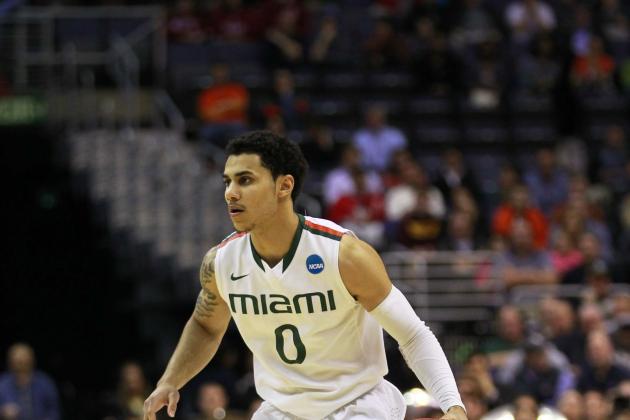 Geoff Burke-USA TODAY Sports

Position: PG
Age: 20
Height: 6'0"
Weight: 171 pounds
Wingspan: 5'11"
One such option for Utah at No. 14 is former Miami point guard Shane Larkin, who led the Hurricanes to an ACC Tournament championship.
On the year, Larkin averaged 14.5 points and 4.6 assists a game while hitting 41 percent of his three-point attempts.
His performance in college alone would have made him a first-round pick, but Larkin solidified his status as a potential lottery pick with a great showing at the NBA pre-draft combine. His 44" vertical leap and solid times in the agility drills showed that Larkin is a top-tier athlete, even by NBA standards.
Because the 5'11" Larkin is so much smaller than Schröder (6'2" with a 6'8" wingspan), many fans may be looking for Utah to take the young German with the 14th pick (assuming they're both still available).
The argument for Larkin is that he is more of a proven commodity. Against some of the best competition in the NCAA, he proved he has both the mental toughness and physical ability to lead a team from the point.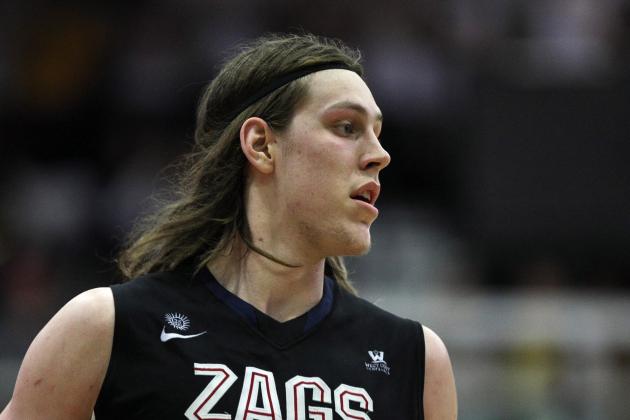 USA TODAY Sports

Position: C/PF
Age: 22
Height: 7'0"
Weight: 234 pounds
Wingspan: 6'10"
Both Al Jefferson and Paul Millsap are free agents this summer. If the Jazz lose both, they could be looking for help down low when they make the 21st pick in the draft.
Scouts seem to be having a somewhat difficult time getting a handle on Gonzaga's Kelly Olynyk, as I've seen him go anywhere from a top-10 to a mid-20s pick, depending on the mock draft.
If he's available at No. 21, he would be a great value pick for Utah. The seven-footer averaged 18.1 points and 7.3 rebounds a game while shooting a very efficient 63 percent from the field last year.
And he wasn't just a conventional back-to-the-basket big. Olynyk displayed the ability to shoot and handle the ball away from the basket, which would make him a nice complement to either Derrick Favors or Enes Kanter (who both do the majority of their work right around the rim).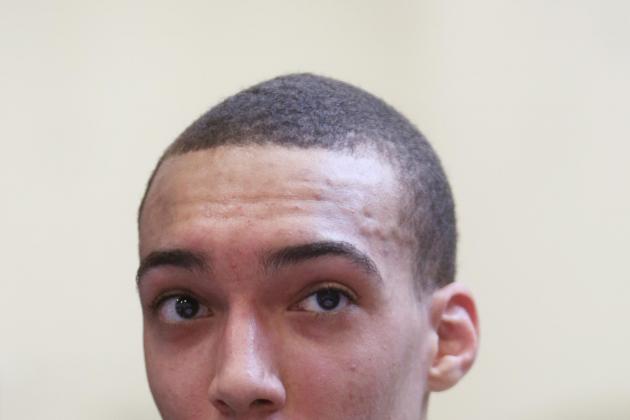 Jerry Lai-USA TODAY Sports

Position: C
Age: 20
Height: 7'2"
Weight: 238 pounds
Wingspan: 7'9"
Another big man who might be available when the 21st pick rolls around is Rudy Gobert.
Gobert will almost certainly need to get stronger (just 238 pounds on his 7'2" frame), but his length could make him an instant defensive factor in the NBA.
The 20-year-old Frenchman has a 7'9" wingspan and averaged just under two blocks in 23 minutes a game in France last season.
He also shot a red-hot 72 percent from the field, showing he knows his limitations on offense and takes smart shots.
The Jazz would have to be willing to spend some time developing Gobert. He's not extremely mobile or athletic and would likely get pushed around fairly easily by NBA big men.
However, we just saw what this kind of size can do when Roy Hibbert torched the Miami Heat in the Eastern Conference Finals. I'm not saying he's the next Hibbert, but 7'2" with a 7'9" wingspan screams potential.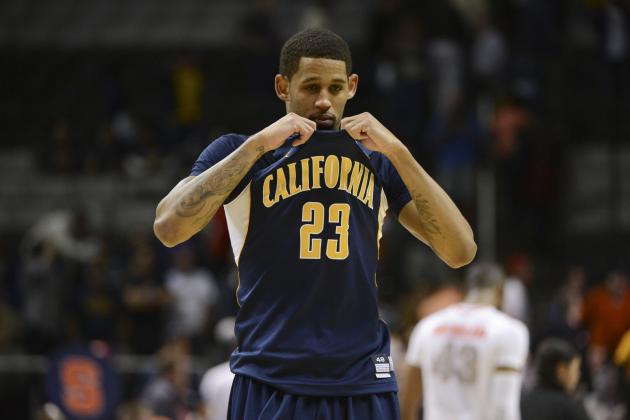 Kyle Terada-USA TODAY Sports

Position: SG
Age: 21
Height: 6'6"
Weight: 197 pounds
Wingspan: 6'11"
Utah is not terribly deep at any position heading into this offseason, so they may look to add a wing with the 21st pick. Gordon Hayward and Alec Burks are solid, young talents, but they could use some help.
There could be several interesting options here, from UNC's Reggie Bullock to 6'10" Croatian Dario Saric.
Crabbe makes sense because he proved to be a very effective scorer in three seasons with California, and Utah doesn't really have anyone on the roster who's proven to be a flat-out scorer. Crabbe averaged 18 points a game last year and shot 38 percent from three-point range for his career.
One of the biggest selling points for Crabbe is his size. He's a 6'6" shooting guard with a staggering 6'11" wingspan. He and Alec Burks (6'6" with a 6'10" wingspan) could be a very exciting (and long) backcourt combination, as Burks spent some time at the point last year.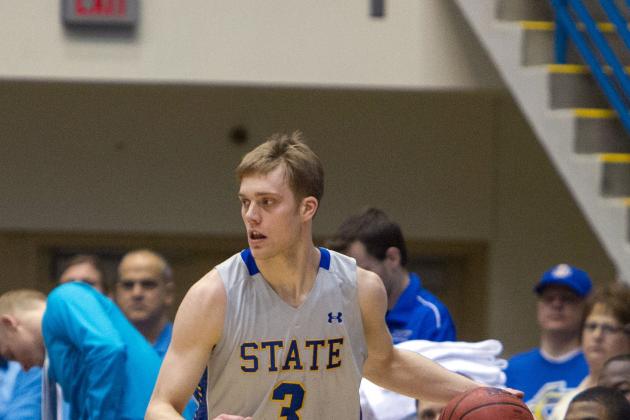 Brace Hemmelgarn-USA TODAY Sports

Position: PG
Age: 22
Height: 6'5"
Weight: 196 pounds
Wingspan: 6'4"
As is often the case with second-round picks, the Jazz can get a little creative when they're on the clock at No. 46. There isn't a lot of risk in the second round because contracts aren't guaranteed.
This allows teams to gamble.
A lot of scouts have questions about Nate Wolters' ability to cover NBA point guards on defense and to create his own shot on the other end. Wolters didn't take part in the athletic testing at the combine, so that only adds to that mystery.
But he's been a prolific scorer and leader for four years at South Dakota State, posting career averages of 18.5 points, 5.3 assists and 4.7 rebounds per game.
Any time a second-round pick pans out, it's like gravy on a team's draft. If not, they can be cut loose.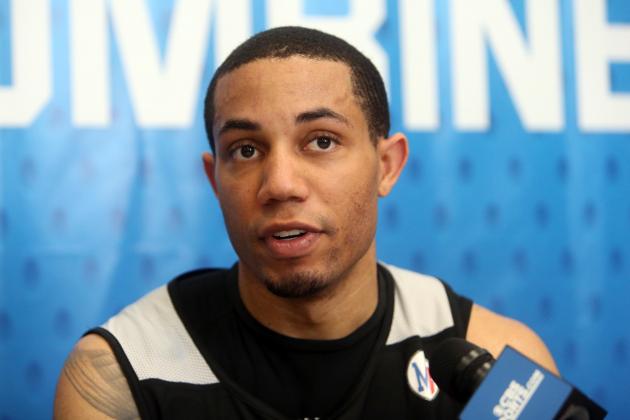 Jerry Lai-USA TODAY Sports

Position: PG/SG
Age: 22
Height: 6'3"
Weight: 178 pounds
Wingspan: 6'6"
Another potential point guard option in the second round for Utah could be former Virginia Tech sharpshooter Erick Green.
Despite leading the nation in scoring last year at 25.0 a game, Green has received almost no attention heading into this draft.
The lack of attention could be attributed to the Hokies' lackluster 13-19 season, but that shouldn't discredit Green's production. The 6'3" combo guard shot 48 percent from the field and 39 percent from three-point range. He also led his team in assists with a respectable 3.8 a game.
Utah needs a pure point guard more than a pure scorer, which could mean a bit of a transition for Green, who had to carry his team last season. Teams usually expect a bit of a project with any second-round pick, though.