10 Ways You Know You Are a Washington Redskins Fan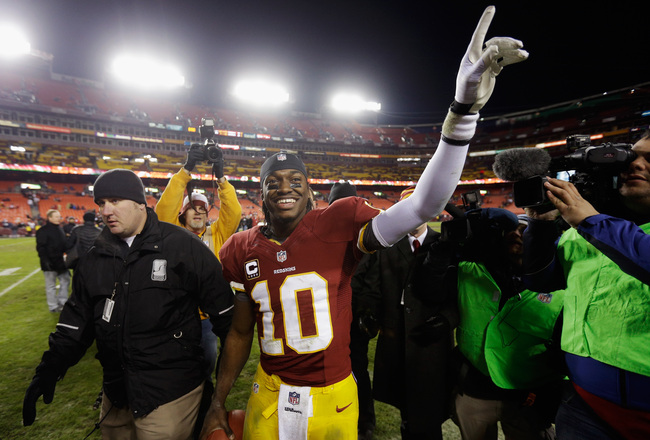 Rob Carr/Getty Images
The line between simple supporter and rabid fan is fine when it comes to sports teams. The Washington Redskins have been around since the 1930s and have amassed a diverse and expansive fanbase that has some very unique traits.
Beyond the inherent belief that our team is better than yours, Redskins fans are a passionate and fickle bunch.
Maybe you just bleed burgundy and gold, maybe you actively use HTTR as a forum signature. Maybe, just maybe, you've got a foam brick on a string you throw at the television whenever the team screws up.
Every fan has their own special relationship with the Redskins, but here are just a few of the many ways you know you're a fan of the Washington Redskins.
Free Agency Brings You Unbridled Joy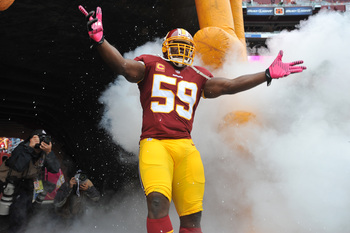 Larry French/Getty Images
In years past, the Redskins have been in a perpetual state of rebuilding. They're either one player away from competing or a few key signings away from being the best team in the NFL on paper.
There are few things more exciting than a strong free-agent class with plenty of players available at positions of need.
The likes of London Fletcher, Stephen Bowen, Barry Cofield and Pierre Garcon come to mind as successful free-agent signings in recent memory. In years past, there were the signings of Shawn Springs, Marco Coleman, Brad Johnson and Phillip Daniels.
The prospect of getting a proven veteran or an up-and-coming star is elating.
Free Agency Brings You Inconsolable Dread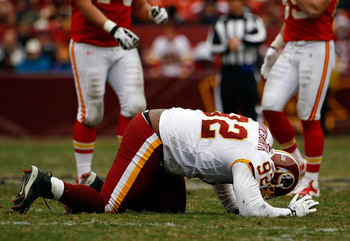 Win McNamee/Getty Images
Just as free agency can be an exciting time, so too can it be a time to gnaw your fingernails to the quick. Under owner Dan Snyder, the Redskins, at one time, relied more on free-agent additions than building through the draft and developing talent.
Washington is also notorious for shelling out ludicrous sums of money for players well past their prime or unwilling to play up to their price tag.
Early on in Snyder's ownership, the 'Skins signed the aging Deion Sanders and Bruce Smith, as well as an unqualified Jeff George. More recent free-agent blunders include Albert Haynesworth, Adam Archuleta and Antwaan Randle El.
Recent years have shown a much different strategy, but the fear of blowing far too many millions on an overrated free agent is always looming.
A 3-1 Start to the Season Warrants Super Bowl Discussion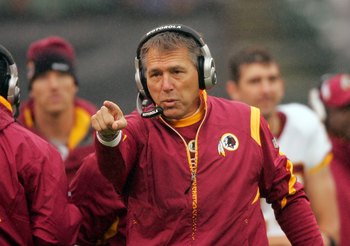 Ezra Shaw/Getty Images
In 2005, 2007, 2008 and 2011, the Redskins started the season 3-1 and everyone rejoiced, praising the new direction the team was taking and talking about how it was long overdue. A trip to the Super Bowl was inevitable given the success they had so early in the season.
In 2005 and 2007, Washington did go to the playoffs but were bounced both times by the Seattle Seahawks.
More troubling, Jim Zorn's debut season as head coach featured a 6-2 start before the wheels fell off and the team lost six of their final eight games.
It speaks to a sense of entitlement that stems from the success enjoyed by the franchise under Joe Gibbs in the '80s and early '90s. Can't blame fans for holding on to the past just a little too tightly.
You Identify Jerry Jones as the Worst Owner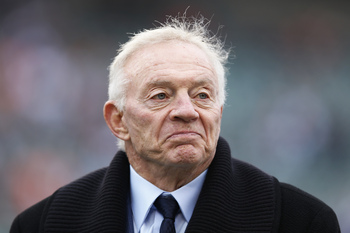 Joe Robbins/Getty Images
Chalk it up to good old-fashioned Dallas hatred, but Redskins fans do not like Cowboys owner Jerry Jones. He's far too involved in the football side of things where an actual football mind would help him so much more. He acts as the team's GM, dictating free-agent signings and draft picks, and his visibility overshadows the players on the field
Funny story, it wasn't so long ago that Dan Snyder was doing a lot of the same things with the Redskins.
It comes down to simple hypocrisy, but the the dislike of Jones is rooted in the heated rivalry between the 'Skins and 'Boys that dates back to the days before Jones had his first botched face lift.
You Still Despise Vinny Cerrato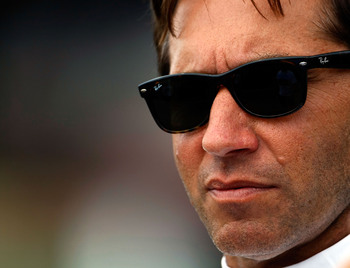 Win McNamee/Getty Images
Dan Snyder's lapdog. Vinny Me. A yes-man. Call him what you will, but few names stir the fiery hatred that Vinny Cerrato does in Redskins fans. He played the part of vice president of football operations but was largely in charge of telling Snyder that his every personnel decision was impeccable.
Cerrato's fingerprints are all over the terrible draft classes under Snyder's ownership, including the botched head coach search of 2008 that brought Jim Zorn to the nation's capital.
One of Cerrato's greater follies was the firing of head coach Marty Schottenheimer. Schottenheimer's handling of the team didn't go over well with Vinny's bestie, and he was terminated after an 8-8 season.
Schottenheimer's exit paved the way for the wildly successful coaching tenure of Steve Spurrier.
Victories over Dallas Can Salvage a Season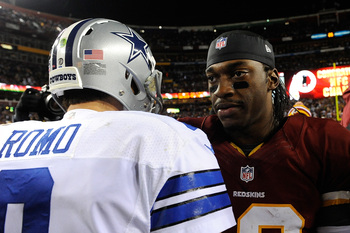 Let's hope turnovers aren't contagious
Patrick McDermott/Getty Images
Division rivalries are heated enough, but the mutual and fundamental loathing between the Redskins and Cowboys is a wonder of nature. Though plenty of players have donned both the silver and blue as well as the burgundy and gold, there is a general feeling of "they don't like us, we don't like them" between the teams and their fanbases.
Beating Dallas can offer a bright spot in even the bleakest of losing seasons for the Redskins.
In the past eight seasons, the teams have split their series, with the Redskins sweeping the Cowboys last season after the Cowboys swept the Redskins in 2011.
Who cares if the 'Boys lead the series with 62 wins to Washington's 40? What have they done lately?
No. 21 Holds Great Significance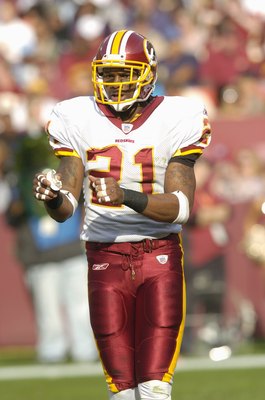 Greg Fiume/Getty Images
Sean Taylor entered the NFL with a world of talent and all of the physical tools necessary to succeed at the next level. Though his career had a rocky start dotted with legal issues, he appeared to have turned a corner following the birth of his daughter in 2006.
In 2007, Taylor was shot and killed during a burglary of his Florida home, leaving the Redskins without one of their best players, but more importantly, needlessly cutting a life short.
Redskins fans and teammates took the loss to heart, with fellow Miami alums Clinton Portis and Santana Moss donning commemorative shirts beneath their uniforms and the team inducting Taylor into their Ring of Fame.
It may seem silly to mourn so deeply over an athlete most fans likely never met, but it speaks to the connection they have with their team, with some treating it as an extended family more than just a team they support.
You Have a Specific Reason to Hate Philadelphia Eagles Fans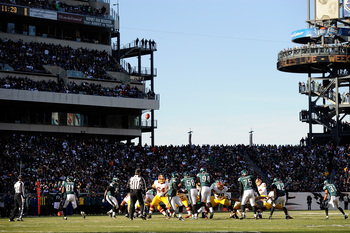 Patrick McDermott/Getty Images
Division rivalries are one thing, but there is more to the abhorrence of the Philadelphia Eagles than just having to play them twice a year. On their own turf, they booed a fake Santa Claus and routinely disparaged their starting quarterback Donovan McNabb and head coach Andy Reid.
One also threw a beverage at Clinton Portis' mom, prompting a move from the end-zone stands at Lincoln Financial Field to a more friendly spot on the sidelines following the altercation.
Washington's unofficial official mascot, Chief Zee, was assaulted following a team victory over the Eagles, suffering a broken fibula, damaging his original costume and leaving him hospitalized.
The Eagles themselves aren't hated so much as their frighteningly aggressive fans.
You Relish Going 3-1 Against the Eventual Super Bowl Champion New York Giants
Jeff Zelevansky/Getty Images
The New York Giants defeated the New England Patriots in both the 2007 and 2011 Super Bowl games, becoming NFL champions with great defense and great coaching.
In 2007, the Redskins split their season series with the G-Men, but in 2011, they swept New York, which prompted safety Antrel Rolle to call it a fluke.
It is great to take pride in a win, especially two wins over the team that goes on to win it all, but you can't go so far as to gloss over the season finish. In 2007 and 2011, the Redskins went a combined 14-18, which is what really matters in the long run.
You Indulge in Too Many "What If" Discussions Every Season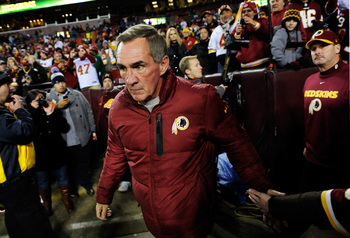 Patrick McDermott/Getty Images
If not for the overtime fumble by Mike Sellers in 2009 against the New Orleans Saints, the Redskins would have gone on a five-game winning streak to finish the season strong at 8-8.
If not for the two interceptions Todd Collins threw in the 2007 divisional playoff game against Seattle, the Redskins would've walked into the conference championship game and sailed into the Super Bowl.
Hypothetical conversations are an easy way to avoid the truth of the matter, and Redskins fans border on delusional with their evasions of the obvious.
Sometimes, it is better to look on the bright side, or focus on the close calls that could have changed the course of an entire season. But more often than not, it is willful ignorance to the decade of mediocrity the Redskins put together prior to the arrival of Mike Shanahan as their head coach.
Mike Shanahan won two Super Bowls with Denver, so he's totally going to win a third, if not another two with the Redskins.
Keep Reading

Washington Redskins: Like this team?