Canada vs. Japan Live Blog: Pacific Nations Cup Updates, Analysis & Reaction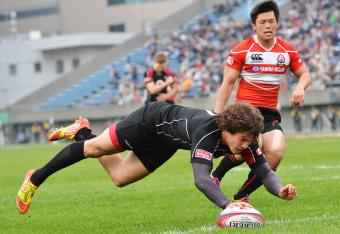 Canada's Taylor Paris will try to help his team win the 2013 Pacific Nations Cup championship, in Japan.
Atsushi Tomura/Getty Images
The 2013 Pacific Nations Cup (PNC) decider kicks off today in Nagoya, Japan.
Canada, who are undefeated in this year's PNC competition, will look to complete their perfect run, after a 15-hour flight to the Far East just days ago.
A quick look at the tournament standings sees a vast difference between these two teams; however, appearances, in this case, are definitely deceiving.
Japan are coming off their greatest win of all time after two strong performances against Wales. The second test in that series resulted in a historic 23-8 upset.
Canada, on the other hand, are coming off a bruising series of encounters against Fiji, Tonga and a powerful touring Irish side. They are a tired group.
On an individual note, James Pritchard, who has just become Canada's all-time points leader, has a chance to pass 500 international points tomorrow, while at the same time winning his 50th Cap.
The Canadians have a perfect record so far in this competition, but one feels that they will be hard pressed to stay with the high-flying Japanese in the later stages of this match. Should Canada emerge victorious, they will be crowned 2013 Pacific Nations Cup champions.
Canada Starting Roster:
1. Hubert Buydens, 2. Ryan Hamilton, 3. Jason Marshall, 4. Jon Phelan, 5. Brett Beukeboom, 6. Tyler Ardron, 7. Nanyak Dala, 8. Aaron Carpenter (Capt), 9. Sean White, 10. Liam Underwood, 11. Taylor Paris, 12. Nick Blevins, 13. Ciaran Hearn, 14. James Pritchard, 15. Connor Braid
Canada Bench:
16. Ray Barkwill, 17. Tom Dolezel, 18. Andrew Tiedemann, 19. Cam Pierce, 20. Aaron Flagg, 21. Eric Wilson, 22. Michael Fuailefau, 23. Patrick Parfrey
Japan Starting Roster:
1. Kensuke Hatakeyama, 2. Shota Hoire, 3. Yusuke Nagae, 4. Justin Ives, 5. Shinya Makabe, 6. Hendrik Tui, 7. Michael Broadhurst, 8. Takashi Kikutani, 9. Fumiaki Tanaka, 10. Harumichi Tatekawa, 11. Kenki Fukuoka, 12. Craig Wing, 13. Male Sau, 14. Toshiaki Hirose (Capt), 15. Ayumu Goromaru
Japan Bench:
16. Takeshi Kizu, 17. Masataka Mikami, 18. Hiroshi Yamashita, 19. Hitoshi Ono, 20. Shoji Ito, 21. Atsushi Hiwasa, 22. Yu Tamura, 23. Yoshikazu Fujita
Kickoff Time: 6:10 a.m. EST
Tweet Using #JAPvCAN

Jeff Hull is a Featured Columnist for Bleacher Report.
Unless otherwise stated, all quoted material was obtained first-hand.
To follow the author on Twitter, click on the link below.

Follow @RugbyScribe
Thank you for tuning into Bleacher Report's live coverage of Canada vs Japan in the Pacific Nations Cup. Be sure to check back soon at www.BleacherReport.com/Rugby and follow me on Twitter: @RugbyScribe.
Cheers.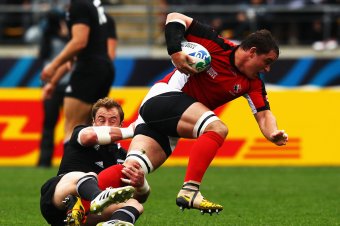 Phil Walter/Getty Images
Canada Captain Aaron Carpenter: "Although we are still mathematically in the lead, we need that game to win the tournament. A few calls went against us, but that is rugby. Japan did a better job of holding onto the ball in tough conditions. Although we didn't win, we came here and gave it hour all after a 15 hour flight and a short turnaround, so I am proud of my teammates today."
Final Match Analysis:
There was no epic Canadian collapse in the second-half, as many had feared there might be; however, there was indeed a drop-off.
Following the departure of their first round of substitutes, Canada lost their cutting edge in attack. Subsequently, although their defence never faltered, they couldn't make their way back down the field when they needed to.
The result means that Canada have now, more than likely, lost their chance to win the Pacific Nations Cup title.
With such a difficult schedule these type of momentum swings within a tournament are to be expected. Surely all teams will have a better idea of how to manage them when the tournament resumes in 2014.
Some questionable behaviour from Fiji on the sidelines as Canada struggle to get the ball back.
It looks we and truly over now. With only moments left Canada don't seem to have any idea how to attack, even when they do have the ball.
Their final attack fizzles out and Japan have taken this game by a final score of 16 - 13.
Japan have taken the lead.
A high tackle penalty against Tyler Ardron gives Japan a chance to kick at goal and they take their chance.
Now 16 - 13 for Japan with 72 minutes gone. Canada will need the ball back, but will they have a chance of their own?
Time is now against the visitors.
Canada under huge pressure, but another Japanese knock-on saves them.
Canada will want to try and win this game to seal the competition; however, they need to gain some territory. They are still deep in their own end with 10 minutes left in this game.
A careless Japanese penalty at the scrum, will allow Canada to kick for a lineout at mid-field.
James Pritchard apparently still have some juice, and he slots a Canada penalty to tie the game.
It is now 13 - 13 with 66 minutes left, but Canada are immediately back under pressure.
A knock-on sees Japan with an attacking scrum deep in the Canada half.
All the analysts were looking for a Japanese collapse at the 60 minute mark.
Canada make substitutions, including their Captain, and almost immediately Japan take advantage.
Multiple missed tackles sees Canada scrambling in defence, and finally Japan go over under the posts.
The score is now 13 - 10 for Japan.
Do Canada have the weapons on the field to come back? Do they have the energy?
Japan push deep into Canada's end again, but a blown play sees the ball fly-hacked down field.
Sean White drops the Japanese fullback, and Canada again swarm at the breakdown; this time, they win a penalty.
Canada attack from a lineout deep in the Japan end.
Nanyak Dala breaks from openside for Canada and draws four Japanese defenders, before magiacally offoading to Nick Blevins.
Blevins moves the ball to Sean White, who comes within inches of the Japanese tryline, before finding Ciaran Hearn for the try.
The easy conversion is good, and Canada have answered the call.
The score is now 10 - 6 for Canada with 55 minutes gone.
Perhaps this game will open up now, though that may not be to Canada's advantage.
Ray Barkwill nearly decapitates a Japanese back in mid-field and Canada swarm at the breakdown; however, the referee rules that they have infringed and the Japanese take the lead from the resulting kick at goal.
Now 6 - 3 for Japan with 51 minutes gone in this game.
Canada will now have to look to score some tries. Do they have enough in the tank?
Canada have their first break of the second-half through Hearn, who glides through a gap and frees Carpenter down the wing, but the play ends in Canadian knock-on.
Japan will once again have possession. Canada will need more of the ball, if they are going to re-take the lead in this game.
Canada's Head Coach Kieran Crowley has put on Ray Barkwill at hooker; a sign, perhaps, that he wants a bit more mobility in his pack and a steadier set-piece.
Hearn tries an ridiculous 60 meter penalty which falls short and wide right. Japan clear and, from the subsequent lineout, they attack deep into the Canada end.
Japan win a penalty in front of the posts and - you would think - they will look to tie the game with a kick at goal.
They do so and the score is now 3 - 3. 45 minutes gone in this game.
Half-Time Analysis:
For the first 30 minutes of this half it looked as if neither team would be able to string much offence together; a situation which I'm sure would have suited the Canadians just fine.
However, Japan really found their game in the last 10 minutes and put Canada under some real pressure. They look, by far, the most dangerous team at the moment.
Canada have not looked like scoring a try; however, they do have the more accurate goal kicker, in James Pritchard.
The danger for Canada was always going to be the final 20 minutes of play, where they have struggled in their last two matches. In addition, Japanese Coach Eddie Jones talked before the game about his team targeting that moment in the match to really apply some pressure.
Will Jones' plan workout, or will Canada emerge as Pacific Nations Cup champions for 2013?
On to the second-half!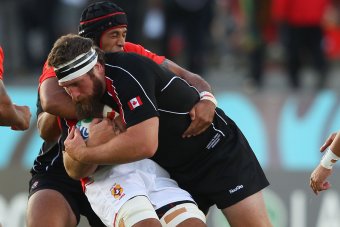 Hannah Johnston/Getty Images
Two minutes left in the first-half and Japan are back at it again. Canada are being stretched by multiple Japanese phases, and Japan have a scrum deep in the Canada end.
Canada need to hold on here and get into half-time with their lead.
Japan break from the back of the scrum and drive towards the Canadian line. Frantic Canadian tackling keeps them out.
Finally, Hubert Buydens - who has had an enormous first-half for his country - causes another Japanese knock-on in the tackle, and Canada are safely into half-time with their 3 - 0 lead.
HALF-TIME
At the 37 minute mark Japan finally find a mis-match down the left-hand side of the field.
They have the Canadians moving backwards and roll into the Canada 22.
A chip-kick into the corner is well-handled by James Pritchard, and from the following line-out Canada win possession and clear their lines.
Canada trying to attack; however, they are having trouble with the Japanese rush defence.
Again they try and pin the Japanese back, but even the kicking is a little bit aimless at this point.
Canada win a penalty for a Japanese side-entry at the breakdown.
Ciaran Hearn attempts a penalty from around 45 meters out and misses wide left.
Still 3 - 0 for Canada.
We are 26 minutes into this match, and have yet to see either team string a long series of attacking play together. The rain is making it exceptionally hard. Japan are trying had, but are making unforced errors almost on every play.
This game is currently a very ugly spectacle, but Canada won't mind at all.
The visitors continue to cling to a three point lead off of the boot of James Pritchard, as we edge closer to half-time.
The Japanese string 4 phases together and once again begin to accelerate the game; however, another knock-on beings their charge to a halt, and Canada will have the scrum.
One feels that Japan will have a hard time implementing their game-plan in these conditions.
20 minutes into the first-half. Canada now taking their turn pinning the Japanese back in their end with kicking. Sean White, helping with some nice play from scrum-half.
The wet weather is forcing many errors by both teams, but Canada will try to attack from a scrum at the Japanese 10 meter line.
Japan show their first flashes of brilliance.
Having won a penalty 5 meters out from the Canadian line, the Japanese take a quick-tap and are stopped just short. Frantic Canadian defence eventually allows them to clear their lines; however, the Japanese are showing some real intent, even in the wet weather.
9 MInutes into the first half. The rain is pouring down in Nagoya. Truly a deluge.
Canada's defence holding well, as Japan looks to pin the Canadians back into their own end with kicking.
The pressure finally yields a penalty against Canada and Japan will have a chance to tie the game.
The kick is no good. Canada will take confidence from that, and be slightly braver at the breakdown.
Still 3 - 0 for the visitors.
4 Minutes in. After a period of Canadian pressure, where the Canadians did well to retain possession and force the Japanese back, Japan slap the ball away and take a silly penalty.
James Pritchard edges closer to 500 points, by slotting the penalty. Its Pritchard's 50th Cap for his country today.
3 - 0 for Canada early on.
Umbrellas are out at the Stadium in Nagoya, and rain is falling as the players line-up for the national anthem. To the extent wet weather slows down the speed of play, you'd have to think that benefits the Canadians.
Japanese rugby is played at breakneck speed.
Stirring nationals anthems are over, and we are about to kick-off. The rain continues to fall heavily. Canada's Ciaran Hearn to get us started.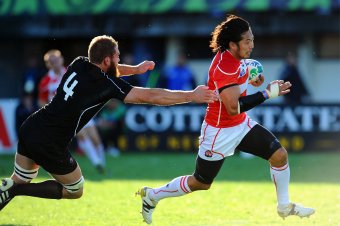 Stu Forster/Getty Images
35 - 10 final score Fiji over the USA.
Canada now taking the field to warm-up in Nagoya, Japan.
We'l have national anthems shortly.
This article is
What is the duplicate article?
Why is this article offensive?
Where is this article plagiarized from?
Why is this article poorly edited?