NFL Draft 2014: Pinpointing the Top 5 Quarterbacks and Their Possible Suitors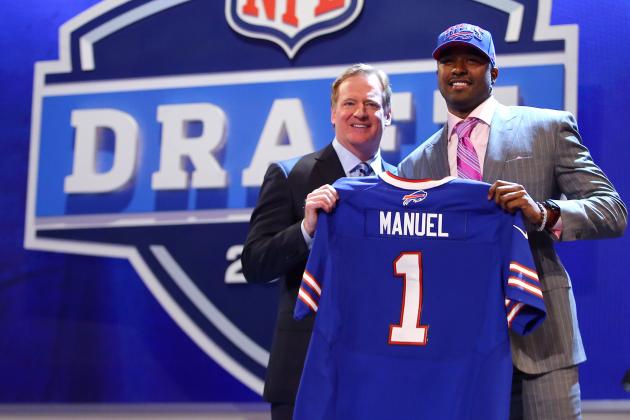 Al Bello/Getty Images

The quarterback class from the 2013 NFL Draft left a lot to be desired. E.J. Manuel, Matt Barkley, Geno Smith and Tyler Wilson all have great potential, but they also struggled at times during the 2012 season. The 2014 quarterback class has a lot more to offer.
Next year's quarterback class has great athletes, big arms, great leaders and well polished prospects. The problem with this year's class was that there was great tape on all the elite quarterback prospects, but there was some really bad tape as well. They all came off as major projects, which is a big problem in a league where rookies are expected to deliver right away, especially under center.
I believe at least three quarterback prospects, and possibly five or six, will be selected in the first round of the 2014 NFL Draft. This is a passing league and there will always be anywhere from five to ten very quarterback needy teams. Next spring will be a good time to be quarterback needy.
Here are the top five quarterback prospects for 2014 and there possible landing spot.
Begin Slideshow

»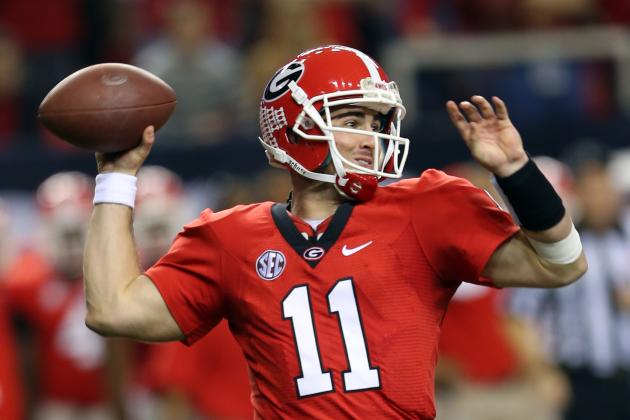 Mike Ehrmann/Getty Images

There is a lot to like about Aaron Murray's game. He has an absolute cannon of an arm, has beaten some really good SEC teams and is solid mechanically. He isn't going to come into the NFL as any type of a project. He will have plenty to work on, but is plenty polished enough to start right away at the next level.
The knocks on Murray that we are going to be hearing for the next year are his size (6'1, 212) and the fact that he hasn't won the big game just yet (SEC or National Title). Is that fair? Well, keep in mind that Tom Brady won three Super Bowls in the NFL, but lost starts to Drew Henson as a Senior at Michigan. Ken Dorsey won a lot of big games at Miami in college, but is anyone knocking at his door right now? A quarterback's success in big games should be just a very small portion of his evaluation. The NFL provides a completely different situation. Sometimes winners become losers and losers become winners.
The size is a slight issue with Murray as well. Ideally, your franchise quarterback will be somewhere between 6'2 and 6'6 and at least 220 pounds. According to that logic, Murray is just an inch too short and needs to gain 8 pounds before 2014.
Russell Wilson would be a tad short for a quarterback by today's NFL standards, but he still found a way to win a playoff game in 2012. Smaller stature can be easily overcome with good footwork in the pocket and a high release point on throws. He could improve his footwork in the pocket, but as far as his release point goes he is solid.
As far as a possible landing spot next year, Murray would fit well in a vertical passing offense. Kansas City would be a great fit, depending on what happens with Alex Smith this season. Head coach Andy Reid fell in love with the deep passing game in his last few seasons in Philadelphia and Murray would give him a huge arm to play with.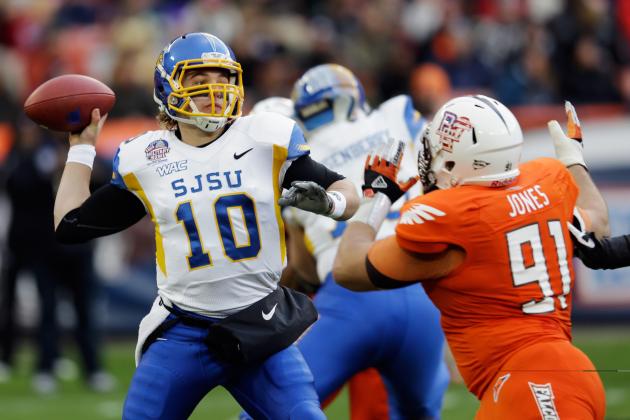 Rob Carr/Getty Images

Ladies and gentlemen, your under the radar quarterback prospect for the 2014 Draft is...David Fales. He plays for a school that nobody watches and doesn't have the highlight tape that Johnny Football has, but he might be the most accurate quarterback in next year's draft class.
When I watch him on tape I think of two quarterbacks in the NFL that also played on the west coach, Aaron Rodgers and Matt Barkley. Both were incredibly accurate coming out of college, but neither had great arm strength. Rodgers has greatly improved his arm strength and I believe the same will happen for Barkley and Fales down the road.
Fales completed over 72 percent of his passes in 2012. When it comes to throws under 20 yards, he is an elite passer. He has great pocket presence, moves well in the pocket and leads his receivers on most of his throws.
I believe if he improves on his arm strength just a little bit this season, just to prove to scouts that he can, he will be a first round pick. The accuracy is too good to pass up on.
Teams that value yards after catch in their passing offense will value Fales very high. San Diego could be an interesting fit. New head coach Mike McCoy has already talked about ditching the vertical passing game from the previous regime. If Phillip Rivers has another miserable season, I would expect McCoy to bring in some capable competition.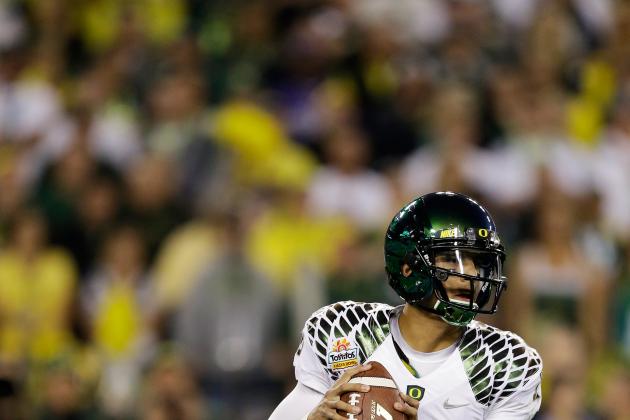 Ezra Shaw/Getty Images

Marcus Mariota is still a bit raw as a redshirt sophomore, but his potential is sky high. He took over Chip Kelly's offense at Oregon last season as a freshman and immediately looked like the complete quarterback Kelly needed to win a National Title at Oregon. Unfortunately a very good Stanford team got in the way of that dream. Still, there is a lot to like about Mariota.
Mariota won't be limited with his arm strength, his athleticism or his size. He is ideal in all three areas. He can come in and run a Read Option type of offense or more of the traditional Pro Style.
The difference between the first year as a full-time starting quarterback to the second year in college is crucial. Does the prospect make great strides in year two or was he satisfied with his game from last season?
I want to see Mariota perform better against more physical defenses like Stanford and I want to see his deep ball improve as well. A running quarterback who throws a beautiful deep ball is a scary thing. Mark that Stanford/Oregon game on the calendar. That game will tell us a lot about the mental makeup of Marcus Mariota.
Personally I'd love to see Mariota go to Cleveland. They have a good collection of bright offensive coaches and a lot of weapons as well. Right now a franchise quarterback is the only thing keeping the Browns from becoming a playoff contender.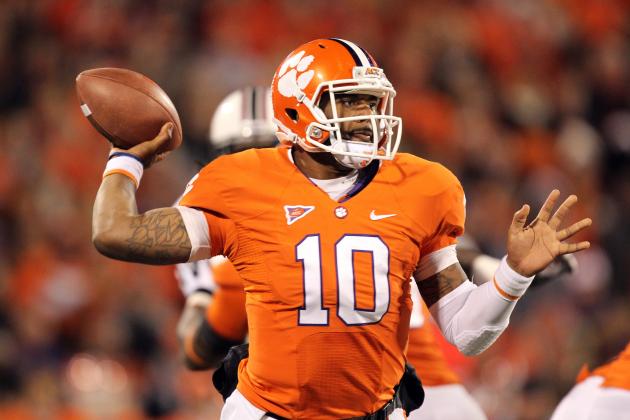 Streeter Lecka/Getty Images

Tajh Boyd is your playmaker quarterback prospect in the 2014 class. Boyd racked up over 4,400 total yards and 46 total touchdowns in 2012 including a big performance against LSU in a Chick-fil-a Bowl victory.
Boyd's main criticism comes from a shorter release point, his height (6'1) and his playmaking mentality. At one point he's making a play that very few quarterbacks can make and another play he's making a foolish pass that lets the other team back into the game.
Playmakers are great in the college game under center, but the NFL is all about smarts and consistency. Michael Vick has never been able to curve his playmaking tendencies and it has prevented him from developing into an elite quarterback. Boyd will have to manage that aspect of his game in order to become a complete quarterback at the next level.
Everything else with Boyd's game is solid. He shines in the big games, he throws a beautiful deep ball and shows great leadership in the huddle. Another big year at Clemson and he should become a solid first round pick in 2014.
The best fit for him and his future NFL team would be Jacksonville. Of course it's Jacksonville. What other offense needs this much of a jolt? The Jaguars have been a bottom five offense consistently. Year in and year out the defense plays okay, but it doesn't really matter because the offense is dormant and the quarterback is to blame. Boyd would fix that. He gives the offense great versatility and is also someone that can rejuvenate a dying fan base.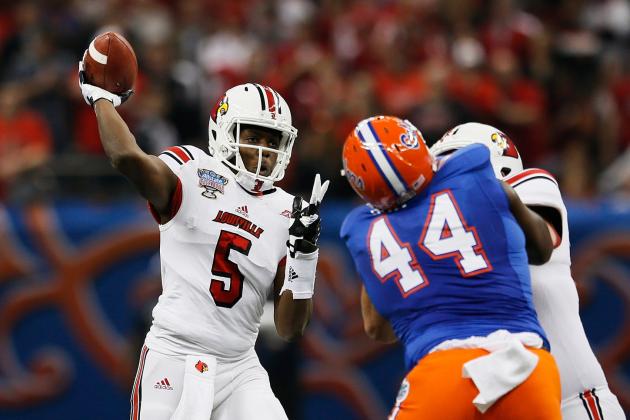 Kevin C. Cox/Getty Images

There is a lot to love about Teddy Bridgewater's game. He is a complete quarterback heading into his Junior season. He has a big arm, makes the proper reads and his mechanics are solid. He also proved in the 2013 Sugar Bowl that he doesn't back down in the big games either, in a victory against a top 5 Florida Gators team.
There isn't a whole lot to prove for Bridgewater because he did it all last season. All he has to do is show some improvements this season and he will be a top two pick in the draft. The fact that he is in the discussion for the number one pick in the 2014 NFL Draft with Jadeveon Clowney is all you really need to know.
Where will Bridgewater land next season? I guess it depends on who has the first and second picks of the draft. The Raiders should end up with one of those picks. Their roster is far too weak to win more than three or four games. Raiders fans should be begging for another bad season. They haven't had a good one in more than a decade, what's one more bad season in an effort to finally get a franchise quarterback?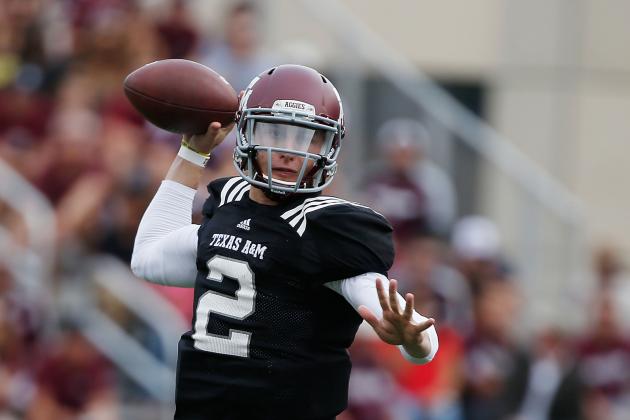 Scott Halleran/Getty Images

Based on the hype Johnny Manziel has been getting over the last year you would think Johnny Football would be the best quarterback in any draft class. The truth is that he is a very flawed quarterback. His arm needs work, his mechanics need adjusting and his size is Micheal Vick-esque.
Manziel is just 6'1, 200 pounds and has just one year of college football under his belt. Heisman Trophy or not, this kid still has a lot to prove. He can't walk the streets without getting mobbed by fans and the media. How will he handle this for a full season? Can he repeat the type of season that he had last year? Does his arm strength improve? Does he get bigger? He has to answer all of these questions before he gets considered as a lock for the first round.
Manziel is a second or third round pick in my mind, but he could greatly improve or hurt that draft stock in the upcoming season. Right now he is a very raw player who is undersized and is more of a playmaker.