Michigan State Basketball: Best-Case Scenarios for Projected Starters in 2014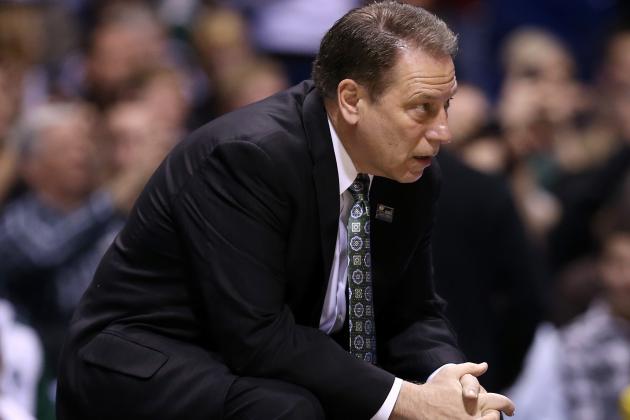 Streeter Lecka/Getty Images
Tom Izzo has enough talent to get creative with starting lineups in 2013-14.
Michigan State Spartans coach Tom Izzo is known for juggling lineups to accentuate his team's strengths.
That being said, Spartans followers should plan to see a few different starting fives during the 2013-14 season.
As of now, Michigan State's starting lineup could look something like this: Adreian Payne (F/C), Branden Dawson (F), Alex Gauna/Matt Costello (F), Gary Harris (SG) and Keith Appling (PG).
Denzel Valentine, Michigan State's top bench contributor from a year ago, may even get a crack at a No. 1 role.
Travis Trice could see meaningful time at the point, and depending on progress, Russell Byrd could catch more than his typical 7.5 minutes per game at shooting guard. While it's doubtful that either will play a role as a "starter", they could be on the floor during tip-off, technically making them a starter by definition.
This slideshow will focus on the best-case scenarios for Harris, Payne, Dawson, Gauna/Costello and Appling and explore the heights that each of them could reach during this upcoming Big Ten basketball gauntlet.
Begin Slideshow

»
First thing's first.
Gary Harris has the most national hype of any Spartans player, so we'll take a look at his possibilities right off the bat.
For Harris, the best-case scenario for 2013-14 would be to win Big Ten Player of the Year honors.
He's already ranked as the nation's top shooting guard by The Sporting News' Mike DeCourcy, so earning top conference props is a definite possibility.
Harris was also tabbed as a potential lottery pick in the 2013 NBA Draft by ESPN's Chad Ford (via MLive.com's Josh Slagter).
Harris has a world of potential. If he leads Michigan State to a deep run in March Madness, leads the team in scoring, and builds upon his phenomenal freshman season, he's sure to fulfill Ford's prophecy of being a lottery pick in the 2014 NBA draft.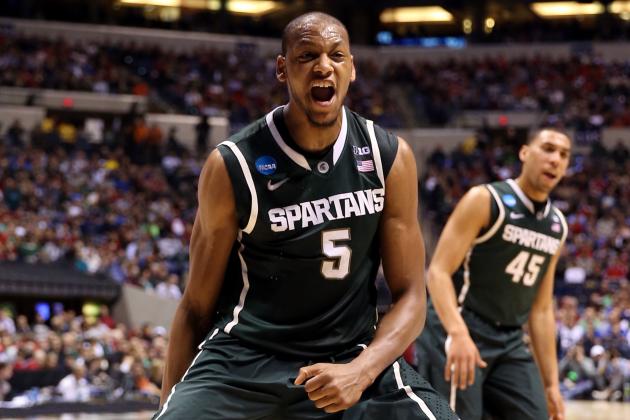 Andy Lyons/Getty Images
Adreian Payne is on the cusp of a stellar senior year.
Gary Harris is a candidate for Big Ten Player of the Year honors, but so is senior Adreian Payne. Payne also weighs in as a potential national player of the year candidate.
Winning both of those personal accolades would be Payne's best-case scenario.
However, there is more to it than that.
Payne entered Michigan State as a 5-star high school star.
The 6'10" forward/center has the ability to put up 20 points and grab at least 10 rebounds per game. He had nine double-doubles as a junior, including two during the NCAA Tournament.
Had he scored an extra basket or grabbed an additional board or two, Payne could have had upwards of 12 or 13 double-double games.
See Payne's game log here via ESPN.
Going out on top as a star-studded senior is the name of the game for Payne. Several Spartans have ended their careers as go-to seniors, and Payne probably won't be any different.
With an extraordinary final year under Izzo, Payne could go down as one of the best big men in school history.
There are, of course, a lot of "ifs"—but that would be the ideal performance for Payne.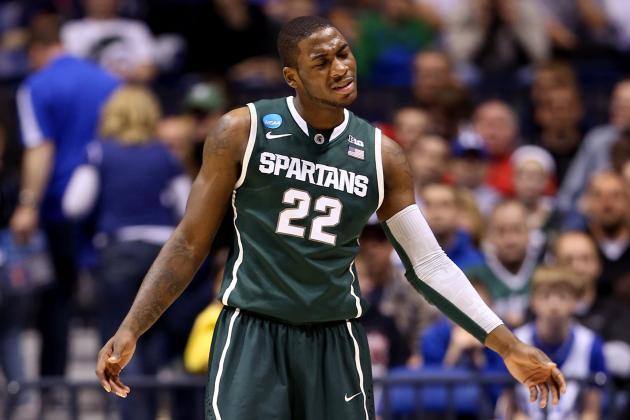 Andy Lyons/Getty Images
Branden Dawson has double-double potential each and every game--but will he reach it?
Most Michigan State followers would probably like to see Branden Dawson stick around for as long as possible.
Dawson was perceived as a two-year guy, but he could be around long enough to see his senior season.
His best-case scenario would be to live up to his potential, shed all doubt of his consistency and end his career with the Spartans after the 2013-14 season.
He has an NBA frame at 6'6" and 220 pounds. However, he lacks an effective jump-shot and disappears for minutes at a time.
Dawson should be judged more on his freshman year than his sophomore year, as he was recovering from a knee injury in 2012-13.
Dawson can rebound and score. The Spartans would be incredibly dangerous if they could count on him for 12 points and 8-10 rebounds a night.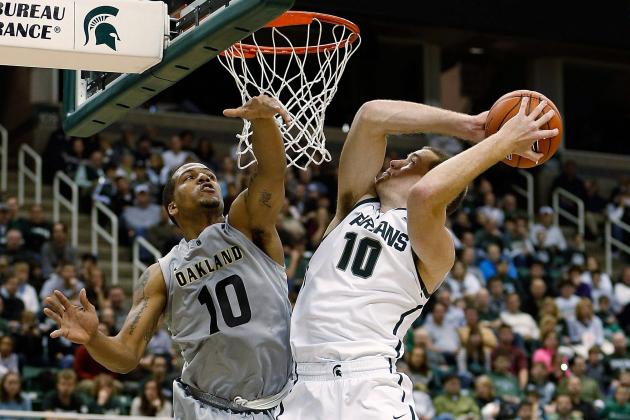 Gregory Shamus/Getty Images
Former Bay City Western standout Matt Costello is on his way to a starting job at Michigan State.
Alex Gauna and Matt Costello each provided muscle for Michigan State during the 2013 NCAA Tournament.
Costello, now a sophomore, is slightly more athletic; he also possesses a bit more of a scoring touch than Gauna, a former Eaton Rapids (Mich.) star.
The best-case scenario for each of them would be to clock in for about 15-20 minutes per game. Tom Izzo may use them as interchangeable pieces. Don't expect either to light up the scoreboard, but do expect them to pick up the slack in the paint.
Without Derrick Nix, Michigan State will certainly need some help cleaning up down low.
Remember the mention of Gary Harris and Adreian Payne having conference player of the year potential?
Well, don't forget about Keith Appling, a speedy point guard with a shooting guard's mentality.
Appling has never really been the ideal 1-guard for Michigan State, but he's done a respectable job after taking over for Kalin Lucas.
The former Detroit Pershing star can score by the bunch. He has a nice passing touch, too.
Appling wasn't Appling this past season; he can take over games, but for some reason he wasn't that take-charge leader that Michigan State needed him to be.
With a new season we can erase last year. This coming season, Appling shouldn't be ignored, nor should his potential for stardom.
As a freshman, he scored nine points in the final 90 seconds of Michigan State's tournament-opening loss to UCLA.
He showed his grit that March day.
He's also proven that he has clutch ability, frequently driving to the basket and drawing fouls in late stages of close contests.
He is the X-factor. Michigan State will go as he goes, despite the power of Gary Harris and Adreian Payne.
Appling's best-case scenario would be this: Play like he played during the final 90 seconds against UCLA—but for the entire season.
That may be a lofty expectation, but he's certainly skilled enough to do so.
Follow Bleacher Report's Michigan State Spartans basketball writer Adam Biggers on Twitter @AdamBiggers81