The Boston Bruins have gained momentum in the 2013 Stanley Cup Final, defeating the Chicago Blackhawks by a score of 2-0 to take a 2-1 series lead. As a result, the Bruins picked up a momentous edge entering Game 4.
As always, there are certain keys to the game that will help decide Game 4—so what will they be?
High Shots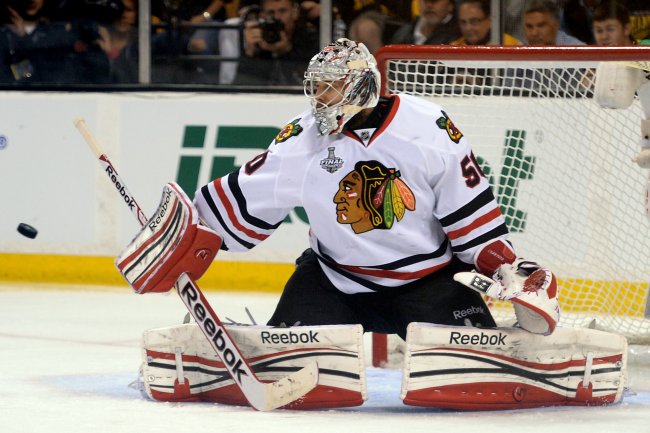 Harry How/Getty Images
Corey Crawford has been magnificent this season, especially in the playoffs, where he ranks in the top five of victories, goals allowed per game and save percentage. Unfortunately, Crawford hasn't been good enough in recent games.
His major issue is stopping high shots.
All 7 Bruins goals vs Corey Crawford have come on high shots - 5 on glove side, 2 on stick side http://t.co/mDQw1BzgcS

— ESPN Stats & Info (@ESPNStatsInfo) June 18, 2013
Boston has realized that weakness and relentlessly attacked.
There's absolutely no reason to believe that the Bruins will ignore this area of weakness and thus move away from targeting the high corners of the net. Instead, they're almost guaranteed to exploit Crawford at every turn.
If the Blackhawks are to stand any chance of achieving victory and evening this series up, Crawford needs to protect the high angles.
Chicago's Power Play
During the 2012-13 NHL regular season, the Chicago Blackhawks were No. 19 in power-play percentage at 16.6 percent. During the 2013 NHL playoffs, the Blackhawks have set a new standard for being unable to cash in on power-play opportunities.
The Blackhawks haven't converted a power play in their past 11 attempts.
Blackhawks: 0-11 on PP in Cup Final......managed 4 shots in 8:11 of PP time in Game 3.

— THE STATS GUY (@TH2NSTATSGUY) June 18, 2013
Dreadful.
Chicago has struggled on the power play all season, but no one expected them to be this bad. In fact, this is one of the worst power-play performances we could have ever imagined.
It doesn't help that Chicago's superstar has been ineffective.
Where is Jonathan Toews?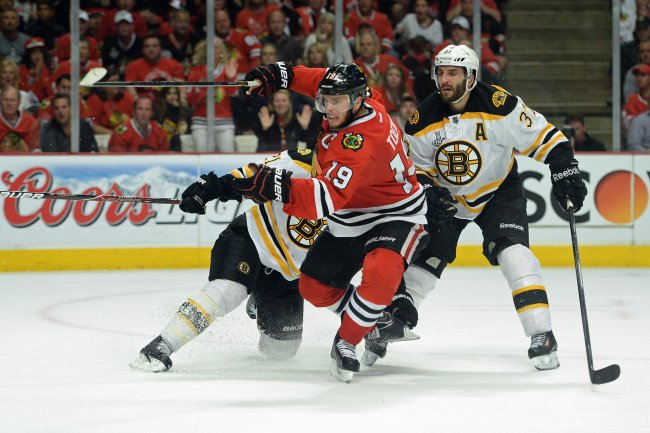 Harry How/Getty Images
Jonathan Toews is one of the best players in the world, pairing elite offensive production with extraordinary defensive play. He finished with 48 points in 47 games during the regular season, registering 23 goals and 25 assists.
He was even presented with a postseason award.
Jonathan Toews wins the Selke Trophy, presented annually to the NHL's top defensive forward. Toews was 3rd in +/- and T-1st in takeaways.

— ESPN Stats & Info (@ESPNStatsInfo) June 14, 2013
How about that?
Unfortunately, Toews simply hasn't produced at the level expected of him during the playoffs. In fact, Toews is putting on the worst postseason performance of his career.
This comes just three seasons removed from the year in which Toews won the Conn Smythe Trophy.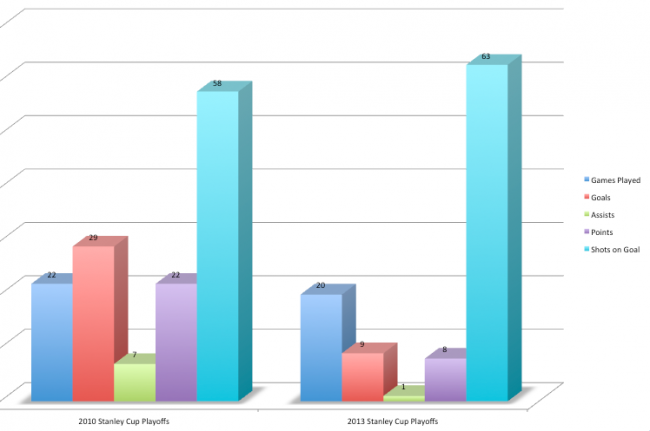 Where has he gone?
If the Blackhawks are to even this series, they'll need their captain to step up and contribute offensively. While Toews truly hasn't played poorly, his lack of production is damaging to Chicago's title dreams.
It's time Toews shows the doubters why he's revered as one of the best in the world.