Tampa Bay Rays vs. Boston Red Sox Live Blog: Instant Reactions and Analysis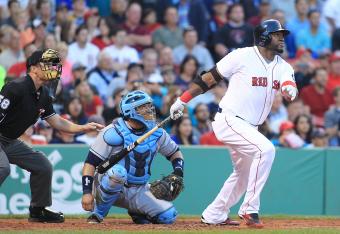 Gail Oskin/Getty Images
After a rain delay of nearly three hours, the Boston Red Sox closed out a 5-1 victory on the Tampa Bay Rays in the first game of a doubleheader.
The Red Sox took a 4-1 lead into the bottom of the fifth inning with the help of David Ortiz's three RBI and Alfredo Aceves solid pitching, but the Boston rain kept coming harder and harder. Finally, the tarps came out before the inning was over.
After the delay, the Red Sox added a run to their lead on a Shane Victorino triple to right field, while the bullpen held strong and held the Rays scoreless.
Later in the evening, the Red Sox beat the Rays again, this time by a score of 3-1.
Boston's lead in the AL East now stands at 2.5 games.
I will be signing now due to a prior engagement. Stay tuned later this evening for a brief recap of the game. Thanks for reading everybody!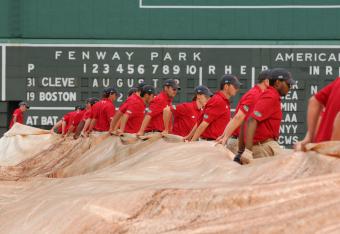 Stay tuned for the live blogging to continue as soon as play on the field resumes. I will be signing off at 4:30 due to a previous engagement, but a brief recap of the game will be up later tonight.
Chris Archer will be done for the day, after 109 pitches. The tarp will come out now, also.
Big Papi singles home Victorino and Pedroia moves to third. Ortiz now has three RBI tonight.
Red Sox up 4-1
Jim Rice with the great advice: "Just because a guy is throwing hard, doesn't mean you should swing extra hard. It's actually the opposite."
The Red Sox fans are adjusting to the rain. Ponchos are coming out everywhere, no sign of dampening spirits however.
Rough first strike call to Ellsbury. Pitch locator didn't have it anywhere near the strike zone.
No, the Rays can't take advantage, as the first half of the fifth is over. "Ace" Aceves is pitching in a matter worthy of his nickname this afternoon.
Escobar knocks one into right-center for the Rays' third hit of the evening. Can the Rays take advantage?
Another strikeout for Chris Archer. How much longer can he keep this suddenly great pitching up?
Chris Archer now has three straight strikeouts. Unfortunately, he still isn't pitching very well at all today.
The heavy wind at Fenway nearly gave Wil Myers his first major-league hit. Luke Scott then grounds out to end the half-inning.
The inning is over, and the Red Sox should be happy with their performance.
End of third inning, Red Sox up 3-1
#Rays Archer has not been sharp, and Ortiz single scores 2 to make it 3-1 #RedSox

— Marc Topkin (@TBTimes_Rays) June 18, 2013
Ortiz probably should have been walked before his RBI single.
Ortiz slams a single up the middle, scoring both Ellsbury and Victorino. Big Papi now has 51 RBI on the season.
Red Sox up, 1-0
Shane Victorino isn't the "Flyin' Hawaiian for nothing." That steal was crazy.
A Victorino single puts Ellsbury on third with no out. I find it tough to believe that the Red Sox won't score at all this inning, with Ellsbury's speed.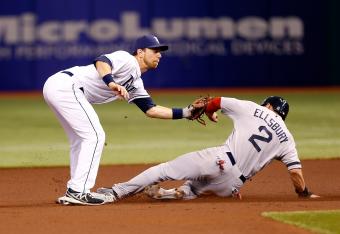 Elisbury leads off with a bloop single to start the bottom of the second. Will he steal second?
A groundout by Longoria will strand Zobrist, though.
Zobrist with the great contact, gets a two-out double. There's some of the power that's been missing this year.
Aceves barely has his feet on the rubber before he pitches. What a guy. Seems like that would throw off his location, but he's been pitching well this inning.
Jim Rice is a really nice guy, but he can't go two minutes without talking about his playing days.
The Red Sox find a way not to score in the second, somehow.
End of second inning, tied 1-1
For his terrible control, Archer has pretty good velocity on his fastball. That last one was 97.
Middlebrooks walks. Archer's been all over the place today.
This article is
What is the duplicate article?
Why is this article offensive?
Where is this article plagiarized from?
Why is this article poorly edited?