Fantasy Baseball: 10 Slow Starters Who Always Have Monster Second-Halves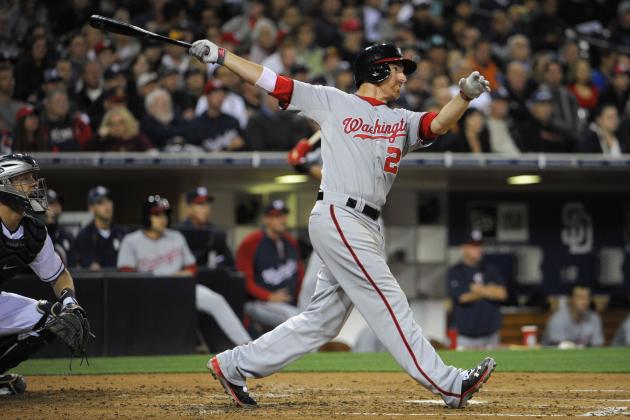 Denis Poroy/Getty Images
Adam LaRoche is a notorious slow starter who picks it up as the year progresses.
It's not about how you start. It's about how you finish.
No fantasy baseball owner wants to exhibit patience while desperately trying to lift his or her team up the standings. Two and a half months can feel like a full season already, but more than half of the marathon remains.
Desolate managers may have given up hope, accepting their bottom-dwelling finishes as an inescapable formality. Stars, at least the ones who haven't hit the disabled list, are listlessly fluttering away, and the panic button is worn out from the beaten it has taken.
Take a deep breath. Relax. There's still time.
'Tis the season for buying low on underachieving performers, and a good way to identify some of those candidates is to highlight players who routinely produce better as the year advances.
You will notice that this list is littered with established veterans. Sure, Kris Medlen morphed into Super Man during the second half of 2012, but we need more of a sample size before chalking that up to anything more than a coincidence.
Time and time again these guys finish the year strong with monster halves. After undesirable starts, almost all of them need a late revival to save face.
Note: All Statistics, unless otherwise noted, courtesy of FanGraphs.com.
Begin Slideshow

»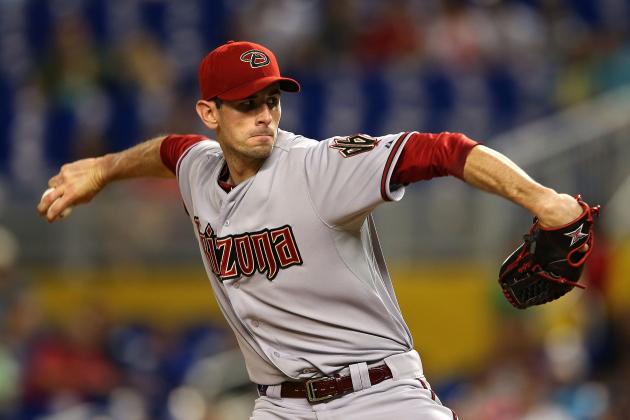 Mike Ehrmann/Getty Images
Brandon McCarthy was gaining steam before landing on the disabled list.
I know, you already gave Brandon McCarthy another chance last month, affording him a second look even though he entered his May 12 start with a 6.75 ERA.
McCarthy had it turned around for a while, allowing one earned run in a span of three outings. Just as he earned owners' trust again, he surrendered six runs to the Texas Rangers before hitting the disabled list with right shoulder inflammation.
Not many held onto McCarthy, abandoning the 29 year old sporting a 5.00 ERA and 1.43 WHIP before getting sidelined. His Yahoo! ownership rate plummeted to 23 percent, but I'm not seriously about to defend an injured pitcher who strikes out less batters than Bartolo Colon, am I?
Well, about that, McCarthy has posted a career 3.62 ERA and 1.21 WHIP after the All-Star break, with a 6.59 K/9 ratio nearly a punchout higher than his 5.68 K/9 rate during the first half.
Since McCarthy left with a 3.75 FIP and .335 BABIP, there's a good chance he can continue the trend of boosting his play after the half-way mark. Keep your eyes peeled for McCarthy's return, which could come before the break.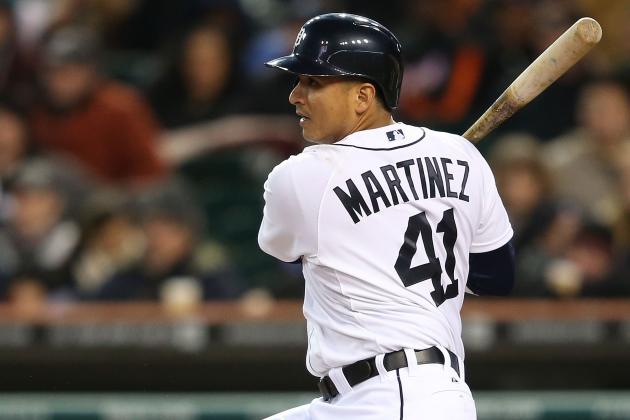 Leon Halip/Getty Images
Victor Martinez's return has not gone according to plan.
Victor Martinez is back and everything is normal. Except for the fact that he's been awful.
Unable to smoothly recover from a torn ACL that cost him all of 2012, Martinez is hitting a putrid .228/.280/.331 with five homers. So much for reaping the benefits of slotting a designated hitter in your catcher spot.
This could be a case of deteriorating skills for a 34-year-old who logged several years behind the plate, but Martinez still might have a little to offer fantasy owners.
Slowly but steadily Martinez has shown a pulse, clocking three homers so far this June with a .421 slugging percentage. As he continues to assimilate into the game, look for his numbers to gradually increase.
Then there's the fact that, even at his best, Martinez usually finished better than he started. In 539 career games after the "meaningful" game that for some reason counts for something, he has hit .316/.386/.487, frequently doing his best work during September.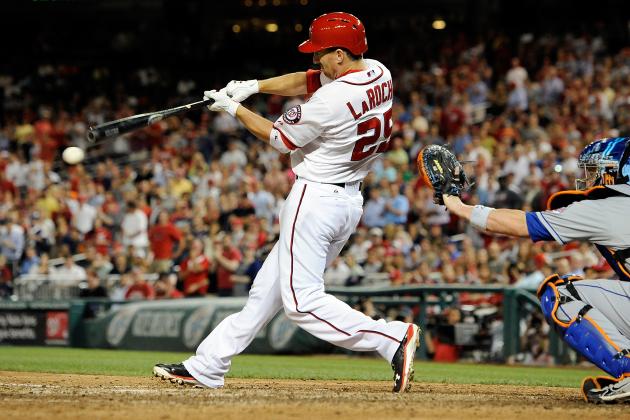 Patrick McDermott/Getty Images
Don't cut Laroche just yet.
By now, anyone who drafts Adam LaRoche should know that they must suffer through a sluggish start before he turns the jets on.
In 733 career games before the All-Star break the 33-year-old is hitting .247/.325/.440 with 104 home runs. Yet we all appreciate the lefty as a sturdy corner infield contributor, which means he must really pick up the pace during the summer.
If he posted his same post-break numbers over the first three months, LaRoche would be a frequent guest at the Midsummer Classic. The first baseman has hit .293/.353/.533 with 103 homers in 520 games after the All-Star cut-off.
Although he began the season colder than usual by hitting .136 in April, he quickly remedied the situation by hitting .330 with seven home runs during May.
His .237 average still will not inspire many, so try to steal him from an impatient owner before it's too late.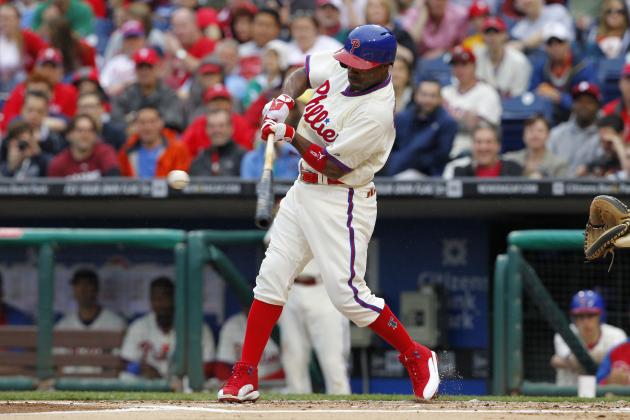 Hunter Martin/Getty Images
There might be hope for Jimmy Rollins to heat up.
Jimmy Rollins has been a giant pile of "bleh" so far.
So he's hitting .262. Whatever, no reasonable drafter ever picked him for his batting average. His four homers and seven steals from the shortstop spot are not exactly killing your squad, but it's sure boring to watch.
It's not what you signed up for when you supposedly acquired a top-10 shortstop to fill the scarce position. This is a guy who provided 23 homers and 30 steals in 2012.
If it's any consolation, Rollins has compiled 13 more round-trippers and two more steals after the break than before despite the 194-game discrepancy. His .277/.338/.456 slash line after mid-July is higher across the board than his .264/.320/.409 averages prior to it.
His owners may not be fed up with the underwhelming middle infielder, but his lackluster numbers may have lured them enough to sleep that they'll part with him at a low cost.
Mike Stobe/Getty Images
C.C. Sabathia only gets stronger into the season.
New Yorkers are quite the over-reactive bunch, which is evident by the annual "Has Mariano Rivera finally lost it?" whirlwind that unravels whenever the best closer of all time blows a single save before June.
So a hazardous situation often unfolds with C.C. Sabathia, who shows signs of aging before erasing those fears later into the year.
The opening and closing months of the season bring about opposing results for the big lefty. April traditionally marks the low point of his year, as his 4.03 ERA represents the worst from any month.
His 2.83 ERA and 1.10 WHIP during September, on the other hand, are both his best marks on the calendar. Overall he is not bad in the first half, registering a career 3.67 ERA and 1.24 WHIP, but his 3.32 ERA and 1.20 WHIP after the fact are a tad better.
This has not been the prettiest start for the 32-year-old, who currently sports a 3.92 ERA and a decreased 7.78 K/9 ratio. Before bailing in anticipation of him following the path of Johan Santana and Roy Halladay, consider that his current 13.1 HR/FB ratio would set a new career worst.
His decreased velocity might strip him of true fantasy ace status, but I wouldn't mind having him as my staff No. 2 to close the 2013 campaign.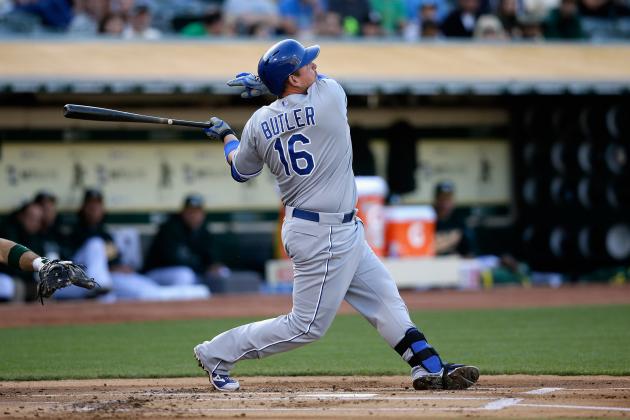 Ezra Shaw/Getty Images
This year has been a colossal letdown for Billy Butler.
Those home runs were fun while they lasted.
After years of watching a "Will they or won't they?" plot unravel between Butler and his home-run totals, the designated hitter finally crushed 29 homers, eight more than his previous high, in 2012.
Instead of observing his career-low 28.8 fly-ball rate and wondering if that crooked number was just a fluke, most drafters assumed that that was now the new norm for Butler. Here he is with five homers through 69 games.
OK, so Butler certainly is not this bad. He averaged 18 homers in the three years prior to his big power boom, and his current .274 average is too low for a career .298 hitter who has actually improved his plate discipline during the young season,
It's going to take a mighty second half to restore his numbers back to the mean, and that's exactly what fantasy gamers should expect. Butler is hitting .289 with a .435 slugging percentage before the break and .309 with a .496 slugging percentage after.
That pattern must, and should, persist for Butler to salvage some usefulness out of the year.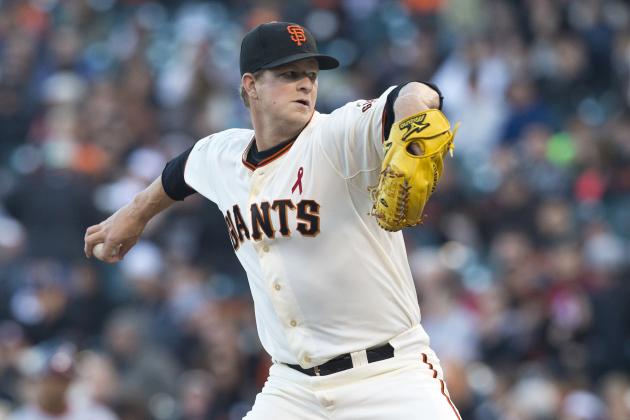 Jason O. Watson/Getty Images
Matt Cain is having a rare off-year.
You could laugh and say these tumultuous times are long overdue for a pitcher who has made a living spitting in sabermetricians' faces. But why would you laugh at another human's misfortune? That's mean.
Matt Cain's ERA has limboed below his FIP for each of the past five years, and let's not even get started on his career 4.17 xFIP. Yet oddly enough, Cain's rough patch has occurred after the two best seasons of his career; he posted a 2.91 FIP in 2011 and upped his strikeout rate to 7.92 K/9 last year.
Now he has a 4.55 ERA despite a 1.13 WHIP and 88 strikeouts through 95 innings, and for once his ERA is higher than his 4.30 FIP (which is still not that great). Given his track record and second-half success, expect the 28-year-old to shift the tides the rest of the way.
During his career, Cain has pitched to a 3.14 ERA and 1.13 WHIP after the All-Star break, with a 3.51 ERA and 1.20 WHIP before the prolonged weekend. Over the past three years he has amassed a 2.85 ERA over the latter portion of this cut-off mark.
Cain's struggles can be explained by an unsuccessful 68.9 percent strand rate and an uncharacteristic inability to avoid the long ball. If those rates revert to their usual levels, Cain should thrive late in 2013.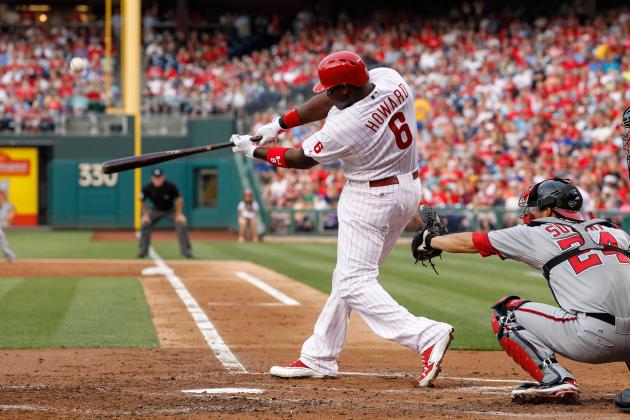 Brian Garfinkel/Getty Images
Could Ryan Howard go on one of his patented late power surges?
Is Ryan Howard aging before our eyes, or is he just biding his time before embarking on a power barrage?
While the slugging first baseman is hitting a solid .276 thanks to a lofty .356 BABIP, he has only mustered eight home runs. That's the same amount as Lyle Overbay, which is not what any drafters wanted from a man who chased the 50-homer plateau during his prime.
But before giving up on the 33-year-old, consider his wont for swinging a scorching bat as the weather heats up. He has mashed 163 of his 308 career homers after the All-Star break with a .281/.382/.581 slash line.
For head-to-head managers, Howard routinely inflicts the most damage when the fantasy title is up for grabs. Howard has slugged .610 in September with 64 homers.
Howard's 37.6 fly-ball percentage matches his career rate exactly and he has already collected 18 doubles, so don't be surprised when he recovers his power stroke to push for 25 blasts by the season's end.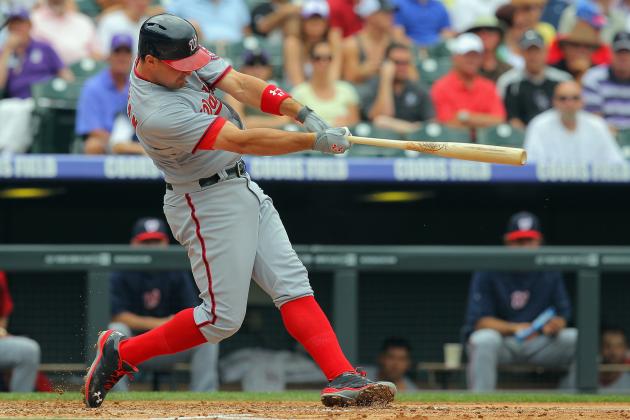 Doug Pensinger/Getty Images
Just wait for Ryan Zimmerman to heat up. It will happen soon.
No wonder why the Washington Nationals offense has sunken so short of everyone's expectations. Two of their top sluggers are the most notorious late-season bloomers in baseball.
Like his teammate across the diamond, Ryan Zimmerman finds another gear as the season hits its dog days. The third baseman is a career .303/.372/.505 hitter after the All-Star break.
Last season perfectly demonstrated Zimmerman's tendency to display a tale of two halves. After entering the middle of July hitting .243 with eight homers, he hit .319 with 17 homers after the break, reminding drafters why they keep coming back for more despite the early slumps and injury concerns.
While 2013 has not progressed as poorly, he can use a surge to uplift his mundane .273 average and eight homers. As long as he stays healthy, there's a good chance that happens.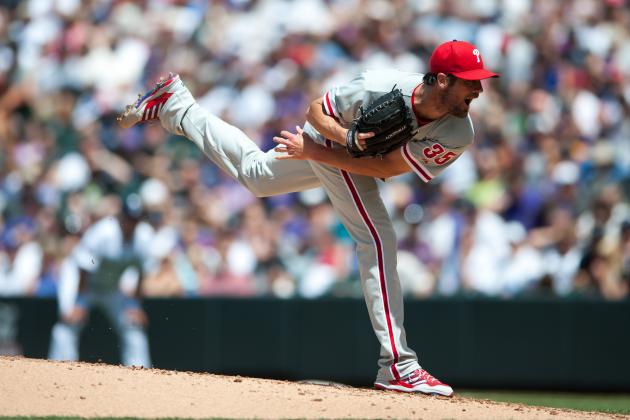 Dustin Bradford/Getty Images
Calm down, Cole Hamels owners. It's going to be fine.
As far as buy-low options goes, this one seems too easy.
Of course Cole Hamels won't finish the season with 20 losses. Of course the sturdy ace with a 2.97 ERA over the previous three seasons won't finish with a 4.40 ERA and 1.27 WHIP.
To escape his own misfortunes, Cliff Lee probably made an arrangement with the baseball devil to transpose his poor luck over to Hamels, who has lost five quality starts and recorded no-decisions in three others.
Although Hamels' 89 strikeouts and 28 walks through 94 innings are slightly worse than usual, both numbers still indicate that his skills have not vanished. A few treacherous starts have blemished his entire slate of outings, but he typically gets his meltdowns out of the way early.
April does not treat Hamels kindly, as he has a career 3.92 ERA and 1.25 WHIP during the opening month. Those April showers eventually beget oustanding summer productivity; he has registered a 3.08 ERA and 1.10 WHIP after the All-Star break while maintaining sub-three ERA's in August and September.
Don't freak out. Hamels is going to be OK.