In a 2013 NBA draft where center is the hot-button position, Maryland sophomore Alex Len has the talent and the potential to wind up being the best among a list that includes Nerlens Noel, Gorgui Dieng, Rudy Gobert and Steven Adams.
It should come as no surprise that the Cleveland Cavaliers—owners of the No. 1 overall pick—are leaning toward making him the selection on June 26.
NOLA.com's Jimmy Smith had the news on Monday that could potentially shake up the entire first round mock drafts that writers such as yours truly have spent months laboring over:
Hearing that C Alex Len, who visited with #Pelicans on Friday, is now the likely choice for #Cavs at No. 1 spot in next week's draft.

— Jimmy Smith (@JimmySmith504) June 17, 2013
Len himself has already made waves by proclaiming to interested parties—including Michael Lee of The Washington Post—that he thinks he will be the best player in this draft 10 years down the line.
Fox Sports' Sam Amico had already been pondering whether or not Len, who wasn't able to participate at the NBA combine because of ankle surgery (h/t ESPN)—could make the climb to the top of the draft board to the Cavs:
NBA Report: Could Maryland C Alex Len rise all the way to top of draft? Also, Sixers, Mavs, Rockets and more. http://t.co/jU2yTdsSm2

— Sam Amico (@SamAmicoFSO) June 13, 2013
Eric Freeman of Yahoo! Sports thinks the move is about staying in position to make a play for Andrew Wiggins in the 2014 NBA draft:
Strong move for Wiggins. RT @basketballtalk: Report: Alex Len 'likely' choice for Cavaliers at No. 1 http://t.co/pXouifq51y

— Eric Freeman (@freemaneric) June 17, 2013
Mock drafts be darned—the NBA draft is about taking a player who makes your franchise better. If the Cavs deem him worthy of the top pick and a spot in their rotation next year, then that's exactly what the franchise should do.
He's certainly got the upside to back it up. If you're new to the NBA draft scene, here's a look at the tale of the tape on Len and the potential factors that have likely led to Smith putting out the report that the Cavs are leaning in his direction.
2013 NBA Draft Profile
Name
Alex Len
School
Maryland
Class
Sophomore
Position
Center
Height/Weight
7'1"/255
Career Stats (per game)
9.7 points, 7.0

reb

, 2.1 blocks
Projection
Top 10 picks
Hailing from Ukraine, Len came to the States in 2011, agreeing to play for head coach Mark Turgeon after being one of the biggest standouts at the 2010 FIBA U-18 European Championship.
During his freshman season (2011-12) there were moments of brilliance, but in 22 games (11 starts) after serving a suspension from the NCAA for his status with a European club team, Len averaged just 6.0 points and 5.4 rebounds with the Terps.
His height and status as a raw player capable of getting better in sophomore season and the promise of being first-round talent made him a player to watch prior to the events of the 2012-13 NCAA season.
Although he did anything but disappoint, Len was spotty at times, and didn't take the next step as a dominant player in each and every game throughout the year with the up-and-down Terps.
He did, however, dominate at times.
Look no further than huge games against Noel (Kentucky) and Duke (Mason Plumlee) to cement the fact that a motivated, healthy Len is capable of taking over a game while also holding his opponent (a key in the NBA these days) to low numbers.
He finished the year at Maryland by nearly doubling his point totals and adding nearly three to his rebound total, and despite the fact that he disappeared at times on offense, there's some blame to be placed around on Maryland's disappointing season in that regard.
One thing Len never relinquished in either of his two seasons was the ability to block shots.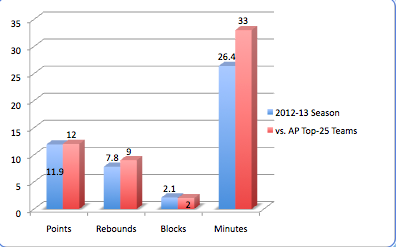 He averaged 2.1 blocks per game over both seasons at Maryland, and that side of his game is bolstered by the fact that he has quick feet and the weight on his bones to bang with big centers at the next level. Shot-blocking shouldn't be an adjustment at the next level, unlike the offense we've seen him flash.
Where would he fit with the Cavs, though?
Cleveland traded for North Carolina center Tyler Zeller in the draft this time last year, and already have Anderson Varejao trying to get back to 100 percent to become the rebounding machine he's been over the last few seasons.
If Len was to go No. 1 overall, there's a good chance a trade could be made to try and find another pick in this draft to work with. Cleveland could also choose to keep all three on the roster, and then let Varejao walk in free agency next summer.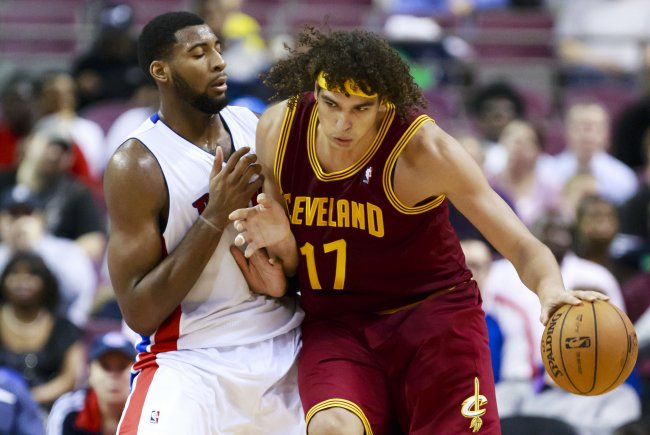 USA TODAY Sports
If he's the No. 1 pick, be assured that there are going to be some bumps along the way.
The ACC Digital Network called Len a sleeping giant back in 2012 when he first burst on the scene for the Terps, and the description is likely still going to apply when he gets to the NBA.
The ability to put big numbers on the board is there, but the consistency isn't yet, and that makes a team like Cleveland a suspect landing spot for a young man who will be a franchise centerpiece at some point in the next three seasons.
What is Len's long-term projection, in your eyes?
However, everything we've seen on film begs the conclusion of long-term success in the NBA. Remember—Len turned 20 on Sunday, and will be out of his teens just long enough to show up in Brooklyn for the 2013 NBA draft.
There's plenty of room to grow with Cleveland, and his status as one of the ACC's best centers was only clouded by the idea that he's still got growing to do in the consistency and intensity department after two years in college.
Then again, rarely do stars enter the league as stars.
Potential is the name of the game these days, and as mentioned above, all that matters on draft night is the brain trust of the Cleveland front office. Smith's tweet could be a smokescreen, sure, but there's enough evidence to suggest Cleveland has done its due diligence of research to make such a claim leak.
Heck, they might not like any of the other players on the board with respect to the talent and mindset it takes to carry around the weight of the No. 1 pick.
Surprises are everywhere on draft night, and while Len's name being called by David Stern would be among them, it would also be a step in the right direction if the franchise truly believes he'll become the best center—and possibly player—in this draft.
Follow B/R Featured Columnist Ethan Grant (@DowntownEG) on Twitter.