How Far Away Are Golden State Warriors From Winning an NBA Title?
Use your ← → (arrow) keys to browse more stories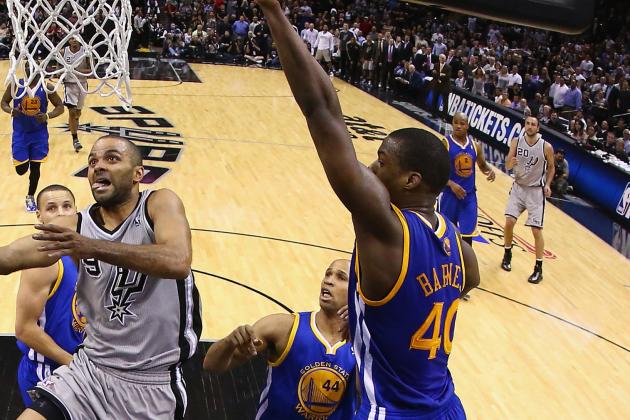 Ronald Martinez/Getty Images

If the San Antonio Spurs win Game 6 of the NBA Finals, they will have gone 16-4 en route to an NBA title.
Two of those losses will have come at the hands of the Miami Heat, and the other two will be credited to the Golden State Warriors.
Pushing the Spurs as far as the Heat do would certainly give the Warriors a valid reason to pat themselves on the back. After all, Miami has thrown huge parties just celebrating the mere existence of its roster and had entire ESPN segments devoted to its individual players.
Even if the Heat defend their home court and beat the Spurs in Game 7, the Warriors can legitimately argue that they were a top-four team this NBA postseason, along with Miami, San Antonio and the Indiana Pacers.
Does that make the Warriors a top four team and serious championship contender heading into next season? Certainly rosters will change, players will improve and decline, injuries will occur, already-injured players will heal and so forth, but these changes are just as likely to improve Golden State's status as they are to hurt it.

Wide-Open West
Take, for example, the five Western Conference teams that finished ahead of Golden State during the regular season.
The Oklahoma City Thunder won 60 games and should have a healthy Russell Westbrook next postseason, but the rest of this group could decline.
The Los Angeles Clippers fired Vinny Del Negro. The Denver Nuggets fired George Karl. The Memphis Grizzlies fired Lionel Hollins. All three men led their clubs to the best season in each respective franchise's history. On top of that, the Clippers could lose Chris Paul and the Nuggets could lose Andre Iguodala, each the best player on his team.
San Antonio will likely be dominant once again, but the Warriors pushed the Spurs to six games, and that included one that Golden State completely blew. With a healthier roster and more experience next year, the Dubs would likely fare better against the Spurs.
The Warriors face questions too, but none as massive as those being posed to the Clippers, Nuggets and Grizzlies.
The Warriors may lose a key bench player, as Jarrett Jack and Carl Landry are both free agents. Backup center Festus Ezeli will miss at least a chunk of—and possibly the bulk of—next season following his recent knee surgery, while Stephen Curry and Andrew Bogut will likely never play 82 games for the remainder of their NBA careers due to bad ankles.
Still, getting 70 or more games from Curry is likely (he played in 78 last season), while Bogut should be able to give the Warriors at least 65 games barring an unforeseen setback.
The concerns are present, as they are for any NBA team. But no core players are free agents, head coach Mark Jackson is still in town and just about every player should get better rather than worse. Remember, Stephen Curry (25 years old), Klay Thompson (23) and Harrison Barnes (21) have invaluable playoff experience that many players their age don't have.
The progress those three could make next season is what truly legitimizes the Warriors' chances of title contention.

High Ceiling With Room to Grow
Curry probably should have been an All-Star in 2012-13, but didn't break out as a true superstar until the season's second half.
After the All-Star break, Curry averaged 26 PPG while shooting 47.6 percent from the field, 46.1 percent from deep and 89.4 percent from the line. It doesn't need to be said, but that's MVP-level efficiency. His averages of 7.4 assists, 1.7 steals and four rebounds per game were nice, also.
Curry took his game up to yet another level once the playoffs rolled around, completely dominating the 57-win Nuggets and carrying his team to a series victory. He then went for 44 points and 11 assists against the Spurs in Game 1 of Round 2, which was arguably the best playoff performance of this NBA postseason.
If Curry really is the guy he's been since February, the Warriors could push 60 wins next season.
That is, of course, if Thompson and Barnes also continue their development.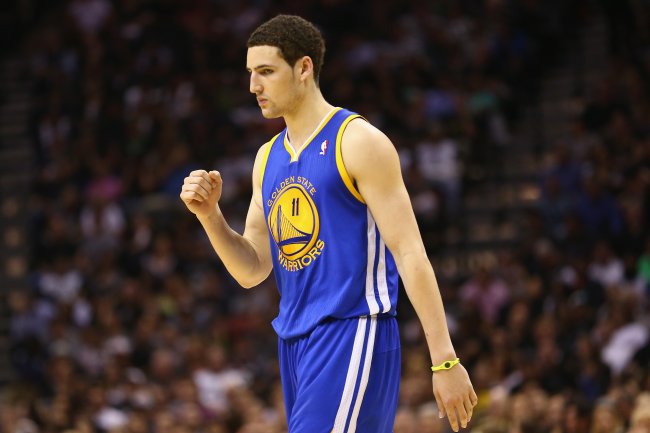 Ronald Martinez/Getty Images
Thompson is already known as one of the NBA's greatest shooters, but the fact is that the Warriors wing is on the cusp of becoming one of the league's greatest all-around shooting guards.
Thompson is the best perimeter defender the Warriors have and proved late in the season and into the postseason that he's one of the better long perimeter defenders in the league. His high-post game is also fast nearing an elite level, and if he can continue to grow as a finisher and playmaker, he could be a top-5 SG by next season.
Then there's Barnes, who is the least developed of the three. That also means that his room to grow is the largest.
Neither Brandon Rush's injury during the second game of the season nor David Lee's injury during the first game of the playoffs helped the Warriors, but both injuries helped Barnes.
The Warriors rookie got ample playing time all season without Rush—a better player than Barnes coming in—fighting for minutes at SF. Although he didn't take the league by storm, Barnes did establish himself as a dangerous slasher, great finisher and solid perimeter defender.
In the postseason, Lee's injury gave Barnes not only more playing time but also a larger role in the offense. The 16.1 PPG and 6.4 RPG he averaged in the playoffs is off the charts for a rookie.
Barnes shouldn't need any more injuries in order to be a focal point of the offense next season, and he appears primed to break out.

But...Will They?
Optimism should be high in 2013-14 for the Warriors. The club's 2013 playoff showing, the uncertainty amongst the teams that finished ahead of them during the regular season and the potential growth of its core mean that Golden State should be viewed as a title contender.
However, contending for a title and actually winning one are two very, very different things.
The Thunder have contended for a title for the past few seasons, but have only one finals win to show for it.
The Dallas Mavericks were championship contenders for over a decade before actually winning a ring.
Just because the Warriors franchise appears to be trending upwards doesn't mean that a deeper playoff run will ensue.
Had Danilo Gallinari been healthy, the Nuggets may have knocked the Warriors out in Round 1. Had Stephen Curry missed just a few more games (we established earlier that 78 was a high number), the Warriors would have likely missed the playoffs altogether.
There are so many reasons for optimism heading into next season, but so much had to go right for those reasons to come into being.
What is the minimum result that will constitute calling 2013-14 a success for Golden State?
The Warriors won't sneak up on anyone next year, as they did early on in 2012-13. Gregg Popovich has given the league a blueprint on how to slow Curry and Thompson, and the two youngsters will have to adjust. Assistant coach Mike Malone is gone, leaving the team without its main X's and O's guy on defense.
The Warriors' future could certainly hold an NBA title, but they have yet to deal with any of the challenges that come with being a contender.
If the Warriors end up again making the playoffs and losing in a hard-fought second-round series, it will appear on the surface to be a lateral move.
In reality, that outcome would indicate a sweeping success in chapter two of "Golden State As a Winning Team."