Tahiti and Nigeria were the final two teams yet to play a match in 2013 FIFA Confederations Cup action until Monday, when the Minnows and the Super Eagles squared off in Brazil with a shot at the golden trophy on the line.
Nigeria jumped out early against the overmatched Tahiti side and never looked back, scoring six goals and missing several other chances to turn a 6-1 final into a final that would have looked more like a high-scoring baseball game than a soccer match.
SuperSport Blitz had the final on Twitter:
#confeds - Nnamdi Oduamadi scored a hat-trick as Nigeria beat Tahiti 6 – 1 in their opening match of the tournament. #SSFootball

— SuperSport Blitz (@SuperSportBlitz) June 17, 2013
Elderson got the Super Eagles on the board just five minutes into the match, scoring off a ricochet and giving his side the 1-0 lead. 101 Great Goals had the tweet:
1-0! Uwa Echiejile (Nigeria) v Tahiti http://t.co/8qdHFT8XfY

— 101 Great Goals (@101greatgoals) June 17, 2013
Although it was exactly the start Nigeria needed in a match of this nature, it certainly wasn't the skillful side of the game that was giving the Super Eagles the advantage.
Soccer Guy noted as much on Twitter:
Celebrating a hand felonied goalshot vs Tahiti Soccer Club is like kicking a kid in the face and boasting that you won a fight. #realbad

— Soccer Guy (@usasoccerguy) June 17, 2013
Nigeria didn't stop there, as star striker Nnamdi Oduamadi got the first of his three goals just five minutes later. The Super Eagles took a 2-0 lead just 10 minutes into the match, and Tahiti was on pace to give up 18 goals at that point—one every five minutes.
101 Great Goals also had video of Nigeria's second goal of the afternoon:
Good luck pronouncing it... 2-0! Nnamdi Oduamadi (Nigeria) v Tahiti http://t.co/pR86Nv1dOd

— 101 Great Goals (@101greatgoals) June 17, 2013
The scoring slowed down from there, but ESPN's Mark Jones had already had enough. Heck, he's had enough of anyone not named Spain in the field:
Nigeria opening up a can of whoop on Tahiti in Confederations Cup. 2-0 after just 10 min.Spain will win.Everybody else is playing for 2nd.

— MarkJonesESPN (@MarkJonesESPN) June 17, 2013
Oduamadi would strike again in the 26th minute, when he found the back of the net after an error from Tahiti goalkeeper Xavier Samin paved the way to a 3-0 start. Despite the opponent's gaffe, Oduamadi had no problem celebrating his brace (via ESPN FC):
PICTURE: Nigeria goalscorer Nnamdi Oduamadi celebrates his second strike against Tahiti pic.twitter.com/IvE4pjyVtY

— ESPN FC (@ESPNFC) June 17, 2013
At that point, the rout was officially on. BBC Sport, for one, was taking odds on whether or not the Super Eagles would break the five-goal mark by the end of the afternoon:
FOOTBALL: Nigeria have gone 3-0 up against Tahiti in just 25 minutes. Will they score 5+ goals? Vote here: http://t.co/X8MKBw93Qz #Confeds

— BBC Sport (@BBCSport) June 17, 2013
Nigeria wouldn't score again in the first half, and Tahiti took that time to mount a slight shift in the possession area of the game. Let's be clear—the Minnows struggled to get anything going, but their attack style lends itself to the idea that a few goals are going to be scored in the tournament if the opposing side relaxes.
That's exactly what happened in the second half.
Jonathan Tehau did what seemed like the impossible—he scored a goal against Nigeria after 54 minutes of futility from his inexperienced squad. A corner kick and a poorly positioned Vincent Enyeama led to the goal, and a 3-1 deficit for the Minnows.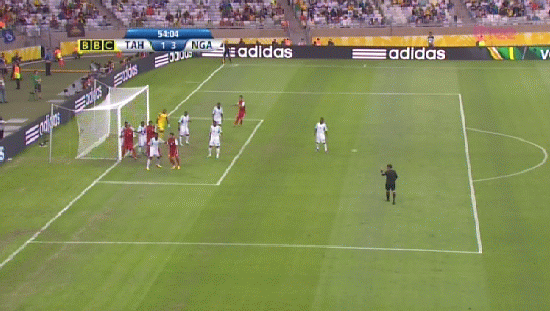 It would be the only goal Tahiti scored on the afternoon, but it certainly was a low spot for the Super Eagles and one that sparked the Minnows to celebration.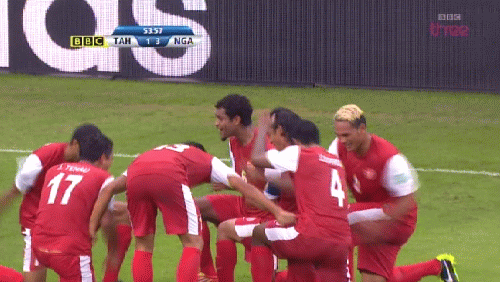 Some (101 Great Goals) had dreams of a comeback:
Goal Tahiti!!!!!! The comeback is on!!!

— 101 Great Goals (@101greatgoals) June 17, 2013
But the comeback was not to be, as Nigeria scored three more goals in the final 35 minutes to turn a close match into a blowout in Brazil on Monday afternoon. One was an own-goal from Tehau, but the other two belonged to Elderson and Oduamadi, who added their second and third goals of the afternoon, respectively.
101 Great Goals had the highlight of Oduamadi's hat-trick goal as the match wound down in the 76th minute.
5-1! Nnadmdi Oduamadi (Nigeria) (3) v Tahiti: http://t.co/dSnsgWnaqA

— 101 Great Goals (@101greatgoals) June 17, 2013
Nigeria has nothing to celebrate other than the win on Monday, as Spain and Uruguay are both looming in group play the rest of the way. Although the Super Eagles took home the big win, things aren't going to get any easier the rest of the way.
Who was the man of the match?
As for Tahiti, who mustered up a solid 10 shots and 78 percent pass success rate (via WhoScored.com), things aren't going to get any easier, either. The Minnows have a long row to hoe, but that's what happens when you play in a major tournament for the first time ever.
Let's take a look at some grades and what's next in the Confederations Cup below.
Full Grades
TAHITI
NIGERIA
Player
Grade
Player
Grade
Xavier

Samin

F
Vincent

Enyeama

C+
Vincent Simon (off 77')
C-

Efe

Ambrose
B+

Teheivarii

Ludivion

D
Kenneth

Omeruo

(on 74')
C+
Nicolas

Vallar

(off 54')
C
Godfrey

Oboabona

B-
Jonathan

Tehau

C+

Elderson

A++
Ricky

Aitamai

C-
Sunday

Mba

(off 55')
C

Steevy

Chong

Hue
C
John Obi Mikel
B+
Henri

Caroine

C

Fegor

Ogude

B+

Heimano

Bourebare

C
Ahmed

Musa

A

Marama

Vahirua

(off 68')
B
Anthony

Ujah

(off 52')
B
Alvin

Tehau

C
Nnamdi

Oduamadi

A+++
Substitutes
Substitutes

Stephane

Faatiarau

(on 54')
B-

Ideye

Brown (on 52')
B
Stanley

Atani

(on 68')
C+
John

Ogu

(on 55')
B

Edson

Lemaire (on 77')
C

Azubuike

Egwuekwe

(on 74')
C+
Nnamdi Oduamadi: A+++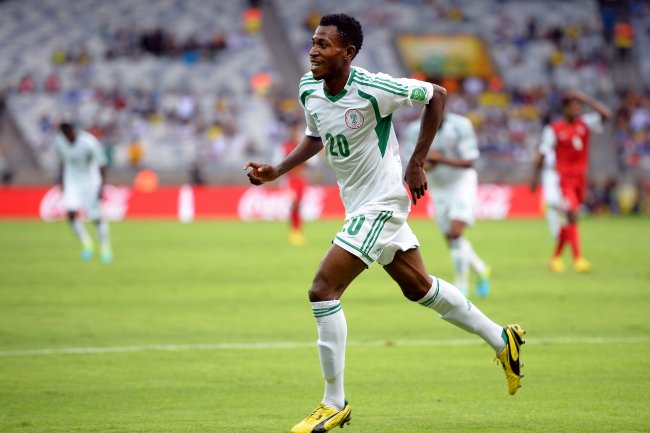 Laurence Griffiths/Getty Images
Any time you get a hat trick in an international tournament like this, it's something to celebrate.
Oduamadi gets three pluses on his "A"—one for each of his goals in the blowout win—and should be happy with his efforts for the Super Eagles in a match that could help decide which team moves on to the semifinal round (goal differential) when it's all said and done in Group B.
Tahiti was clearly overmatched in this one and, even though there were some breaks that went Nigeria's way, a hat trick is special and should be recognized accordingly—no matter the opponent.
With Uruguay on the horizon, Oduamadi needs to continue his strong play and evolve his game to take on a tougher opponent his next match out.
Jonathan Tehau: C+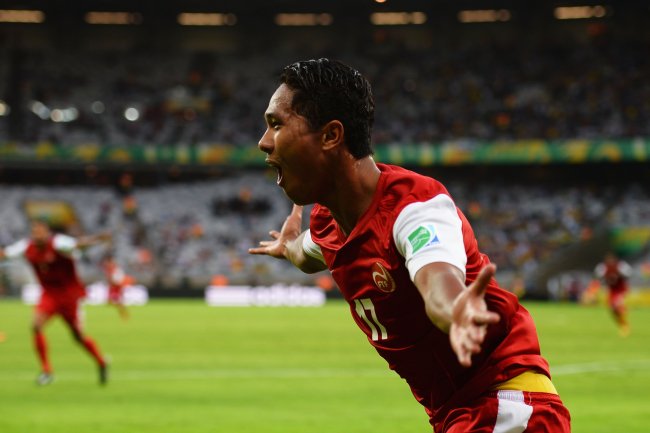 Laurence Griffiths/Getty Images
Tehau got the only Tahiti goal of the afternoon, but his own goal to give Nigeria a 4-1 lead ended any idea of a storybook comeback on Monday afternoon.
He'll avoid a lower score after his epic goal—soon to be in Tahiti highlight films everywhere—but doesn't avoid the wrath of a "C" after ending the chance of a move to be made about the Minnows and the 2013 Confederations Cup.
What's Next?
Upcoming Schedule (via FIFA.com)
Wednesday, June 19: Brazil vs. Mexico (Group A)
Wednesday, June 19: Italy vs. Japan (Group A)
Thursday, June 20: Spain vs. Tahiti (Group B)
Thursday, June 20: Nigeria vs. Uruguay (Group B)
Group Standings (via FIFA.com)
GROUP A
GROUP B
Team
W
L
D
GD
Points
Team
W
L
D
GD
Points
Brazil
1
0
0
+3
3
Nigeria
1
0
0
+5
3
Italy
1
0
0
+1
3
Spain
1
0
0
+1
3
Mexico
0
1
0
-1
0
Uruguay
0
1
0
-1
0
Japan
0
1
0
-3
0
Tahiti
0
1
0
-5
0
Follow Bleacher Report FC Ethan Grant (@DowntownEG) on Twitter.