In the only match on Day 3 of the Confederations Cup, Nigeria had an easy time defeating Tahiti by a score of 6-1.
All eight teams in the tournament have now played one match, and the best sides are already starting to separate themselves from the pack.
Here is a look at the standings in each group after three days of action.
Group A
| | | |
| --- | --- | --- |
| Team | Pts | GD |
| Brazil | 3 | 3 |
| Italy | 3 | 1 |
| Mexico | 0 | -1 |
| Japan | 0 | -3 |
Group B
| | | |
| --- | --- | --- |
| Team | Pts | GD |
| Nigeria | 3 | 5 |
| Spain | 3 | 1 |
| Uruguay | 0 | -1 |
| Tahiti | 0 | -5 |
As for Monday's match, Nigeria dominated the contest thanks to a hat trick by Nnamdi Oduamadi and a general advantage in experience and skill.
In reality, it was pretty much over before it ever started. Tahiti qualified by winning the Oceania qualifier, although the squad is seriously overmatched in this event.
Even coach Eddy Etaeta had to explain that his roster was not exactly the best in the field during his press conference, via FIFA.com:
Of the 23 players we have, we have nine players who don't work, who are practically unemployed. Some are delivery men, some are PE teachers, one works in accounting, and I also have a player who is a sports coach...We won't have the same weapons, technically, tactically, and physically, but tomorrow, we'll certainly have the heart and that's our weapon - our heart and spirit.
Unsurprisingly, there were not too many people giving them a good chance to win. ESPN Stats & Info broke down the squad's likelihood of coming away with a win:
Tahiti, which won the OFC Nations Cup in 2012, has a 1.1 percent chance of beating Nigeria according to ESPN's Soccer Power Index (SPI)

— ESPN Stats & Info (@ESPNStatsInfo) June 17, 2013
Still, the underdogs were gaining quite a few fans at the start of the match, including whoever is running the FOX Soccer Trax Twitter account:
Now, candidly, I'm just hoping this game isn't 10-0. I'd like to see our plucky pals from Tahiti make a good game of it.

— FOX Soccer Trax (@FOXSoccerTrax) June 17, 2013
This hope of success did not last long, as Nigeria was able to score two goals in the first 10 minutes, the first of which hit off two defenders before going in.
The squad later added a third in the 26th minute, much to the dismay of Tahiti fans, such as ESPN's Roger Bennett:
This is like having to watch while Nigeria beat up both the Tooth Fairy and Santa Claus #tahiti

— roger bennett (@rogbennett) June 17, 2013
The young squad was finally able to get on the scoreboard in the second half, though, as Jonathan Tehau was able to head the ball into the net off a cross.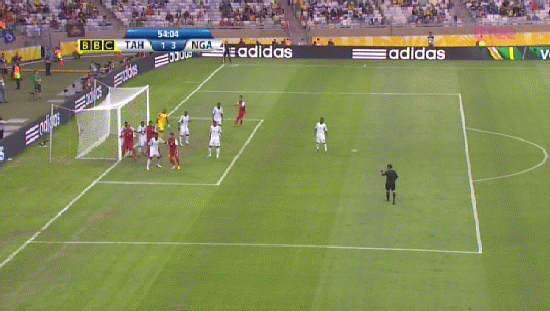 This is certain to be a moment that no one on the roster or watching from back home will forget for a long time.
Still, Nigeria was clearly the better team in this matchup and tacked on three late goals to make it an easy victory.
The group did not always play well in the match, though, and will need to do better in the coming matches, as noted by Graham Ruthven of The New York Times:
Nigeria really aren't taking this very seriously. Poor marking, slack passing, atrocious finishing.

— Graham Ruthven (@grahamruthven) June 17, 2013
However, the effort was more than enough for the necessary three points as the African squad remains in contention to advance to the next stage of the Confederations Cup.
What's Next?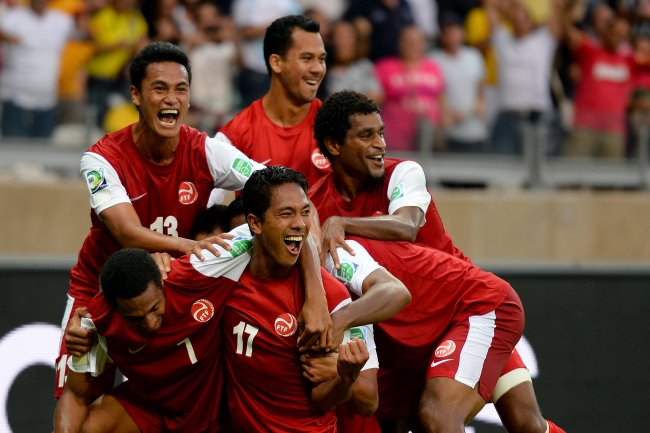 Laurence Griffiths/Getty Images
Nigeria will hope to continue its solid play against Uruguay on Thursday. This will follow a matchup between Tahiti and Spain that could get ugly in a hurry.
As for the rest of the Confederations Cup, Brazil will resume play on Wednesday against Mexico, while Italy takes on Japan in Group A.
*For a complete look at the 2013 Confederations Cup Schedule, click here (via FIFA.com).
Follow Rob Goldberg on Twitter for the latest updates in sports.