If the current trend for the 2013 NBA Finals holds true, the Miami Heat will win Game 6 to tie up their series with the San Antonio Spurs at three games apiece.
After the Spurs stole Game 1 in Miami, the two teams have traded alternating wins, and the Heat must keep the trend alive to keep alive their hopes of repeating as NBA champions.
Unfortunately for Miami, San Antonio has a couple other trends of its own that suggest the Spurs will win the series' penultimate game on the road to finish off the Heat, as noted by ESPN Stats & Info:
Spurs lead NBA Finals 3-2 with games 6-7 on the road. Since 2002-03, Spurs are NBA-best 14-2 in potential series-clinching games on the road

— ESPN Stats & Info (@ESPNStatsInfo) June 17, 2013
Spurs: have not lost consecutive games with Duncan-Parker-Ginobili all in lineup since Dec. 12-13, 2012.

— ESPN Stats & Info (@ESPNStatsInfo) June 17, 2013
Should Miami win Game 6 and force Game 7, you can throw trends out the window, as anything could happen.
Which team will win Game 6?
Needless to say, each team will play with an unparalleled sense of urgency and pride.
LeBron James and the Heat want to defend their title, and losing Game 6 would be a crushing blow after the phenomenal season this team put together.
Tim Duncan may not get another chance to win a title before he retires, and you know his teammates will be playing their hearts out to make sure he gets his fifth ring.
Here is the biggest key for each club as it attempts to win this pivotal upcoming contest on Tuesday night in Miami.
Miami Heat: Point-Guard Play Must Improve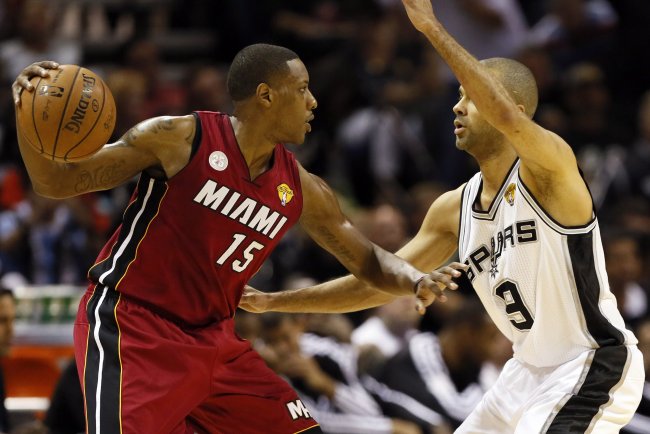 Soobum Im-USA TODAY Sports
Tony Parker and Gary Neal have been outplaying Mario Chalmers and Norris Cole throughout this series.
Chalmers had a big game for the Heat in Game 2, sparking the team's blowout win at home with 19 points. Since then, however, Chalmers has been nearly invisible, scoring just 13 points on 4-of-19 shooting in the past three games.
At one point in Game 6, Numbers Never Lie (not a satirical account) noted that Chalmers had missed more shots than the entire Spurs starting lineup:
Mario Chalmers has missed as many shots as the ENTIRE Spurs line up.

— Numbers Never Lie (@ESPN_Numbers) June 17, 2013
Cole was more of a help to San Antonio than he was to the Heat in the team's pivotal Game 5. The Heat went minus 14 in the mere seven minutes he was on the floor. Head coach Erik Spoelstra put him in the game to guard Parker at one point, but it didn't take him long to pull Cole out for good.
After the game, Spoelstra was furious with his defense, via Gregg Doyel of CBSSports.com: "They were just picking one guy out at a time and going mano y mano. Basically everybody on their team was taking turns off the dribble, getting by us and breaking down our defense."
You know it's bad when Spoelstra opts to go with Mike Miller rather than put one of his two point guards on the floor, which is what happened in the first half. Miller sparked a nice run in which the Heat outscored the Spurs 26-17.
Miami plays best when Chalmers is playing well, however. Relying on Miller isn't a good long-term plan, as he's a one-trick pony who can get cold from behind the arc.
If Miami has any chance of winning Game 6 and forcing a do-or-die Game 7, both Chalmers and Cole must step up and play better.
San Antonio Spurs: Take Care of the Ball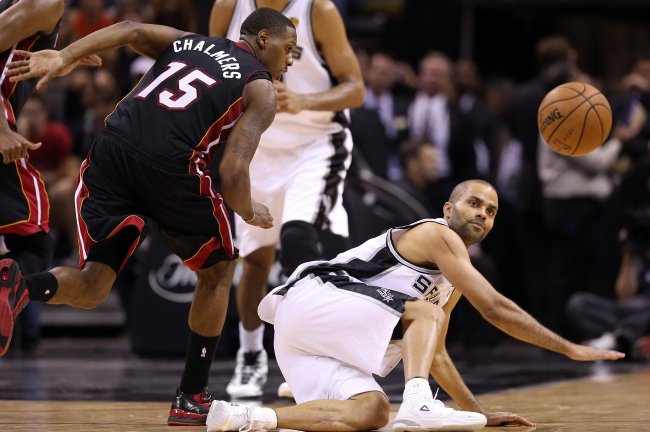 Christian Petersen/Getty Images
San Antonio was lucky Game 5 was played at home, because if the Spurs had turned the ball over 18 times in Miami, the game would have turned out quite a bit differently. As SI.com's Chris Mannix pointed out, the Spurs were red hot from the field at home in the first half of Game 5:
Spurs countering eight turnovers by shooting 61.8% from the field. Miami shooting just 42.2%

— Chris Mannix (@ChrisMannixSI) June 17, 2013
The biggest story of Game 2 back in Miami was the fact that the Spurs turned the ball over 16 times compared to the stellar four-turnover performance the team put together in Game 1.
Even with just four turnovers in the first game of the series, Miami nearly won the game. Game 2 was a complete blowout, as Miami used fast breaks and hot shooting to take advantage of the turnovers.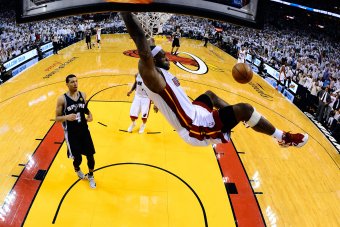 Pool/Getty Images
Should the Spurs continue to be careless with the ball, Miami will likely win in blowout fashion once again. The crowd at AmericanAirlines Arena will be ready to explode, and once the Heat start piling up points, the avalanche is usually difficult to survive.
If the Spurs can keep turnovers to a minimum (nine or fewer), San Antonio has an excellent chance to win the title in Game 6.
Follow me on Twitter @JesseReed78