NFL Comparisons for Top ATH Recruits in Class of 2014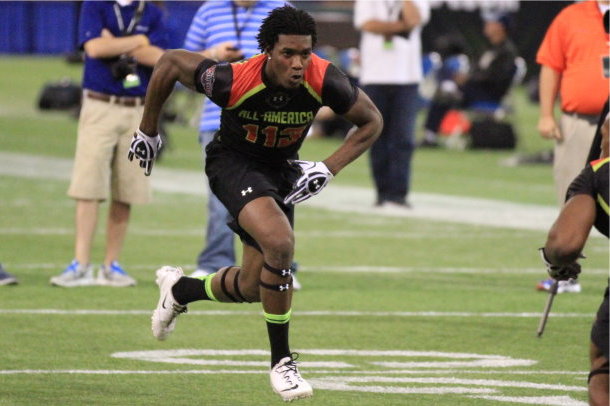 247Sports
Recruits who are labeled "athlete" and receive the "ATH" tag are players who project to be successful at several positions. These recruits are a versatile players who can not yet be confined to one position. Some say the "ATH" label is gift, while others feel it is a curse.
Looking at the top recruits who are listed as athletes by 247Sports, it is tough to compare them to an NFL player. However, after carefully examining their skills, comparisons have been made.
An athlete who is committed to Michigan could be a better version of Arizona Cardinals cornerback Patrick Peterson. A Notre Dame commitment resembles San Francisco 49ers running back Frank Gore and a recruit in California could be the next Percy Harvin of the Seattle Seahawks.
Player evaluations are based on review of tape at Scout.com, Rivals, 247Sports & ESPNU.

Begin Slideshow

»
Henry, who could decide between Penn State and Pitt, is a defensive back best suited to play zone coverage. He has outstanding awareness and ball skills. He plays at his best when he can roam around on the back end and jump passing lanes.
Henry, who is 5'11" and 185 pounds, has the skills of a classic free safety. He could get consideration as a running back or cornerback, but his best spot is defending the seams. With his range, instincts in zone coverage and ball skills, he is a similar player to Rahim Moore of the Denver Broncos.
Kamara, who is expected to commit to Virginia, is an interesting prospect to study. He spends most of his time playing receiver, yet Kamara could also play running back, linebacker or safety at the next level.
Kamara, who is 6'2" and 211 pounds, will get an initial look as a receiver in college. He lacks explosion and long speed, but has more than adequate quickness.
Kamara has a large strike zone and soft hands, which is why he is comfortable plucking balls out of the air with his mitts. He has good strength as a runner after the catch and is a player you want on your team.
Austin Pettis, who is a receiver for the St. Louis Rams, is a player in the NFL who resembles Kamara.
Lazard, who is committed to Iowa State, has outstanding size for receiver at 6'5". He weighs 202 pounds and may develop into a tight end.
Lazard does not possess impressive release quickness or speed, but he has great hands and knows how to find holes in coverages. He flashes the ability to track passes and adjust his body to stay in perfect position to make the catch.
Lazard has some power as a runner and understands his size can intimidate defensive backs when he has the ball. He compares to Ramses Barden of the New York Giants.
Starks, who left Bishop Gorman in Las Vegas, has enrolled at Cherry Creek High School in Colorado. He is a player who can play running back, safety or linebacker.
Starks, who is 5'11" and 200 pounds, will start his college career as a running back. He has a downhill, no-nonsense running style that is based on power, strength and force. Starks is not going to elude many defenders and his hips appear to be tight, but he displays good straight-line speed.
A strong runner, Starks runs much like Maurice Jones-Drew of the Jacksonville Jaguars.
Baker, who could end up at Oregon, is one of the most exciting players out West. Safety is a position the Washington prospect could play in college, but he is too dangerous with the ball to not get a look on offense.
Baker, who is 5'10" and 175 pounds, has terrific play speed. He can play running back or receiver and shows great quickness, instincts, vision and elusiveness with the ball. Baker also is a dynamic returner on special teams.
Baker, who could indeed become a full-time offensive player in college, compares to Dexter McCluster of the Kansas City Chiefs.
Hood, who is committed to Notre Dame, is a running back at heart and it would be a crime if he were moved to another position. Some may see him as a linebacker, but the North Carolina prospect rushed for more than 3,300 yards and 48 TDs as a junior.
Hood, who is 5'11.5" and 222 pounds, is a tank with the football in his hands. He slams through holes with force and quickness, showing good build-up speed to race past the second level of the defense.
Hood is not going to elude many defenders because he hands out punishment for them attempting to tackle him. He shows deceptive foot quickness and is one of the top power backs in the country.
Hood is a cross between Rashard Mendenhall of the Arizona Cardinals and Frank Gore of the San Francisco 49ers.
Quick, who could sign with Oklahoma or USC, could become a great defensive back. He has good transition quickness, athleticism and his cover skills are impressive.
However, offenses is where his heart is and for good reason. Quick, who is 6'0" and 170 pounds, is a dynamic scoring weapon who can be used in a variety of ways.
A creative offensive coordinator could align Quick in the backfield to get him matched up with a linebacker, motion him out in the slot and let him exploit the defense as a receiver. Or, Quick can simply stay in the backfield and be used a perimeter-oriented running back.
Quick has great elusiveness with the ball and can explode upfield when he sees daylight, displaying excellent speed. His versatility on offense warrants a comparison to Seattle Seahawks receiver Percy Harvin.
Smith, who plays for powerhouse Long Beach Poly High School, will be an interesting prospect to follow. He loves playing receiver, but he understands that his future may be even brighter as a safety.
Smith, who is 6'1" and 200 pounds, has explosive play speed and is a natural athlete. He displays great ball skills at either position and also has good strength for a skill player.
As a receiver, Smith can launch off the line and explode upfield, separate from a defender with quickness out of his cuts, snatch the football and make a big play with his speed.
As a safety, Smith shows great transition quickness and his speed allows his range to be limitless. He is what scouts call "a natural interceptor," as he has an natural ability to jump passing lanes, catch the football and make big returns.
Smith resembles Atlanta Falcons receiver Roddy White at receiver and Tampa Bay Buccaneers safety Dashon Goldson on defense.
Scarbrough, who is committed to Alabama, could play running back, receiver, H-Back or linebacker in Tuscaloosa. He is an athletic player who displays solid agility, quickness and speed.
Scarbrough, who is 6'2" and 225 pounds, is a strong runner who can be a force when he builds up speed in a straight line. His size and strength allows him to finish runs with power and he also shows tackle-breaking ability.
Scarbrough has adequate release quickness as a receiver and can separate from cover men on the perimeter. He has natural ball skills and is comfortable catching passes cleanly with his hands.
He runs similar to Ryan Matthews of the San Diego Chargers. Scarbrough compares to Denver Broncos receiver Demaryius Thomas as a pass catcher.
Peppers, who is ranked as the No. 2 overall prospect by ESPNU, is a fantastic football player. He truly deserves the "ATH" label as he projects to be successful at several positions.
Peppers, who is 6'1" and 205 pounds, can play cornerback, running back, receiver, safety and perhaps even excel at outside linebacker. Cornerback, however, appears to be the position where Peppers will focus on at Michigan and he could become an All-American.
Peppers has outstanding movement skills for his size and shows no athletic limitations. He also has tremendous anticipation skills to go along with a knack for making instinctive plays. Peppers can play press coverage, off-man and zone coverage.
He is a cornerback who can match up with a big receiver and be left on an island all game. At his best, Peppers is a new version of Patrick Peterson of the Arizona Cardinals. On his off days, he still plays like a healthy Terrell Thomas of the New York Giants.
Edwin Weathersby is the College Football Recruiting Analyst for Bleacher Report. He has worked in scouting/player personnel departments for three professional football teams, including the New York Giants and Cleveland Browns.