Steve Kerr Knows Exactly How Danny Green Is Feeling Right Now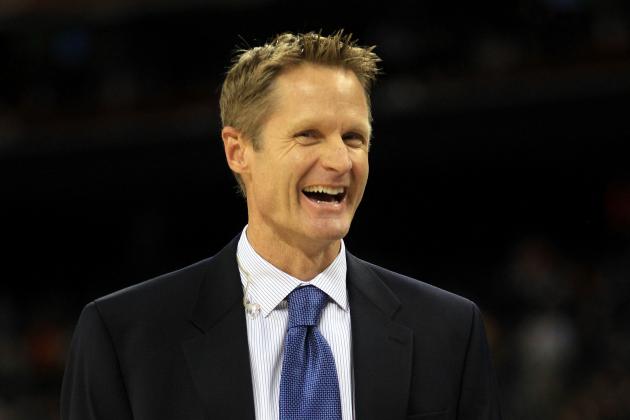 Streeter Lecka/Getty Images

Bleacher Report recently spoke with TNT NBA analyst Steve Kerr about the 2013 NBA Finals between the Miami Heat and the San Antonio Spurs. Within that conversation were a number of tangents and tidbits about shooting, particularly in the playoffs. It's a task with which Kerr is intimately familiar.
The five-time champion piled up a plethora of iconic moments during his 15-year career as a pro. Certainly, far more such moments than you might otherwise expect from a guy who never averaged more than nine points or seven field-goal attempts during any single season.
Shooting, though, is a skill that always seems to be in short supply in the NBA—and just so happened to be the one at which Kerr excelled.
Kerr still stands as the most accurate three-point shooter in NBA regular-season history, with a career mark of 45.4 percent. He previously held the single-season record for accuracy until 2009-10, when Kyle Korver bested Kerr's 1994-95 mark of 52.4 percent.
It's no wonder, then, that he lasted as long as he did in the Association. If ever there were someone to ask about battling out of a slump, having a hot hand like Danny Green's, and shooting in general, it's Steve Kerr. We did, and here's what he had to say.
Begin Slideshow

»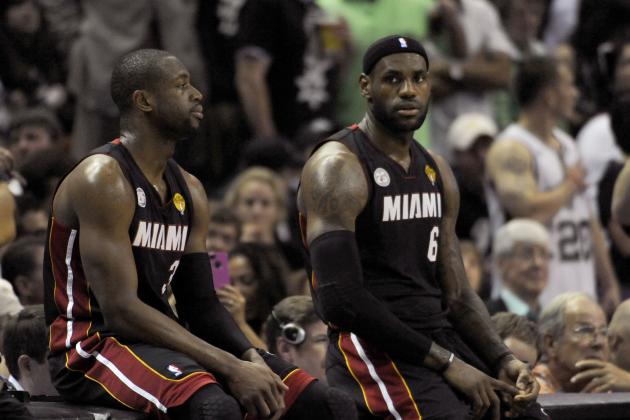 Brendan Maloney-USA TODAY Sports

There's a lot more at stake. For me, I think I was a 45 percent three-point shooter in my career during the regular season [he was]. There's a whole lot of games during the regular season where it's March, you're playing a lousy team, there's not a whole lot at stake, you're firing away at will and having fun and playing loose. It's a lot easier to shoot when you're loose and you're not thinking.
When you get to the playoffs, the defense is much tougher, there's zero good looks, and, more than anything, every shot is of extreme importance and you can almost talk yourself out of it. It's not as relaxing. You tend to tense up a little bit.
The thing I compare it to, very few baseball players have a better postseason batting average than regular season. Almost invariably, players' batting averages drop in the postseason. You're going against better pitching and there's a lot more on the line.
Generally speaking, human beings are better when they're relaxed, whatever it is. And it's tougher to relax in the playoffs when you're playing against great D.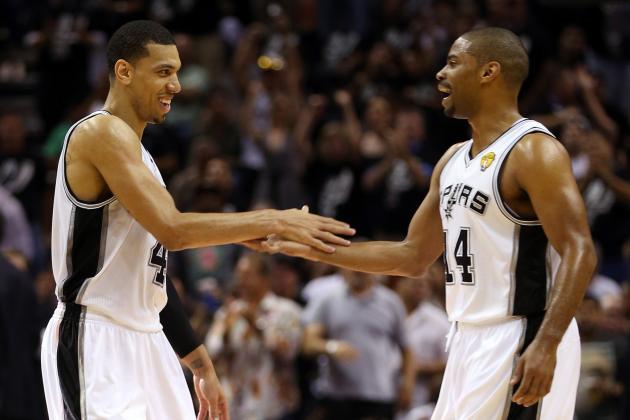 Mike Ehrmann/Getty Images

I've been jumping out of my chair. I mean, I love watching guys just get into a zone where the rim looks like the Grand Canyon. When you get two guys at the same time doing that, it's incredible to watch.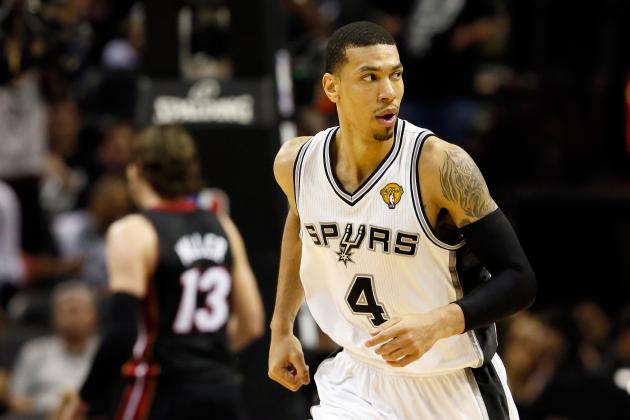 Kevin C. Cox/Getty Images

It's the greatest feeling on Earth if you're a basketball player. There's nothing like it.
And it's amazing how easy it seems, especially given that the opposite can be true where the rim looks like a thimble and you can't make one. We've all—every player, every shooter—been through both. So, when that rim opens up and everything clicks and you get into that zone, it's an incredible rush.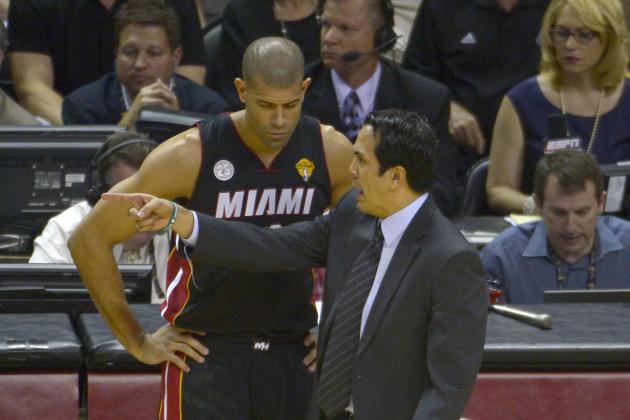 Brendan Maloney-USA TODAY Sports

It's the worst. It's really tough. I've been in them. Even the best shooters will go through these funks where it just doesn't click. Then, it's just like the best baseball players will have slumps.
It just happens, so, to me, when you're in one of those, you've got to get back to the basics. I would take a lot of shots from in close in practice, and see the ball go in a lot and just get back to your fundamentals. Not take a lot of deep shots in practice. Just kind of really get back to your fundamental base.
But, beyond that, you have to trick your mind, too. Everyone's different.
To me, some of the best clutch shooters in the game just never really have much of a thought going on out on the floor, and that's a blessing to be able to play that way. Most players are, you know, human beings. There's a lot going on in your head, you know, like "Dang, I just missed four in a row. I can't miss the next one." Well, that's not a good thought.
There's different things you can do, and I think it comes with experience. It might be totally getting away and not taking a shot for two days. Getting into a good book or going to see a movie. Playing the game within the game, like "I'm going to get five rebounds in this first quarter." Focusing on something else entirely in the game. You know, "I'm going to see if I can get a couple steals here in the first quarter." If you get a layup or two or a foul or a free throw, that can help.
There's just so many different little tricks you can play with your mind, and you have to go through the experience of it to get to that point and understand what it is you need to do.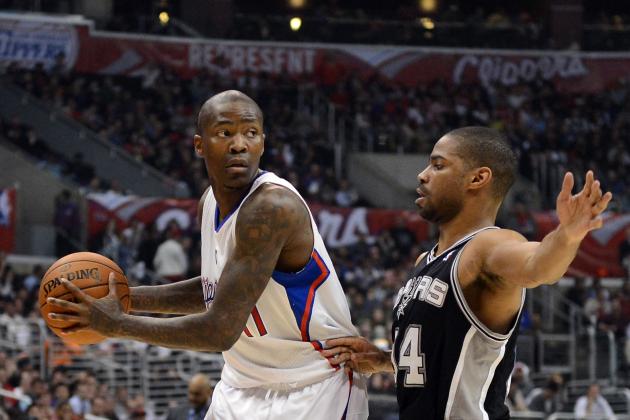 Harry How/Getty Images

I don't think it's necessarily harder off the bench. What is harder is if you know you're only going to get five shots a game. If you come off the bench and you're Jamal Crawford and you know you're going to take 17 shots, I don't think it's hard to get into a rhythm.
But if you're a spot-up shooter like I was, where you're not good enough to create your own shot but you're really only going to get the open looks and you know there's only going to be four of them, it's pretty easy to miss your first two and really press.
I went through spells like that throughout my career. What I always tried to do was just try to let it fly and get into a place mentally where you convince yourself you just don't care whether it's going to go in or not. "Screw it, let's lighten up. Let's have some fun and let it fly. Whatever happens, happens." You have to be able to live with the failure but not let the failure consume you. It's not easy.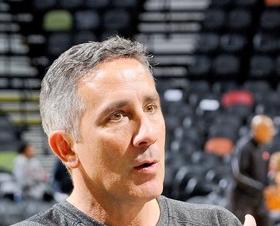 Spurs shooting coach Chip Engelland (D. Clarke Evans/NBAE via Getty Images)
Well, you work like crazy, before and after practice. You get a ton of shots up. You get a lot of conditioning. Almost every player in the NBA who is not in the rotation is consistently playing three-on-three after practice each day. That's automatic. You have to try to simulate being in situations as much as you can.
I had a shooting coach when I was playing, who's now the Spurs' shooting coach, Chip Engelland. To me, he's the best in the league. I was in a rut one time in my career when I was in Portland playing with the Blazers. Chip came to visit me and he said, "What's going on?" I said, "Well, I'm only playing, you know, six or seven minutes a game. I'm getting maybe one shot, two shots each game, and that's it. And I just feel like I'm still cold when I come off the bench. I get my one or two shots and then I'm back to the bench, and that's my whole game." And after four or five games of that, you feel like you're in a slump.
Chip's great. He goes, "Alright, here's what we're going to do today. We're going to have a half-hour workout, but you're only going to get up six shots. What we're going to do is, we're going to just sit on the sidelines"—because this is after practice, so nobody's in the gym—"We're going to just sit on the sidelines, catch up, talk about family. We haven't talked in a while. Just catch up with each other."
But, in mid-conversation, he would just jump up—he had a ball in his hands—push the ball in transition, and yell out "Fast break!" And I'd have to get off the bench, run the lane, catch the ball, and shoot it. And then we'd go back to the bench and talk for another five minutes.
Whether that was actually that helpful as a routine or not is up for debate, but the fact that I was laughing the whole time and that he put me in that frame of mind absolutely helped me, and I got out of my slump.
Again, it's like you've got to trick yourself into stuff and be really creative. That's how you get out of it.
I was shocked. I'm sure my teammates were, too. I hadn't played much at all in the playoffs, but I had stayed prepared and stayed ready. That was kind of my role for most of my career anyway, just staying ready.
The stars kind of aligned that night. The Mavericks played some zone, so I got an open look against the zone for my first shot. And anytime as a spot-up jump shooter you get the first one to go, it kind of gauges your timing. When you can kind of get that gauge set early in your stint and see the ball go through and now you've got the feel, then you get a couple openings, that's when it can really click.
And that's why I think I heard Erik Spoelstra say that if you give good shooters good shots early in a game, they get wide-open looks, then you're playing with fire defensively because if you make two wide-open ones, the next couple you may have a hand in your face and I may be all over you, but it's too late. The guy's in rhythm.
I thought that's what happened the other night. They got really good looks early and gained their confidence and then the floodgates opened up. It didn't matter what they did to defend them.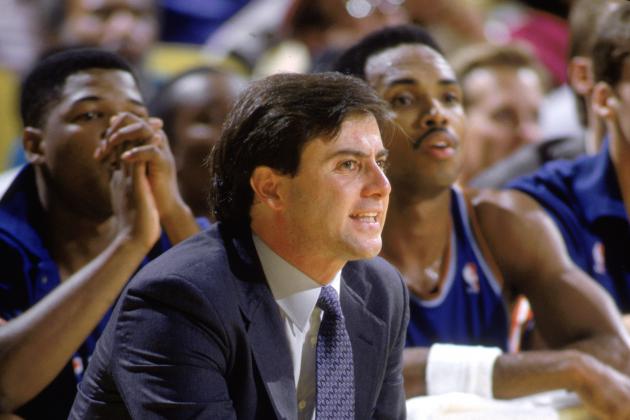 Rick Stewart/Getty Images

Well, it's been evolving over the last decade, really. Rick Pitino kind of introduced the three-point shot when he was coaching the Knicks and introduced the concept of "Let's fire away from back there," and ever since, it's kind of been evolving to the point where teams are taking 20 or 30 every game.
It's just the way the game is played today. There are fewer low-post players, there are more drive-and-kick guys, and there are more big guys who can shoot, so the floor spacing is dramatic.
If you watch like a classic sports game from Lakers-Celtics in the mid-'80s, it's mind-blowing where the offense starts and where all the players are stationed. They're all within 20 feet of the basket, not 25, and it's really different.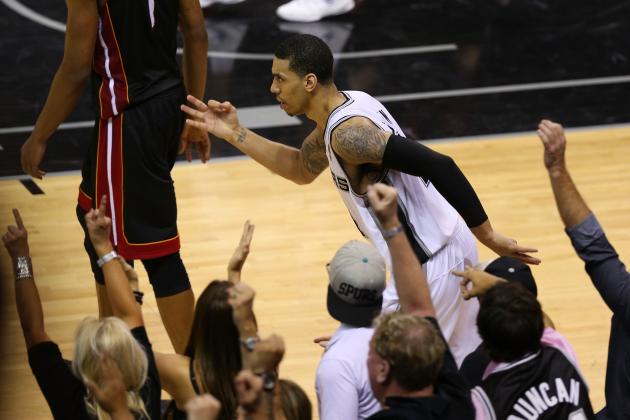 Mike Ehrmann/Getty Images

It's good for the game, so long as it comes with flow and pace, like the D'Antoni Phoenix teams. It's beautiful to watch, the Spurs with their ball movement, when there's a process that leads into it.
I don't like when guys come down and launch threes, but if there's three or four passes and the defense is rotating and they can't make that final rotation and there's an open three, that's beautiful basketball to me.
My most satisfying make was in the '97 Finals, Game 6, hitting the last shot. That's as good as it gets.
My most disappointing miss? I had 11 extremely disappointing misses in the 1988 Final Four that I never got over. Two-for-13, so all those misses are the worst.