UFC 161 Results: Key Stats from Evans vs. Henderson Fight Card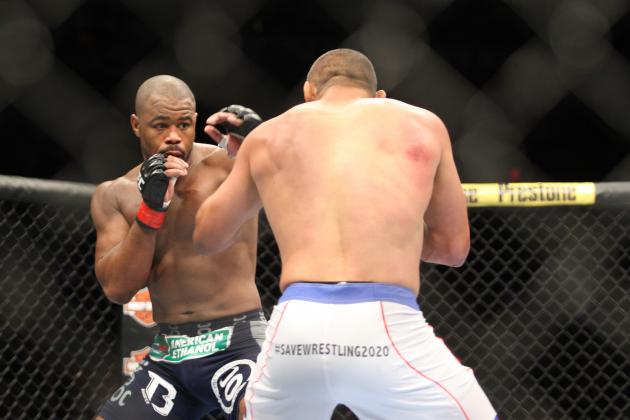 Bruce Fedyck-USA TODAY Sports

The UFC's latest trip to Canada is in the books, and the Winnipeg crowd bore witness to a less-than-stellar card, which suffered heavily from a ruthless injury bug, on June 15.
Instead of a main event between bantamweight champion Renan Barao and top contender Eddie Wineland, a light heavyweight bout between Rashad Evans and Dan Henderson served as a three-round headliner. And a co-main event between Antonio Rogerio Nogueira and Mauricio "Shogun" Rua was downgraded to a heavyweight matchup between Roy Nelson and Stipe Miocic.
Although the replacement fights still garnered moderate interest, the card as a whole failed to deliver, especially in comparison to the last event, UFC on Fuel 10, which featured 10 stoppages out of 12 fights and did not come with a price tag.
Regardless of how entertaining (or not entertaining) the card was, there were some key statistics coming out of Winnipeg.
The stats included focus on individual performances, such as most significant strikes and takedowns, while also focusing on the event and its place in comparison to past cards in 2013.
All stats courtesy of Fightmetric.com
Begin Slideshow

»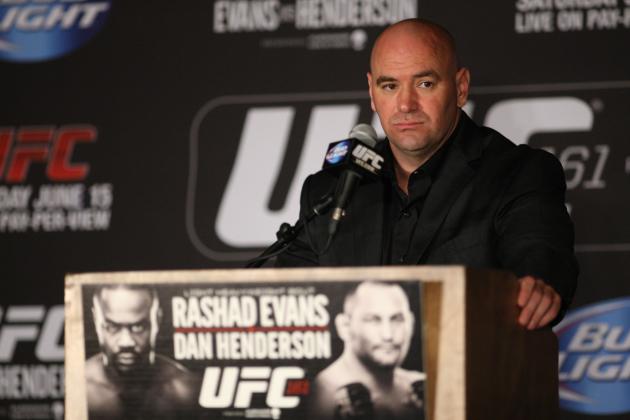 Bruce Fedyck-USA TODAY Sports

Following the 10-stoppage card from the weekend prior, UFC 161 yielded just a pair of finishes, good for the lowest stoppage-rate for an event in 2013.
The card's first finish came in the third round of Sam Stout and James Krause's preliminary card matchup; Krause scored the submission win with just 13 seconds left in the fight. The event's lone knockout came on the pay-per-view portion of the card when Shawn Jordan put Pat Barry away with strikes just short of one minute into the first round.
With just two fights ending by way of stoppage, good for an 18 percent clip, the 11-fight card had the lowest percentage of finishes out of the 15 cards in 2013, coming in just behind UFC on Fuel 7, which had three stoppages out of 12 fights.
Looking further back in history, the last Pay-Per-View event to feature just two stoppages came all the way back in January of 2009 at UFC 94. Georges St. Pierre stopped BJ Penn in the main event of that card, while Lyoto Machida put Thiago Silva away with strikes in the co-main event.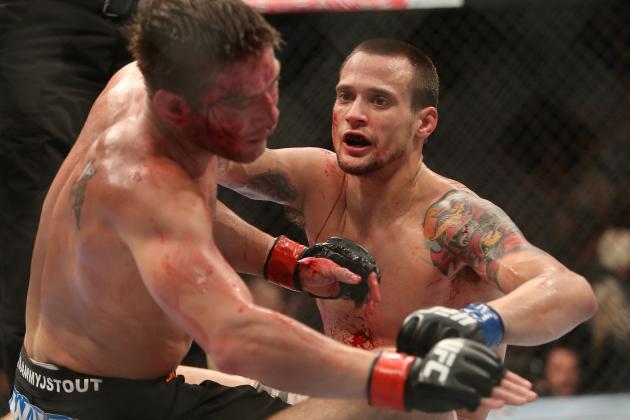 Tom Szczerbowski-USA TODAY Sport

UFC 161 was not the "Night of Stoppages," but it featured its fair share of upsets. Five, actually.
The card's largest upset came on the prelims when James Krause (+240) stopped Canadian Sam Stout (-310) in the waning moments of the fight. The second largest upset came in the evening's co-main event when Stipe Miocic dominated heavy favorite Roy Nelson. At +220, Miocic rewarded anyone who jumped on his value prior to Fight Night.
Depending on what sportsbook you go by, there were either two, or three more upsets. Jake Shields and Mitch Clarke, who picked up wins over Tyron Woodley and John Maguire, respectively, were underdogs across the board. However, Shawn Jordan, who knocked out Pat Barry in the opening main card bout, earned the ever-so-slight upset according to some books, while he was the very narrow favorite according to others.
At +100 (even), according to Bovada Sportsbook, he earned the upset over Barry, who was -130. But a few sportsbooks saw Barry as a slight underdog. Either way, considering it was a pick 'em fight basically no matter where you looked, it's hard to call the win for Jordan a true upset.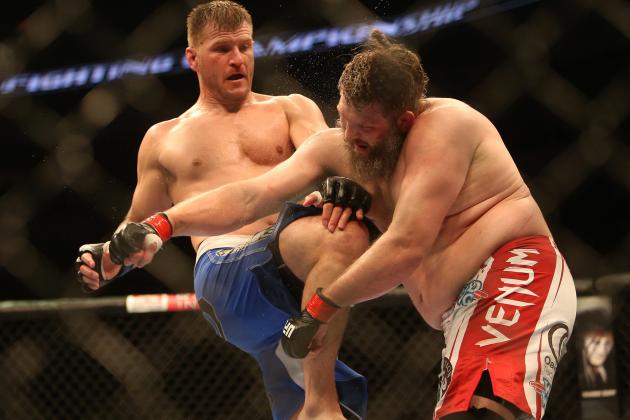 Tom Szczerbowski-USA TODAY Sport

Stipe Miocic put on, without question, the most impressive performance last Saturday night, and the stat line shows it.
The heavyweight landed 106 significant strikes, leading all UFC 161 competitors, while only absorbing 23 significant strikes from Nelson, who landed at a mere 18-percent clip. Miocic is the 11th fighter to break into triple digits in 2013.
However, what makes Miocic's 106 significant strikes so impressive is that he's the first heavyweight to crack the 100 mark in that category in a three round fight since Junior dos Santos did so at UFC 117 back in August of 2010.
Who did dos Santos compete against in that fight? You guessed it: Roy Nelson.
Cain Velasquez also managed to break past 100 significant strikes landed at the tail end of 2012. But he needed five rounds to accomplish the task, giving him 10 more minutes of fight time than Miocic and dos Santos had.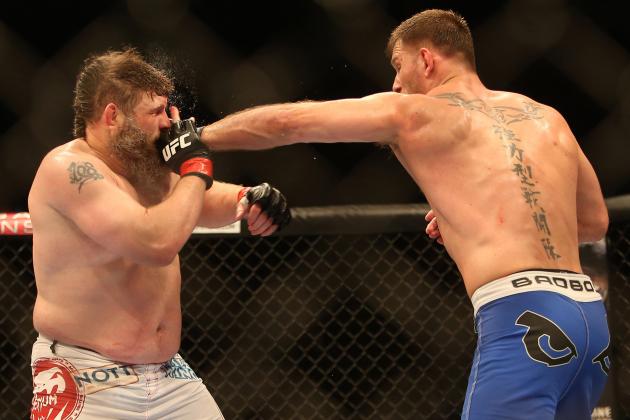 Tom Szczerbowski-USA TODAY Sport

Heavyweight Nelson looked ill-prepared against the younger Miocic in the co-main event, but he was certainly the more experienced fighter in terms of taking punishment.
Actually, no other heavyweight has absorbed more significant strikes in the UFC without being knocked out.
UFC President Dana White announced the news at the post-fight press conference, revealing that Nelson's 437 significant strikes absorbed without being stopped is the record for the heavyweight division.
As the previous slide states, Nelson took 106 significant strikes from his opponent, Miocic, and over 100 against Junior dos Santos at UFC 117 (130 to be exact), while Fabricio Werdum tacked on 91 when he and "Big Country" met at UFC 143.
In his only other UFC loss, Nelson absorbed 46 significant strikes, courtesy of Frank Mir.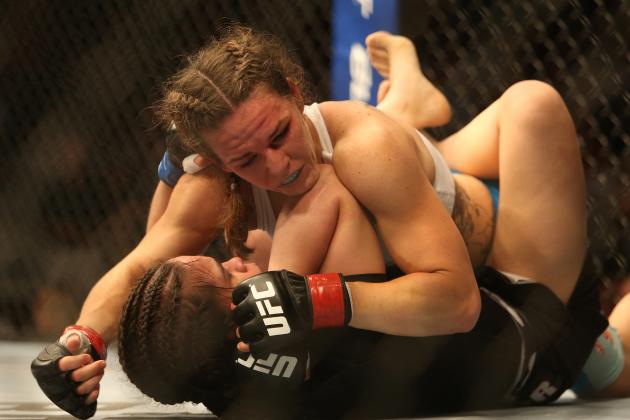 Tom Szczerbowski-USA TODAY Sport

Alexis Davis may not have earned the finish against a very game Rosi Sexton on the main card, but the women's bantamweight contender did score more significant strikes than any other woman in UFC history.
She landed 44 of 73, topping Cat Zingano's 35 significant strikes landed in her technical knockout win over Miesha Tate.
However, Davis is also the first woman in UFC history to win by way of decision. Sara McMann, Ronda Rousey and Zingano are the other three women to earn victories in the UFC, but all three earned finishes.
Davis constantly threatened Sexton with submissions from her back, but ultimately earned the victory with her strikes, nearly stopping her opponent at the end of the second round.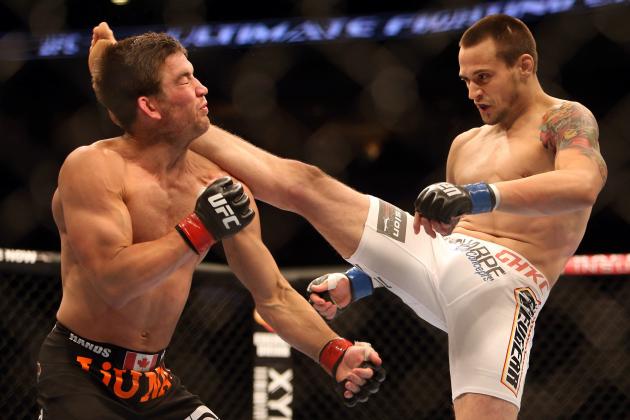 Tom Szczerbowski-USA TODAY Sport

By now, it should be apparent Miocic put on the most impressive performance in Winnipeg. He battered Nelson with efficient striking and avoided any damage, which is quite impressive following three rounds in the cage against a heavyweight ranked in the top five of the UFC official rankings.
While 62 percent of his strikes landing is certainly impressive, it was perhaps even more impressive that he managed to absorb less than 20 percent of the strikes dealt by "Big Country."
The only weak point on his stat line came in the takedown department, going 1-for-8, though he also avoided Nelson's lone takedown attempt.
Still, the striking clinic, featuring Miocic's control over range and impressive footwork, yielded one of the two best stat lines from the event.
The other is owned by James Krause, who defeated Sam Stout on the preliminary card.
Krause put on one of the more impressive performances in a UFC debut in recent memory, earning bonuses for Submission of the Night and Fight of the Night. Just look at his stat line:
Significant Strikes: 51 percent (96/188)
Significant Striking Defense: 68 percent
Takedown Efficiency: 50 percent (1/2
Submission Attempts: One
And one submission attempt was all he needed to force a tap from Stout with just 13 seconds left in the fight, and a six-figure bonus check.
Not bad for a UFC debut.