This article was originally written before it was announced that Matt Striker's WWE contract was not being renewed. In a sense, this article serves as a tribute to Striker's contributions to the WWE Superstars program.
The rebirth of the Superstars television program took place on April 16, 2009 and aired on the WGN America Network. At the time, it seemed like a fantastic idea, because the original WWF Superstars of Wrestling (which aired from 1986-2001) was once considered a major WWE television show before Monday Night Raw.
The premise of the new WWE Superstars was to give "viewers the chance to see Superstars and Divas from all three WWE franchises in one program," according to WWE.com. In 2009, there was still the division of Superstars between the Raw, Smackdown and ECW television programs.
Initially, WWE Superstars featured top performers from each brand. On the first episode, Cody Rhodes took on Shane McMahon, Christian took on Fit Finlay and even The Undertaker appeared taking on Matt Hardy. In the weeks that followed, other top Superstars at the time appeared, including Kane, The Big Show, Rey Misterio, CM Punk, Edge, Kofi Kingston, Chris Jericho and more.
WWE Superstars quickly became a must-see program, but that stopped nearly as fast as it started.
Slowly, the top Superstars stopped appearing on the program. Instead, up-and-coming performers, such as Tyler Reks, JTG, Curt Hawkins, Mason Ryan, Kaval, Vance Archer and other lower-card Superstars took the place of the main eventers. WWE Superstars soon became a third-rate show behind Raw and Smackdown and was cancelled by the WGN America Network in April 2011.
The show continued being taped and broadcast in international markets and online via YouTube, WWE.com and Hulu.
Currently, WWE Superstars is only available on Hulu Plus in the United States. It is uploaded every Thursday.
WWE Superstars has a pretty consistent format now. Usually, there is a match at the beginning of the show, three or four segments of Raw highlights from the previous Monday and a match at the end. Sometimes the matches can be competitive, but for the most part, the viewer will know who will win before the match begins.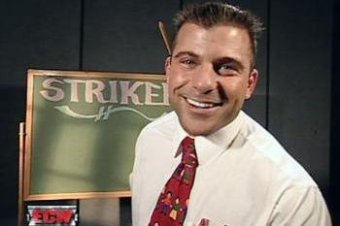 Besides the athleticism of the Superstars, the saving grace of this show is the commentary of Matt Striker. In watching WWE Superstars frequently, one can easily discern just how much of a pro wrestling fan Striker really is.
Demonstrating his love for pro wrestling while on commentary, Striker has mentioned the little-known NWA Western States Heritage Championship and other infamous pro wrestling championships from history. These tidbits of information from Striker help to make Superstars a show to watch for long-time pro wrestling fans.
The matches on Superstars have little to do with any current storylines and are usually either squash matches or semi-competitive matches between low-to-midcard performers. Striker does his best to make these matches have some sort of story through his commentary.
In a recent match between R-Truth and Damien Sandow, Striker claimed the match came to be when Sandow was upset by R-Truth's rapping in the backstage area. Sandow, preferring classical music, challenged R-Truth to a match, taking umbrage with his taste in music.
These little touches and small details help to make WWE Superstars an underrated show. Matt Striker is fantastic on commentary, making these matches seem much more important than they really are in terms of the larger narratives occurring.
WWE Superstars has entertaining matches that were complimented wonderfully by Matt Striker's commentary. He will definitely be missed, especially since he was only one of two WWE Superstars that quoted the singer Morrissey (William Regal being the other).
Read more from Sean McCallon on the Double Axe Handle Blog.
Follow Sean McCallon on Twitter @TheBlueMask246