NHL Free Agency: How the New Jersey Devils Should Fix Every Issue on Roster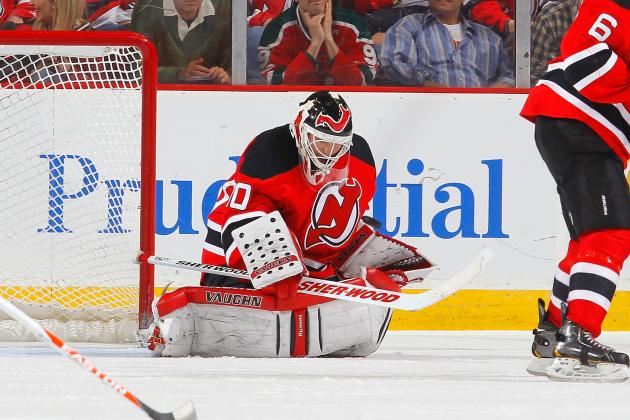 Jim McIsaac/Getty Images

When a team loses three key goal scorers in the offseason and suffers injuries to two of their star players in a lockout-shortened season, it's unlikely they will make any sort of run at the Stanley Cup.
For the Devils, 2013 was not kind to the defending Eastern Conference champs. New Jersey finished 19-19-10, good for dead last in the Atlantic Division and 12th in the conference.
It was clear that the Devils were missing Zach Parise, as head coach Peter DeBoer used a number of different line combinations throughout the 48-game season. The team was also sidetracked by the injuries suffered by Ilya Kovalchuk and Martin Brodeur, an issue that led to an 11-game winless streak toward the end of the year.
With the NHL draft and free agency amongst us, this is the chance for the Devils to fill some of the holes they most desperately need to fill. Let's take a look at some of the ways New Jersey can improve on last season.
Begin Slideshow

»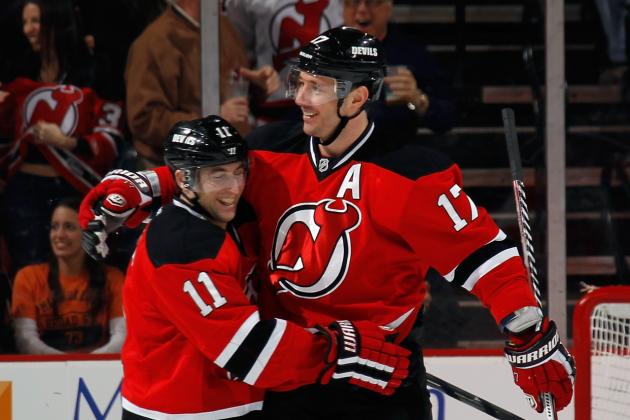 Bruce Bennett/Getty Images

The Devils finished 28th in the NHL last season with an average of 2.29 goals per game. This was significantly worse than the 2.63 they averaged back in 2011-2012.
David Clarkson led the team in goals with 15, but he only managed to score five goals in the Devils' final 34 games. He is set to become an unrestricted free agent this offseason, and you can read why I think New Jersey should let him walk here.
Besides Clarkson, only three other players managed to score more than 10 goals last season, and two of them did not play a full 48-game season (Kovalchuk, Adam Henrique).
In order to fix this problem, the Devils may have to look somewhere other than free agency. According to Cap Geek, only Pittsburgh Penguins forward Pascal Dupuis (20), Boston Bruins forward Jaromir Jagr (16) and Dallas Stars winger Michael Ryder (16) had more goals than Clarkson among impending free agents in 2013.
Dupuis had a very impressive plus/minus of plus-31, but that had a lot to do with the fact that Pittsburgh had a league-best 3.38 goals per game. Nathan Horton and Tyler Bozak are other targets that teams may show interest in, but it is likely they'll demand money, similar to Clarkson, if not more.
A new report from CBC has the Devils as one of the targets for Florida Panthers center Stephen Weiss, who is set to become a free agent next month as well. Weiss, who played for DeBoer before took the job with the Devils, averaged 20 goals per season before being injured last year.
The #NJDevils may be interested in Stephen Weiss, according to @FriedgeHNIC's 30 thoughts post. Remember, Weiss/DeBoer were together in FLA.

— Todd Cordell (@ToddCordell) June 17, 2013
Weiss would be a nice addition to the lineup, but as Todd Cordell of Hockey Buzz points out, New Jersey would likely have to move one of their centers by trade or to a new position. Both Henrique and Dainius Zubrus have played wing before, but both will be looking for a new contract this offseason.
It's going to be difficult for the Devils to find offensive help this offseason, but anything would be better than what they had last season.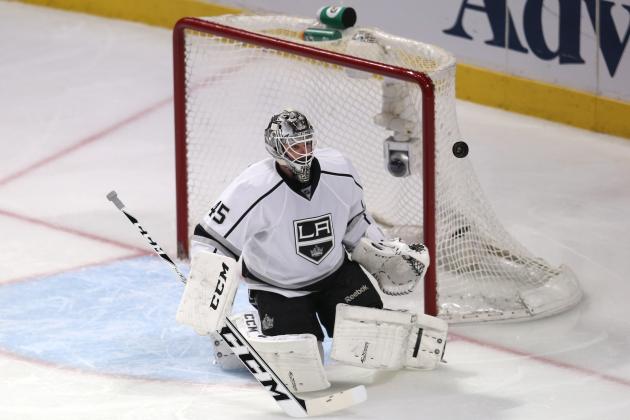 Jonathan Daniel/Getty Images

Yes, Martin Brodeur is going to retire as the greatest goaltender of all time.
Yes, John Hedberg has been one of the top backups in the league despite his struggles last season in a starting role.
No, the Devils can't rely on them forever, especially after 2013-2014.
Since 2008-2009, Brodeur has only appeared in 70-plus games in a season once. The 41-year-old goaltender has missed time due to injuries in 2009-2010, 2010-2011 and 2012-2013, and he relied heavily on Hedberg to help carry the load in 2011-2012.
Hedberg, considered one of the most consistent backups in 2011-2012, struggled last season when he was called on to replace the injured Brodeur in net. Hedberg went 6-10-3 with a GAA of 2.76 in 19 starts and only had three of his wins in regulation.
While New Jersey has three goaltenders that have been in the system for some time, it is unlikely that Scott Wedgewood, Jeff Frazee or Keith Kinkaid will be NHL ready by the time the contracts of Brodeur and Hedberg expire.
Even if they were ready, it does not appear that any of them will reach the level of performance that other goaltenders around the league possess. Enter Los Angeles Kings backup goaltender Jonathan Bernier, whom the Devils should strongly consider taking a look at before the draft.
New Jersey holds the No. 9 overall pick in this year's draft, and all signs point to the Devils taking an offensive forward to add to their weak system. However, sources report that the Kings have been contacting teams testing the market to see what they can get for their 24-year-old backup.
Bernier went 9-3-1 with a 1.88 GAA last season in 14 starts and made an appearance in this year's playoffs. The latest rumor is that the Philadelphia Flyers have been contacted about bringing in Bernier, but nothing will be set in stone until the Stanley Cup Final is over.
The Kings have contacted the Flyers about interest in young goalie Jonathan Bernier, per @tpanotchCSN: http://t.co/uaW1BAFP3r #FlyersTalk

— Comcast SportsNet (@CSNPhilly) June 19, 2013
If I'm Lou Lamoriello, I at least inquire about Bernier's services for next season and beyond. He would bring long-term consistency to the goaltending position and would be an immediate upgrade to the prospects the team has in the system.
Bruce Bennett/Getty Images

The power play has always been an topic of discussion in New Jersey dating back to the early 2000s.
Adam Oates was brought in before 2010 to help fix the unit, but many fans were disappointed by the team's lack of progress during his tenure. Oates left New Jersey after the 2011-2012 season to take the head coaching job in Washington and was replaced by former Sharks assistant Matt Shaw.
Maybe it was the lockout-shortened season or the rush to get ready for the season, but the Devils power play actually got worse between 2012 and 2013. Oates coached the team to a 17.2 percent success rate in 2011-2012, and Shaw was only able to produce a 15.9 percent in 2013.
Shaw has since left the Devils to take the head coach and general manager job with the Dubuque Fighting Saints of the USHL, leaving New Jersey once again without a coach to lead the power play going into the offseason.
Lou Lamoriello has stated that the Devils will be patient in finding a new coach, but it's not just the coaching that needs to be adjusted.
David Clarkson, the Devils leading power-play scorer with six, ranked 33rd in the NHL in terms of power-play goals. Patrik Elias ranked 35th with five.
Quite frankly, New Jersey didn't have a dominant force on the power play last season, especially from leaders like Ilya Kovalchuk and Marek Zidlicky. If the Devils are going to improve on their 15.9 percent rate, they may have to test free agency and find a new weapon, especially if Clarkson and Elias decide to sign elsewhere.
According to Cap Geek and NHL.com statistics, Michael Ryder (eight PPG) and Mike Ribeiro (six PPG) are the best available options in terms of power-play free agents. If New Jersey decides to re-sign Clarkson and Elias in July, I wouldn't suggest spending extra money on these two, but they will be the best options if the Devils decide to make a change.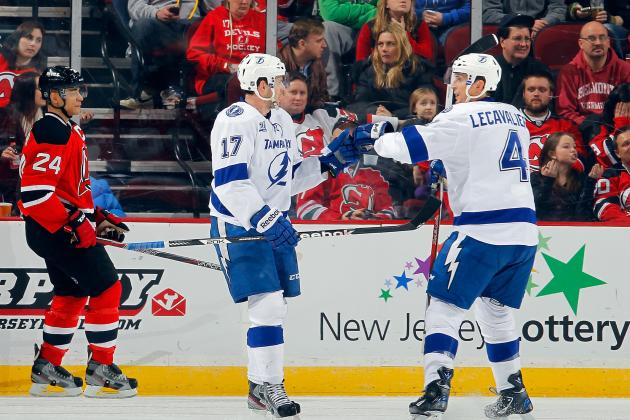 Jim McIsaac/Getty Images

Daneyko. Niedermayer. Stevens. Rafalski.
These defensive names were key to the Devils' success dating back to 1995 and are primarily the reason why the Devils have three Stanley Cup banners hanging in the rafters of Prudential Center.
Even in 2011-2012, when the Devils shocked everyone and made a run for the Cup, they were pushed forward by their "no-name" defense of guys like Andy Greene, Bryce Salvador and Peter Harrold.
Fast forward a year, and the defense that once helped the Devils showed signs of age and disrepair.
Marek Zidlicky posted a plus/minus of minus-12, Bryce Salvador a minus-12 and Peter Harrold minus-eight.
Andy Greene was hands down the team's best defenseman and possibly team MVP with the season he had, recording 16 points and a plus-12 rating. The next two best defensemen were two players who saw a lot of time on the bench—Adam Larsson and Mark Fayne.
Larsson and Fayne are the team's two youngest starters on defense but were often replaced by veterans like Zidlicky and Salvador. If New Jersey wants to get back to being the defensive juggernaut they've been in the past, they have to get younger.
The Devils have players like Alex Urbom, Eric Gelinas and Jon Merrill progressing through the system, all of whom should be able to break through to the next level soon. Gelinas and Urbom each played in one game last season and could see more time next year in a limited role.
It doesn't seem like the Devils will re-sign Zidlicky this offseason, leaving room for Larsson to break into the starting lineup at a more consistent basis. The free-agent market is dry in terms of young defensive free agents, so New Jersey will have to base their success on their young talent.