Dodgers vs. Yankees: Live Coverage of Yasiel Puig's Yankee Stadium Debut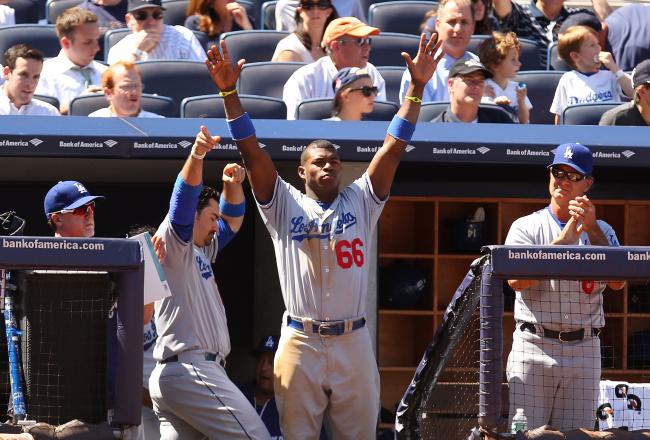 Mike Stobe/Getty Images
The Yankees beat the Dodgers 6-4 in the first half of a day/night doubleheader. Join us at 7:00 PM for the nightcap!
Yasiel Puig was 2 for 5 in his Yankee Stadium debut with one single and one double. Mariano Rivera struck him out to end the game.
Lyle Overbay drove in the Yankees' first two runs with a double to deep center in the second inning. His 32 RBIs are tied with Travis Hafner for second-most on the team behind Robinson Cano.
In the sixth inning, Ichiro hit his third homer of the season to make it 3-0.
The Dodgers finally got on the board with two runs in the seventh inning. A.J. Ellis' sac fly made it 3-1 and Jerry Hairston's RBI single narrowed the deficit to 3-2.
The Yankees got three runs in the seventh inning thanks to a comedy of errors by relief pitcher Ronald Belisario. Ichiro drove in two runs to give him three RBIs on the day.
In the eighth inning, the Dodgers made it 6-4 with a two-run home run off the bat of Hanley Ramirez.
SCORE UPDATE: Dodgers 4 - 6 Yankees, FINAL

Rivera does what Rivera does. He strikes out Puig to finish the game and grab his 25th save of the season. Yankees beat the Dodgers 6-4 in the first half of a doubleheader.
Yanks go down in order. Mariano Rivera enters the game looking for his 25th save of the season. The Dodgers need to get a runner on base to get Yasiel Puig to the plate.
AP is reporting that Derek Jeter took batting practice on the field today for the first time since suffering a broken ankle in October.
Robertson finds the zone and escapes the eighth inning. Yankees fans can exhale a bit with Mo set to come in for the save.
David Robertson walks Uribe on four pitches and can't find the strike zone. Girardi isn't going to use Mariano Rivera in the eighth inning with another game to play tonight.
David Robertson walks Andre Ethier to bring the tying run to the plate in Juan Uribe.
DH Hanley Ramirez rips a line drive home run to left field off Preston Claiborne to make it 6-4 Yankees. Ramirez is 4 for 4 today and hitting .343 in just 34 at-bats this season.
Ichiro robs Adrian Gonzalez of an extra-base hit and crashes into the wall. What a day for the 39-year-old Ichiro.
Puig laces one up the middle than beats the throw to second base. This guy is awesome. He's 2 for 4 today and hitting .481 on the season.
Fun Fact: Puig has drawn just one walk in the first 54 plate appearances of his career.
The game might be all but over, but Puig leads off the top of the eighth inning. Puigmania!
6-2 Yankees
Ichiro drives in two runs with a bloop base hit to left field. That should just about do it.
Belisario is charged with two errors on the play. The Dodgers have tied a season-high with four errors today. Yes, they have to play another one tonight.
Yankees 4-2
Ronald Belisario botches a Vernon Wells' jam shot and throws it into center field. E-1. Then, he hits Thomas Neal. Your 2013 Los Angeles Dodgers, ladies and gents.
As he comes to the plate, Vernon Wells is in a very bad, no good, awful slump:
Since his final at-bat on May 22, Vernon Wells is 9-for-83 (.108) with one walk, one double, three RBI and 14 strikeouts. Ouch.

— Mark Feinsand (@FeinsandNYDN) June 19, 2013
3-2 Yankees
Kelley fans Nick Punto to get out of the jam. He's now stranded 15 of 16 inherited runners this season.
Kuroda's final line: 6.2 IP, 107 pitches, 2 ER, 2 Ks, 8 hits, 1 walk
Pinch-hitter Jerry Hairston drives in Andre Ethier with a single to make it 3-2. Shawn Kelley comes into the game as Kuroda is done for the day.
A.J. Ellis' sacrifice fly gets the Dodgers on the board. First and third, 2 outs. 3-1 Yankees.
Based loaded, one out for the Dodgers. Let's see if they can convert another great chance into runs.
Hanley Ramirez is now 3 for 3 with two singles and a double. He has half of LA's hits.
ICYMI, Yasiel Puig tries to throw out Thomas Neal on a single to right field. Not quite.
Yasiel Puig tries to throw out batter running to first base because he's running out of things he hasn't done yet: http://t.co/g66u3JQQJX

— MLB (@MLB) June 19, 2013
After six innings, that likely does it for Ryu who threw 110 pitches and allowed three earned runs. He finished with four strikeouts, five hits and two walks.
3-0 Yankees
Ichiro puts one into the short porch in right field for his third homer of the season. That's just the second home run Ryu has given up to a lefty.
Three line drives but just one hit for Puig. Take that BABIP!
I'll just say this -- Kuroda isn't exactly fooling Puig today #yankees #dodgers

— Mark Hale (@HaleMark) June 19, 2013
Puig lashes a one-hopper which is snagged by Robinson Cano who throws him out from his knees. Puig could easily be 3 for 3 today, but he has just one knock.
This article is
What is the duplicate article?
Why is this article offensive?
Where is this article plagiarized from?
Why is this article poorly edited?