For the Cleveland Browns, winning five games in a single year has been the peak of what they've been able to accomplish over the past five seasons. In other words, for five years in a row now, they haven't been able to win six games.
But this team should be able to do better than that in 2013.
In fact, the team should be able to wind up hovering somewhere around .500 on the season.
While any season without playoff contention cannot be considered a good season, hovering around .500 would be a welcome change of pace for many Browns fans. Here's a look at five crucial games the Browns need to win in 2013 to start turning this ship around.
1. The Opener vs. Miami Dolphins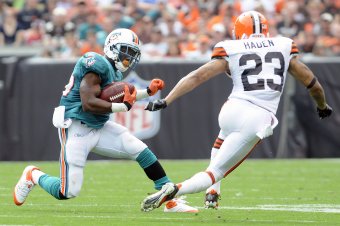 Jason Miller/Getty Images
The Browns are 1-13 in their regular season opening games the past 14 years. The game against the Dolphins Sept. 8 marks the 14th time in 15 years that the Browns are opening their season at home.
Nothing would signal a change of direction in Cleveland quite like winning that home opener.
Both of these teams are shooting to be up-and-comers this season. They both have second-year first-round quarterbacks at the helm, and both are looking to make headway in divisions that boast perennial contenders.
This Browns team's mindset should be nothing short of aiming for playoff contention, and that starts with winning their home opener against a conference foe and securing that tiebreaker.
This will be extra difficult without No. 1 wide receiver Josh Gordon, who has been suspended for the first two games of the season. Nevertheless, the Browns need to treat this game as a must-win.
2. Week 4 vs. Cincinnati Bengals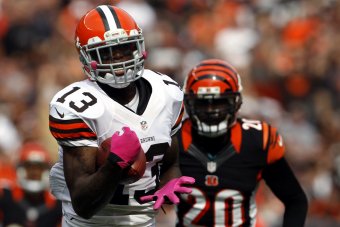 Matt Sullivan/Getty Images
Without Josh Gordon against the Ravens in Baltimore Week 2, the Browns will have a hard time with their first divisional game. And that's exactly what makes their second divisional game, against Cincinnati at home in Week 4, so important.
The Browns were able to split their games against Cincinnati last year. They need to establish divisional contention in this game and come on strong after a couple tough weeks on the road.
If they are able to take this first one from the Bengals, the Browns will gain needed confidence and steam heading into a short week and start off a three-game home stretch on the right foot.
3. Week 5 Against Buffalo Bills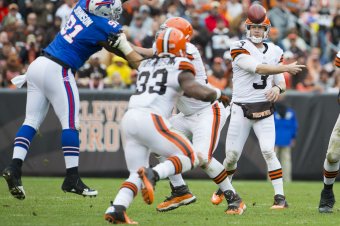 Jason Miller/Getty Images
The very next game takes place on Thursday night in prime time against the Buffalo Bills. This game will be the focus of the NFL and the butt of not a few jokes, as both of these franchises have struggled mightily over the past decade plus.
Considering that three out of the next four weeks will be spent playing the Packers, Ravens and Lions, the Browns need to take this one and establish some footing for the rough weeks ahead.
No excuse will be good enough for this young, talented Browns team to come up short against the Buffalo Bills on their home turf in prime time. The good teams win the spotlight games at home, and the Browns need to step up and do that if they are truly aiming to contend in 2013, or at least prove that they are poised to contend going forward.
4. Week 11 at Cincinnati Bengals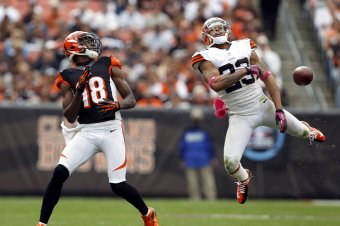 Matt Sullivan/Getty Images
If the Browns can win in the division at home, their next step is to prove they can win in the division on the road. Their first best chance at doing that is when they travel to Paul Brown Stadium on Nov. 17 following their bye week.
Winning this game, if the Browns pull off Week 4 as well, would constitute a sweep of Cincinnati, a team that has gone to the playoffs the past two years. This would do wonders for the morale of the team and the perception of the Cleveland Browns around the league looking ahead.
It will be hard fought, as the Bengals are no joke. But the AFC North games are fierce, and the viciousness of these rivalries resides in the marrow of their bones.
This is a huge statement game for the Browns. It is a tangible opportunity, and that opportunity must be seized for this franchise to move forward.
Contention begins in the division, and if the Browns want to ever begin being taken seriously, this is the time to charge ahead in 2013.
5. Week 17 at Pittsburgh Steelers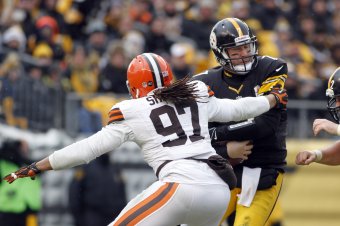 Justin K. Aller/Getty Images
If the Browns are truly hovering around .500 in 2013, the last game of the season versus the much-hated Steelers at ketchup field will have some serious importance.
It could be the difference between an even season or another losing season. It could be the difference between an even season and a shot at the Wild Card, depending on the breaks in the conference.
It will certainly be the difference in boasting rights over a team Browns fans loathe like no other. To beat Pittsburgh, as the Browns did at home last year, would be nice.
To defeat the Steelers on their home turf to cap off a season that would have seen more success than Browns fans have enjoyed since 2007 would be a dynamite statement that Cleveland may have finally turned a corner.
Only time will tell, of course, but it's hard to imagine a better way to look forward to a new year and perhaps a new era for this downtrodden franchise than watching the Browns hand Pittsburgh a demoralizing loss at home on Dec. 29.
Find David DeWitt on Facebook and Follow on Twitter @TheRevDeWitt.