Pros and Cons of Every Potential No. 1 Pick in 2013 NBA Draft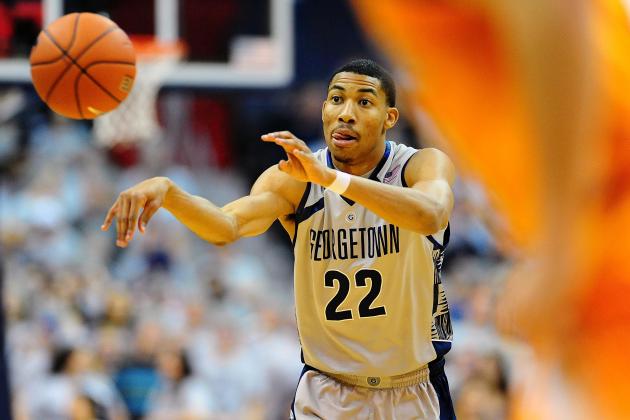 Evan Habeeb-USA TODAY Sports

The 2013 NBA draft class is undeniably weak at the top, which makes weighing the pros and cons of each potential No. 1 pick all the more important.
Whatever method general managers use to do so, it's absolutely vital that they find out which players have more positives than negatives. The more the former outweighs the latter, the more attractive that prospect is.
And make no mistake about it: Each player in the draft class has a number of pros, but they're all joined by a great deal of cons. No one is perfect, and neither is anyone completely imperfect.
The Cleveland Cavaliers are left with a tough task in this draft. Typically, a clear-cut favorite for the No. 1 pick has emerged by this stage of the draft proceedings, but that hasn't happened yet. Nerlens Noel is still most likely to become the top overall pick, but his grip on the leading spot is tenuous at best.
Kentucky's former center is being challenged by five other players: Anthony Bennett, Alex Len, Ben McLemore, Victor Oladipo and Otto Porter. Any of the half-dozen prospects could go No. 1 without shocking too many people.
So, what do they all bring to the table?
Begin Slideshow

»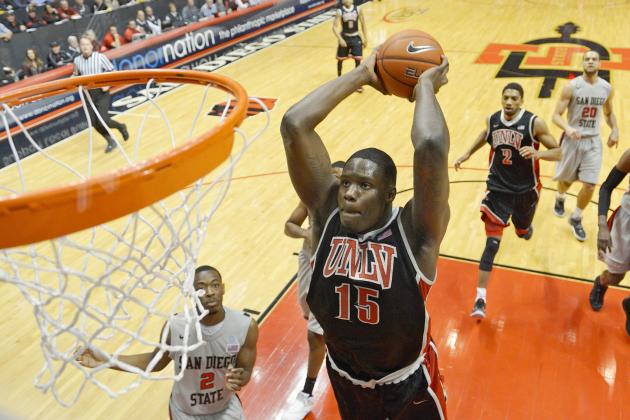 Jake Roth-USA TODAY Sports

School: UNLV
Position: PF
Age: 20
Vitals: 6'7", 239 pounds
2012-13 Per-Game Stats: 16.1 points, 8.1 rebounds, 1.0 assists, 0.7 steals, 1.2 blocks
Pros
Anthony Bennett's physical tools don't leave much to be desired.
Although he could stand to grow a few inches in order to match up with more typical NBA power forwards, the UNLV little big man has athleticism oozing out of every pore in his body.
He's quick enough to work his way around more lumbering players, and he's strong enough to bully quite a few grown men. Bennett can also jump out of the gym, something he often does before finishing thunderous dunks in traffic.
Because that level of physical dominance isn't enough, Bennett has also displayed some nice offensive skill. He needs to add a few more post moves, but for a 20-year-old, his arsenal is quite developed, especially because he complements his back-to-the-basket game with a nice face-up jumper.
He'll be able to serve as a terrific pick-and-pop option at the professional level.
Cons
Undersized players don't typically get drafted at No. 1. Since Bennett doesn't yet have the perimeter game to step out and play small forward, he's inevitably going to settle in as an undersized power forward.
The other big concern is Bennett's mentality.
His work ethic is questionable, and he often takes possessions off on the defensive end of the court. Due to his physicality, he has never really needed to put in constant effort and up the finesse of his game. As a result, his footwork is lackluster and hasn't improved much over the years.
Bennett has a ton of upside, but it's a question of how much he wants it. Can he get that motor revving and keep it running throughout his career?
More importantly, is that a question you want to be asking about a potential No. 1 pick?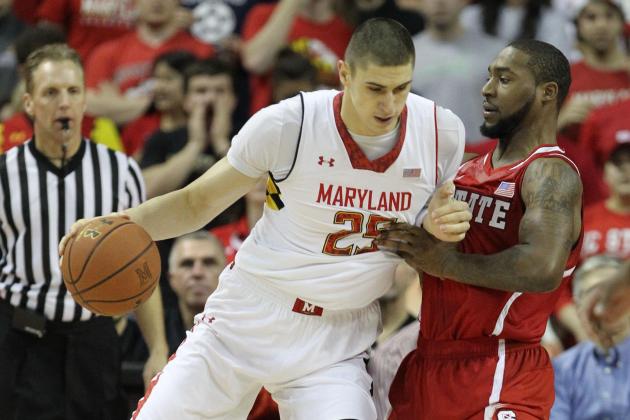 Mitch Stringer-USA TODAY Sports

School: Maryland
Position: C
Age: 20
Vitals: 7'1", 255 pounds
2012-13 Per-Game Stats: 11.9 points, 7.8 rebounds, 1.0 assists, 0.2 steals, 2.1 blocks
Pros
Much like with Anthony Bennett, Alex Len's positives revolve around his body.
As the saying goes, you can't teach size. And while size can often be overrated, it's still true that it can't be taught.
Len most assuredly has a ton of size, and his frame indicates that he can still bulk up quite a bit. Len has put on a lot of weight since first coming to Maryland, and he'll continue doing so as a professional. More importantly, he hasn't sacrificed his athleticism as he gets heavier and stronger.
Even with his height and lanky arms, the former Terrapin runs the court well and elevates quickly, lending credence to the idea that he can thrive in the modern NBA.
Len has also emerged as an intelligent player who makes good decisions with and without the ball. He might not generate many assists, but he typically makes proper choices with his passes.
The big man hasn't emerged as a volume scorer yet, but points per game is often an overvalued stat. Len can do just about everything on the court, and he has the potential to develop into a valuable player in all aspects of the game.
Cons
Does Len have the ability to develop into a true superstar?
With the No. 1 overall pick, teams aren't looking to draft quality role players, but rather young men who can develop into the leading forces in the NBA.
This big man isn't lacking in the confidence department, but it seems awfully strange for him to compare himself to Zydrunas Ilgauskas as the player he can eventually develop into. Big Z was a standout player for the Cleveland Cavaliers during his prime, even making two All-Star squads, but you'd never mistake him for a superstar.
A major part of the NBA is scoring, and it's troubling that Len hasn't developed more offensive moves at this stage of his career. He has consistent mechanics when shooting the ball, but he hasn't yet translated that into consistent performance.
Even more troubling is Len's mentality. He rarely takes over games, and he often lacks aggressiveness in the post, failing to call for the ball even when he has his man firmly sealed off deep in the paint.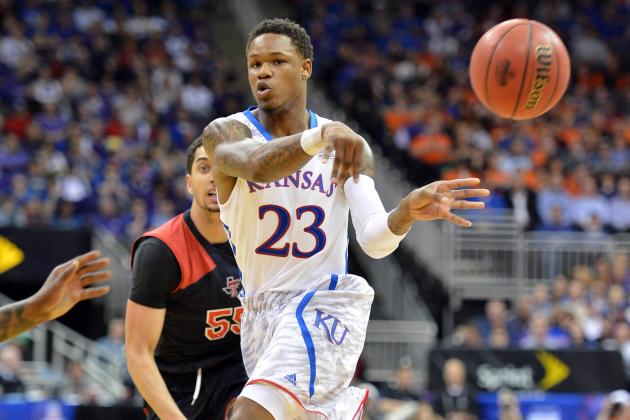 Peter G. Aiken-USA TODAY Sports

School: Kansas
Position: SG
Age: 20
Vitals: 6'5", 189 pounds
2012-13 Per-Game Stats: 15.9 points, 5.2 rebounds, 2.0 assists, 1.0 steals, 0.7 blocks
Pros
Ben McLemore is an offensive spark plug and an incredible athlete, both traits that NBA general managers typically look for when evaluating potential No. 1 picks.
In a lot of ways, I can't help but be reminded of the legendary Ray Allen whenever I watch this 20-year-old ply his trade.
His shooting mechanics are about as flawless as possible for a player his age, and he curls off screens magnificently. Defenders are constantly left in limbo because they don't know whether to expect a hard cut to the perimeter or some backdoor action that leads to an alley-oop slam.
Between his shooting stroke, jaw-dropping hops and defensive potential, there's just a lot to like here. Down the road, it's McLemore that should emerge as the best player from this class, and that's why I'd take him at No. 1.
Cons
McLemore has three main flaws as a potential No. 1 pick.
First is consistency, which some might interpret as an inability to show up on the big stage. The shooting guard began his career in sparkling fashion, taking the nation by storm as he dominated game after game. But as the season progressed, McLemore regressed.
Come tournament time, the 2-guard was slumping periodically and failed to dominate games like we expected.
Secondly, McLemore struggles to create his own shot. He relies on the passes of others, and while he's extremely adept at using screens to leave defenders eating his dust, No. 1 picks don't typically show this type of reliance on others to create for themselves.
Finally—and this is no fault of McLemore in particular—he's a shooting guard, and precedent dictates that the position doesn't wind up on the top of draft boards.
It's been over 30 years since a true shooting guard has been the top pick in the draft, so let's play a little trivia: Who was the last one?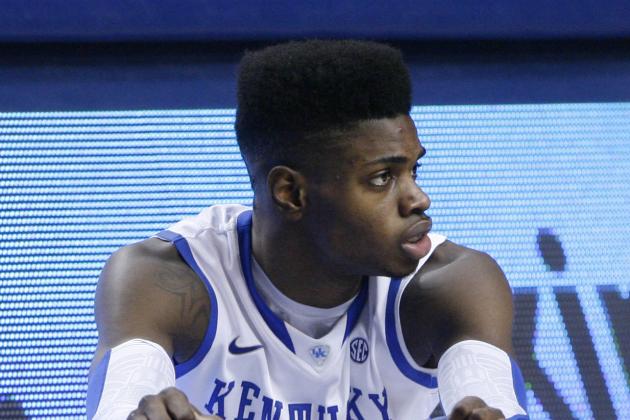 USA TODAY Sports Images

School: Kentucky
Position: C
Age: 19
Vitals: 7'0", 206 pounds
2012-13 Per-Game Stats: 10.5 points, 9.5 rebounds, 1.6 assists, 2.1 steals, 4.4 blocks
Pros
Just look at Nerlens Noel. The pros are blindingly obvious, and I'm not even talking about his hair.
The 7-footer has size galore, and his wide shoulders indicate that his frame can handle a lot more weight. He should be able to bulk up to a more reasonable size before too long, and that will prevent him from getting bullied in the paint by too many players.
Noel also possesses defensive talent unlike any other interior player in this draft. Jeff Withey may be a fairly comparable shot-blocker, but he doesn't completely alter a team's offensive strategies like this Kentucky product.
Although he's raw, Noel has considerable upside, especially as his offensive game continues to catch up with everything else. He's already a quality passer, and the low-post moves and shooting stroke should eventually develop considering his impressive work ethic.
Big men—particularly ones who have at least one truly elite skill—tend to have value in the draft, and Noel is no different.
Cons
Noel is entering the NBA draft as a 206-pound center with one functioning ACL. Need I say anything more?
I will, but it's ultimately unnecessary.
Although the Kentucky big man shows a body frame indicative of future bulking up, that's by no means a guarantee. He's a bean pole at the moment, and it could be a while before that changes.
There's also no guarantee that his ACL heals to the point that he regains his elite athleticism and springiness. It's likely, especially given the work he's put in while rehabbing and the benefits of modern medicine, but it's still not a lock.
Not everyone is Adrian Peterson.
On top of the physical concerns, Noel is an extraordinarily limited offensive player. As fantastic as he is on defense, he often looks lost on the more glamorous end of the court. His college experience was supposed to help fix that, but the injury put an end to any improvements.
It's a testament to the weakness of this draft class that a player with so many questions marks and weaknesses is still considered the favorite to go at No. 1.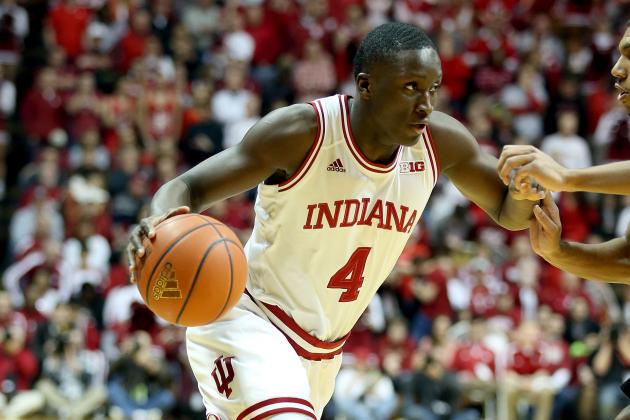 Andy Lyons/Getty Images

School: Indiana
Position: SG
Age: 21
Vitals: 6'4", 213 pounds
2012-13 Per-Game Stats: 13.6 points, 6.3 rebounds, 2.1 assists, 2.2 steals, 0.8 blocks
Pros
Victor Oladipo is one of the safest prospects in this draft class. Normally that wouldn't be a pro worth bringing up in a No. 1 pick discussion, but this is such a weak class that it truly matters.
Even if Oladipo's offense doesn't translate from Indiana to the NBA (it will), his defense will still guarantee him a rotation spot for a long time. The shooting guard displays lockdown defensive skills and, perhaps more importantly, the mentality of a great defender.
He's athletic, has quick hands that allow him to deflect the ball, shows off remarkable lateral quickness and anticipates the action on the court quite well. All of those skills will serve him well at the next level.
Oladipo's offense doesn't stand out as much as his defense or rebounding, but it is still quite functional. He can shoot the ball from the perimeter, and between his lightning-quick first step, explosiveness and body control around the basket, he's devastating both cutting to the basket and running out in transition.
Cons
Oladipo already made the big jump during college, and it's tough to see him making another one of similar magnitude. He's going to be a good player at the professional level, a great one even, but it's tough to see the same ceiling here that you can find elsewhere in the draft.
My best-case scenario for the Indiana 2-guard sees him developing into a second-coming of Andre Iguodala. In other words, he could be a top-25 player in the league, but he'd be better off as a second option.
Once he reaches the NBA, his athleticism won't stand out as much either, and Oladipo was quite dependent on his physical tools during his college career. It will be more of a struggle for him to get to the rim against defenders in the Association.
His offensive value lies in his ability to score efficiently, as he's a subpar ball-handler and doesn't always hit his targets when passing. If this knack for high-percentage scoring is diminished, so too is Oladipo's overall value.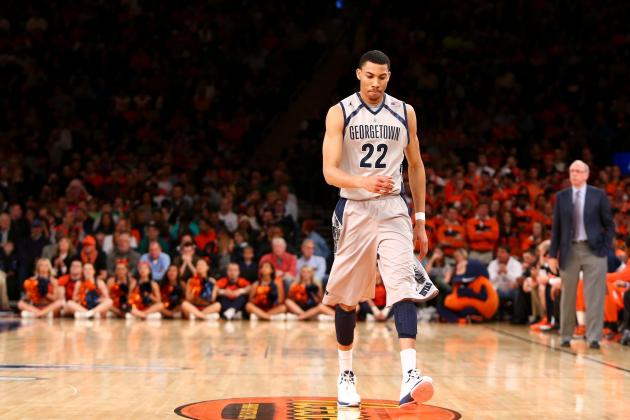 USA TODAY Sports

School: Georgetown
Position: SF
Age: 20
Vitals: 6'9", 198 pounds
2012-13 Per-Game Stats: 16.2 points, 7.5 rebounds, 2.7 assists, 1.8 steals, 0.9 blocks
Pros
Otto Porter's appeal lies in his versatility. If there's something this 20-year-old can't do on a basketball court, we have yet to find it. Either that or Georgetown hid it remarkably well.
The lanky small forward has a ton of length, and that gives plenty of hints that he'll be an above-average defender at the next level. He gets into passing lanes and racks up deflections, and that wingspan allows him to compensate for his lack of bulk in small-ball lineups.
Porter is admittedly more of an offensive standout than a defensive stopper, though.
Despite possessing form on his jumper that even makes mine look good by comparison, he's developed into a terrific shooter from all spots on the court. His range expanded to the three-point line during his final season with the Hoyas, and he continued to thrive from the elbows.
His mid-range game is just deadly.
Porter is also a cerebral player who understands positioning far better than most players coming into the NBA. This should help accelerate him along his growth curve, making him all the more appealing to teams looking for immediate contributors.
Much like Victor Oladipo, Porter has too high a floor to ever become a true draft bust.
Cons
For all his length, Porter doesn't possess much NBA-caliber athleticism. According to DraftExpress.com, he measured out with a 36-inch vertical at the combine. He can elevate and do so smoothly, but he lacks the true explosiveness that you expect from a wing player going at No. 1.
Porter also doesn't appear to have the same level of upside that many other candidates for the top spot can claim. He's a safe pick, but that's not what typically gets looked for here.
The small forward's other major weakness comes when he has the ball in his hands.
He struggles to maintain control of his dribble when hounded by the defense, and changing direction doesn't tend to suit him well. As a result, Porter generally relies on his teammates to create offense for him—whether passing him the ball or setting screens to free him from his defender—and he can't reciprocate by passing it effectively back to them.
Becoming more of an interior presence would serve the Georgetown standout well, but he has to bulk up rather significantly before that's anything but a pipe dream.