Donald Cerrone vs. Rafael Dos Anjos Head-to-Toe Breakdown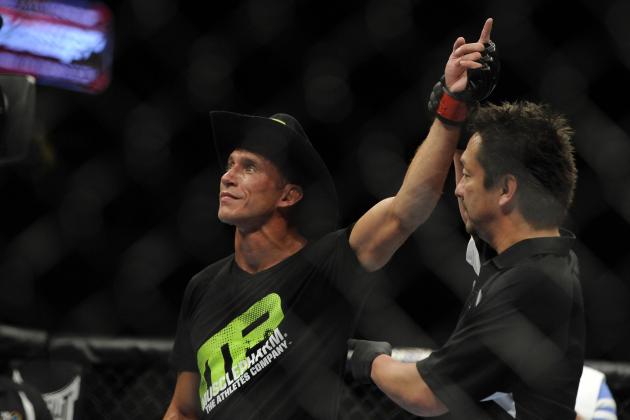 Rafael Suanes-USA TODAY Sports

Last week, prior to UFC 161, the UFC announced a slew of fights for its upcoming series on the Fox Sports 1 network, beginning in August. Among the most intriguing of the bouts to come out is a lightweight clash between Donald Cerrone and Rafael dos Anjos, set for August 28.
Cerrone will enter the contest coming off a nice rebound victory over K.J. Noons, in which he used a combination of superior striking and takedowns to earn a decision win.
His opponent, dos Anjos, will come in riding a four-fight win streak, looking like a fighter who has really hit his stride.
Here we will take a look at the dos Anjos vs. Cerrone matchup and examine how it is likely to play out. We will assess which fighter has an edge in each of the striking, wrestling and grappling and submission areas of the game and use those assessments to project the probable outcome.
Begin Slideshow

»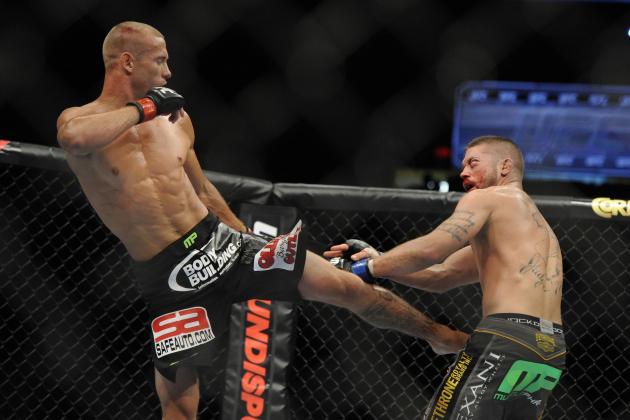 Rafael Suanes-USA TODAY Sports

Rafael dos Anjos
Dos Anjos has completely reinvented himself as a striker, something evidenced by his last two performances. That's not to say he is an elite-caliber knockout artist or anything like that, but what was once a weakness for him has become an asset, and anytime something like that happens, it changes the trajectory of a fighter's career.
It would have been nice if knockouts had started piling up for dos Anjos after he began demonstrating such improvement on the feet, but that hasn't been the case. More realistically, he looks like he'll be a point-fighter as a striker.
Donald Cerrone
Cerrone fits a similar mold to that of dos Anjos. He is a dynamic striker that has held his own against some fairly tough standup guys, but he isn't too big of a threat to knock his opponents out. Still, his striking shouldn't be termed anything but "effective."
What is somewhat concerning though, is Cerrone's inability—or unwillingness—to avoid damage. He showed some improvement in this regard when he defeated K.J. Noons in May, but it remains a weakness until he proves to have made a permanent adjustment.
Edge: Even
Conventional thinking would point to a Cerrone advantage here, but the way the Brazilian has looked lately convinces me that he could at least match "Cowboy" standing.
With only two career knockouts a piece, it's unlikely this match ends with a knockout. I'll write this one off as a tie.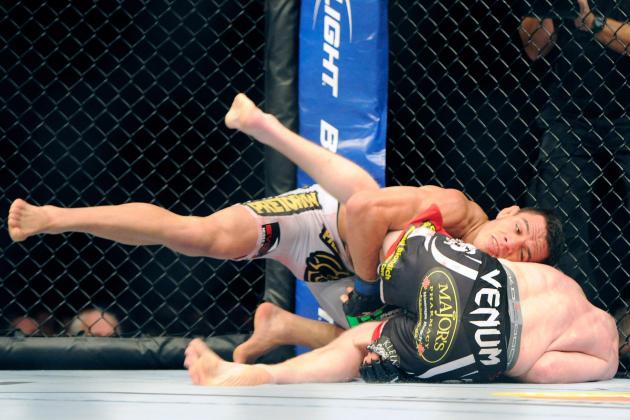 Eric Bolte-USA TODAY Sports

Rafael dos Anjos
Like striking, wrestling has been an area of significant growth for dos Anjos. This newly refined skill recently helped him to neutralize the striking of the dangerous Anthony Njokuani, and also avoid the smothering ground game of Mark Bocek.
While the improvement has impacted both his offense and defense, it's dos Anjos' takedown defense that has really grown. But either way, he might have the advantage in both capacities going up against Cerrone.
Donald Cerrone
In general, people don't like to take Cerrone down because of his stellar submission arsenal. It functions as a nice defensive mechanism, but his ability to actually prevent the takedown is only average, even if it's improved a bit over the past couple years.
When it comes to offense, Cerrone is similarly mediocre. He doesn't shoot as much as you'd think someone with his submission skills would, but the lack of regularity works to his advantage in a way, because opponents are less likely to anticipate a shot.
Edge: dos Anjos
Another close assessment, but this time dos Anjos emerges as a slight winner. Neither guy is a wrestling dynamo, but the Brazilian has exhibited stouter defense than the American lately, so he earns a small advantage here.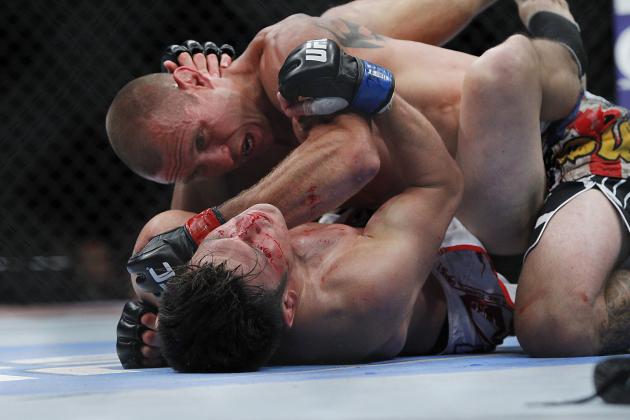 Gary A. Vasquez-USA TODAY Sports

Rafael dos Anjos
Grappling has long been the strength of dos Anjos' game, and remains so despite how well rounded he is becoming.
He has been submitted just one time, and that result was the product of a jaw injury dos Anjos suffered during his bout with Clay Guida.
Offensively, eight of his 19 career victories have come by way of tapout.
Donald Cerrone
Cerrone is one of the most exciting, as well as one of the most effective, grapplers in the lightweight division. Few are willing to go to the mat with him, even when guaranteed a start from a dominant position, and those that do often end up regretting it.
He has been submitted just one time—by Ben Henderson at WEC 48—while 13 of Cerrone's 20 pro victories have come via tapout.
Edge: Cerrone
Both guys are very good on the floor, but Cerrone holds the edge. Much of it has to do with versatility.
While Dos Anjos is all-around solid, he is much more adept at finishing from top position. Cerrone, on the other hand, is equally capable of ending a fight from his back or from atop his opponent.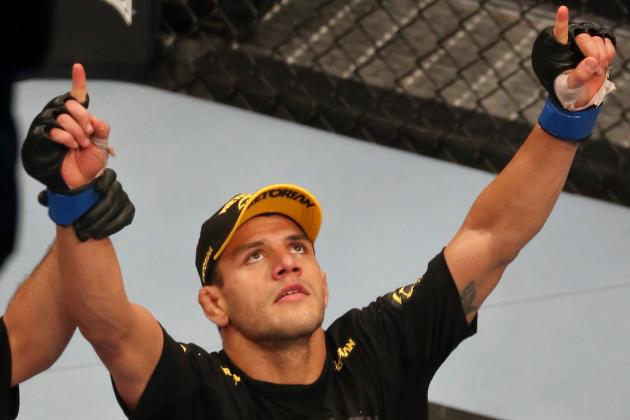 Tom Szczerbowski-USA TODAY Sports

Rafael dos Anjos
After carving out space as a middle-of-the-pack lightweight from 2008 to 2011, dos Anjos really found himself. He's always had a lot of natural ability and has now started putting it to proper use.
As is often the case with late-blooming athletes, people are quick to question recent accomplishments because there is no precedent in their previous work to suggest they'll be able to keep a particularly impressive pace.
But when it comes to dos Anjos, his improvement is very much real. His current 4-0 run is not a fluke, and really, he's just beginning to come into his own.
Donald Cerrone
Cerrone is a guy that seems to hang out somewhere between the best the lightweight division has to offer and the rest.
Since joining the UFC back in 2011, he's gone 7-2, but each time he's fought a top-ranked opponent he's lost, and lost badly.
It's not too late to change that trend, however, and while dos Anjos hasn't solidified himself as a top contender at 155, a win for Cerrone at UFC on Fox Sports 1 would go a long way to convincing people he's ready to push through to the upper crust.
Projected result: Rafael dos Anjos def. Donald Cerrone via unanimous decision
Cerrone will probably enter the bout as a favorite, so this one counts as an upset special. But given the growth dos Anjos has demonstrated over his last few bouts, perhaps it shouldn't.
Ultimately, this one is likely to be close. I like dos Anjos to hold his own on the feet, win the wrestling battle and survive on the ground, rolling to a razor-thin decision victory.