Ranking the 10 Most Exciting Stanley Cup Final Games in NHL History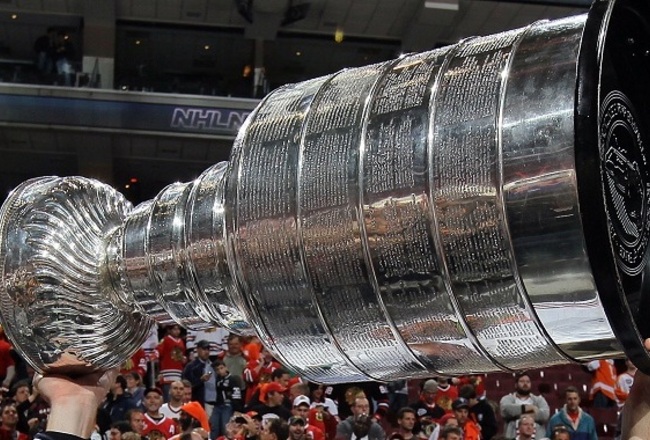 With 444 games played to date since the Stanley Cup Final began in 1927 (including the first two games of the current series between Chicago and Boston), trying to pick the 10 most exciting games is a rather subjective exercise.
The games you pick as the 10 best may not be the ones someone else picks. Remember, we're talking about games over a period of nearly 85 seasons.
So with that in mind, here are the 10 most exciting games in my mind. They run the gamut from series-deciding Game 7's to 4-0 series sweeps and more.
As a consideration, I've also added nine honorable mention games that just missed being in the top 10.
Here are my picks. If your top games are not on the list, let's hear what they are and why.
Honorable Mention

1971, Game 7, Montreal vs. Chicago

There were so many worthy games to choose from over the history of the Stanley Cup Final that we would have been remiss if these games weren't also included at the very least as Honorable Mention:
* 2001, Game 7, Colorado vs. New Jersey: Ray Bourque finally earns a Stanley Cup in his 22nd NHL season (with the Colorado Avalanche)
* 1996, Game 2, Colorado vs. Florida: Peter Forsberg scores a hat trick to lead the Colorado Avalanche to an 8-1 blowout over Florida Panthers.
* 1993, Game 2, Montreal vs. Los Angeles: Montreal's Eric Desjardins scores all three goals, the first time in NHL history that a defenseman ever performed the feat, in a 3-2 overtime win over the L.A. Kings. Of note in the game: Marty McSorely's stick is found to be illegal, leading to the Canadiens' game-tying goal, and then a Desjardins game-winning goal just 51 seconds into overtime.
* 1990, Game 2, Boston vs. Edmonton: After the Bruins and Oilers played the longest game in Stanley Cup Final history in Game 1 (115:13 of playing time), with Petr Klima scoring the game-winning goal, then came Game 2. In that contest, Jari Kurri scored a hat trick plus two assists as Edmonton defeated Boston 7-2.
* 1970, Game 4, Boston vs. St. Louis: Bobby Orr scores the game-winning and series-winning goal in overtime, one of the most memorable shots and follows as the Boston Bruins, as Orr went flying after he sent the puck flying into the goal. The goal capped off a 4-0 series sweep over the St. Louis Blues.
* 1957, Game 1, Montreal vs. Boston: Montreal's Maurice "Rocket" Richard scores four goals against Boston and goalie Don Simmons as the Canadiens win 5-1. Montreal went on to win the series in five games.
* 1955, Game 2, Detroit vs. Montreal: Detroit's Ted Lindsay scores a record four goals in a 7-1 romp over Montreal, perhaps the greatest game of his Hall of Fame career. Detroit would go on to win the series in seven games, their last cup championship for 42 years until the Wings won back-to-back crowns in 1997 and 1998.
* 1951, Game 5, Toronto vs. Montreal: This game was exciting and somber at the same time. Bill Barilko scored the game-winning and series-winning goal as Toronto defeated Montreal. Of note, all five games were overtime decisions. Sadly, hero Barilko would die in a plane crash several weeks later; his body would not be recovered until 11 years later.
10. 2006, Game 7, Carolina vs. Edmonton
To their credit, the Edmonton Oilers battled back from a 3-1 deficit to force a deciding Game 7.
But it was the Hurricanes that rallied back in the series-deciding Game 7 to win the game 3-1 and their first-ever NHL championship—not to mention the first world championship by a professional team in North Carolina.
Carolina rookie goalie Aaron Ward shined in goal for the 'Canes, the first rookie to win a final since Patrick Roy did so for Montreal in 1986. Ward was also the first rookie to win the Conn Smythe Trophy as MVP of the playoffs since Ron Hextall in 1987.
9. 2013, Game 1, Chicago vs. Boston
The June 12 series opener was an instant classic and definitely belongs on this list.
The fifth-longest game in final history, Andrew Shaw's goal at 12:08 of triple overtime gave Chicago a 1-0 series lead over Boston.
It wasn't just a big game in Chicago; it was the most-watched NHL game in 16 years.
8. 1985, Game 3, Edmonton vs. Philadelphia
No list of the most exciting games in Stanley Cup Final history wouldn't be complete without a game that featured the Great One, Wayne Gretzky.
While Gretzky had countless standout games in his career, this one stood out because of the way he just took charge and almost single-handedly overpowered the Philadelphia Flyers.
Gretzky scored three goals as Edmonton rolled to a 4-3 win. It also gave the Oilers a 2-1 series lead, which tilted the momentum to their side. They'd go on to win the next two games to win the series in five games.
Gretzky ultimately wound up scoring seven goals in the series, leading to being named playoff MVP, but the three he tallied in Game 3 wound up being the most important and most crucial.
7. 1972, Game 4, Boston vs. New York (Rangers)
As was the case with Wayne Gretzky in the previous slide, we also had to include Bobby Orr in this list, as well.
Like Gretzky, Orr had innumerable great performances in his Hall of Fame career. But this game stood out as Orr made the most of the Madison Square Garden venue, with two goals and an assist to lead the Bruins to a 3-2 win over the Rangers.
It gave Boston a 3-1 series lead; they'd go on to win the series in Game 6—and in fitting fashion, doing so on an Orr goal. Not surprisingly, he won his second playoff MVP award.
6. 1982, Game 1, New York (Islanders) vs. Vancouver
Mike Bossy had a number of great games with the New York Islanders, but likely none more so than in the opening game of the 1982 final against Vancouver.
The Canucks were leading 5-4 late in the game, but then Bossy took over. He not only scored the tying goal, he also tallied the game-winner near the end of the first overtime, capping off a hat track for the night as the Islanders won 6-5.
Bossy's performance, not to mention how the Islanders won Game 1, seemed to take all the wind out of the Canucks' sails. New York would go on to win the series in a four-game rout, with Bossy being named playoff MVP.
5. 1994, Game 1, Vancouver vs. New York (Rangers)
Talk about endurance contests: Vancouver goalie Kirk McLean faced 54 shots and stopped all but two as the Canucks won 3-2 in overtime. It was one of the most memorable performances by a goalie in the last 20 seasons, if not more.
McLean's 52 saves in a final game were the most in nearly a quarter century; Ken Dryden made 56 saves vs. Chicago in Game 1 of the 1971 final.
McLean stopped all 17 of the Rangers' shots in OT. Greg Adams netted the game-winner with just 34 seconds left in the extra period.
To their credit, the Rangers came back to win the series in seven games.
4. 1971, Game 7, Montreal vs. Chicago
It looked like the Blackhawks were headed to taking Lord Stanley's oversized silver chalice, leading 2-0 late in the second period.
But in Canadien tradition, Montreal began an incredible comeback, starting with an improbable goal: Jacques LeMaire scoring from center ice, putting the puck past shocked Blackhawks goalie Tony Esposito.
And then Henri Richard not only scored the game-tying goal, he added the game-winning and series-winning goal as the Canadiens won their third cup in four years.
Of note, Montreal goalie Ken Dryden won the Conn Smythe Trophy as NHL playoff MVP, even though he had only played in six regular season games before the playoffs. In a rare irony, he would then Rookie of the Year honors in 1971-72 season.
Dryden would wind up winning six cup championships in eight seasons.
3. 2003, Game 7, New Jersey vs. Anaheim
As if putting a cherry on top of a sundae, New Jersey Devils goalie Martin Brodeur wound up recording his third shutout of the final against the Anaheim Ducks, all ironically by the same score, 3-0.
Brodeur, who totaled seven shutouts during the entire playoff run, was the deciding factor for the Devils, who led the series 2-0 and then 3-2. But give credit to the Ducks, who were persistent, taking the series to the full seven-game length.
Also of note was Game 6 in the series, when Anaheim's Paul Kariya was leveled by Devils captain Scott Stevens. Kariya was momentarily knocked cold, prompting concern that he might have even stopped breathing, before suddenly popping up and being taken off the ice to the team's locker room.
Almost miraculously, he returned to the Ducks bench just a few minutes later, and then 11 minutes after getting leveled, he got the ultimate revenge by scoring a goal en route to a 5-2 win, sending the series to the deciding seventh game.
2. 1928, Game 2, New York (Rangers) vs. Montreal (Maroons)
Legendary Hall of Famer Lester Patrick had gone from a player to coach and enjoyed considerable success.
In the second year of the Stanley Cup Final, Patrick was faced with a dilemma in Game 2. His No. 1 goalie, Lorne Chabot, had been injured early in the game and teams did not carry backup goalies in those days. Plus, even though he begged the opposing Maroons, they denied Patrick's request to suit up a goalie that had been sitting in the stands, watching the game.
So, with no other options, Patrick donned the pads himself at the age of 44, six years after he had retired as a player, and showed he still had it.
In one of the most legendary games in league history, Patrick took over for Chabot, saved all but one of the 19 shots he faced and inspired the Rangers to a 2-1 overtime win.
Although he would get a replacement goalie for the next three games, Patrick's performance inspired his team, who would go on to win two of the next three games to win the championship three games to two.
1. 1942, Game 5, Toronto vs. Detroit
Even though most of us weren't around when this game was played, it has long been considered one of the greatest final games in league history.
The Maple Leafs had lost the first three games, only to miraculously rally back to win the next three to tie the series at 3-3.
Game 5 was the most pivotal one of all. Don Metz had perhaps the most dominating performance in league annals, scoring three goals and two assists as Toronto enjoyed a 9-3 rout, closing Detroit's edge to three games to two.
It was the game of Metz's career, and with good reason: he never scored more than four goals in a season in his career, and had tallied just two goals and three assists during 25 regular season games prior to the postseason, which he did not score in until that fateful Game 5 of the final.
While Detroit would win Game 6 to even the best-of-seven series, Toronto would rally once again in the deciding Game 7, becoming the only team in league history—a mark that still stands—to win the Stanley Cup after losing the first three games of the series.
Follow me on Twitter @JerryBonkowski
Keep Reading