WWE Payback isn't exactly the most noteworthy pay-per-view on the schedule, but the action in front of a raucous, lively Chicago crowd on Sunday was scintillating.
How would you grade Payback overall?
We had title defenses. We had title changes. We had some spectacular divas action—hey, look what happens when you give them 10 solid minutes to actually wrestle. We had unexpected results, controversial results and results that never came to fruition (no Daniel Bryan or Randy Orton heel turns). We had plenty of tantalizing storyline development.
Most of all, we had terrific battles both inside and outside of the ring.
Let's take a look at how it all went down.
Quick Results
Note: (c) denotes champion before the match
Pre-show: Sheamus defeats Damien Sandow
Intercontinental Championship: Curtis Axel defeats Wade Barrett (c) and The Miz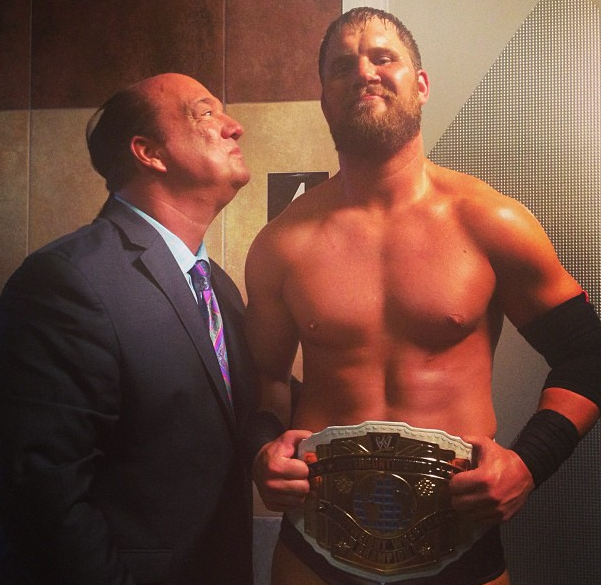 Divas Championship: AJ Lee defeats Kaitlyn (c)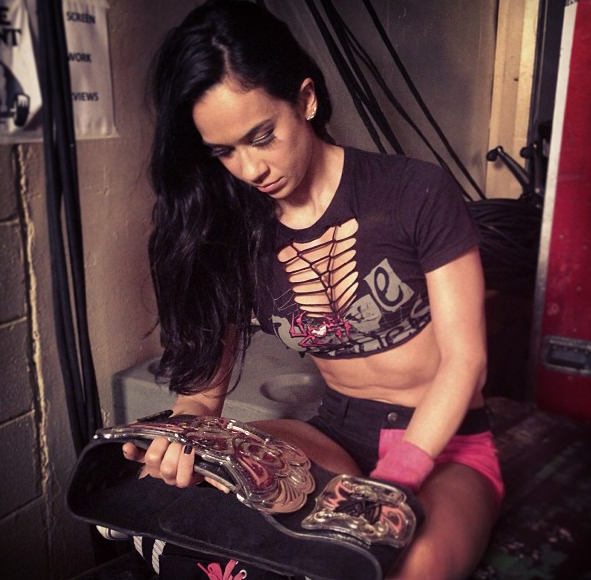 United States Championship: Dean Ambrose (c) defeats Kane via countout
World Heavyweight Championship: Alberto Del Rio defeats Dolph Ziggler (c)
CM Punk defeats Chris Jericho
Tag Team Championship: Seth Rollins and Roman Reigns (c) defeat Daniel Bryan and Randy Orton
WWE Championship: John Cena beats Ryback by winning Tables Match and Ambulance Match
John Cena Owns Two-Thirds of Hell to Retain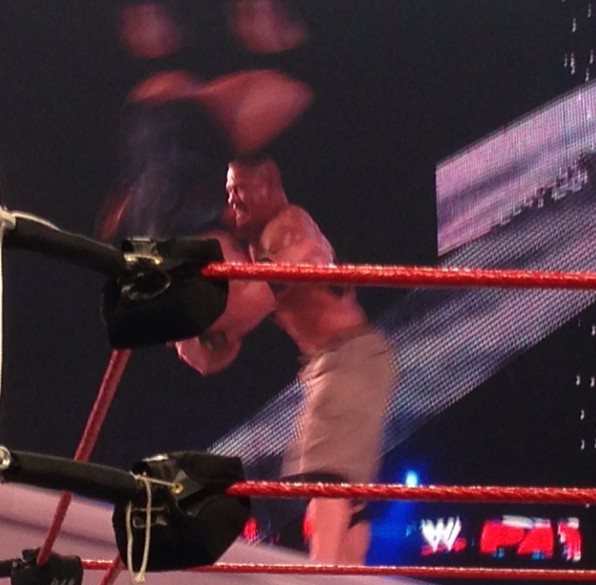 As expected, this was full of big-time spots.
In the first match, Ryback was sent to the outside. Antonio Cesaro (Antonio Cesaro spotting!) helped him up, but Ryback slapped Cesaro and all hell broke loose:
Ryback into the Lumberjacks. Lumberjacks give him space. Ryback slaps lumberjack. Lumberjacks attack Ryback! #TheLumberjackCode #Payback

— WWE Universe (@WWEUniverse) June 17, 2013
Eventually, every single lumberjack was on top of Ryback, only for John Cena to jump off the top rope and knock everyone down like bowling pins. It was mayhem, and it was fun to watch.
Moments later, Ryback hit the Shellshocked inside the ring for the pin for the first fall.
In the second match, the stairs were brought into the ring for a while, and each wrestler just narrowly missed being thrown through a table:
The steel steps have been eliminated from this Championship match after going through two tables #Payback

— Ashley Redman (@DJRedders) June 17, 2013
Action moved to the outside, where Ryback slammed Cena through the announcer's table:
I just heard @johncena break in half 1 foot away from me! Ouch!!! #Payback pic.twitter.com/b8dCI4YlnS

— Justin Roberts (@JustinRoberts) June 17, 2013
Back inside the ring, however, Cena was able to put Ryback through a table with the AA to tie things up.
In the last match, the action immediately moved to the back of the arena where the ambulance awaited.
The two beat each other up with crutches and pieces of the ambulance for a while before eventually moving the top.
On the roof, Cena lifted Ryback for an AA and sent Mr. Feed Me More crashing through the top to retain the title.
The ambulance needs an ambulance. @WWE #PAYBACK

— Joey Styles (@JoeyStyles) June 17, 2013
Cena and Ryback certainly have their criticisms, but there's no doubt they can at least entertain with massive spots in matches like these. Still, hopefully, this sends Ryback back to the midcard and opens a spot at a title run for Daniel Bryan or someone else.
CM Punk's Return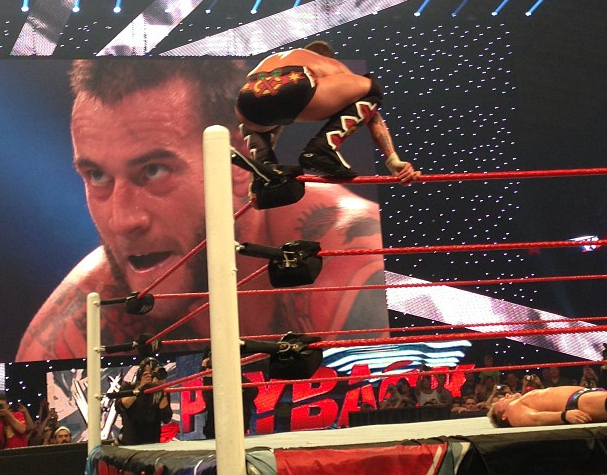 Much of the excitement surrounding Payback was CM Punk's return. Not only was he set to come back after a two-month-long hiatus, but he was doing so in front of his hometown Chicago fans, who always blow up for him.
This pretty much sums up the moment we were all waiting for, courtesy of WWE commentator Tony Dawson:
3 thoughts in arena on @CMPunk's entrance: 1. It was deafening. 2. Chicago fans are unbelievable 3. Remarkable poise from @IAmJericho

— TonyDawsonWWE (@TonyDawsonWWE) June 17, 2013
While the match itself didn't really have much storyline development, it didn't matter—at all.
The 21-minute match had a little bit of everything: terrific offense from each wrestler, lots of exciting near falls and tons of involvement from the pumped-up crowd.
It garnered high praise from around the business, including Jim Ross and Tyson Kidd:
Bravo to @CMPunk & @IAmJericho for an outstanding wrestling match at #Payback. Called it all in my head. Old school grappling. @WWE

— Jim Ross (@JRsBBQ) June 17, 2013
Wow hell of a battle @CMPunk and @IAmJericho just had

— Tyson Kidd (@KiddWWE) June 17, 2013
I don't think anyone would be upset if this feud between two of the absolute best in the business continued in the coming weeks.
World Heavyweight Title Change and Double Turn?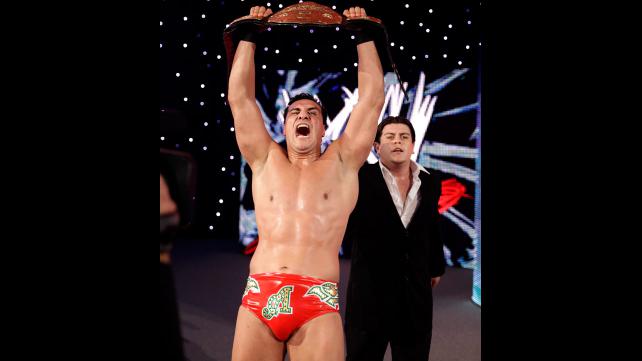 Dolph Ziggler held the world heavyweight championship belt for just over two months, but thanks to a concussion just before Extreme Rules, it hadn't really seemed like a prominent title run.
As such, most didn't expect him to lose to former champion Alberto Del Rio on Sunday night.
But after thoroughly beating the crap out of Ziggler and attacking his head, the Mexican Aristocrat was able to come away with the slightly shocking win, much to the dismay of many—even actor Shane West:
uhhhh still shocked about the Ziggler/Del Rio result......really bad booking guys. Put it back on @HEELZiggler IMMEDIATELY @wwe

— Shane West (@shanewest_1) June 17, 2013
Still, there are few things to take away.
First, although it wasn't either wrestler's best match ever, there was more to it than just the technical aspect:
Really well put together match as Alberto Del Rio def. Dolph Ziggler to win the World Title

— Live Audio Wrestling (@LAWradio) June 17, 2013
The match told a story. Del Rio was the monster who attacked Ziggler's very serious injury, while the champion was the hero who fought through that injury and still nearly managed to pull off the miraculous, courageous victory.
In short, it was the beginning of what appears to be a double turn—Del Rio to heel and Ziggler to face.
It was unfortunate that Ziggler's title run ended prematurely (nothing against Del Rio), but this will undoubtedly create tremendous buzz and intrigue for each wrestler moving forward.